USER BLOG
Join the best expat community of Japan. Now!
Share your Japan experience

Create blogs/Join the Q&A

Earn points and get rewards
Christmas Vibe in Japan
The world is getting narrower in the sense that people are celebrating festivals borrowed from any culture and religion. Japan never ceases to amaze me when it comes to anything ; food, life, culture, technology and what not. The same applied when it came to celebrating Christmas in Japan. Christmas in Japan this year was no less fun than celebrating in any countries where Christmas is celebrated for holy and religious regions. Illuminations, Christmas trees, sales in the stores and colorful Christmas cakes were totally up to the mark with the Christmas I celebrated in Canada last year. The excitement of children held no bound when it came to expecting gifts under the Christmas trees. Cute little kids were no less happy while posing for pictures in the malls with those jingle bells, red bows and decorations up in the tree. If you celebrate Christmas in your country and you happen to be in Japan during a Christmas, you might still miss the family and friends part, but Japan will serve its best in all other ways to keep you far away from being nostalgic. My experience during this Christmas was the same. It was equally fun shopping during this festival as there were huge sales in the malls and you could also get your gifts wrapped up with those Christmas themed papers and bags. I believe Japan was surely successful in pleasing the expat communities, tourists visiting Japan leaving no behind its own people who are so welcoming when it comes to accepting the foreign culture. This whole celebration in the country makes me question; if Japanese people are really as insular as they are stereotyped. Had it been so, how come the people are so motivated being part of this celebration? I know a Japanese lady whom I tutor at home to help her improve her English skills; she runs a private English school for kids. She shared with me how fantastic a celebration she had with kids at her school during Christmas. Kids even exchanged gifts - just the way they do elsewhere - the secret Santa style ! Christmas cakes and pies were also baked and they played the popular jingles and Christmas songs. Wasn't their effort totally remarkable? Though, I have lived in many parts of the world during my missions to study and work and Christmas for me has been in many countries; I felt the equal festive vibe this year in Japan. To reflect back, I was in the Vatican city in the Christmas of 2009 and in the Christmas of 2015, I was in Canada; so I have experienced Christmas in different parts of the world at different timeline. Yet, Japan deserves a kudos for the preparation to integrate this different culture despite the fact that Christians make up a minority in Japan. There are many positive aspects to draw here- acceptance, love and harmony that comes with all culture could be celebrated all over the world. This is the beauty of globalization. To share what I personally did in this Christmas- I had a nice lunch party with my friends and their kids. I originally also come from the culture where we do not celebrate Christmas but the friends from my country living in Japan gathered to celebrate. We had a dress code on the day; so we were all dressed in red, including the kids. Christmas caps, reindeer bands and a nicely decorated tree was up for the celebration. As for the food; we decided to keep it easy and simple and did a potluck. I cooked chicken with coconut milk ( a friend from Philippines had once taught me this dish ) and hoped that would turn on people's taste buds. It did, as people loved my special dish of the day. We also had a beautiful cake ordered for the dessert with the Christmas themed icing. We played games and enjoyed food. Kids exchanged gifts and enjoyed this a lot while the ladies group were busy eating and dancing. Pictures were taken and we captured the beautiful memories. The same evening I went out shopping with my husband to buy each other Christmas presents. Me and my husband are both practical people and our gifts are never a surprise. We tend to buy each other whatever we think we need; so the idea was the same for the Christmas as well. My husband bought himself a pair of warm pants and a sweatshirt with a good discount as a Christmas offer. I wasn't quite sure what I wanted so we were juggling around the shops. Luckily a shop offered "Fukubukuro" for accessories for a very decent price. I quickly glanced for the items but could not see all as they were tightly packed but I still decided to take a chance. When i was home, my curiosity held no bound and I opened the pack that pleased me so much. I had so many pretty accessories in the pack for maybe quarter the price if I would add them all up. Hence, my Christmas happened to be merry in all ways with no feelings that it might have been better somewhere else !!!!
Babina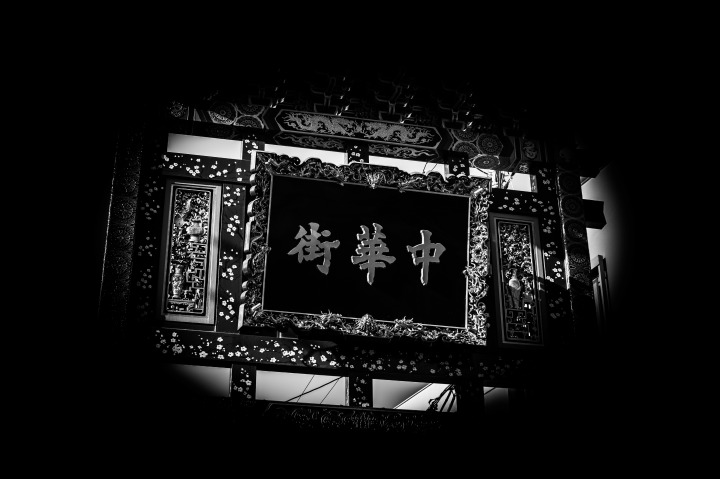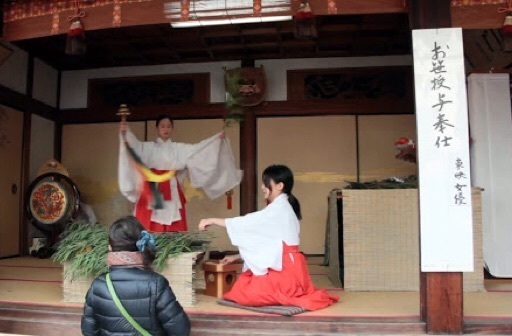 The Celebrations aren't Over Yet: 3 Japanese New Year Celebrations which are Still to Happen.
Anyone out and about on the streets of Japan through today and yesterday will have no doubt been struck by the sudden restoration of normality with New Year festivities earlier in the week maybe, already, seeming like a distant memory. The waves of worshippers heading to temples and shrines that were a common sight in most towns and cities at the beginning of the week, were replaced by workers heading towards their offices; coffee shops, restaurants and shops were that little bit quieter on either side of lunchtime, and rush hour trains were once again operating to full capacity. With all this in mind you could easily be forgiven for thinking that festivities to mark the arrival of 2017 are done and dusted with for this year; only they aren't. Most people may have returned to their everyday routines but the importance and significance of the arrival of the new year still looms very large, meaning there are still a sizeable number of New Year rituals and celebrations either ongoing or still yet to be performed. Here's a snapshot glance at three of them.1)Tondo Bonfire Ceremonies.Tondo is a fire burning ritual usually held on, or around the 15th of January in order to burn the various New Year decorations that have been on display in homes, businesses and in some public spaces since late December.In Japan, it's considered extremely bad luck to just toss spiritual items into the trash, so Shinto shrines across the country play host to huge bonfires where New Year decorations, charms and other lucky items are burnt on mass to the theme of forgetting about the past and approaching the future with a clean slate.Mima City in Tokushima Prefecture is said to be home to the country's largest Tondo bonfire.2) Toka-Ebisu Festivities.On January the 10th millions of business owners will flock to shrines dedicated to Ebisu (God of good fortune, prosperity and commerce) to pray for prosperity and to purchase lucky bamboo branches, known in Japanese as 'Fukusasa'. Once purchased, Fukusasa branches are blessed by shrine maids, before being decorated with various symbols and talisman encouraging wealth and prosperity for the year ahead.As with most festivals in Japan, attendance at Toka -Ebisu festivals is not just restricted to business owners; many casual observers also go along just to soak up the electric atmosphere. The country's most famous Toka -Ebisu festival takes place at Imamiya Ebisu shrine in Osaka over a three day period.3) Tokyo's Hashigo-nori Acrobatics. Many temples and shrines also engage with the New Year festivities by playing host to their own unique traditions. One of the most eye catching examples of which is the Hashigo-Noro festival which takes place at Tokyo's Ikegami Honmoji temple on the second Monday of each year. The festival was born during the Edo period, and celebrates the efforts and methods of firefighters from that era; the festival is most notable for its impressive and elaborate, bamboo ladder-based acrobatic performances. Note: Both images courtesy of Wikipedia Creative Commons.
AngelicaSutton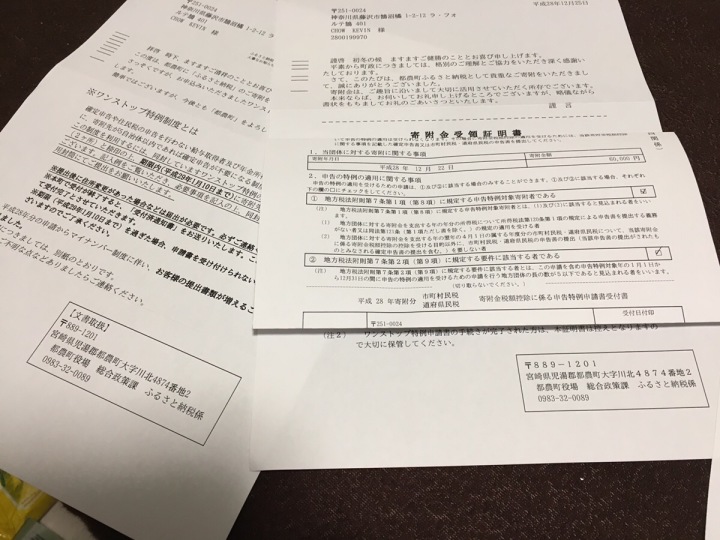 Japanese Tax Deduction AKA 'Furusatonouzei' or 'Hometown tax'
Have you ever wonder where your resident tax go and how your resident tax money is spent?Now, you can choose how your tax money is spent by the municipalities - local government and which municipalities will get your money. At the same time, receive some gifts from them. This system required you to prepaid your tax first by purchasing items from the stores operated by the municipalities then file a tax return to reduce your resident tax.How much should I buy?The purchase amount will be calculated by the sum of handling fee (2000 yen) and tax reduction amount.For example, If a family with no kids with an income of ten million yen then the reduction amount will be 176K yen and the maximum purchase amount will be 178K yen.* You can use "Reduction rate chart" or "Rakuten reduction rate simulator" to find out your maximum deduction amount.Wait a minute, am I paying extra 2000 yen?Yes, but you will get those items for free and the remain 176K yen will be refunded by reducing your resident tax each month in the following year, similar to how rebate works.What are the steps?Find out your household income? If you don't know, this is your chance to ask your wife/husband ;)Use the "Reduction rate chart" to calculate your maximum purchase amount (Reduction amount + 2000 yen)Find an official store that is operated by the municipality then select the items, you can buy from different municipalities.The municipality will send you the documents (donation certificate,"One-stop" application form and receipt).If you file your own tax return, you need to keep the "donation certificate" from the municipality and file it together. If the company you work for handle all your tax filing then you need to request the "One-stop" application form when you purchase the item. ( Maximum of 5 different municipalities) you need to file each municipality separately if you are using the "One-stop" application form.Extra linksOfficial government siteWikipediaRakuten reduction rate simulatorSimple explanation
KevinC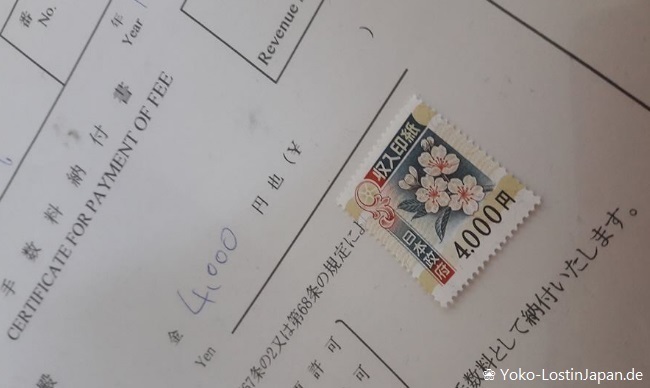 My tough moment of 2016 – the Japanese Immigration Office
Looking back on 2016, this year was a pretty great one for me. I started it in Japan, celebrating the New Year's Eve at a big concert hall with around 10.000 other people together with my favorite musician Ayumi Hamasaki. Back then, I was on my New Year's trip to Japan which lasted three weeks. I got two more weeks to travel around, meet friends and experience the country. This trip ended with a proposal and much bureaucratic stuff to do for preparing our wedding. Luckily we could handle everything without any bigger trouble and so we got married in July in Germany. A great day with wonderful memories. Finished with this point, next was the process to get my visa for moving to Japan. The plan was to leave Germany in October, so less than three months after our wedding. For a German native like me, now the normal process would be going to the Japanese Embassy in Berlin, giving them all the required documents and getting a spouse visa for Japan. Actually, that was also the way I wanted to do it. However, I phoned the Embassy about my issue, because I first wanted to know which documents they need and how long it will take to get the visa. You know, I live over 250 kilometers away from the embassy, so I wanted to have everything with me when doing a one-day-trip there. My phone call ended up with the following information: "As German native it is ok to enter Japan on a tourist visa, which you will get for 90 days at the airport in Japan. With this you can go to the immigration office in Japan and change it into the spouse visa." Ok, that seemed nice. I asked some other people on Facebook and some told me they went the same they. And because Japanese natives have the same rights in Germany, I didn't see any problem. Everything should work out fine, I thought. I went to Japan on 9th October, already got the first small problems at the airport in Frankfurt. My booked flight back was nine month after my flight there and I didn't have a visa. I told the staff of ANA airlines my situation and they accepted it. Actually, I read a blog entry of another person with same situation a while ago and ANA didn't let him fly and he had to book another expensive flight. I was relieved they accepted my situation as it is and believed me I will get a visa inside Japan. Only their PC didn't want to accept it. Around 10 minutes and two other ANA staff later they finally found out how to get my visa statues into their program, I got my flight ticket and everything was good. Shortly after arriving in Japan, my husband took a day off and we went to the Immigration Office in Yokohama, because we were living in Kanagawa prefecture. The way there was long and somehow I didn't feel well that day. Probably my body already knew something will happen. With all our documents we went to the officer. He checked them and told us, it's impossible to get a visa in Japan. 「これは無理です。」 I should go back to Germany as soon as possible and get my visa there from the Japanese Embassy. I was shocked. I told them what the Japanese Embassy told me. Another officer came to us, saying the same. I tried to discuss with them, however, this was not really possible, because of my poor Japanese knowledge. Furthermore the officers seemed to ignore what I was saying. For them it was clear: no visa, go back home and apply from there! I ended up crying, shocked, didn't know what to do. That was tough… But we didn't give up. I talked to some people on Facebook again, getting clear of the situation and getting told again that nobody had problems with this way of visa issuing before. We made the decision to first try everything else before I go back to Germany – because this would only cost useless money and time… Yokohama Immigration Office kept our documents to give us the Certificate of Eligibility (CoE). I got it around one month later by mail, getting told again in an information flyer that I should go back to my home country with this to apply for a visa. I didn't. I went to the Immigration Office in Shinagawa, hoping they will tell me something else. I was so nervous on this day, I felt horrible. Luckily everything went well there. Nobody wanted me to return to Germany. It didn't take an hour and we could leave the office again – me having my residence card as spouse of a Japanese national. Yokohama Immigration Office gave me a pretty tough moment this year and even Shinagawa staff was lightly confused when we told them what happened there. Even I live in Kanagawa prefecture now, I decided to not go to this office again – there is another one around here at Tachikawa which I want to try for renewal next time.
YokoLostinJapan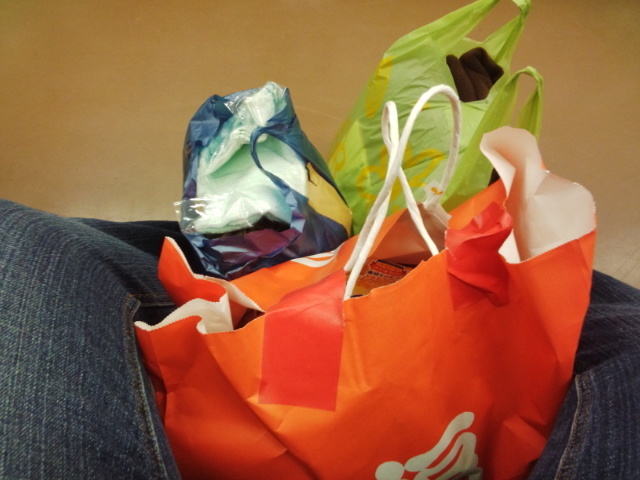 Let's Get Lucky with Fukuburo!
Fukubukuro or "lucky bags" are Japan's answer to getting rid of last year's stock and giving the consumers a steep discount to help expedite the process. You'll see them out as soon as shops open after New Year's Eve ends. In some places, that's just a few hours into the new year. In others, it's January 2nd or 3rd. In any case, the grab bag of old inventory usually comes in a few distinct flavors and price categories. In the stores, you'll usually see a display version of the goods in the bag, so there really aren't any surprises. Bags usually start around 1,000 yen for what is usually at least 2,000 yen worth of goods, but the fancier the retailer, the more expensive the bag options. Many clothing stores only offer options around 5,000 yen and/or 10,000 yen. If you're more into brand name designer goods, these sales might not be your thing as the items you can get for super cheap will also be last year's model or excess stock. If you don't mind being just a little behind the cutting edge, these sales are well worth the time and energy. Fukubukuro can run out quickly, so if you know you want to grab one from a specific store, it is a good idea to go early and get what you want while it is available. While these are major sales days, they are nowhere near as chaotic as Black Friday stateside. We are in Japan after all.This was my haul from Sendai sales-day of 2016. I headed straight to a cloth and craft store where I filled the blue bag with scraps for 500 yen. The green bag is some discounted fleece I bought to make a couch cover. Then there is this lovely red fukubukuro. Unlike most lucky bag buying opportunities, this was unplanned on my part. As I waited in line to buy some lunch-pack sandwiches in front of one of Sendai's department stores, one of the workers brought out a stack of these bags. There might have been around 50 of them in the cart the guy was pulling, but within minutes of him placing the load next to the line of consumers waiting to check-out, every single one was gone. There was no display in this case, so I wasn't sure what I was getting into, but I was willing to take the bet that whatever was inside was well worth my 1,000 yen. I was not disappointed. All of that for 1000 yen. Mostly snacks, candy, and cup noodles, sure. Also, under the candy you'll see a warm pair of fuzzy red socks with white polka dots which were left over from some coca-cola campaign, according to the package. I think the white envelopes contained towels of some sort, but as it has been a year, I'm not entirely sure. Nowadays you can find a lot of information about these sales online before you go to the stores. Just search for the local shopping mall online and you can find a list of participating stores and deals on the website. For instance, this is the deal I hope to take advantage of tomorrow: 5 pairs of kids Sanrio socks for 1000yen. A good deal if you have a small child who is occasionally obsessed with Hello Kitty, I'd say. In addition to the fukubukuro, other sales are also a big deal on the first few days of the year. Check out your local retailers for their sales information. One national chain that I usually spend at least 2,000 yen at around the first of the year is Mister Donut. If you're a fan of donuts, it's usually a good call. In previous years, the 2,000 yen fukubukuro from Mister Donut has included 20 donut coupons (good for one donut each at any point before March of the new year) in addition to an article of service-ware (glass, plate, or mug in different years), a calendar, and a towel or blanket. I may be forgetting some additional elements, but that doesn't stop it from being a good deal if you like donuts and eat more than 20 donuts in 3 months. My family does. Keep in mind that while Japan's sales days are not nearly as rambunctious as those in some other countries, the shopping experience can still be difficult, exhausting, and even frustrating. If you too are planning to brave the crowds for the chance to get a bargain, remember to take care of yourself. Avoid getting hangry (hungry-angry) by eating at least a little something before you head out and don't be afraid to take a break when you need to. If you have small children, leave them with a trusted sitter or keep a close eye on them. Make sure they have what they need, too (a juice box, a snack, a potty break, whatever) as you make your way through the crowds. So what lucky bags are you buying? Which stores offer the best bargains for you?Oh, and Happy New Year!
JTsuzuki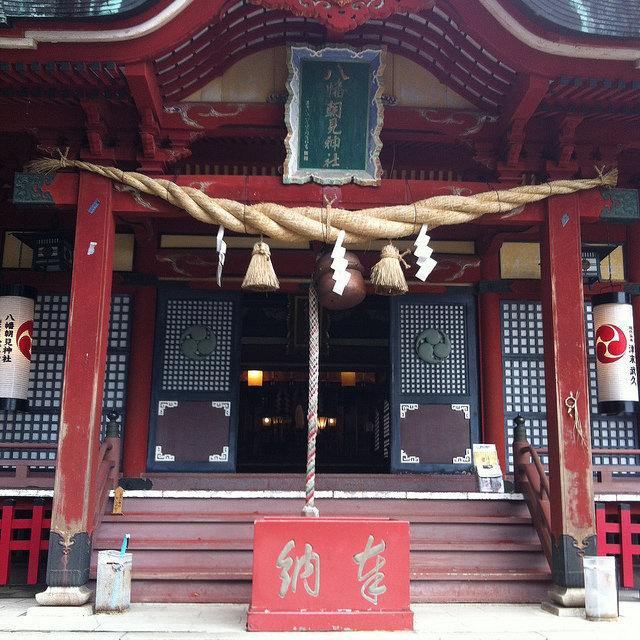 New Year Firsts!
There are lots of firsts in Japan following the new year. Hatsumode and getting omikuji are just an example of common new year traditions in Japan. There are many more, so let's look at a few of the popular new year 'firsts' to start off your 2017 in Japan. Hatsumode What it means: This is the one you've probably heard of, if you've only heard of one of the 'hatsu' for the new year. Hatsumode is the first visit to a temple or shrine in the year. When to do it: As early as midnight on the new year, some people go and ring the bell at the temple, buy good luck charms, and pray at the shrine or temple of their choice. It's bound to be very crowded the first day of the year, and resembles a festival because there will be vendors selling not only good luck charms, but also festival foods (although cold beer is not something I've seen, probably because it's winter). Busier shrines and temples that are super popular for hatsumode are: Meiji Jingu (Tokyo), Shinsoji (Chiba), and Fushima Inari Taisha (Kyoto). I have been to the shrine (Fushima Inari Taisha, famous for its hundreds of red wooden tori, or gates) in Kyoto on New Year's Day, and although it was crowded, it was a lot of fun because of the extra festival type stalls. If only once a year, maybe it's worth it to brave the crowded trains and wait in line to bow and clap. Not everyone does this, of course. Plenty of Japanese people don't bother going to shrines or temples at all, and many more just aren't into it enough to go during the most busy time of the year. There is no deadline for hatsumode, so if you end up going in March in time to pray for that new job, you can still call it hatsumode. Hatsuhinode What it means: First sunrise of the year. This one has to be done on the first day / sunrise of the year, and lots of people would rather sleep in than be up all night or wake up early on one of the coldest mornings of the year. If you're able to get somewhere with a great view like Mt. Fuji or a beach with a spectacular view, this is supposed to be really lucky. It's sort of nice to do every once in a while, so why not the first morning of the new year? I'm interested to give it a try this year if I can figure out getting to a decent place. There's a sunrise from just about anywhere, but waiting until it gets over the nearby houses and apartment buildings isn't the same. The best part about just watching from your balcony or inside your apartment is not being out in the cold. We used to go prepared with a thermos of hot coffee and some donuts when I did this as a kid. (That works better when one of the adults has been up all night.)Hatsuyume What it means: First dreams of the year. Sort of a weird new year tradition that I like, even though I think it's sort of silly.There are specific things that are lucky to dream about in the new year, so consider yourself lucky if you have a dream about these three things in the first week of the year. 1. Mt. Fuji: the tallest mountain in Japan, Fuji san symbolizes high aspirations. 2. A Hawk, or Taka: If you see a hawk flying high in your dreams, it means you can achieve the high aspirations too because they are so clever. And 3. An eggplant, or Nasubi: Sort of odd, but the old name for eggplant sounds lucky, like (成す) achieving something great. PS: I have never heard of anyone ever dreaming about these things. They are sort of weird things to dream about, don't you think? Hatsu uri What it means: First 'buy' of the year. With sales of 'happy bags' or 'lucky bags' becoming more popular (because you can get some good deals for good products), this is a 'hatsu' tradition, but it starts before Christmas. Maybe the first thing you buy will be days later, after the stores open, but more of the retail establishments are opening on January second or third, even on New Year's Day. Not much of a holiday for the employees, but I guess that proves everything is becoming commercialized. I think this one's a little funny, because I feel like we should buy something meaningful for the first buy of the year. It's probably something more normal or boring like a hot cup of coffee in reality. Kakizome What it means: First writing of the year. It's not any writing, but the ones done with a brush and ink, or shodo. Students will often do special practice and write something auspicious in January, as part of their kokugo, or Japanese class. The words we write should have a meaning about a new year, dreams, or spring coming. Usually students are given a word or phrase to write for each grade, then they will enter a contest for the area to win ribbons for the best writing. Look for these being displayed around your schools if you're a teacher, or in public areas in your city later in the year. (In the photo above, I wrote, 'Saitama no Haru' or 'Saitama's spring' which was the kakizome chosen for first year junior high school students that year.) My final pick is:Hatsuyu What it means: First onsen bath of the year. Maybe not so common, but a nice onsen bath at the beginning of the year (or any time) is relaxing and refreshing. There are quite a few others, maybe not so commonly practiced these days. Tell me about the others you know in the comments! Which firsts do you try to do every new year?
helloalissa