Jul 25, 2017
It's summer time! It's that time of the month where fireworks and yukatas take the center stage!
Last Friday, we were invited by my aunt to spend the weekend in Atami. They have a lovely house there so we had an awesome place to stay for three days. One of the things I love about Atami is it just gives off that calming and relaxing vibe, unlike the busy city-life in Tokyo. Days are lazy and people aren't always in a hurry. Another thing is that they showcase amazing fireworks displays. Every year, Atami holds the 'Atami Sea Fireworks Festival' 10 times throughout the year. Luckily, we were there to witness one this summer. If you want to know more about this festival, just click this link: Atami Fireworks Festival Sched.
Fireworks are one of the top eye candies for me. I love seeing them light up the sky, make explosions of illuminating confetti, and how they slowly fade away makes you wonder if there's even more. It just makes you want to live the moment and enjoy it before it lasts.
Here are a couple of GIFs I took all the way from our Aunt's rooftop. We were a bit far, so some of the videos might not give justice to what we have witnessed. Still, it didn't make the fireworks any less beautiful and mesmerizing as they really are.
I also captured this short one that made me say, 'Awwww'. What cute little shape can you see?
Finally, one of the best parts...
I hope this will be just one of the many fireworks displays I'll be able to witness. I am still on the look out for our next hanabi viewing, maybe this time it'l be somewhere in Tokyo. I'd also want to try wearing a yukata for that full hanabi viewing experience. If you have any suggestions where to watch next, don't hesitate to leave a comment below:) Til then, I'l just leave you staring at these magical views.
with love and pixiedusts,
RedhairedAlice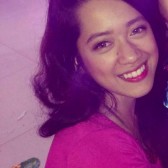 Former preschool teacher from the Philippines turned Alt in Japan who's currently obssessed with taking pictures about absolutely anything. Currently rekindling her love for art, crafts, fashion, writing, speaking her unimaginably tangled mind out through blogging.
---
2 Comments
Great GIFs. These are from your Aunt's rooftop?! That must be a really cool experience to sit out on the roof and watch the fireworks.

@DaveJpn hi dave! Well it was pretty cold and it was a very windy night. For a moment i thought theyd cancel the fireworks but yup, it was really a sight from where we were:)