Jan 17, 2018
New Year's lucky bags (fukubukuro) tend to be one of the highlights of each new year's period for me. Many of Japan's major retailers start selling these bags on New Year's Day or sometimes even just before, and they contain an assortment of merchandise from the shop in question. The goods were traditionally old or out-of-season items that the sellers couldn't get rid of easily from their shelves. A lot of what you'll find in them these days still is, and there's definitely an element of hit or miss to the whole thing. That being said, though, you can also get some surprisingly good stuff at a discounted rate if you pick your retailers carefully, and the chance element can just make the whole thing more fun.
In recent years, I've been limiting myself to three lucky bags for the sake of my budget and this year was no exception. Behold what I ended up with in 2018!
1. The Body Shop
Small bag - 3240 yen (3000 yen plus tax)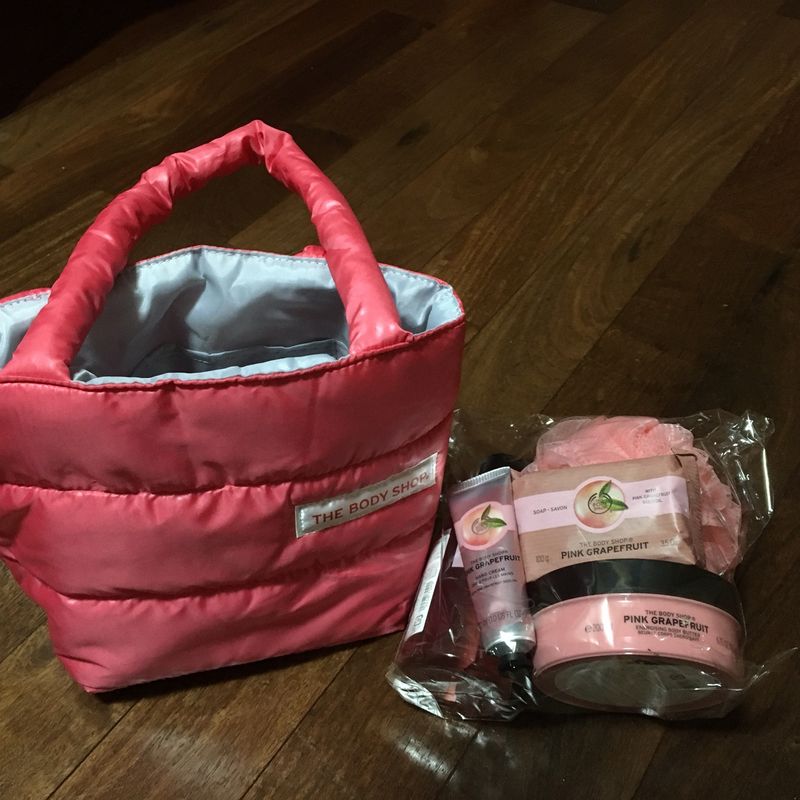 The Body Shop is a long-time favourite of mine, but their goods tend to be a little too expensive for me to buy on a really regular basis unless there is something in particular I'm after or there's a bargain to be found. Their New Year's lucky bags definitely do the latter and manage to be high enough in quality as well that they have found their way onto my must-have list each year.
Being one of the big name retailers of Japan, The Body Shop tends to remove chance from the equation and announce the contents of their bags ahead of the new year via their website and/or social media pages, so I had some idea in advance as to what the contents would be. When I arrived at the shop, I discovered that they had information about the contents available there as well, and that it was not just easy but perfectly fine to look inside the bags to confirm what they contained ahead of buying them.
This year's small size lucky bags were pink and made of thermal fabric, a fitting look for the winter season. I opted for the Pink Grapefruit set and wound up with these items:
Bottle of shower gel
Bar of soap
Tube of hand cream
Tub of body cream
One pink sponge
One 500 yen discount voucher, to be used by February 28th 2018 (not pictured)
I'm more than satisfied with this purchase! If I'm honest with myself, I don't really know what exactly I'll do with the bag itself, but it's nice to have anyway. The Body Shop lucky bag will more than likely end up on my to-buy list next year as well. The products are perennial favourites of mine, the coupon will be useful, and it's very good value for money.
2) Aunt Stella's Cookies
Large paper bag - 1080 yen (1000 yen plus tax)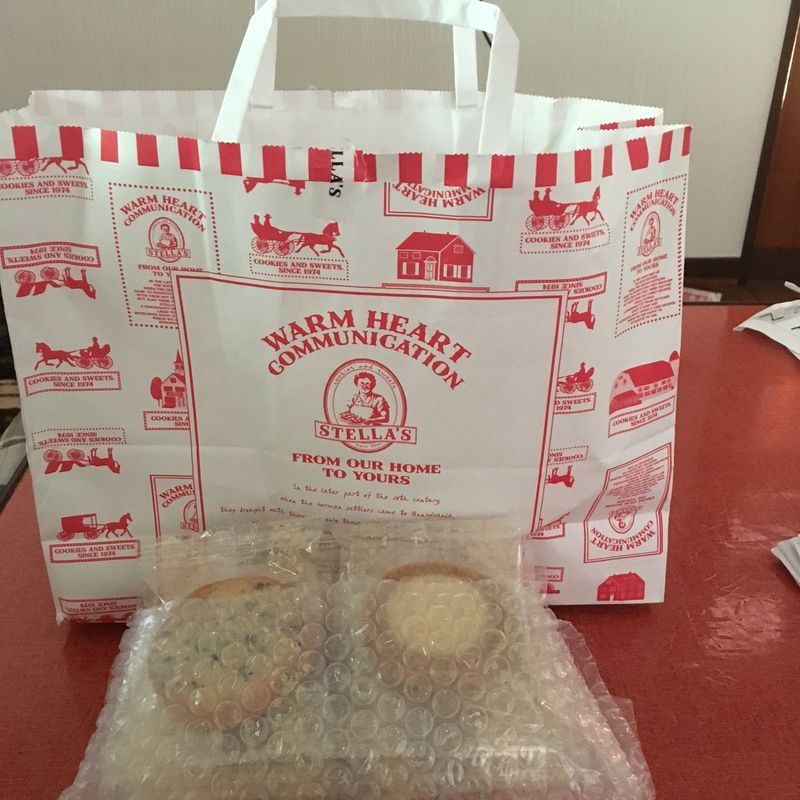 As well as selling boxes of cookies, Aunt Stella's Cookies has a number of small stores of their own throughout Japan and they had a selection of lucky bags/boxes of cookies, themed with symbols of the New Year. They were very cute and the cookies contained therein sounded promising, but I wanted all the cookies and thus I was drawn to the large paper bags full of cookies from their regular range instead.
The flavours featured were:
Chocolate chip
Old-fashioned sugar
Sesame
Double chocolate nuts
Butterscotch
Caramel custard
This was also a pretty good sampling of Aunt Stella's range and while there were some of these I liked better than others, it was good to get a chance to try a number of different options. Each bag contained two of these bubble-wrapped cookie packs. With each pack contained 12 cookies, this made for a total of 24 cookies which was pretty decent value for Aunt Stella's.
I'm not sure if I'll buy them again, though. I belatedly discovered that these are not actually lucky bags, or not New Year's ones anyway. You can actually get them and enjoy them at other times of year and now that I know which of the cookies I especially like, I might just go and buy them instead! However, I'm more intrigued than ever by those New Year's special edition boxes now, and I might seek those out instead.
3) Olympic Snack bag
Olympic is one of my local supermarkets and, each year, they offer up a number of lucky bags. One of them, tightly stapled and ambiguous in appearance to offer little clue as to what is inside, is basically a bag of snacks. It's certainly not the healthiest of options, but it's definitely enjoyable.
With the surprise factor high and good odds that I'll enjoy at least something that the bag contains, this tends to be another of my favourite lucky bags and this year definitely did not disappoint with the following snacks contained therein:
Bourbon Alfort biscuit share pack (milk and original flavours)
Bourbon Everyone cookies share pack (vanilla and cocoa flavours)
Bourbon Hi-Chocolate variety pack
Sembei (salt/soy sauce flavoured)
Tohato Caramel Corn
Ebi sen shrimp crackers
Natsume Karinto sweets
Dried peaches
Box of caramel toffees
Box of Pretz (salad favour)
Bar of Ghana milk chocolate
I have been extremely pleased with basically all of the sweets I found inside, especially the collection of Bourbon's Hi-Chocolates, and the savoury ones have also included some good surprises. While I'm not actually a huge fan of the shrimp crackers, my husband and son are, and the caramel corn is about the only thing nobody in my house particularly enjoys. Everybody has been happy! This is a fun lucky bag and in keeping with the traditional theme of them. If you like your Japanese snacks, I can only recommend trying out your local supermarket's equivalent.
So, there you have it, a good haul of lucky bags to kickstart 2018! If you're a lucky bag buyer yourself, I hope you had some similarly good finds yourself or perhaps got some ideas for your hunt next year. Happy new year, everyone!
I'm Australian and married to a Japanese (post)man. We live in Chiba with our two children, where I work as an English teacher. I try to post something here once a week, and I also have a personal blog over at http://lyssays.wordpress.com/
---
2 Comments
Oooh, I love the Body Shop too! I'm also a big fan of Lush and find they do good fukubukuro too!

Seems like to good start to 2018! I didn't buy any lucky bags this season but the partner was given a Godiva bag from a colleague at work. She doesn't like chocolate though, so I'm working my way through it now! Three boxes of chocolates and a packet of funny chocolate ball things.