Nov 22, 2017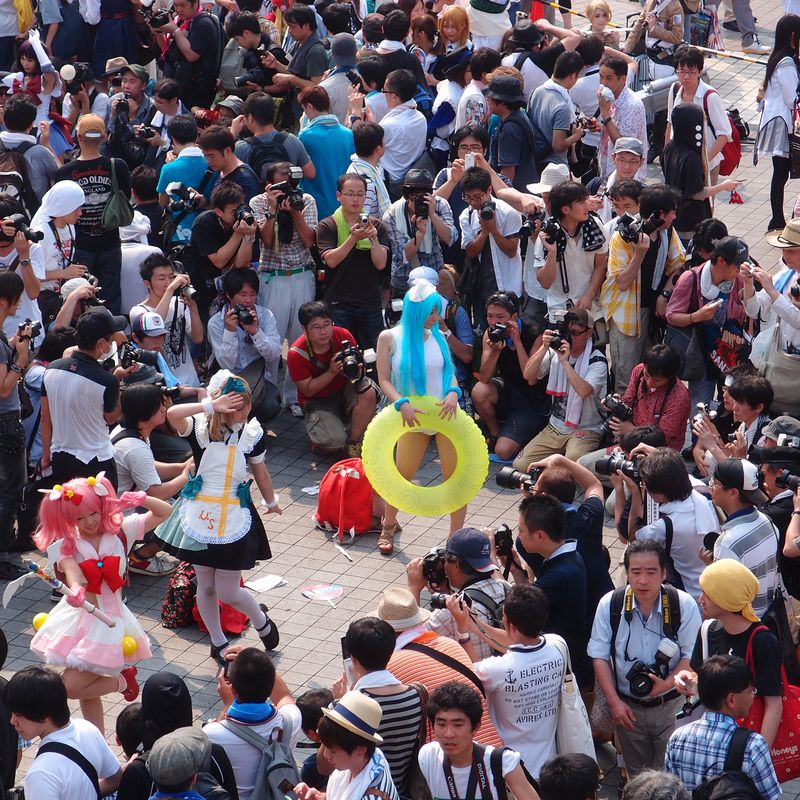 Japan's biggest anime, manga, and cosplay events take place throughout the year with December, in particular, host to some of the heavy hitters, kicking off with Tokyo Comic Con 2017. Here we take a look at the top anime, manga, cosplay and all-round otaku events in Japan.
Tokyo Comic Con - Chiba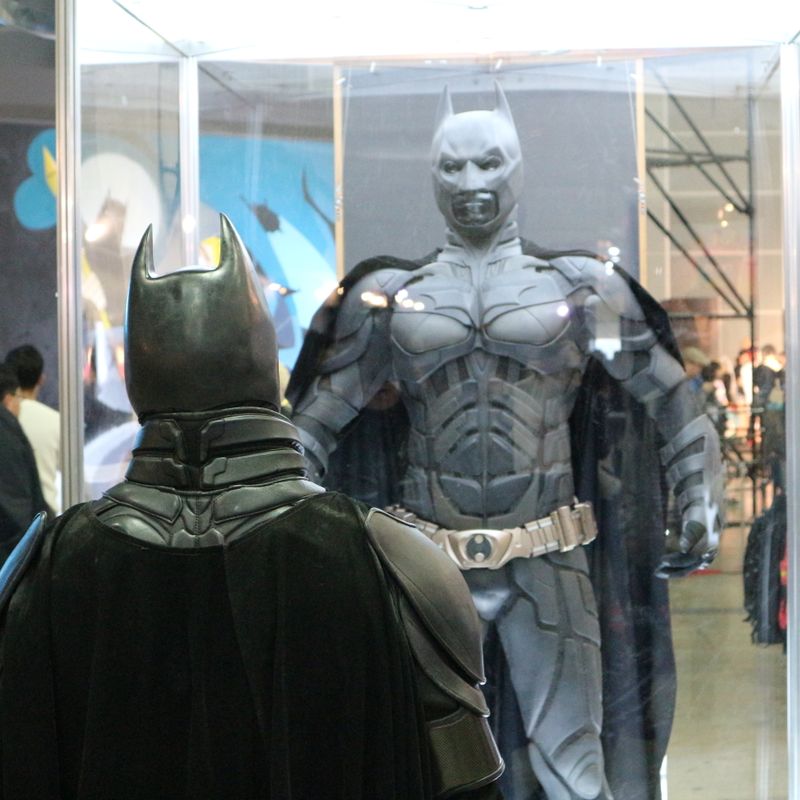 It seems quite astonishing that, what is arguably the world's most famous comic and subculture event Comic Con, took so long to land on Japanese shores. One would have thought the two getting in bed together would have been a no brainer from the start. Still, it wasn't until last year, 2016, that Tokyo hosted its first Comic Con, the brainchild of "the king of technology" Steve Wozniak. "Woz" teamed up with legendary comic book writer Stan Lee in the creation of the Silicone Valley Comic Con, and the pair have now gotten a foothold in Tokyo. Both are scheduled to appear at Tokyo Comic Con 2017.
"Comic" rather than "manga" is really the key point here; Tokyo Comic Con is largely dominated by brands, creations and characters from across the pond that might not be to the taste of anime / manga purists - expect plenty of characters from the Marvel franchise rubbing shoulders with Terminators and Storm Troopers. For the casual observer though, Tokyo Comic Con is a bold, colorful and good-natured affair, with plenty for fans of literature and motion pictures to get their teeth into.
2016 collated booths and exhibits from some 111 organizations and companies. Tokyo Comic Con 2017 is expected to see that number rise to around 130 - 150 with visitor numbers anticipated at around 50,000 over three days. Such numbers are small compared to, say, a Tokyo Game Show or a Tokyo Motor Show but organizers may may be aiming for more, for now, the visitor experience of Tokyo Comic Con is an easy one with plenty of space to move around in and less in the way of queues.
Of course, the cosplayers are here, too, many of them wandering around freely in the event space, and nearly all happy to have their photo taken. Fans should look out for the Marvel and Star Wars Cosplay Showcases in 2017.
Read our report from Tokyo Comic Con 2017:
Tokyo Comic Con 2017: Cosplay and comics come to the capital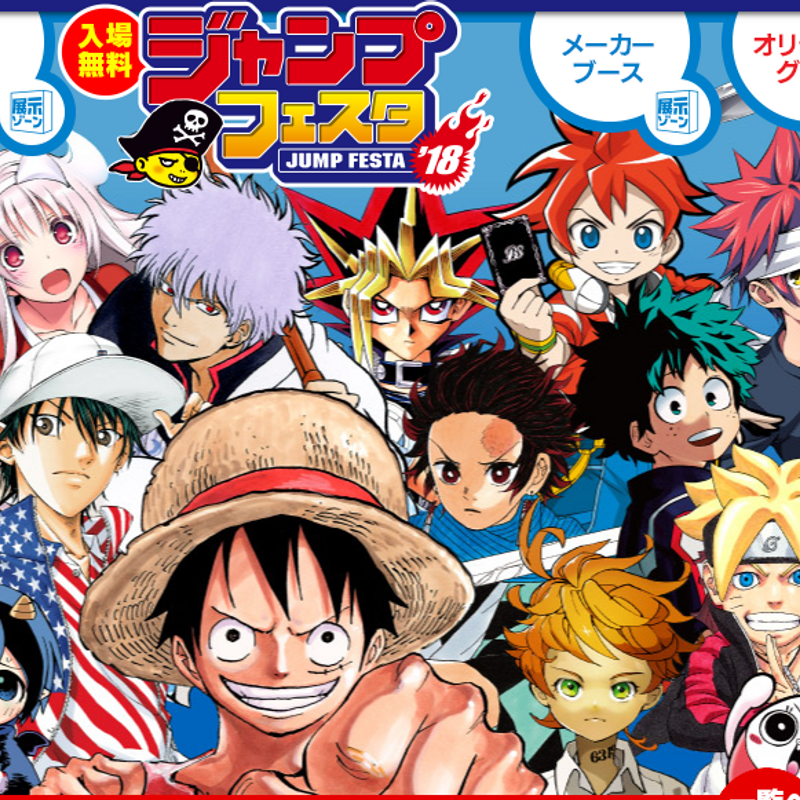 Jump Festa - Tokyo
This annual manga fest takes its name from the Shueisha Inc. published manga anthology Weekly Shōnen Jump, a long-running stalwart of the Japanese manga scene. Sales of the anthology have dropped by some way since the publication's mid-80s to mid-90s heyday but the Shōnen Jump brand still has enough clout to pull off the sizeable Jump Festa once a year. And so perhaps it should when it can boast of having brought to the genre such series as One Piece, Gintama, and Hunter ✕ Hunter. In fact, one can be pretty certain of an event's appeal when organizers are having plead with potential visitors not to show up the day before event opening.
Proceedings at Jump Festa are lead by the "Jump Super Stage" upon which creators and voice actors are invited to come and give talks / presentations to fans.
At the "Jump Amusement Island" (ジャンプアミュズメン島), a new addition to the event, fans of the Jump family can get up close and personal with massive Monkey D. Luffys et al, as well as try their hand at the latest games coming from the production crew at Shueisha Inc. Expect booths devoted to Weekly Shōnen Jump as well as those for offshoots like Young Jump and Ultra Jump.
Jump Festa isn't exclusively about the Shōnen Jump family. Over at the "Maker Booths" some big names in the gaming / toy industry maintain a presence including the likes of Capcom, Square Enix, Bandai, Warner Entertainment and Nintendo.
With such a heavy line up, it's a fine achievement on the part of organizers that entrance to Jump Festa is free.
Jump Festa started out in 1999 under the name, "Jump Festa 2000". This confusing moniker has continued so, although the next edition of the event is called "Jump Festa 2018", it's actually scheduled for Dec. 2017.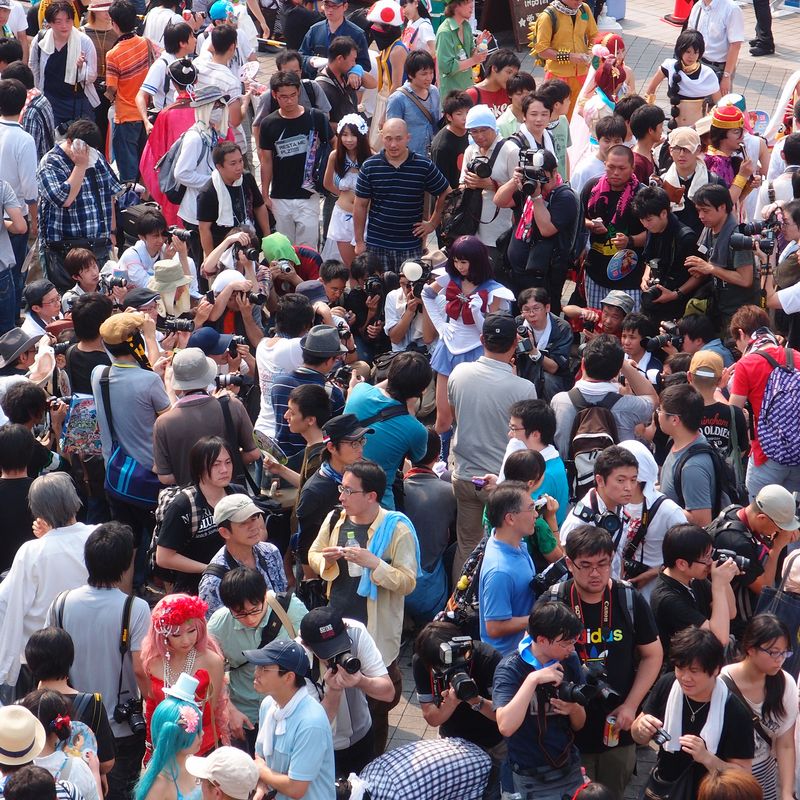 Comic Market (Comiket) - Tokyo
Depending on which sources you read from Tokyo's bi-annual Comic Market, perhaps better known as Comiket (or even Comike), is either the largest manga, anime and doujinshi fair in the world, or simply just one of the largest in Japan. Either way, it's large. In fact, organizers, the Comic Market Committee, call it "Japan's largest indoor public gathering operated by a single private non-governmental group." The numbers for the 2017 summer edition of Comiket read like a misanthrope's worst nightmare - around half a million visitors piled into the event's Tokyo Big Site venue over the course of three days. This should come as little surprise though; gathering together a massive pile of manga in Japan, and the world's, largest city was always going to pull in the numbers. Even more so when it's free (although visitors are gently persuaded into buying the event catalogue)!
In many ways Comiket, despite the numbers, has the manga purist at heart with the event's primary focus being the exhibition and sale of manga from independent creators and publishers - doujinshi.
One shouldn't come to Comiket expecting the kind of extravagant booths on show at, say, the Tokyo Game Show. This really is what it says it is, a market. Still, there's plenty for the layman to poke their lenses at, in particular the army of cosplayers that rock up, togged up, to the event site.
And Comiket is not all about the comics, there will likely be a smattering of video games, novels, crafts, and train kits on show or for sale.
Interestingly, for what has the image of being a male-dominated industry, Comiket has had years when the majority of attendees were female.
Even if you don't attend Comic Market, should you be in Tokyo when it's on, don't be surprised to see the occasional otaku laboring onto the Tokyo trains under the weight of bags full of manga. It's especially fun when they crack one open for a read and you can spot some the bizarre titles and themes that these things have. This expat seems to remember seeing one last year about the Taliban. Lovely stuff! (Although I doubt it would have gone down well with them!)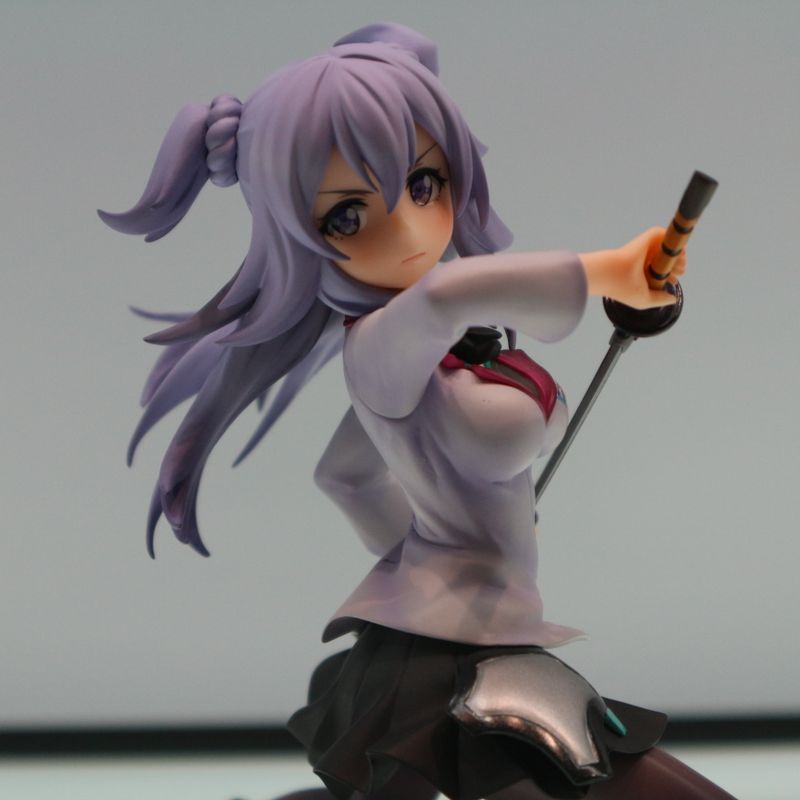 Wonder Festival - Tokyo
Where Comiket is about the literature, Wonder Festival (WonFes) is about the kit. Another bi-annual bash held in Tokyo (Chiba, actually), organizers call this the world's biggest figure festival, and like Comiket, this is an event for the humble purist rather than having the razzle, dazzle of big exhibitions.
Held in Chiba's (not Tokyo) cavernous Makuhari Messe, simple tables are laid out like a Sunday fair onto which go figurines in myriad of forms, although they are generally pretty small.
Wonder Festival is usually divided into two zones; independent creators, and then the industry heavy hitters. Whatever your interest in collecting figures, or even if you don't have much of one at all, you can't help but be impressed by the detail these things display. It's the kind of detail that goes some way to reveal the Sisyphean levels of patience that must be required to make them. In the independent zone especially, it's also fun to walk around and chat to the people being the figures.
Of course, as with many of these "manga" / "anime" events in Japan, the overt sexualization of the female form (even in plastic) might be jarring for some - and there's a lot on show at Wonder Festival. Still, it's not all about that, and it might be of interest to some to see the preliminary sketches and figures pre-paint job that are part of the creation process.
Again, cosplay has a significant presence at Wonder Festival with the spaces around the outsides and in between exhibition halls home to a number of cosplayers holding photo sessions for whoever might be interested. And there is a lot of interest. Expect to spend most of your time waiting in line, especially if you want to snap the most popular cosplayers.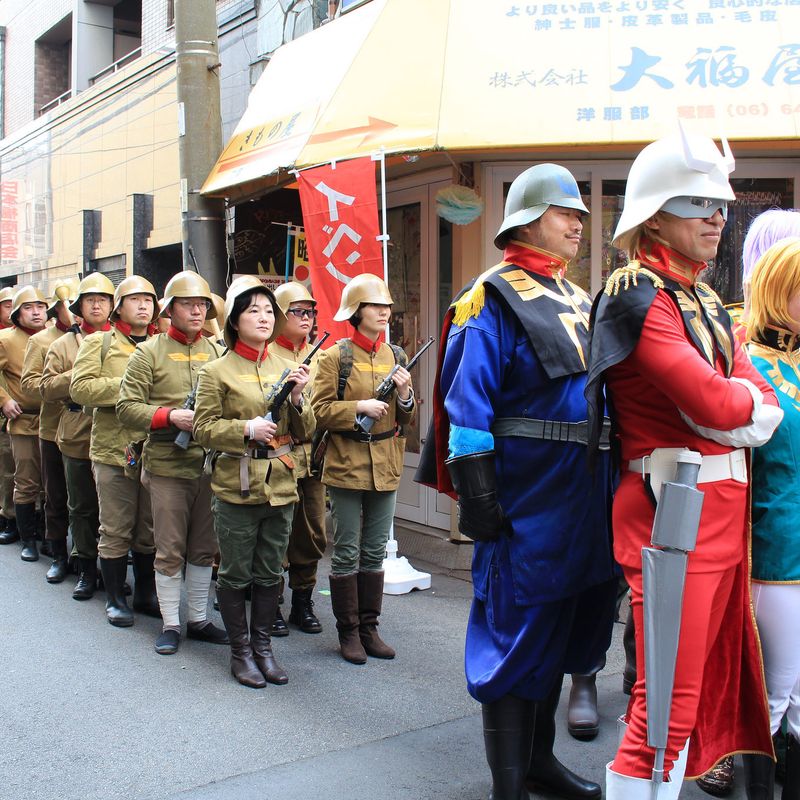 Nipponbashi Street Festa - Osaka
The Nihonbashi (Nipponbashi) of Osaka couldn't be further removed from its Tokyo namesake; where the latter is all about the high-end and the high-brow (depending on perspective of course) the former, commonly known as "Den-Den Town", is strongly represented by otaku culture. Maybe Akihabara would be a more fitting comparison.
For one afternoon in March, Den Den Town's streets are closed to traffic and opened to an army of Japanese pop culture enthusiasts in what is one of the largest anime-themed events in Kansai.
Nipponbashi Street Festa dates back to 2005 and has been growing in participation year on year with recent attendance being around a quarter of a million. Such numbers are more than just a bit of light Sunday afternoon fun, they are a serious boost to the local economy and capable of disseminating the virtues of Japanese subculture far beyond Osaka.
Whilst the numbers soar, the vibe of Nipponbashi Street Festa remains local, and it has to really, as it relies on local business being OK with a mad array of characters passing by their windows. It's all in good spirits though with the festival having a more casual feel to it rather than anything driven by an industry or culture purists. The fun here is to wander, nibble (on the food), snap some of the friendly cosplayers and repeat.
And it's free.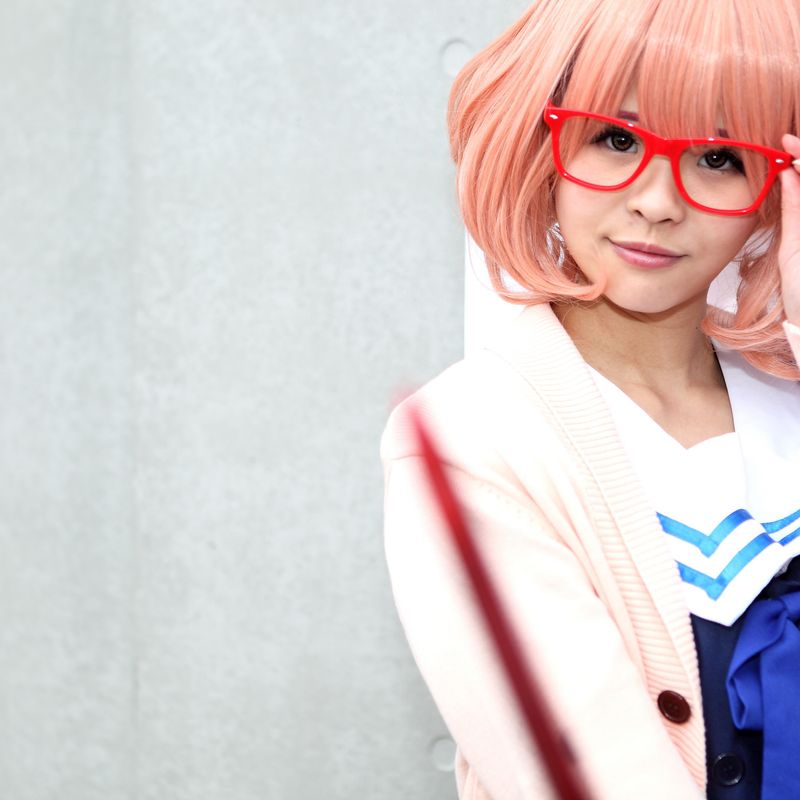 AnimeJapan - Tokyo
"Here is Everything about Anime" reads the mission statement of relative anime-event newbie, Anime Japan. It's the kind of high concept simplicity that would have Jerry Bruckheimer reaching for his cheque book.
Yes, despite only starting out in 2014, the people behind Anime Japan aren't afraid to think big. 2017 saw the 100th anniversary of the birth of anime in Japan. For 2018 then, event organizers are in a forward-thinking mood looking to explore themes of creation, the spreading of anime culture, and the creators and consumers of the future.
The event has come along way in a short time (although this is cheating really as Anime Japan was really born out of combining two former events - Tokyo International Anime Fair and Anime Contents Expo) - by most accounts Anime Japan is the industry's showpiece occasion in Japan and one of the largest of its kind in the world. Expect even larger numbers (around 145,000 people rocked up for 2017), even on press day when journos will turn up from all parts of the world to cover the event before everyone else has the chance.
Anime Japan's Tokyo Big Site Venue hosts hundreds of booths from anime-related companies and organizations, with the focus, as the name might suggest, being on Japanese anime. Expect the heavy hitters to be in attendance; Bandai Namco, Toho Animation, Attack on Titan, Pony Canyon and plenty more were all present in 2017.
Also at the event is the Family Anime Festa, workshops, stage performances, the requisite food stalls (Attack on Titan bites!), and areas for cosplay.
Of course, despite the sweeping messages of good intent, Anime Japan, as with many other events like it, is all about shifting product so, if you're an enthusiast, expect to leave the event itching for the latest releases to hit a shop near you, if you've any money left after a spree on the event's official merchandise,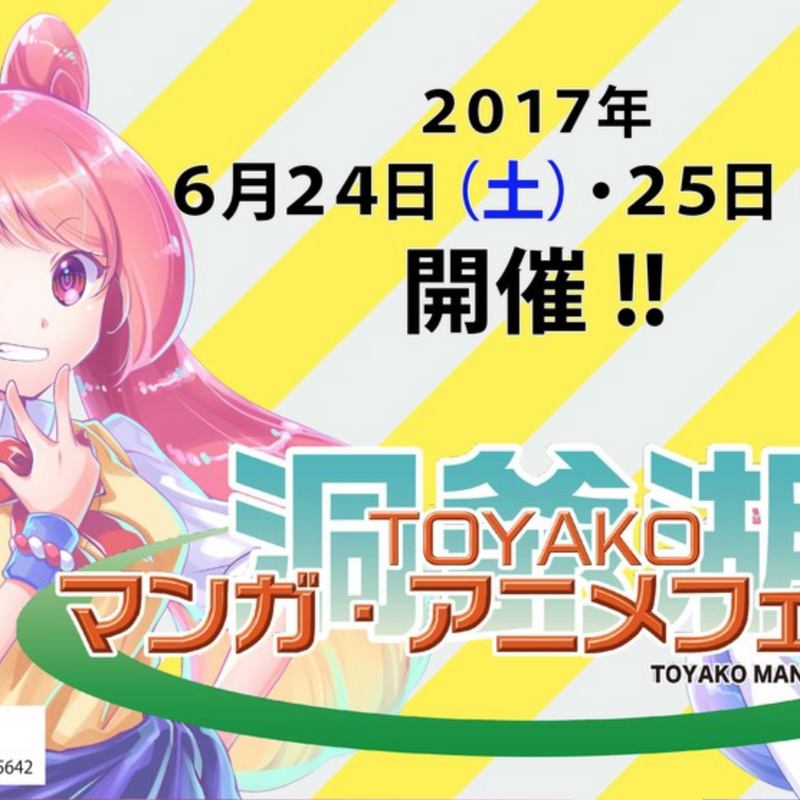 Toyako Manga Anime Festa
Hokkaido's lakeside and oceanside Toyako hot-spring town seems like an unusual place to host a sizeable otaku bash, the area seems more suited to an invigorating hike. Still, here it is - Toyako Manga Anime Festa - the largest event focused on manga, anime, and all their accoutrements, in Hokkaido.
This being Hokkaido, and the Toyako Manga Anime Festa taking place outdoors for the most part, the event is held in summer with the 2017 edition being June 24 - 25. This year's festa featured appearances from manga artists and performances by anisong singers and voice actors. Fans can expect cosplay contests, parades and performances, and market stalls selling independent manga publications (doujinshi). Unlike many of the anime and manga events listed here, Toyako Manga Anime Festa also puts on a show of "itasha" (痛車) - cars that are decorated with paint jobs featuring characters from manga, anime and video games.
The event is considered a promotion of subculture combined with a dispensing of the appeals of the Toyako area, so doesn't have the hardcore vibes that might prevail in other such gatherings.
2017 was the 7th outing for an event that got to its feet somewhat reluctantly due to initial opposition from elderly residents of the area who felt that it wasn't in keeping with the onsen vibes. The organizers might be onto something though. The inaugural event saw 3,000 attendees. By the third outing that number had exploded to 30,000. Certainly, out of all the anime, manga and cosplay events listed in this piece, the Toyako Manga Anime Festa can surely boast of the most extraordinary location, and it must be an attraction in itself to see an old onsen town swamped with cosplayers and mangad-up motors!
At the time of writing we couldn't find any word on what was happening in 2018.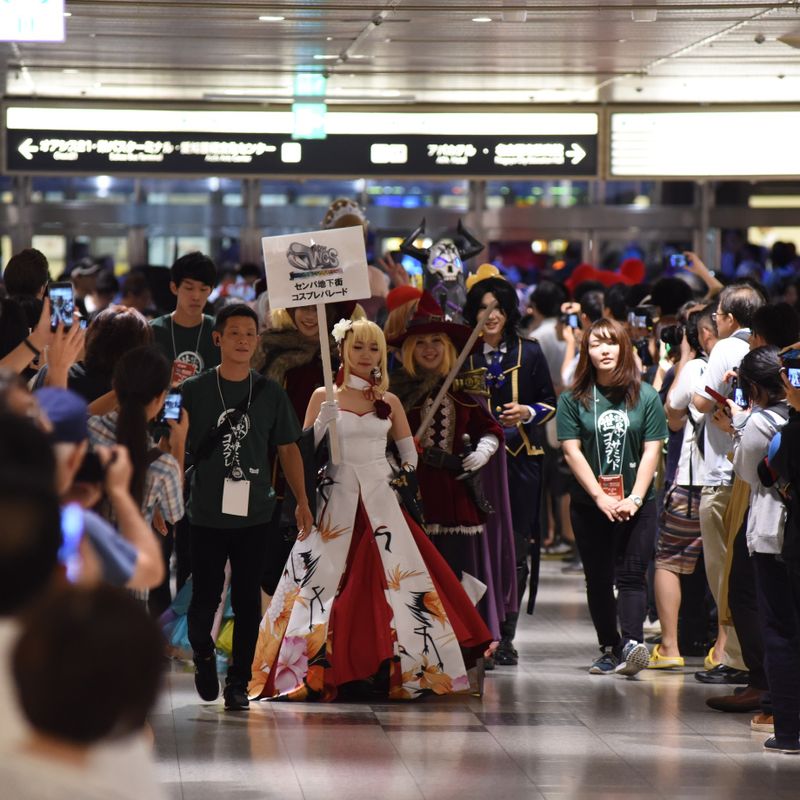 World Cosplay Summit - Nagoya
This annual cosplay bash held in Nagoya is almost as grand as its name and one of the best, if not the best, cosplay event on the Japan calendar. It wasn't always thus though, the first "summit", held in 2003, was much more humble, bringing together cosplay representatives from Germany, Italy and France for photo sessions, discussion panels and a "get to know each other" party. As a love of Japanese anime and manga has grown throughout the world, so to has cosplay and with this the World Cosplay Summit. The 2017 edition, the 15th outing for the event, saw cosplayers representing 34 countries and regions come to Nagoya for the event's "Cosplay Championships".
While the raison d'etre of the World Cosplay Summit is to foster international exchange, on the surface it's the event's Cosplay Championships that draw the fanfare. Here, in the "Mecca of cosplay - Nagoya" (the organiser's words), cosplay pairs come from around the world to compete in the quality of their costumes and performance.
The rules for entry to the Cosplay Championships don't muck about - preliminary rounds are held around the world at partner events. Cosplayers are required to bring at least three costumes with them to Japan (for the parade, the championships, and for courtesy visits). Said costumes must be handmade (including props), and must be from Japanese anime, manga, video games or tokusatsu (Japanese live-action TV/films heavy in special effects - think Ultraman, Godzilla et al). Star Wars and Disney are a "no go" here.
Along with the Cosplay Championships, the World Cosplay Summit is also host to the "Osu Cosplay Parade" held in the Osu shopping district of Nagoya, the site of the inaugural World Cosplay Summit. Shutterbugs are presented with arguably the best photo ops during the Nishiki Street Red Carpet Parade in which representative pairs primp and pose in front of the lenses.
Tickets for the Cosplay Championships are around 2,500 - 3,000 yen depending on seat type.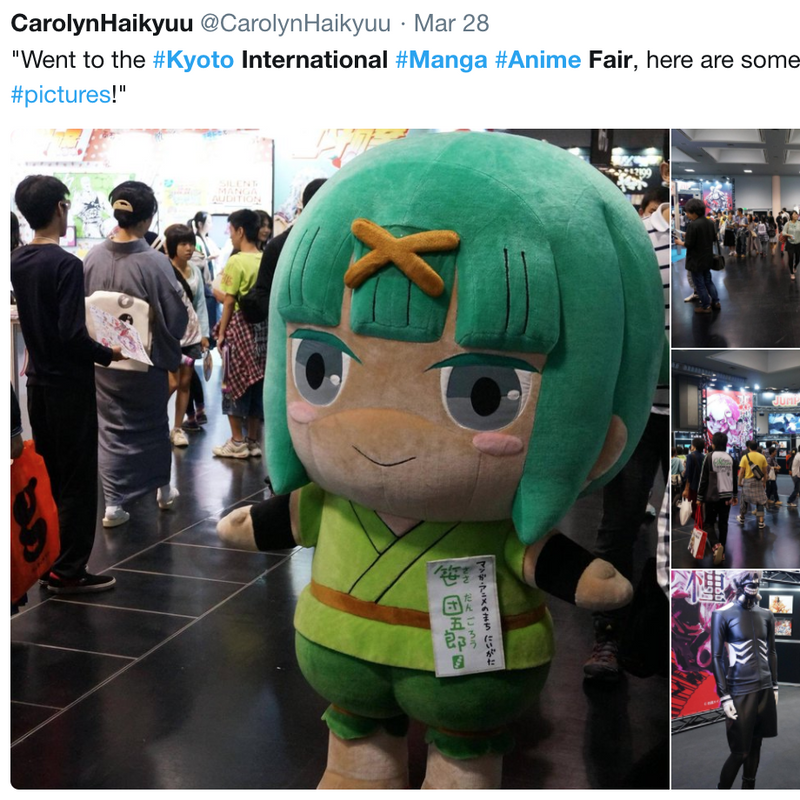 Kyoto International Manga Anime Fair - Kyoto
KYOMAF, demonstrating the Japanese penchant for truncation, is a two-day manga and anime extravaganza during which Japan's center for all things old dusts itself off to show that it can do contemporary, too, and in some style - this is one of the Kansai region's largest manga / anime events.
The Kyoto International Manga Anime Fair attracts fans from Japan and around the world with numbers in the tens of thousands. It's a chance for them to sample the newest manga and anime releases (or soon to be "releases"), pick up merchandise and rub palms with industry insiders.
Exhibitor booths at KYOMAF 2017 featured the likes of Fate/Apocrypha, Fate/Grand Order, Hatsune Miku, Wake Up, Girls!, and the Beautiful World. An event stage features talks from industry guest speakers, exhibitions show off how much "anime and manga" you can apply to items like fans and key chains, and in the "Chara cafe" you can chow down on a novelty burger or two.
Tokyo has more than its fair share of anime and manga themed trade shows and conventions, while Kyoto sees few. Expect the atmosphere at the Kyoto International Manga Anime Fair to be accordingly feverish.
While the bulk of the KYOMAF action takes place at Kyoto's Miyako Messe (Kyoto International Exhibition Hall), events, of a more family oriented vibe, also take place at the Kyoto International Manga Museum.
| | |
| --- | --- |
| Kyoto International Manga Anime Fair 2018 | Sep. 16 - 17 |
| Venue | Miyako Messe / Kyoto International Manga Museum |
| Web | http://kyomaf.kyoto/ |
| Entrance | Miyako Messe: 1,500 yen (on the day) / Kyoto Int'l. Manga Museum: 800 yen (on the day) |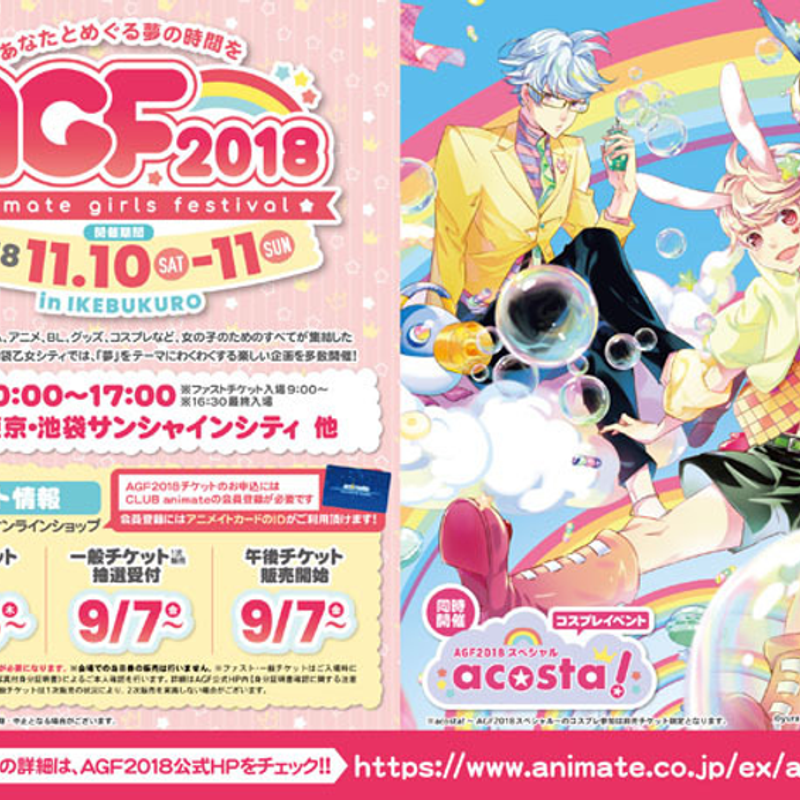 Animate Girls Festival - Tokyo
Over 85,000 otome anime fans turned out for last year's Animate Girls Festival (AGF), helping to establish this event as the largest anime event in Japan targeting female otaku.
The inaugural Animate Girls Festival was held in 2010 in Tokyo's Ikebukuro district, something of a center for anime girls in Tokyo, and has gone on to return every year since, growing larger in scale as it does so.
Booths and stage programs cover a festival itinerary of anime, comics, BL genre, and games over a two-day period, typically in Autumn. In fact, AGF has grown the point that it can no longer be contained by the Ikebukuro Sunshine City venue and now spills out onto the streets. Festival organizers also work in collaboration with local stores and businesses to bring special campaigns and limited-edition anime goodies to fans.
AGF 2018 promises over 100 exhibition booths at the event this November, with a main Fountain Plaza Stage host to a program of 10 items over the course of the two days.
Note that tickets for Animate Girls Festival cannot be purchased on site on the day. They are advance purchase (online) only.
What do you think is the best manga, anime, cosplay, and all-round otaku event in Japan? Anything missing from this list? Let us know in the comments.
Further reading …
Tokyo Comic Con 2016: Cosplay and kit in images
Game On! Tokyo Game Show 2016: Photo Gallery and Tips
Tokyo Game Show 2017 images: booths, VR, cosplay, gameplay & more
See us on …
Twitter and Facebook: @citycostjapan
Images:
Top (Comiket): Guilhem Vellut Flickr License
Comiket: Guilhem Vellut Flickr License
AnimeJapan: 思弦 張 Flickr License
Nipponbashi Street Festa: H yamaguchi Flickr License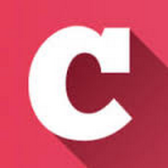 A Q&A and blogging community about life in Japan (plus a load of life-in-Japan stats!). Get your questions answered, share your experience! | Inquiry -> KyodoNewsDigital International Media | Tokyo, Japan | +81 3 6252 6402
---