Aug 22, 2017
Where to start with a list of the 10 best attractions and things to do in Tokyo? The options are almost overwhelming and few of them will be all powerful enough to cater to everyone's tastes. "Few of them" - perhaps there are some Tokyo attractions that might be obvious - Sensoji in Asakusa, Tokyo Tower and Tokyo Skytree all might seem to be a given on any such top 10 lists, and before the travel elitist sneers, these kind of marquee attractions can serve as useful anchors in an ocean of sightseeing possibilities. Anyway, what we really want to do with our list of the best attractions and things to see / do in Tokyo is look at how much they cost to enter. We want to try and convey a sense of the budgets required to take in these marquee attractions and also to dispel (or exacerbate) any myths about Tokyo being an expensive city to visit. At the end of the piece we'll attempt to tally up the entrance and travel costs to provide a broader view on how much they cost in the collective.
In the interests of honesty, we compiled our 10 best list by simply picking and choosing those Tokyo attractions that were regulars on the myriad of such lists (all Japanese) that we checked on the web. That said, we have thrown one or two quirks in, just for the fun of it. There is no particular order to this best 10.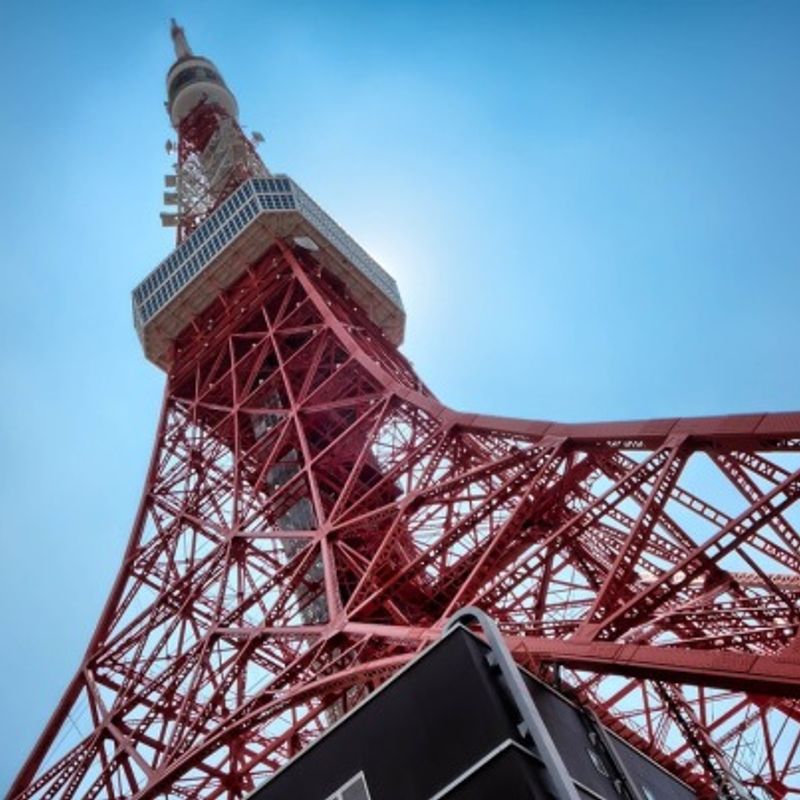 Tokyo Tower
Obviously no surprise to see the iconic Tokyo Tower on any list of top attractions and sights in Tokyo. One of the old guard of "modern" attractions in the Japan capital, Tokyo Tower has been on Tokyo based sightseeing itineraries since opening its doors in 1958. The 2012 opening of Tokyo Skytree may have caused Tokyo Tower management to break out into a cold sweat but they can perhaps rest easy - there are enough tourists in the city to go around and the looming presence of the new kid on the block seems to have done little to dent the somewhat old skool appeal of Tokyo Tower, which is still, surprisingly, the second-tallest structure in the country at nearly 333 m.
Anyway, the structure remains far more distinctive than its taller rival and is really only a part of the appeal. Tokyo Tower is a regular host to themed events at its base and its observatories and shopping / dining spaces making it one of the most popular date spots in Tokyo. Securing the "theme park" Tokyo One Piece Tower seems to have been a big boost to management. The tower is also home to some of the best (i.e. madest and tackiest) souvenir shopping in the city, and with Roppongi and the Zōjō-ji within walking distance, Tokyo Tower boasts of a great location to boot (something which might not be said of Tokyo Skytree).
Tokyo Tower Entrance:
Main observatory - 900 yen

Tokyo One Piece Tower & Main Observatory set - 2,900 yen
Special Observatory - 1,600 yen (includes access to Main Observatory)
Cost from JR Tokyo Station: The closest station to Tokyo Tower is Akabanebashi Station (Oedo Line - 5 min walk) - 340 yen
Web: https://www.tokyotower.co.jp/en.html
*NB - The Special Observatory of Tokyo Tower has been closed for renovation since Oct. 2016. The Main Observatory is due to undergo renovations from Sept. 2017 but will remain open to the public although one of the space's sides will be closed at any one time.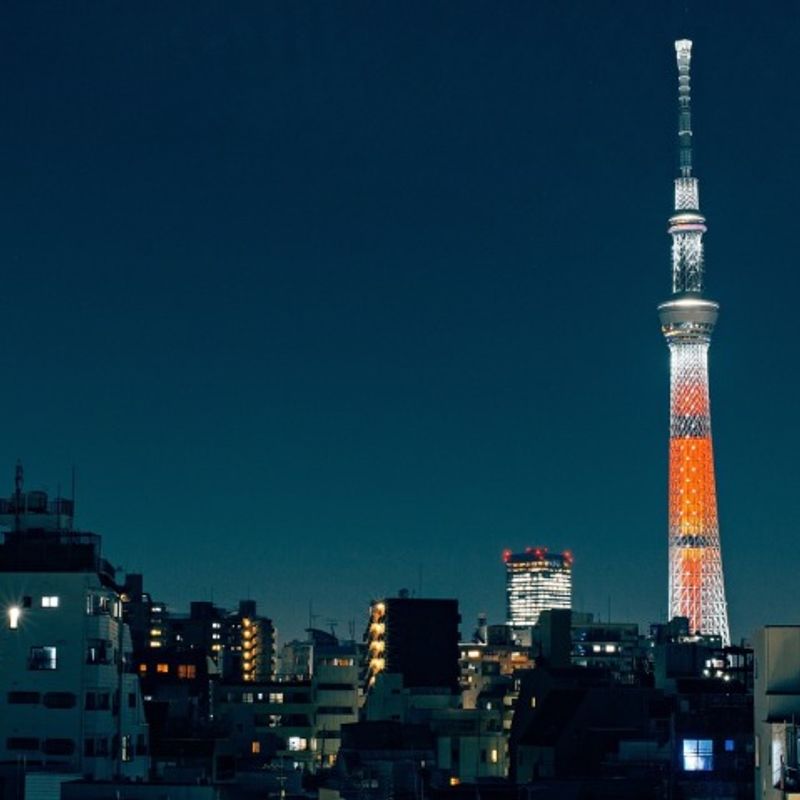 Tokyo Skytree
The bold, brash (and slightly architecturally boring?) newcomer to Tokyo Tower's seasoned veteran, Tokyo Skytree seems to have gone with the concept, "bigger is better". The tallest structure in Japan is, in fact, the tallest tower (not to be confused with "building") in the world and the second tallest structure in the world after the Burj Khalifa in Dubai. Skytree stands at over 630 m.
Supported by the shopping extravaganza that is Solamachi, Skytree has, since its 2012 opening, put the otherwise low-key and thoroughly old skool northeast of Tokyo on the tourist map, both domestically and internationally. The Internet is now awash with views of an urban Tokyo seen from the upper echelons of the tower that are so vast as to appear dystopian. Still, the mood is lightened with numerous events held around Solamachi including some great illuminations and a German market during the festive season.
Tokyo Skytree Entrance:
Tembo Deck: 2,060 yen
Tembo Galleria: 1,030 yen
Cost from JR Tokyo Station: To Tokyo Skytree Station (Tobu Skytree Line) - 460 yen
Cost from JR Tokyo Station: To Oshiage (Hanzomon Line) - 330 yen
Both stations are within spitting distance of the tower.
Web: http://www.tokyo-skytree.jp/en/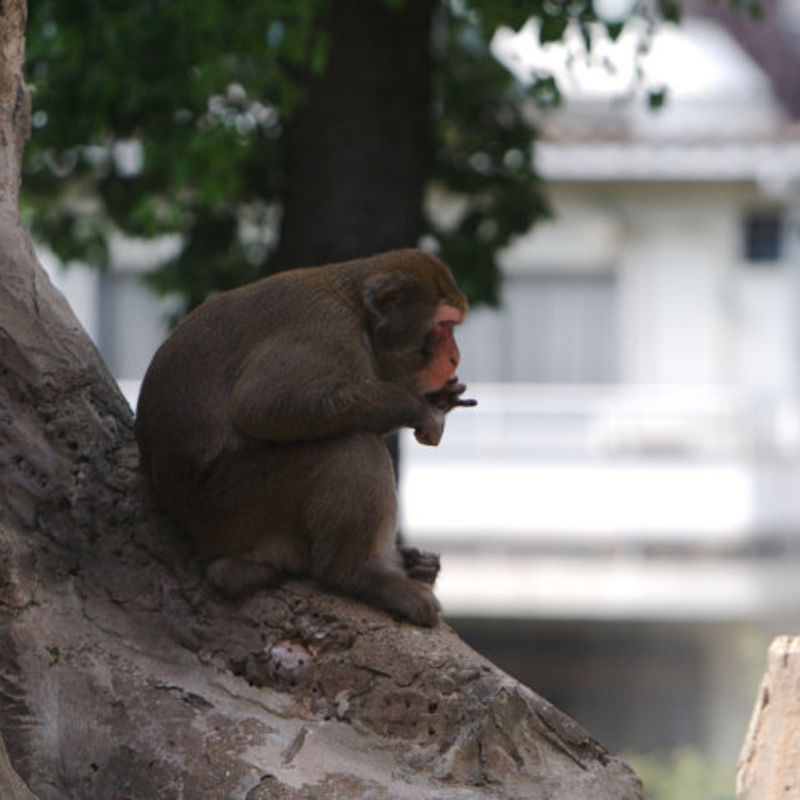 Ueno Zoo
The only zoo to make this Tokyo top 10, Japan's oldest zoo has been drawing in the punters since the late 19th century. Ueno Zoo has two weapons in its appeal arsenal that must be the envy of similar facilities up and down the land - it's located in Ueno Park home to an abundance of world-class museums and galleries, and it's usually home to some pandas (often rented from China) out of which zoo management have at their disposal a seemingly endless resource in marketing possibilities. Japan luuurves a panda! In June of 2017 resident superstar Shin Shin gave birth to a cub and the nation's media hit meltdown.
It's not all about the pandas though. Ueno Zoo is home to some 3,000 animals covering some 400 species which include such heavy hitters and zoo prerequisites as tigers, lions polar bears and whole load of monkeys.
The facility is large enough that its two "gardens" (east and west) are linked by a monorail system.
Ueno Zoo Entrance: 600 yen
Cost from JR Tokyo Station: 160 yen (Nearest station - JR Ueno)
Web: https://www.tokyo-zoo.net/english/ueno/index.html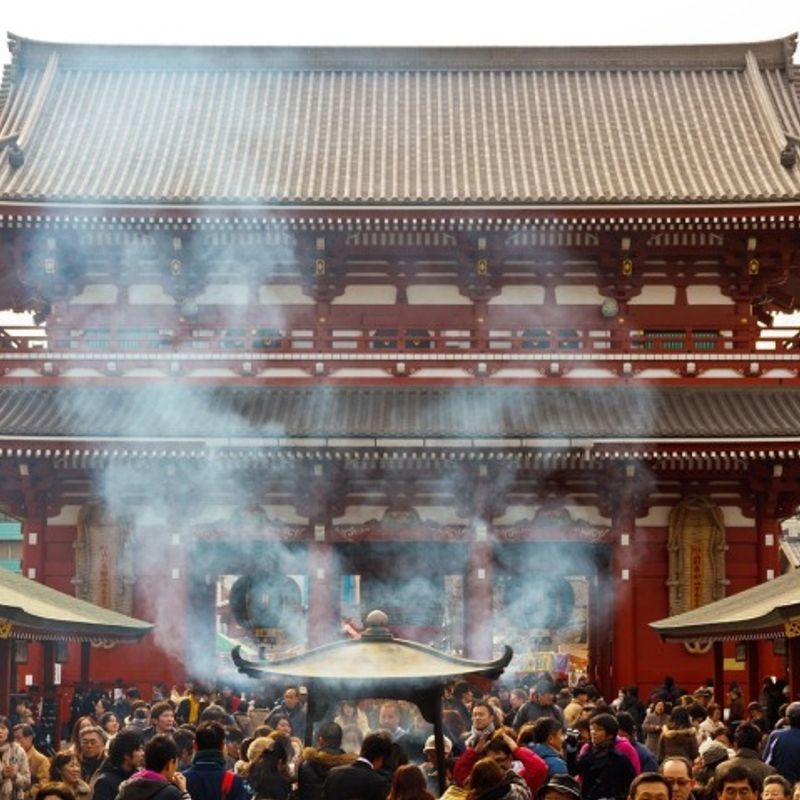 Sensoji, Asakusa
The Buddhist temple of Sensoji anchors the sightseeing scene of sightseeing hub Asakusa. To put it mildly, it is one of the historical stars of Tokyo and has the crowds to prove it.
Also known as Asakusa Kannon Temple, Sensoji can also boast of being the oldest temple in Tokyo, dating back to the mid 7th century.
The Sensoji fun begins even before you reach the temple structure at notorious photo op Kaminarimon (the enticingly named "Thunder Gate"), surely one Tokyo's most popular "selfie" spots. Having passed under the gate, visitors then have to negotiate the 200 m long Nakamise, a narrow, pedestrian street packed to the rafters with pint-sized, open-fronted stores selling what can only be described as "tourist tat". If you want those imitation ninja throwing stars or a Samurai-themed ashtray, this is where you'll find them.
At the end of Nakamise, pass through the impressive Hozomon Gate to be faced with Sensoji's main hall.
A number of events are held in and around Sensoji the most celebrated of which must be the Sanja Matsuri held in May during which the crowds reach alarming proportions.
Sensoji Entrance: Free (although you can't really enter the inner workings of the building itself)
Cost from JR Tokyo Station: Around 300 yen (Nearest station - Asakusa)

Web (Japanese): http://www.senso-ji.jp/
*NB - Sensoji and the surrounding structures are often subject to renovations and paint jobs. Don't be too disappointed if you come here to find things covered in netting / scaffold.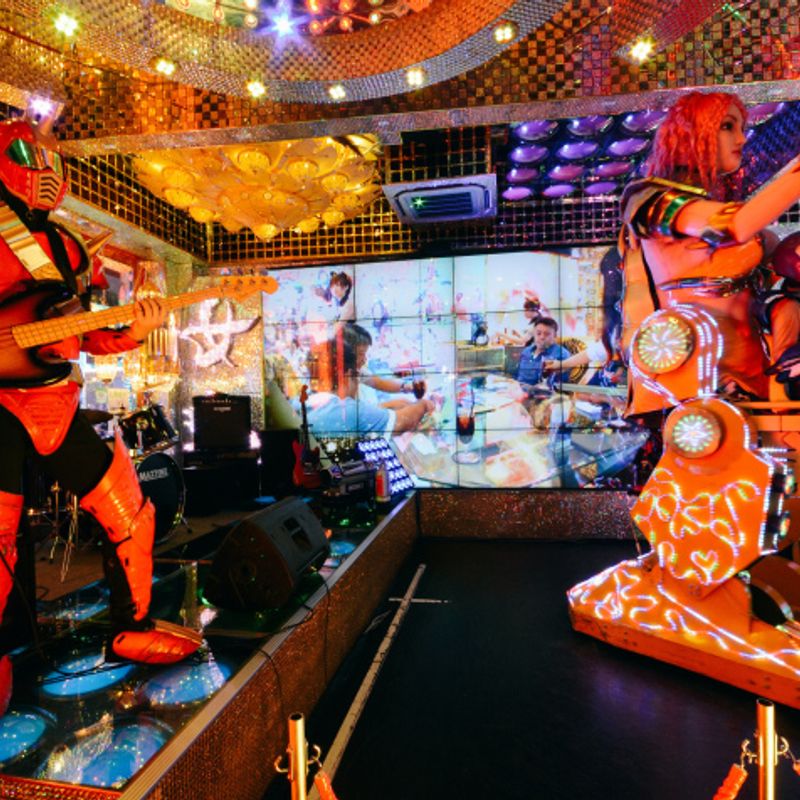 Robot Restaurant, Shinjuku
It somewhat pains this expat to see Shinjuku's Robot Restaurant on any list of the best attractions / things to do in Tokyo. To say that such an endeavor is culturally bankrupt is, well, ultimately fruitless. Few people seem to be listening and financially the "attraction" would appear to be in robust health, at least as far as the Internet reveals.
The formula seems to be one as subtle as, "You know all those stereotypes about Japan being certifiably bonkers? How can we cram all of that into one experience, and serve it up with some food and scantily clad women?" Answer - Robot Restaurant.
It probably says it all that the Robot Restaurant sits slap bang in the middle of Tokyo's largest "pay-money-for-sexual-kicks" district, Kabukicho. And it charges similar prices, not that we're overly familiar with that.
Robot Restaurant Entrance: 8,000 yen / Meal 1,000 yen
Cost from JR Tokyo Station: 200 yen (to JR Shinjuku Station - about a 5-min walk from here)
Web: http://www.shinjuku-robot.com/pc/index.php?lng=en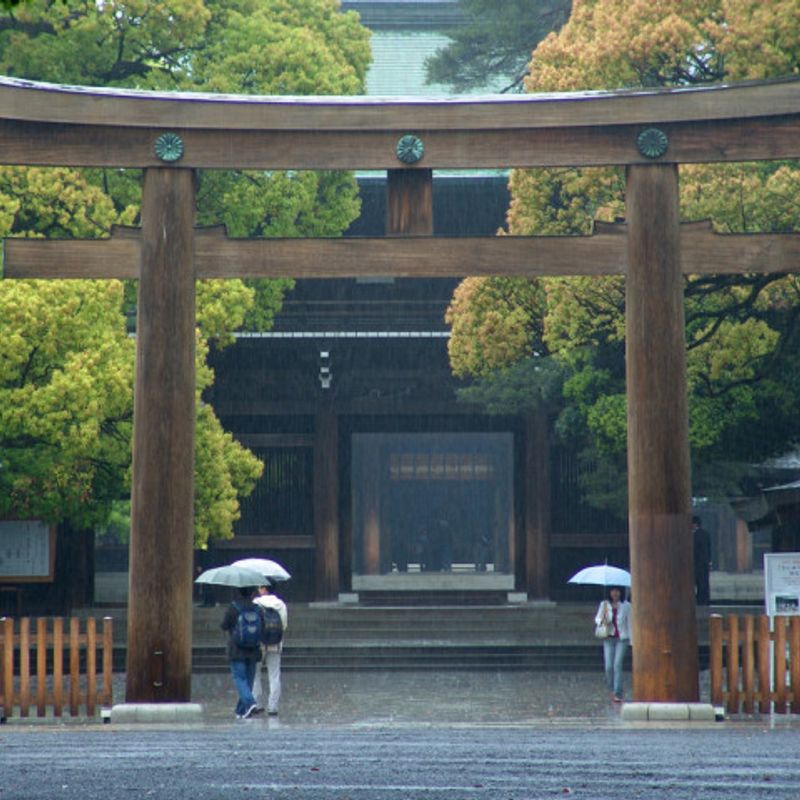 Meiji Shrine
A relative newcomer to the Tokyo shrine scene, Meiji Jingu has only been around since the 1920s but has nonetheless risen to booming popularity. Maybe it's the location, sandwiched as it is between hyper modern and hyper energetic Shibuya and Harajuku, two centers of tourism in themselves and hyper enough that a pleasant stroll around a shrine surrounded by woods might be the perfect antidote to all that "hyper".
Despite its thoroughly "yoof" setting, Meiji Jingu is rooted in things far more stately, being the shrine dedicated to the late Emperor Meiji and his wife. The Emperor passed away in 1912.
The shrine, and its grounds, are indeed a splendid place for a stroll and do an excellent job of shutting out the city. The massive torri (gate) that marks the entrance to Meiji Jingu must have been responsible for any number of strained necks!
Meiji Jingu Entrance: Free
Cost from JR Tokyo Station: 200 yen (to JR Harajuku Station or Meiji-Jingumae Station (Chiyoda Line))
Web: http://www.meijijingu.or.jp/english/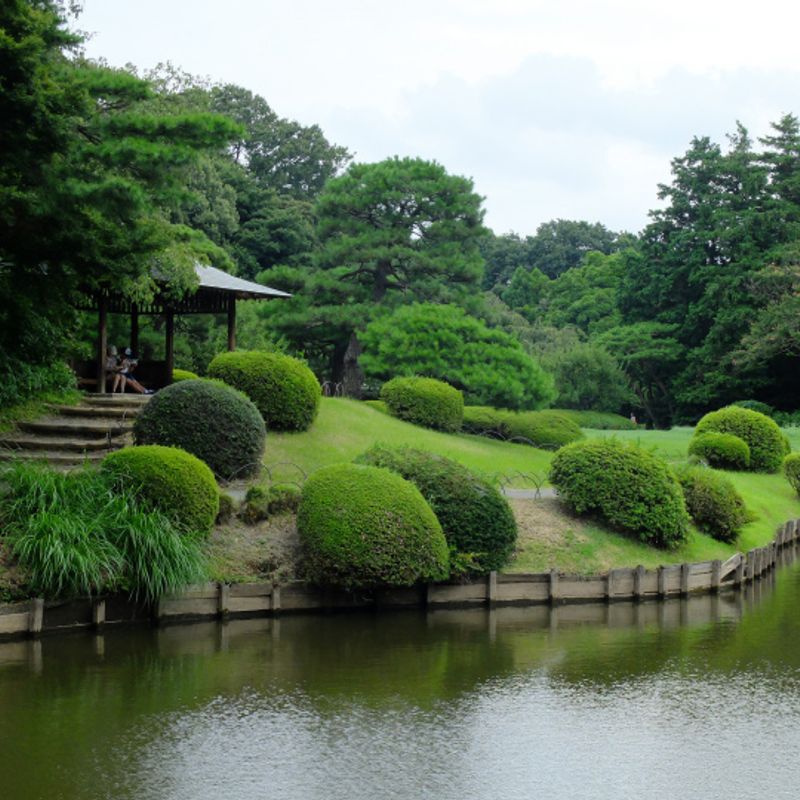 Shinjuku Gyoen
This expat has expressed the sentiment a number of times, but it bears repetition - Shinjuku seems an unlikely home for such a prim and proper swathe of garden / park as Shinjuku Gyoen. This feels more Marunouchi territory rather than the luminous and sleazy chaos that is Shinjuku.
Still, here it is (although keeping some distance between itself and Kabukicho) - one of Tokyo's most popular and spacious parks. For such a space to run about and frolick in however, Shinjuku Gyoen isn't the scene of much running or frolicking. "Manicured" might be a good word to throw in here - Shinjuku Gyoen is designed, thoughtful and ever so stately. It's not the place to crack open a beer, put together a game of 5-a-side or start launching a Frisbee.
Around since the Edo Period, Shinjuku Gyoen brings together gardens in Japanese, French and English styles linked by meandering walking trails that provide amazing "only in Japan" photo opportunities around most corners. This is even more the case in early spring when the cherry blossom bloom (although you'll be vying for photo op space with plenty of others)! In fact it might be the sakura that had nudged Shinjuku Gyoen onto any top 10 Tokyo list as the representative of parks in the city.
Perhaps one of the things that keeps Shinjuku Gyoen above other Tokyo park riff raff is the fact that it charges an entrance fee. The arrogance!
Shinjuku Gyoen Entrance: 200 yen
Cost from JR Tokyo Station: 200 yen (Nearest station - Shinjuku-Gyoenmae, Marunouchi Line)
Web: http://www.env.go.jp/garden/shinjukugyoen/english/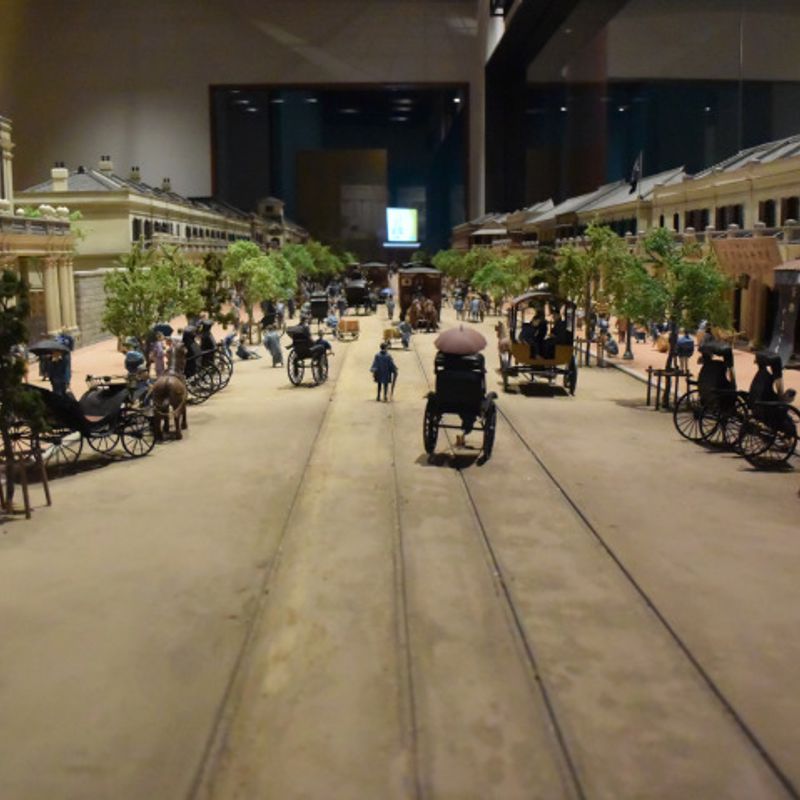 Edo-Tokyo Museum
As the name might suggest, the Edo-Tokyo Museum (Edo Tōkyō Hakubutsukan / 江戸東京博物館) is a museum specializing in the history of Tokyo during the Edo Period (1603 - 1868). The facility, located in Tokyo's Sumida Ward, doesn't look very "Edo" from the outside despite being designed to replicate an old storehouse (the museum was established in 1993).
Arguably the star of the show at the Edo-Tokyo Museum is the life-size replica of that most storied of Tokyo bridges, Nihombashi.
Interactive in style, the museum makes for a fun learning experience lightly schooling visitors in Edo Period lifestyle, politics, economy, culture and architecture actually breaking out of the period to bring the story much closer to the present day. The Edo-Tokyo Open Air Museum in the suburbs of western Tokyo is a actually a kind of "sister" facility.
Edo-Tokyo Museum Entrance: 600 yen
Cost from JR Tokyo Station: 160 yen (Nearest station - Ryogoku, the museum is about 5 mins on foot from here)
Web: http://www.edo-tokyo-museum.or.jp/en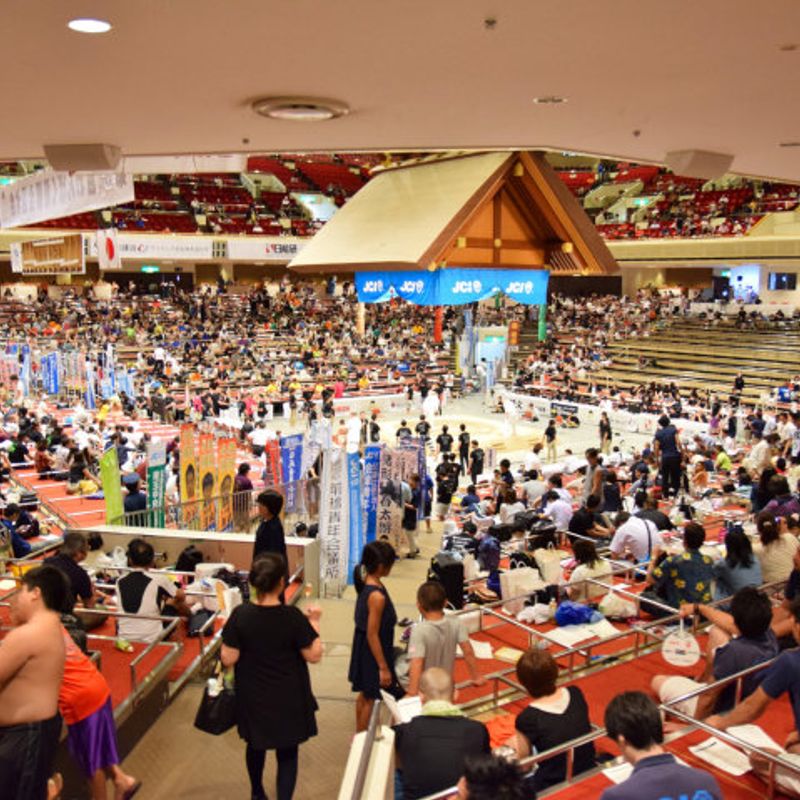 Ryogoku Kokugikan
Staying next door to the Edo-Tokyo Museum we come to the home of sumo wrestling in Tokyo, Ryogoku Kokugikan. Looking distinctly Japanese the venue is host to three (of the six) major sumo tournaments during the year. However, sumo alone can't make such facilities economically viable so Ryogoku Kokugikan can also turn its hand to other sports that have included wrestling (of the "sports entertainment" kind), and boxing. The space is also, on occasion, used to host live musical performances.
The Ryogoku area itself is something of a center for all things "sumo". Here the visitor stands a good chance of catching a glimpse of strolling sumo up-and-comer. If this remains elusive though, one can also sample something of the sumo lifestyle in one of the many restaurants serving that sumo staple, chanko-nabe.
Ryogoku Kokugikan is also home to the Sumo Museum (Sumo Hakubutsukan / 相撲博物館) displaying woodblock prints, ranking lists, ornamental aprons (keshomawashi / 化粧廻し) and other items that had once been randomly scattered around the sumo world and have been brought together here for their preservation and celebration.
Ryogoku Kokugikan Entrance: Museum - free / Tickets for top level sumo range from ~ 2,500 - 15,000 yen
Cost from JR Tokyo Station: 160 yen (Nearest station - Ryogoku, the museum is about 5 mins on foot from here)
Web (museum Japanese): http://www.sumo.or.jp/KokugikanSumoMuseum/index
Read more about how much sumo tickets cost in Japan here on City-Cost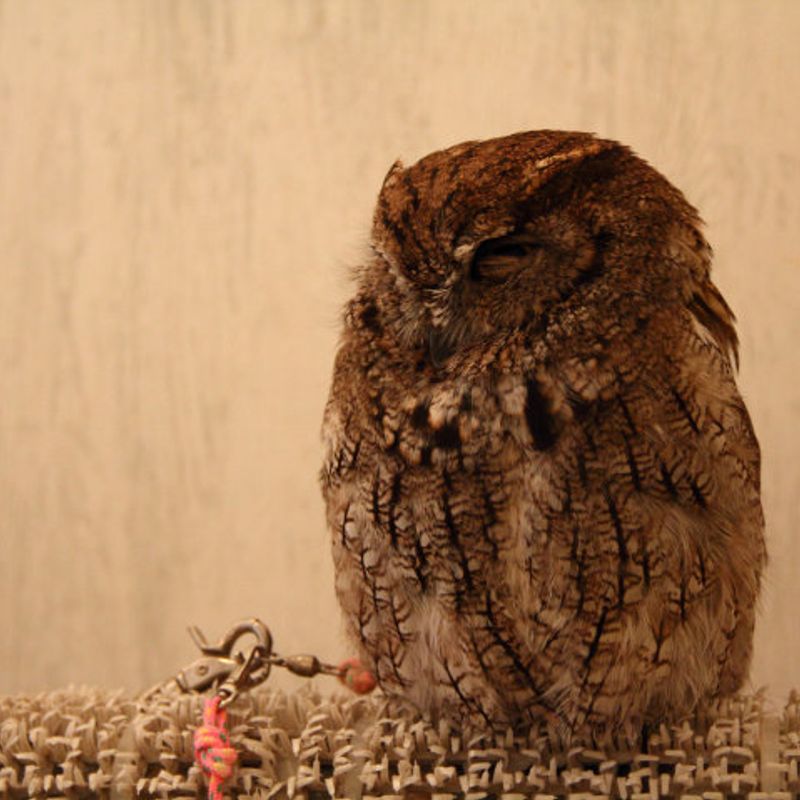 Akiba Fukurou
Does it come as a surprise to see an animal / reptile based cafe sitting on a list of the best things to do in Tokyo? In the last, what, five years or so, such cafes seem to have become a staple of the sightseeing scene in the capital. Perhaps it's because Japan is the only country mad enough to make a burgeoning industry out of them.
Akihabara-based Akiba Fukurou is, according to users of TripAdvisor, the most popular attraction in Tokyo. Sounds unbelievable but these cafes tend to be experiences garnered for sharing on the Internet. Akiba Fukurou is an owl cafe that recently celebrated its 3rd anniversary. According the cafe's homepage, there are some 34 owls in residence here all of which have been give cute names like Spring Onion, The Last Samurai, Cherry Tomato, and Shrimp and are serenaded (along with visitors) with classical music. Inside, visitors can hold the owls (presumably with gloves), take their own photos, and have photos taken by a professional.
Akiba Fukurou Entrance: 2,000 yen (for one hour(?))
Cost from JR Tokyo Station: 140 yen (Nearest station - Akihabara, Akiba Fukurou is about a 2-min walk from here)
The best of the gaping absences
Perhaps the first thing to address here is the lack of Tokyo Disneyland or DisneySea. Well, if we want to get pedantic about things, neither of them are in Tokyo (despite the name).
The other potential "shout outs" are myriad - maid cafes, Tokyo National Museum, Miraikan, Mori Tower, Hama-rikyu Gardens, Kabukiza, … the list will go on forever and is always going to be a personal thing. As we said at the start though, we wanted to gauge an idea of the potential costs.
How much does it cost to visit the best attractions in Tokyo?
Totalling up the entrance fees for all the attractions listed in this top 10 comes to a minimum of 14,360 yen and upwards of 18,390 yen (more if you throw in some tickets to the sumo). Now this sounds like quite a lot but we need to bear in mind that almost half of this is commanded by the Robot Restaurant, definitely not an attraction with universal appeal. The owl cafe might also be considered expensive especially as it only affords an hour of "sightseeing". When it comes to Tokyo Tower and Tokyo Skytree, both of these Tokyo sightseeing staples can be enjoyed from afar and at close quarters without need to handle the costs of entrance fees.
Taking in all of the attractions and things to see / do on this Tokyo list might take some time. At a stretch the busy Tokyo traveller could cram them into a couple of days but this would be a bit mad. Spreading them over four days would make far more sense and allow for some breathers in between.
Totalling up the travel costs from Tokyo Station to each location on the list probably doesn't make much sense, but we'll do it anyway - from 2,190 yen. If we take this literally then, we can see that a travel pass like the Tokyo 1-Day Ticket (Tokyo Combination Ticket with Tokyo Metro) - 1,590 yen (Tokyo Free Kippu / 東京フリーきっぷ) makes sense - unlimited rides for one day on JR trains, subways and a few others). For 600 yen the Tokyo Metro 24-hour Ticket might only require three journeys of any distance before the traveller enters value-for-money territory. The 900 yen Common One-day Ticket for Tokyo Metro & Toei Subway will provide a bit more scope. Read more about these Tokyo travel passes and others at Tokyo Metro.
What would be your personal list of the 10 best things to see / do in Tokyo? How much would it cost to take them all in? Let us know in the comments.
Further reading ...
What's The Cost of a Day's Train Travel in Tokyo? (JR)
The 10 most popular attractions in Kyoto and how much they cost to enter
The 10 most popular attractions in Yokohama and how much they cost to enter
See us on …
Twitter: @City_Cost_Japan
Facebook: @citycostjapan
Images:
Ueno Zoo: Masaru Kamikura Flickr License
Robot Restaurant: Eddy Milfort Flickr License
Meiji Shrine: MIKI Yoshihito Flickr License
Shinjuku Gyoen: supervino256 Flickr License
Edo-Tokyo Museum: Özgür Cam Flickr License
Ryogoku: Raita Futo Flickr License
Owl Cafe: sarahlbishop Flickr License (actual cafe unknown)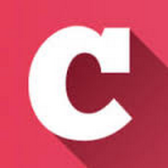 A Q&A and blogging community about life in Japan (plus a load of life-in-Japan stats!). Get your questions answered, share your experience! | Inquiry -> KyodoNewsDigital International Media | Tokyo, Japan | +81 3 6252 6402
---