Dec 31, 2016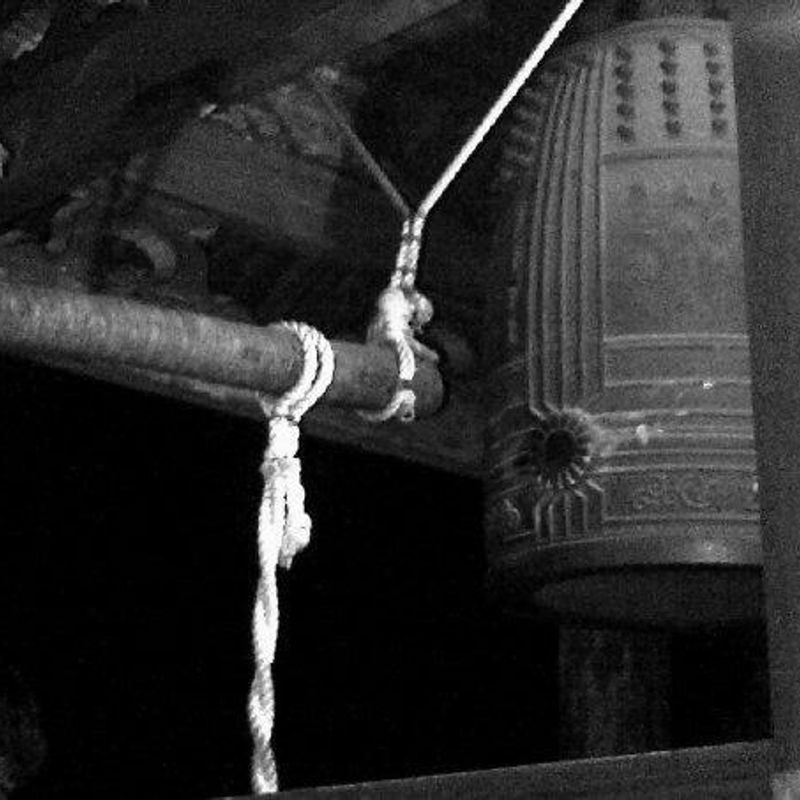 New Years Eve is always a really big deal for me; I love the feeling of celebrating and reflecting on what's been and looking forward to, and creating new dreams and resolutions for the year ahead. Every year I try to mark it by doing something different, and I've found that Japan holds an attractive array of both traditional and less-traditional options up its sleeve for me to be able to achieve just that. From the traditional Oshogatsu traditions, to countdown parties, to live shows , to early morning hikes for the purpose of getting that all important first glimpse of the year's first sunrise (Hatsushinode) - there really is something to cater to every taste.

One of my most memorable New Year's Eves here sort of came about by accident in Kyoto on the turn of 2012 and 2013 . The plan had been to head to the city's much-famed Chion-in Temple to bear witness to the ringing of it's seventy ton bronze bell. The bell is one of the largest in Japan, and every year it takes 17 monks to perform the customary Japanese New Year ritual: 'Joya no Kane' which involves striking the bell 108 times; making it one of the most sought after New Year spectacles in Japan.

This reputation together with Kyoto's own reputation for being the place to go to for an authentic Shogatsu experience means that every year the temple is descended upon by thousands of people, which can often lead to overcrowding and many people being turned away at the gate; which proved to be the case for me and hundreds of others others who had failed to read the subconscious small print saying: 'get there early to avoid disappointment'.
Luckily for us the Maruyama park area (where the temple is located) had several much more localized smaller temples tucked away in it's streets. The kind of temples that usually get overlooked by visitors to the area in favor of the area's more celebrated venues like Chon-in and nearby Yasaka Shrine.
To this day I still don't know the name of the temple I ended up at. I just remember walking off into the area's adjacent side streets and joining on to the first line I saw, hoping for the best with a sense of not really knowing what to expect. Although, One thing I did know was that rather than watching hatsumode rituals being performed by others, I was now on the verge of fully engaging with Japanese New Year tradition by actually ringing a bell at a temple on New Years Eve myself; a custom which I'd be partaking in for the very first time. I'd visited shrines in an around Kyoto, Osaka and Tokyo during the first few days of January before, but never a temple on New Year's Eve.
Once midnight came about a group of well-meaning French tourists attempted to encourage a countdown and then proceeded to crack open a small bottle of champagne. Coming from a culture of New Year countdowns and parties, I desperately wanted to join in, but given my position as part of a peaceful line waiting to enter a temple, it just somehow didn't seem entirely appropriate, so I just joined in with a light applause of solidarity along with a few other people waiting alongside me.
One hour later, and I was still yet to step foot on to temple grounds. By this point my toes despite being comfortably cushioned in what deceivingly gave off the look of being super warm ugg boots were cold to the point of pain. Part of me did contemplate giving up and heading to one of the nearby shrines to observe happenings there, but I'd made it this far and didn't want to walk away from something that I knew could potentially be a special and memorable experience.
As the long wait continued a very sweet Japanese family decided to strike up conversation with me. I think it was my jumping up and down in an attempt to keep my feet warm which caught their attention. Our short conversation though, was a nice way to pass the time, and before long we soon found ourselves finally making that long-awaited step through the temple gates.
The next big moment of excitement came when we were finally able to get our first glimpse of the temple and its bell ringing platform. As we gradually moved closer the sound of the bell's distinctive chimes grew stronger and the anticipation and excitement for what we were about to experience grew more powerful.
Lining the path to the bell were several monks bowing and welcoming worshippers one by one, which added a more personable feel to proceedings. There were also several fires lit inside medium-sized metal cans. Walking past them was definitely a source of warmth on what was a freezing cold night, but I knew that that wasn't their purpose.
The Japanese family who I'd spoken to earlier explained that the fires were placed there for people to burn their omamori (lucky charms) from the previous year which are purchased from shrines every year. Anyone who has seen one of these charms will no doubt describe how gorgeously crafted they are through a combination of silk and beautiful kanji inscriptions.
I asked the mother from the family in front of me if she ever 'felt sad about throwing such a beautiful object into a fire?' She explained that when she buys them every year she becomes attached to the charm's meaning and not to the charm itself. She then went on to tell me a story about a time when she had once sent an omamori to her friend in Germany as a gift. Her German friend responded with a card 'thanking her for the beautiful gift, with a promise to treasure it forever'. She smiled and said that 'it all made sense now'. I smiled too, our difference in thinking was enlightening.
After almost three hours of waiting, and with my toes now surely on the cusp of frostbite, I was now just eight people away from ringing the bell. I felt a sudden wave of panic as I realized that I wasn't actually sure what I was supposed to do: I observed closely the people in front of me for tips on the correct bell ringing etiquette to follow: from what I could gather from my crammed moments of on-the-spot study, it seemed to be prey and bow once, ring the bell, bow and prey again before making way for the person waiting behind.
Typically, my own encounter with the bell ringing process ended up being a lot more comical than it should have been: as I readied the bell pull, the bakers boy hat which I somehow managed to forget I was wearing fell off rather awkwardly in slow motion. It was picked up for me a few moments later by the lady following me on to the bell ringing platform. I thanked her, bowed politely and left feeling slightly embarrassed, but also fulfilled having finally sampled a New Year's Eve in Japan in true Japanese style. With the wisdom of hindsight, I now realize that I should of taken the hat off, out of respect more than anything else.
The streets that greeted me outside the temple were filled with people making their way to other nearby temples and shrines to complete their own annual Hatsumode rituals. There was also a line of yatai (street food vendors) which are always a much welcome and common sight at most festivals in Japan. The New Year festivities were now in full swing, and the atmosphere was suitably festive and full of optimism and mystery for what the new year would bring. I stopped off at one of the yatais for some Takoyaki before taking a relaxed and appreciative stroll back to the station and making my way back to Osaka just in time for first sunrise of the 2013 over Abeno Harukas.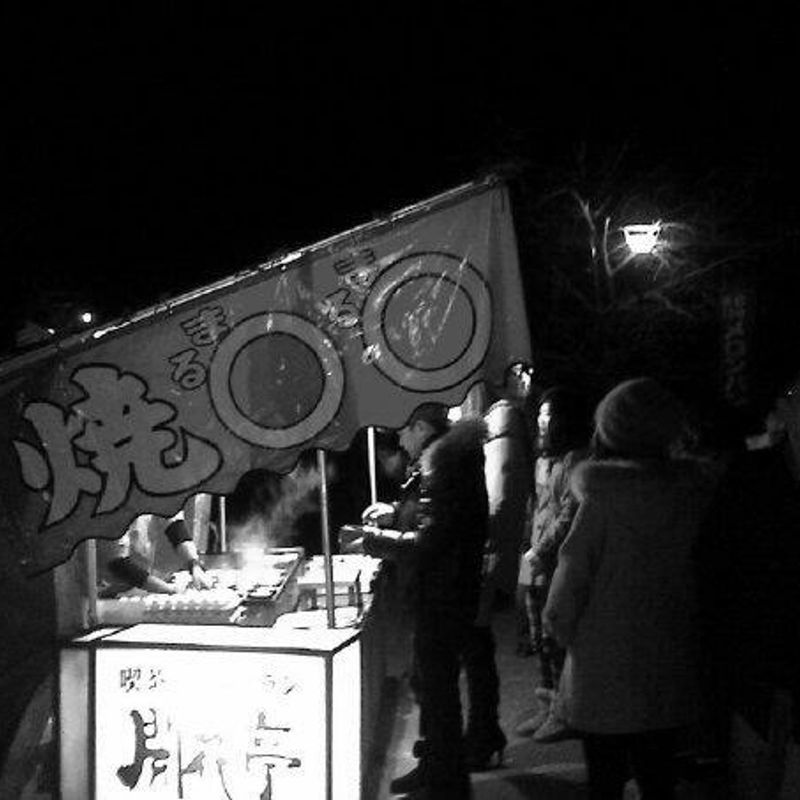 ---
1 Comment
That's interesting about the fires for burning last year's charms. I wasn't aware of that. I liked reading about your experience in the queue, trying to see what others are doing so you could follow suit. I think it's a shared experience among many foreigners in Japan; straining to see what others in front of you are doing so that you don't look foolish when it comes to your turn.