Jun 19, 2017
As part of our long break from stressful work we decided to explore some parts of Tokyo. We went to Akihabara to look for some cheap deals on gadgets, then to Asakusa and Odaiba. We traveled from Asakusa to Odaiba via Tokyo Cruise. There are five lines to choose from. The first one is the Himiko Line which travels from Asakusa to Odaiba Seaside Park and vice versa which will then pass through Toyosu. This trip will take about 50 minutes. It is 20 minutes from Odaiba Seaside Park to Toyosu and another 40 minutes from Toyosu to Asakusa. The second one is the Sumida River Line from Asakusa to Hamarikyu to Hinode Pier which will take 40 minutes for the total journey. Third is the Odaiba Line. From Hinode Pier to Odaiba Seaside Park this cruise will take 20 minutes. Fourth is Tokyo Big Sight, Pallete Town Line. This line has two options - one is from Hinode Pier to Tokyo Big Sight (Ariake) and the other from Hinode to Pallete Town to Tokyo Big Sight (Ariake). And of course our trip takes the Hotaluna Line which will pass through Hinode Pier and has a travel time of 40 minutes and, from Hinode Pier to Odaiba Seaside Park, another 20 minutes. For more information about the route and payments please go to their website at http://www.suijobus.co.jp.
The Hotaluna Line wil cost you ¥1,560 and will cruise along the Sumida River and Tokyo Bay. I think it is very affordable for a 60-minute ride from Asakusa to Odaiba Seaside Park. Our time of departure I think was the last departure for that day. This is a perfect moment if you want to catch the sunset while on a cruise. You can continue to amaze yourself at the Seaside Park.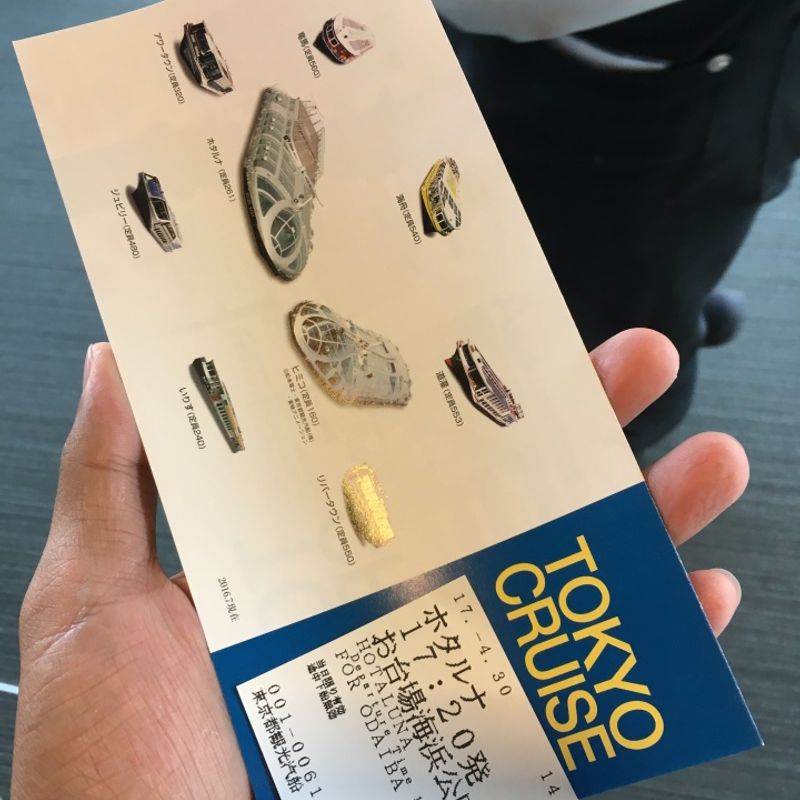 Arriving at Hinode Pier where some passengers from Asakusa end their cruise while others start from here. The second image, I think, is another cruise ship which has a pirate theme.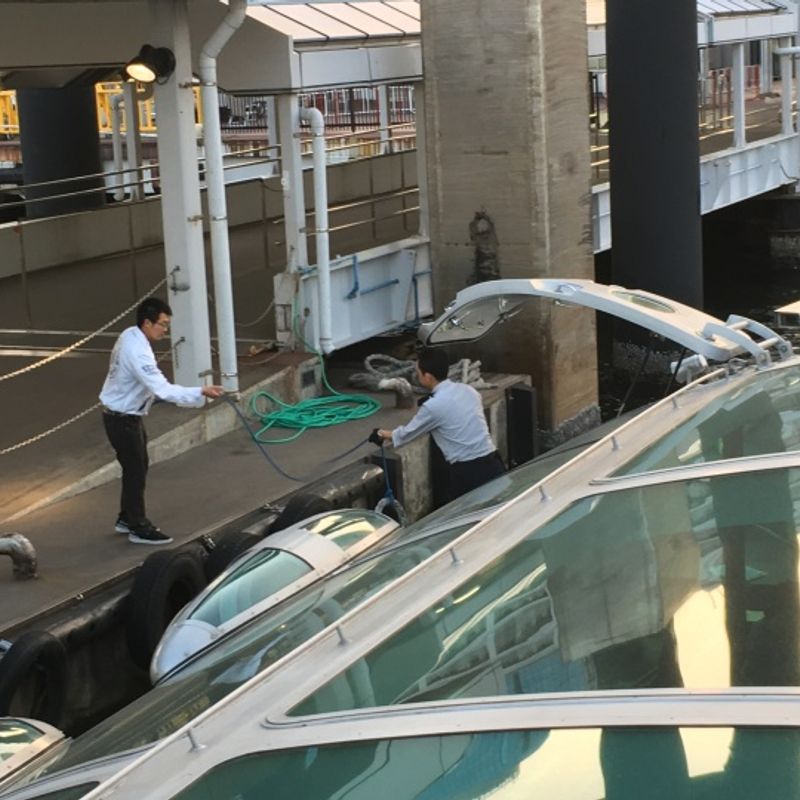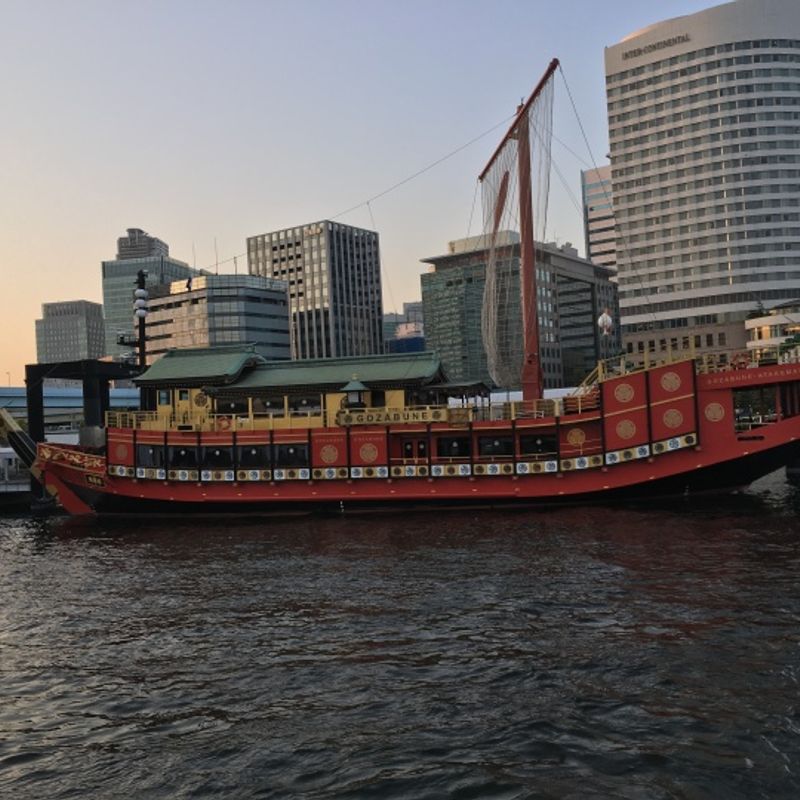 What to expect? Of course we must, and we did, enjoy ourselves while on the boat although it was a little bit windy that day.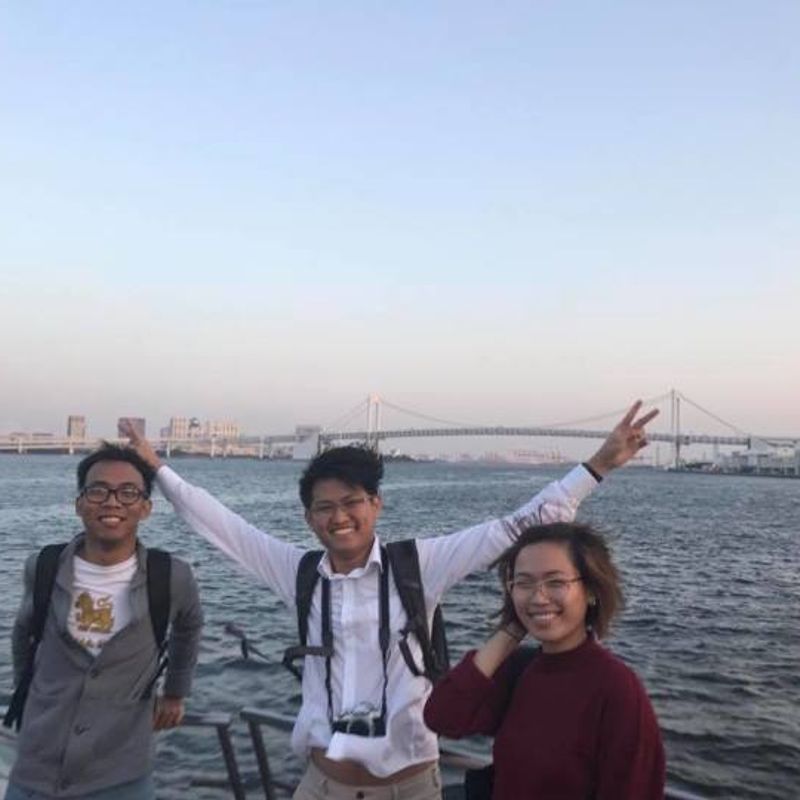 The feeling is magical, it is as if you are free of worries and problems and, at least for a moment, we can find ourselves free from negativity! We're breakin' free! Soaring high!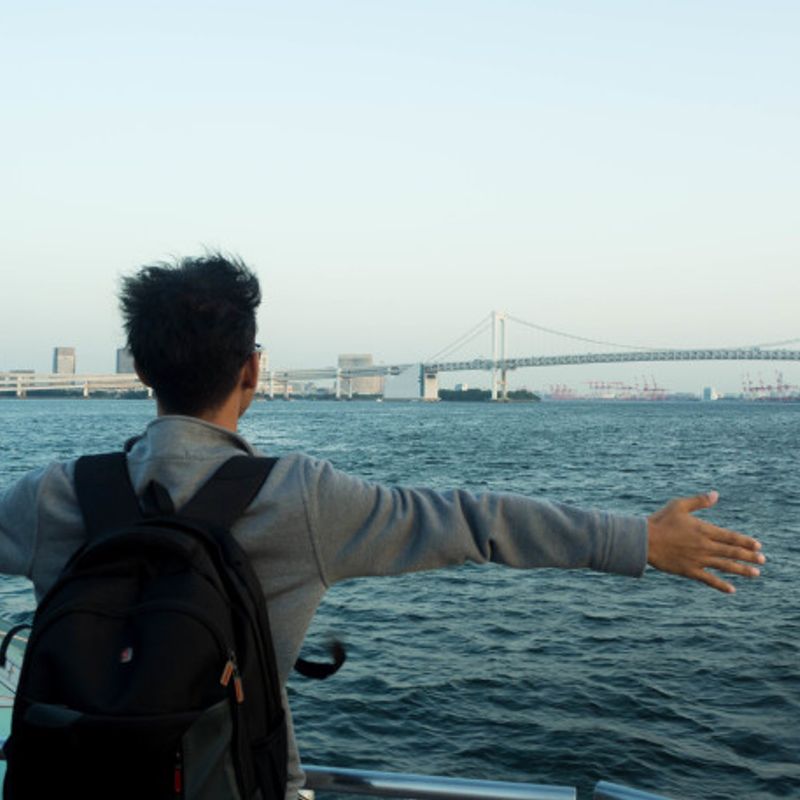 Silhouettes of the buildings of Tokyo as the sunsets. Tokyo Tower is there! This side of Tokyo is a 'must see' view from Tokyo Bay!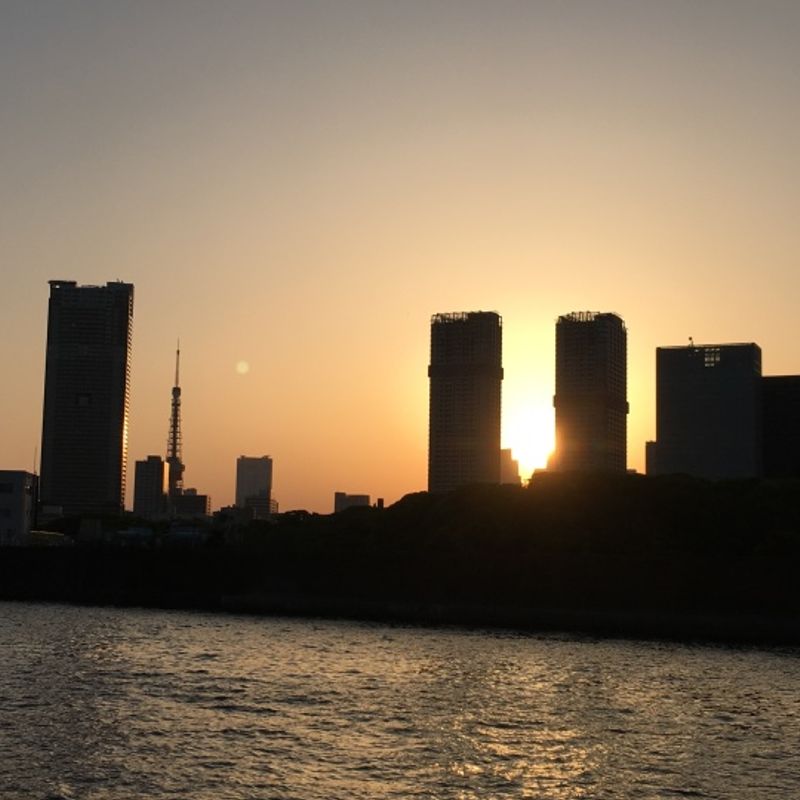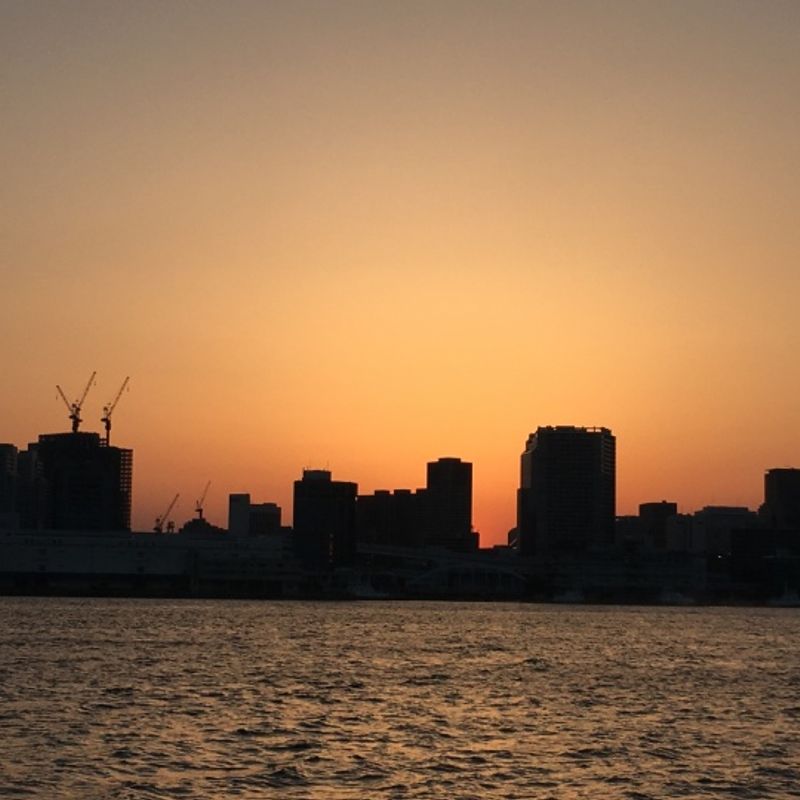 And there you go, we are almost at our destination. Now passing the famous Rainbow Bridge which has a perfect viewing spot from Odaiba Seaside Park. Aside from the Rainbow Bridge there are more bridges you will pass through during the cruise. Azuma Bridge, Komagata Bridge, Umaya Bridge, Kuramae Bridge, Ryogoku Bridge, Shin-onashi Bridge, Kiyosu Bridge, Sumidagawa Bridge, Eitai Bridge, Chuo-ohashi Bridge, Tsukuda-ohashi Bridge, Kachidoki Bridge and Tsukiji-ohashi Bridge.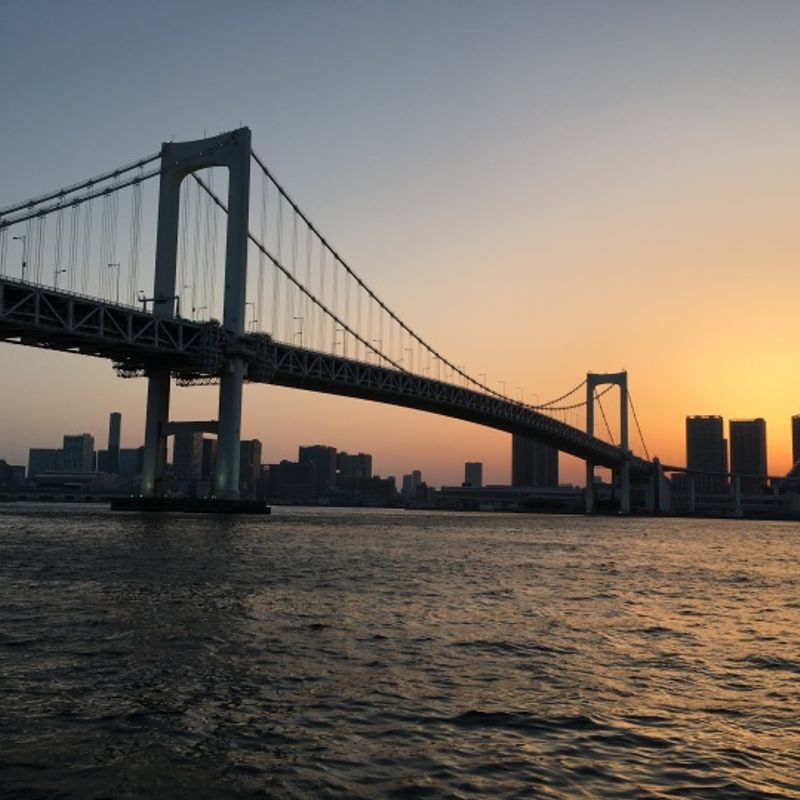 A few more minutes and we arrived safely at Odaiba Seaside Park. From there we took some photos of Rainbow Bridge as the night was falling. It was truly amazing experience to cruise along the river and bay and witness the other side of Tokyo. It is a highly recommended activity for tourists like me who want to experience some other sides of Japan.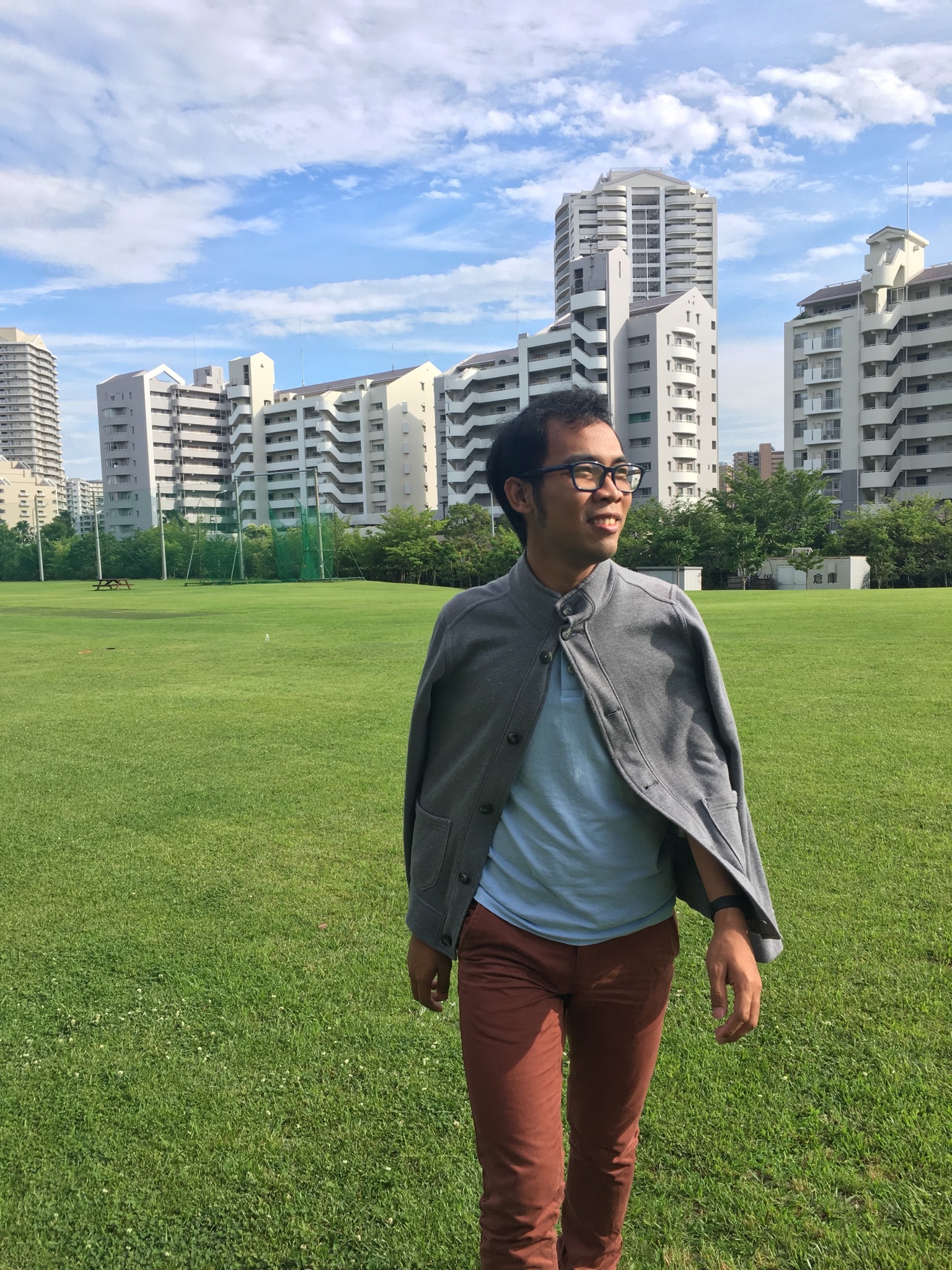 Level 4 in Google Local Guide.
All we have to decide is what to do with the time that is given to us. -Gandalf the Grey
Instagram Account: @xaver.13
---
3 Comments
The last pic with the bridge looks great. Worth the 1500 yen by the sounds of it then.

@DaveJpn thank you for appreciation! I have more pictures during my golden week days on my instagram account. IG account: @xaver.13

@Aeon Like the insta pics, especially the one of the New Otani. Looks very ominous!