Apr 24, 2017

As I'm an ikebana teacher, I have a lot of opportunities to visit ikebana exhibition. And sometimes I invite my friends to go with. Most of my friends have never seen ikebana exhibition even though they are Japanese, so they are willing to follow me. To make their first experience more impressive and interesting, I carefully introduce ikebana speaking about history, techniques, materials...etc. In this post, I will write how to enjoy ikebana exhibitions.

Where can we find exhibitions?
As far as I know, unfortunately, there's no website that gathers information of all ikebana events. But you'll have chance to find exhibitions in some places. Regardless of area, in Tokyo, Osaka, Fukuoka or other prefectures, many of exhibitions are held at event space in department stores, mostly located on the highest floor. So when you visit department store, do not forget to check posters on walls of elevators or placed at information desk to know which event is held on the event space! Also, you can find some small shows at public halls, hotel lobbies.


Last month, I went to an exhibition of Ikebana Association which many ikebana schools around Japan participate. It was held in Takashimaya Department store in Shinjuku, Tokyo.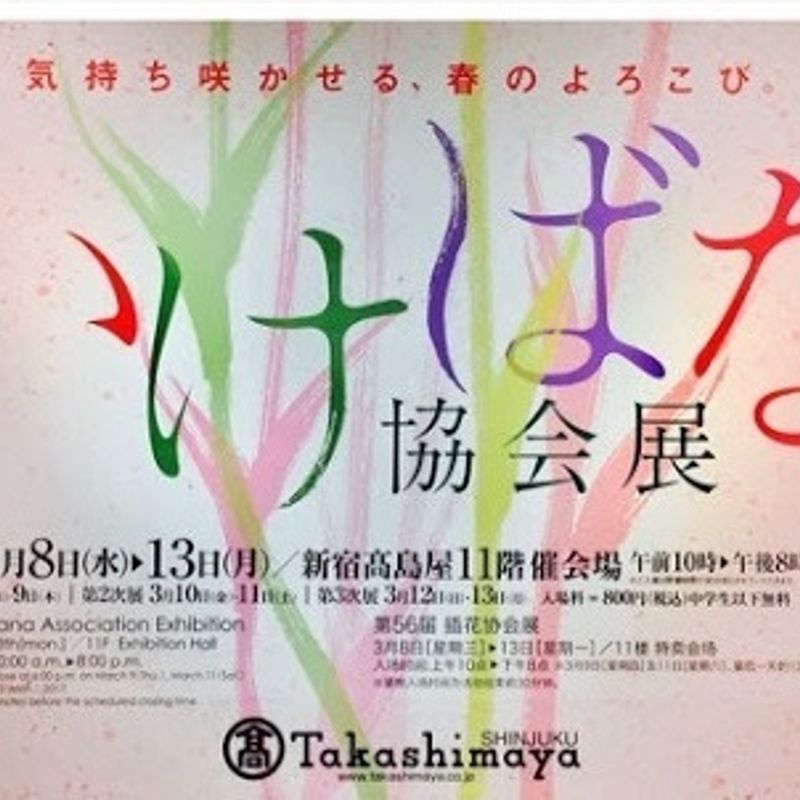 Ticket are sold at the information desk in the department store, or ticketing booth near the exhibition entrance. Price differs depending on the event, but normally between 600 yen and 1500 yen per person. Children and students under age 15 will be free (depends on events, but normally free). If you already have schedule, I recommend to buy ticket in advance because sometimes they sell it a bit cheaper (about 100-200 yen lower) than you purchase at ticketing booth. For events in public halls or hotels, no ticket needed.


How to enjoy it --- Check these 1) to 3) !!!
1) Enjoy various materials
We have four seasons here in Japan, and ikebana is the best way to feel the season because we use different materials that are available at the time. We can find many colorful flowers from spring through early summer. When it's hot in mid-summer, only a few materials like tropical ones or green leaves are available. During autumn, we can enjoy autumn flowers as well as lots of branches whose leaves are changing colors into red. In freezing winter, we have fewer choices of flowers, but many stuff for Christmas and New Year arrangements are seen in markets. You'll be able to find many kinds of materials which are original in Japan and seem new to you!

You'll also find interesting materials in works. For example...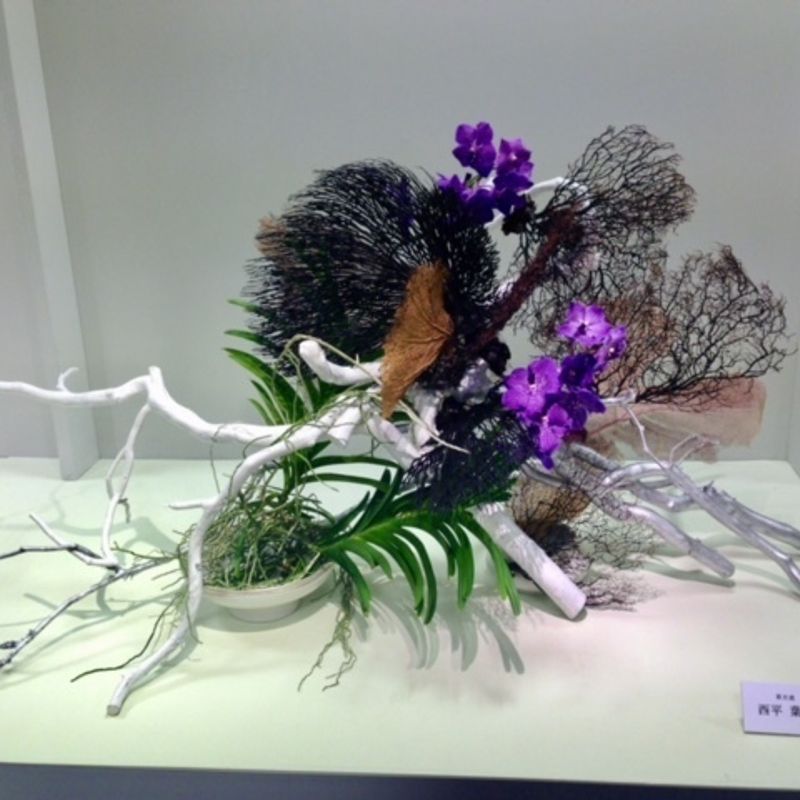 The black fluffy stuff in the middle is dried seaweed ( Codium fragile; we call it Umi-matsu うみまつ or Miru みる). Creators of this work say they purchased it from flower wholesaler and they didn't dive into the sea,haha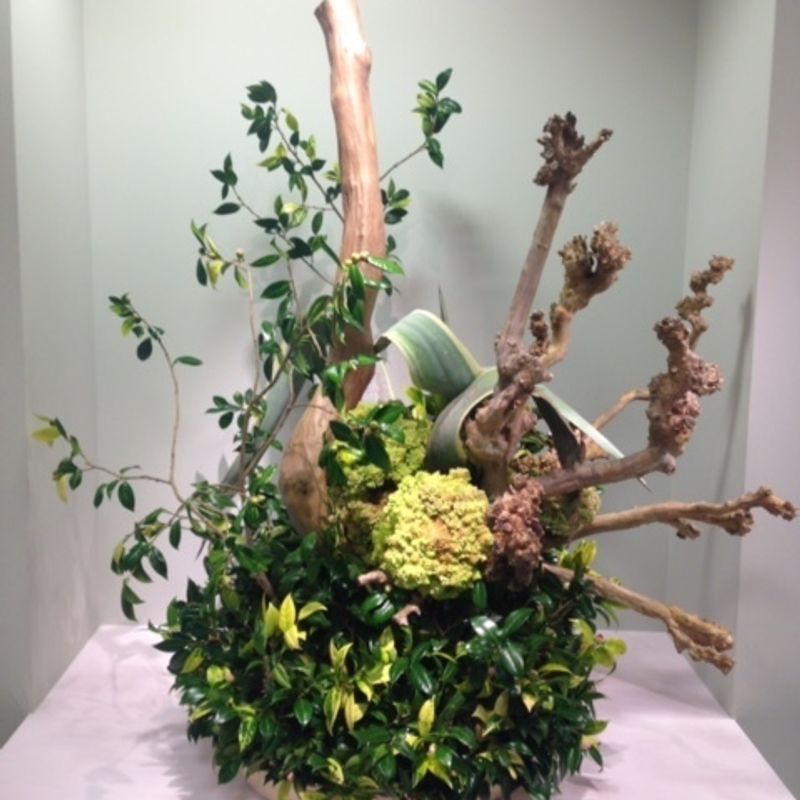 The round light-green is Cauliflower! ( official name is Broccolo Romanesco) Isn't it interesting that the vegetable has a key role to compose this arrangement?

Of course, we find arrangements made of only "flowers".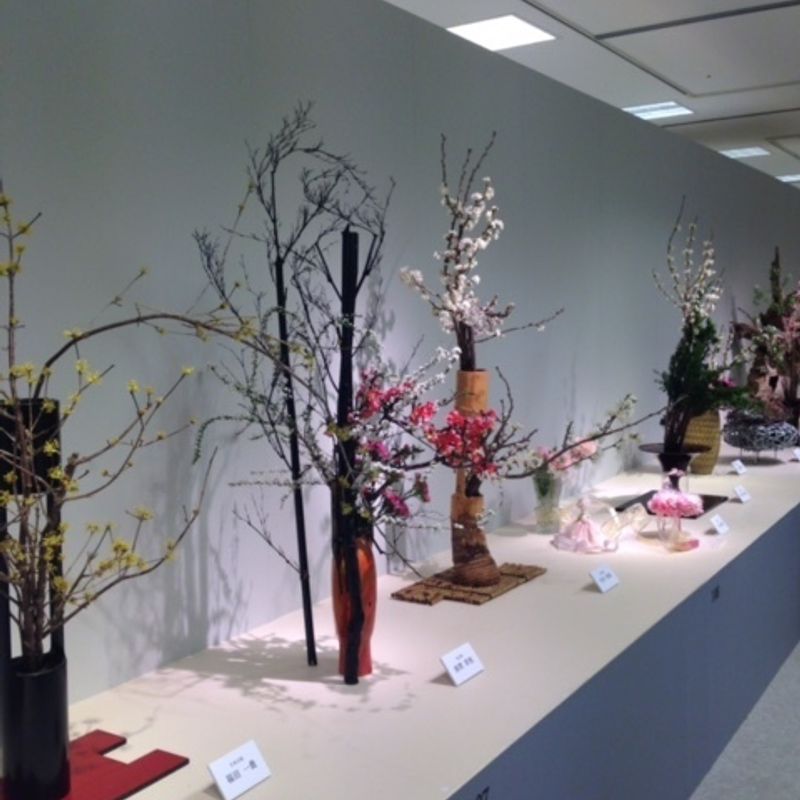 2) Look at vases
We, ikebana artists, are greedy to find something unique to create the ONLY ONE works. We frequently check shops, ateliers to see what's new, sometimes order artists to make ones, and furthermore, some of us make vases or frame by ourselves. So, please pay attention to the containers into which the flowers are put. There are many uncommon vases that you'll be able to enjoy.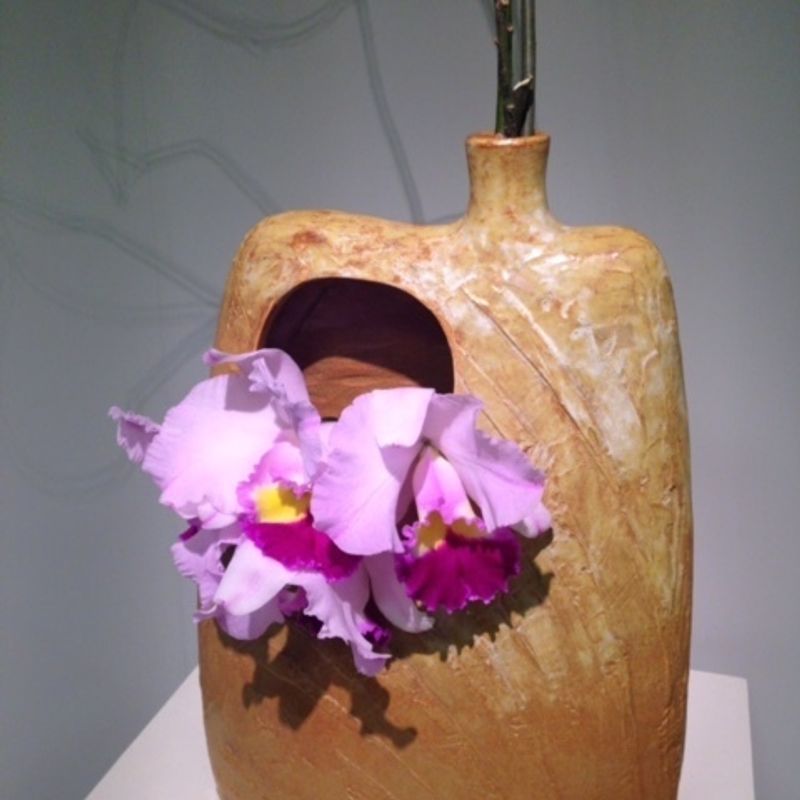 This is not normal vase, isn't it? So weird! But matches cattleya.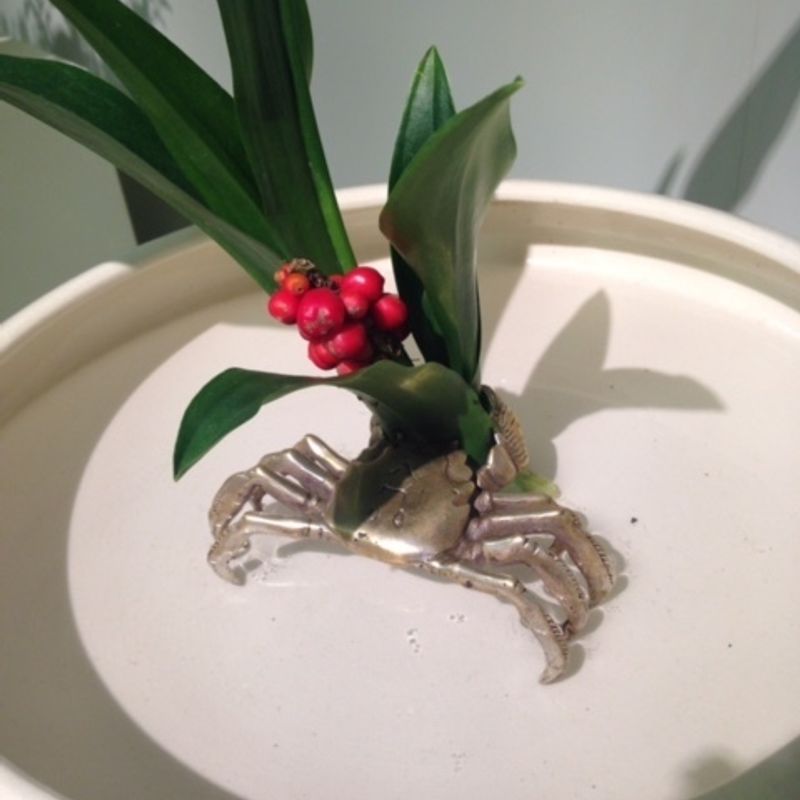 In water, there is a crab of metal... I guess this is some tool to hold materials.



This looks the creator didn't use any vase, but actually the styrene sheet colored in blue covers the container.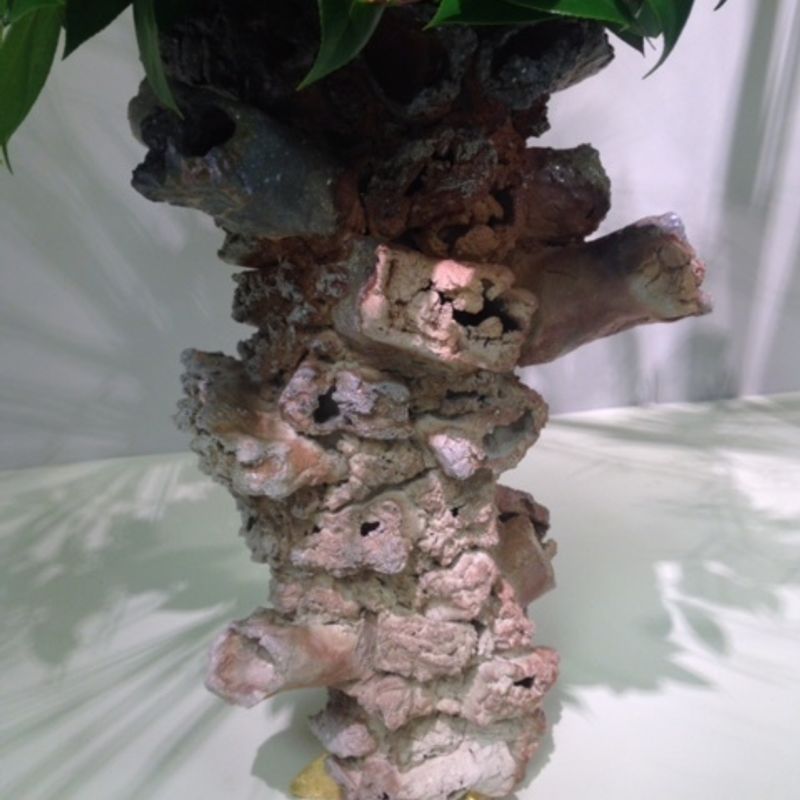 Maybe this rocky one is handmade.


3)Guess what technique is adopted for arrangements
The technique and basic styles of arrangement are developed in each school, so for me, it's interesting to observe other schools' students works thinking about the techniques.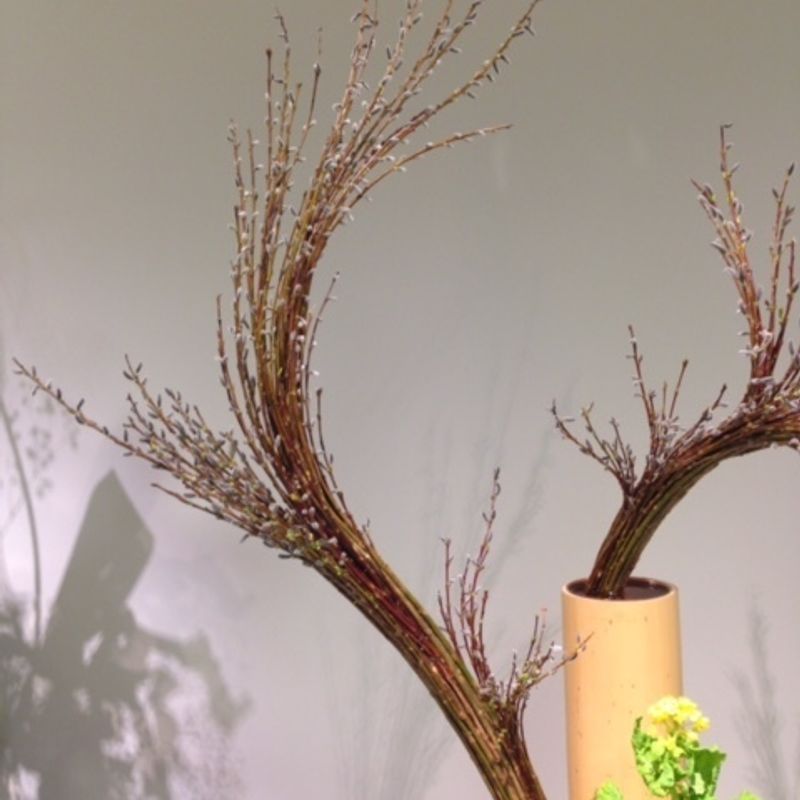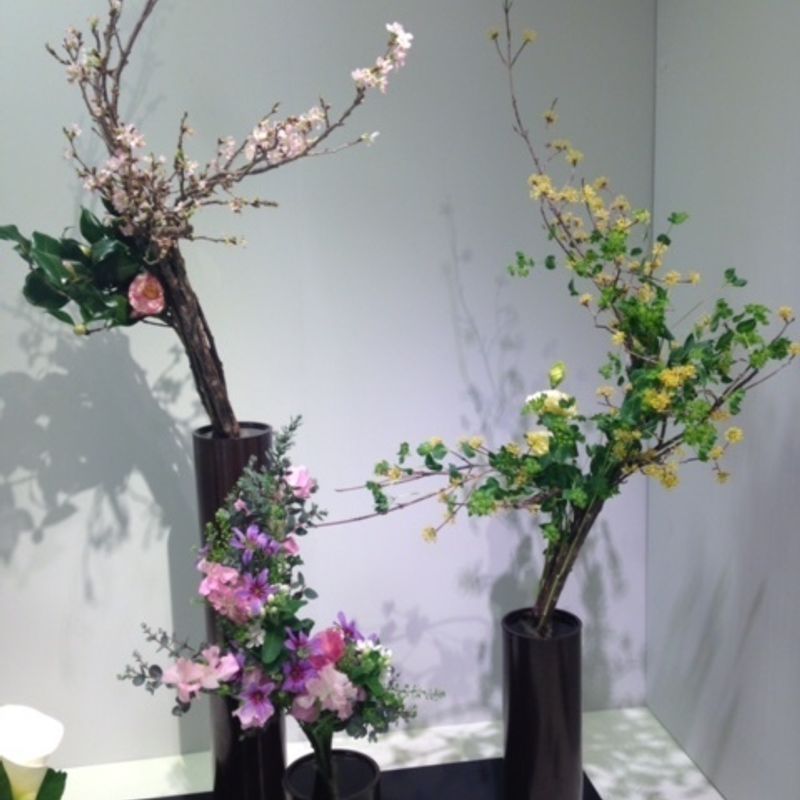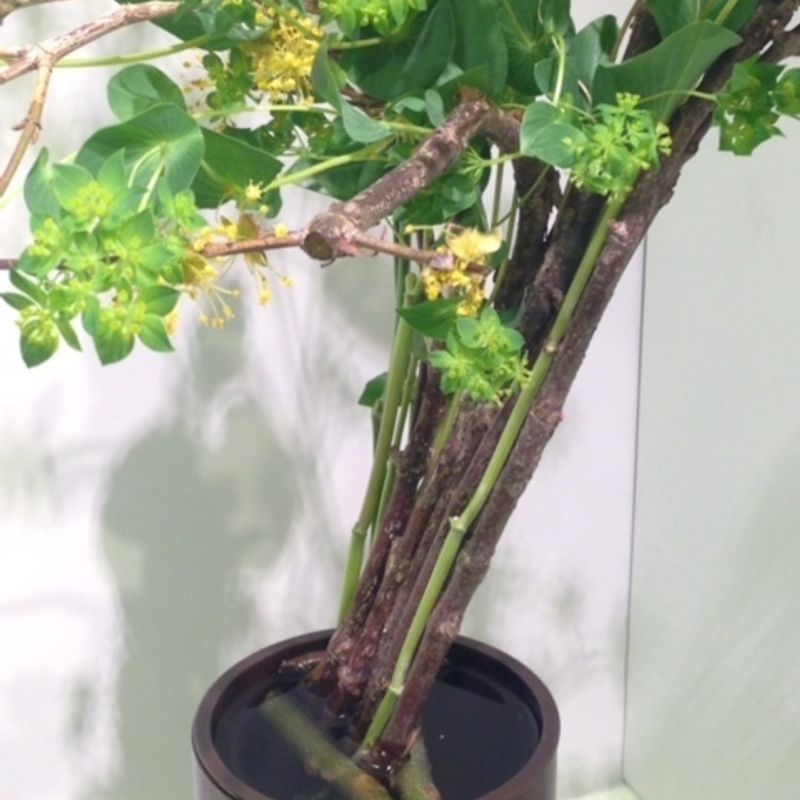 Tens of branches are carefully curved to make flowing lines. They are fixed inside the base inserted between short-cut stems. Seems really difficult to keep the balance....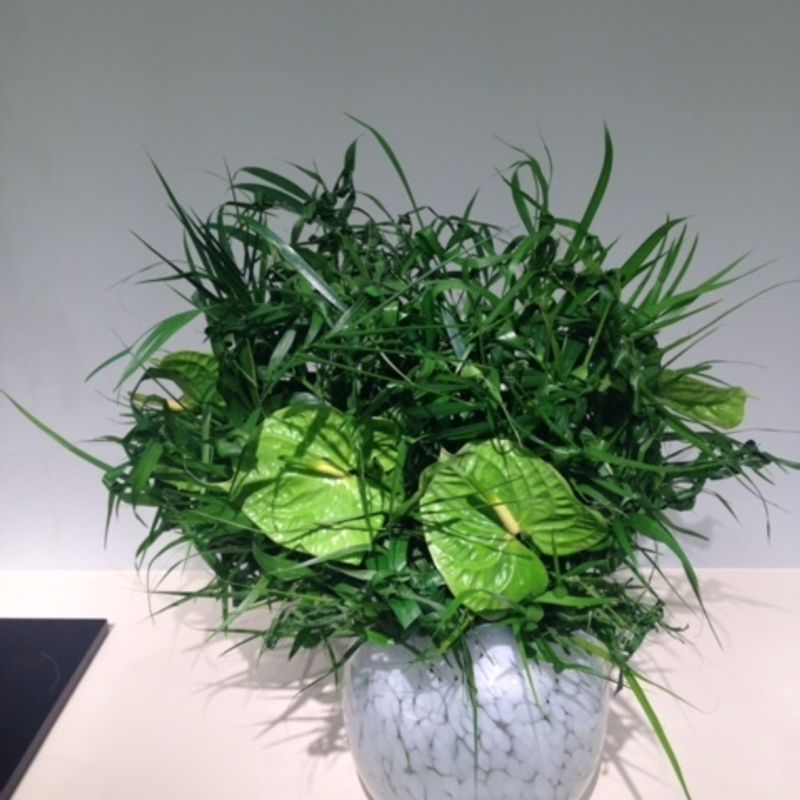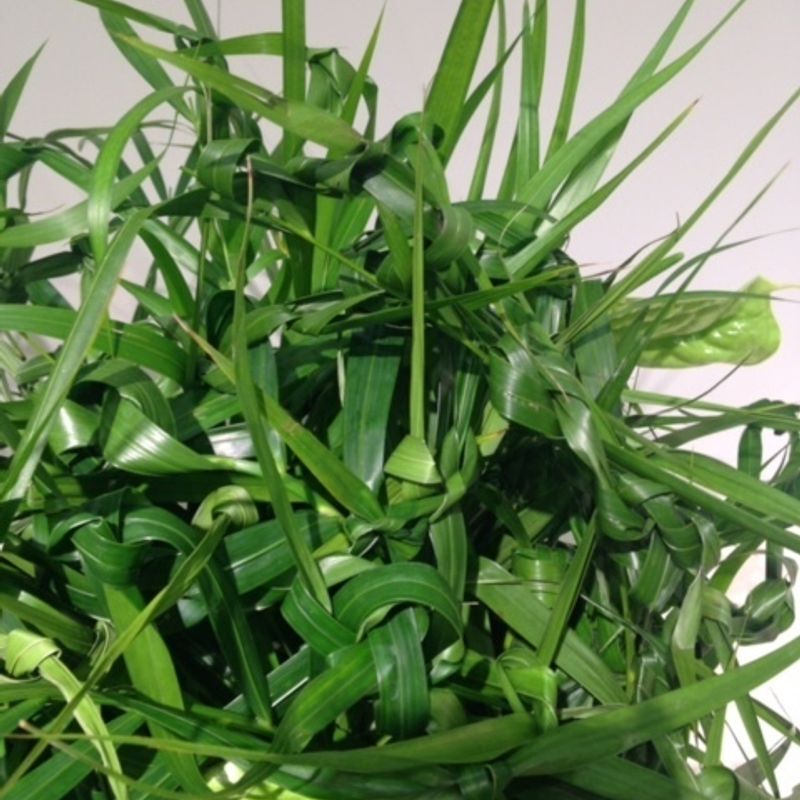 This spiky green arrangement is made of tied thin leaves! How many hours did it take to finish...?


Now you're more ready to visit ikebana exhibitions, aren't you? Hope you'll enjoy it!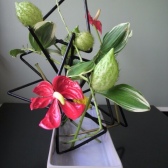 I am an ikebana teacher living in Tokyo. Also I've lived in Osaka and Hyogo for several years.
---