Dec 20, 2017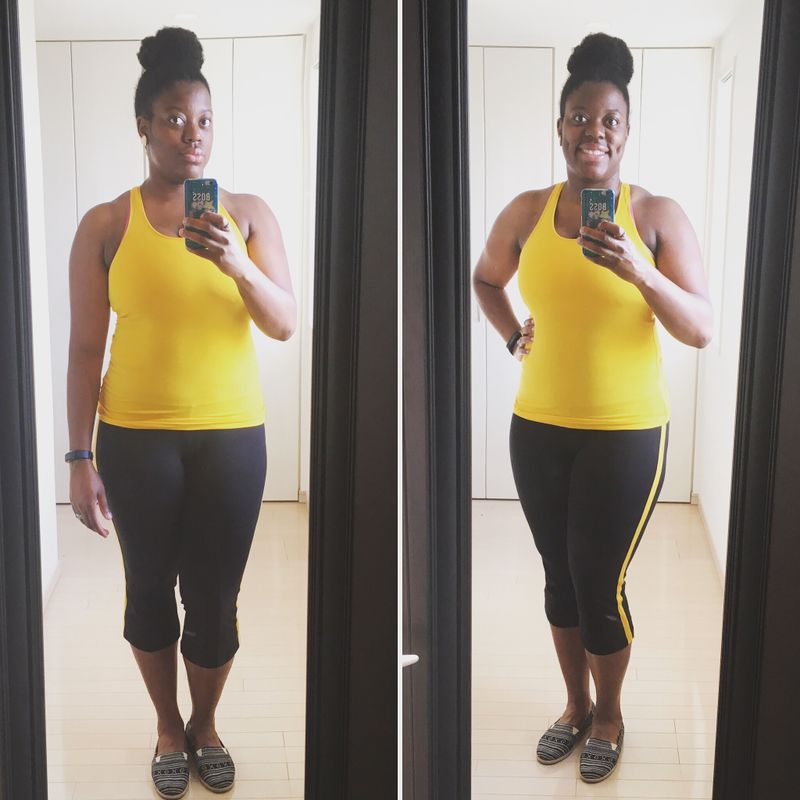 Amongst all of the sight seeing, cool places to hang out, awesome snacks, street food, history, culture etc. Japan excities me in the aspect of health! The three major aspects I will be talking about are food, exercising and healthcare services.
Eating Health
I find it easier and cheaper to eat healthy in Japan! It's easy because there are more healthy options and the customs and culture increase the notion of eating healthy. For example, in the states when you go out to a restaurant you order a drink. Water can be a drink that you order. Versus Japan, where water and hot tea are served as a staple. I've rarely ordered a drink with a meal/set because I do need more water and that's a good way to drink a lot of water. Granted, most of the time the cups are very small, but water is almost mandatory here.
Portion control is a lot different here, also. I can buy a regular pack of Oreos and it's so easy to eat an entire row in one sitting by yourself. Japanese snacks are typically smaller servings and come individually wrapped. It would be a task to eat 12 cookies when you have to unwrap each one, and usually they don't come in a large quantity. So, to eat American portion sizes here would be expensive. Not to mention that there is a lot less sugar in Japanese snacks, treats and drinks. It can take some getting used to, but now that I am used to it, too much sugar or very rich foods make my head spin.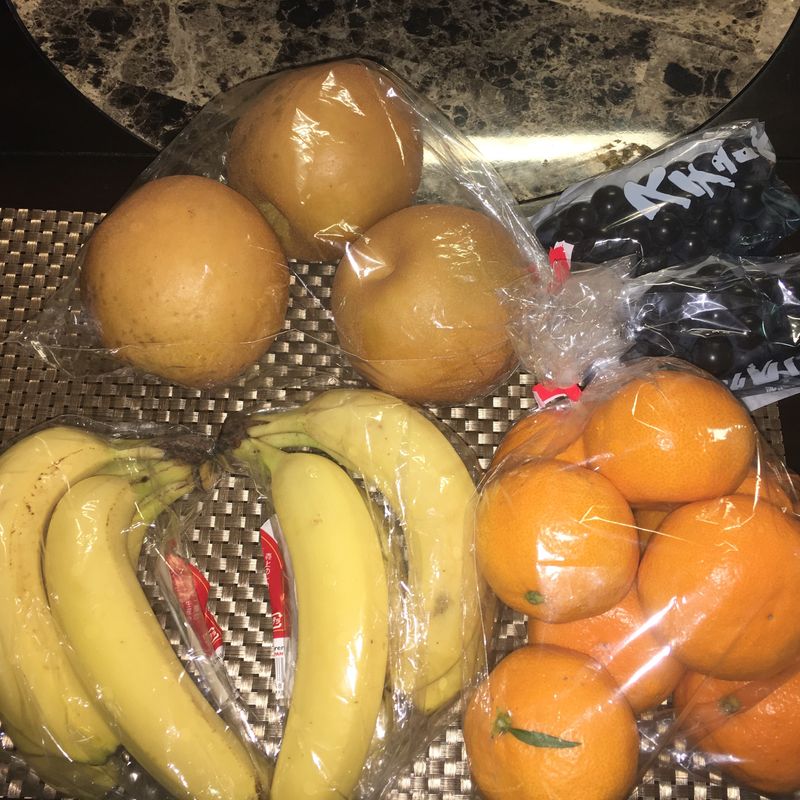 Buying healthy food is inexpensive and there are a ton of local markets that sell fresh produce. Locally grown, fresh produce here is amazing. I purchased the above items from a local market and I paid ¥1,300 for everything, which in USD is about $11.45. I made a fruit salad and banana ice cream (just freeze the bananas and then mash them together or blend very well) that last for the entire week. The only downside to buying fresh produce is that it has no preservatives and can go bad very fast. I'm used to it now so I don't buy too much, which means I have to go out and buy more often. Other items like eggs, meat, milk and cheese are also inexpensive. At the same market I can get eggs from ¥160-¥200. I also find great prices at the local grocery stores. I shop around because some places have some items cheaper or one might carry an item that the other does not.
Exercising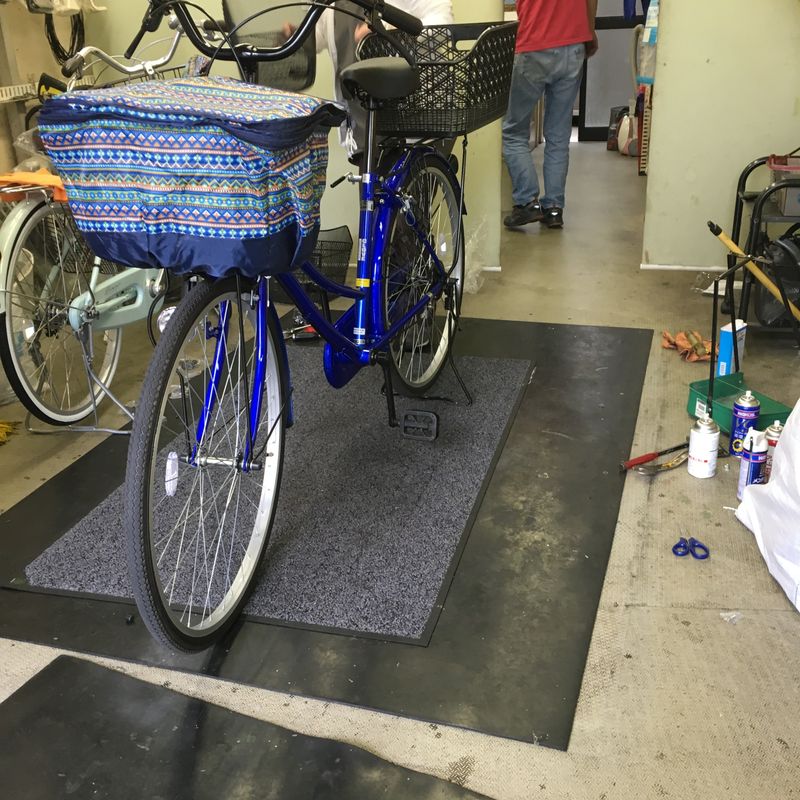 Getting a good workout fits into a lot of the lifestyle in Japan. If you take the train a lot then walking will be incorporated more often than not! The train ride can vary depending on how far you are going and so can the walking! The amount of walking depends on how far away your destinations are from the station and what you plan to do once at your destination. I visit Shibuya a lot! It takes me 15 minutes to walk to the station from home and then it's an hour's ride from there. Once in Shibuya I do a lot of walking. On one Shibuya trip I can get, minimum, 16,000 steps in.
The other mode of transportation I use is my bike. I purchased a bike (as pictured, Cyclone) when I first got here for ¥15,000 and I'm glad that I made the investment. Often times I just get on my bike and ride around to explore my area, see what I can find or ride to a park. Especially when the weather is nice. There are times that I ride my bike to the train station, but I prefer to walk. A lot of my friends have bikes and we find places to go. It's a change of pace, but it's also very safe to ride a bike here because the driving culture and laws here make it safe.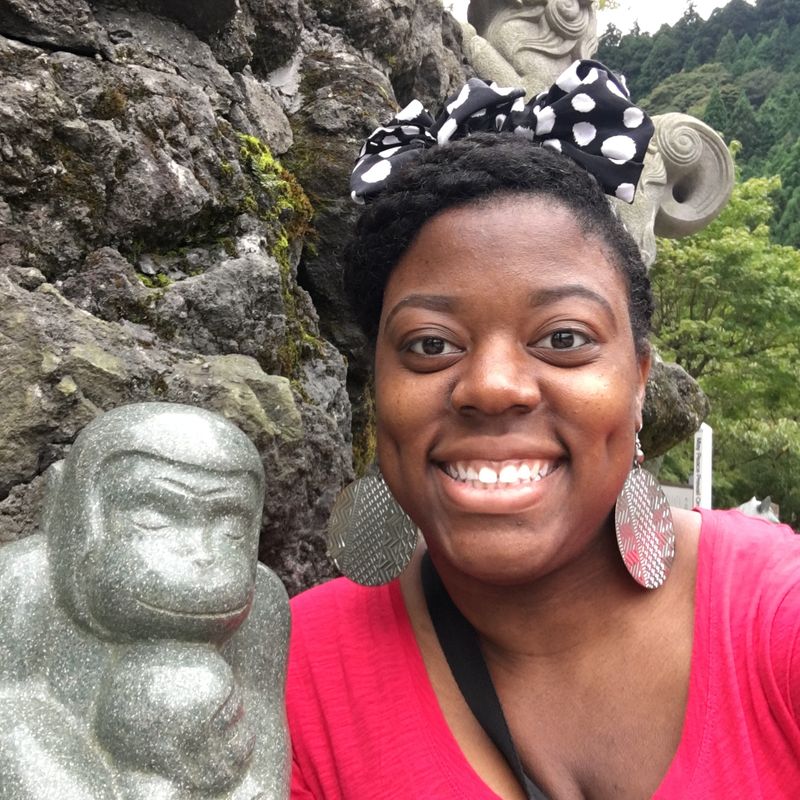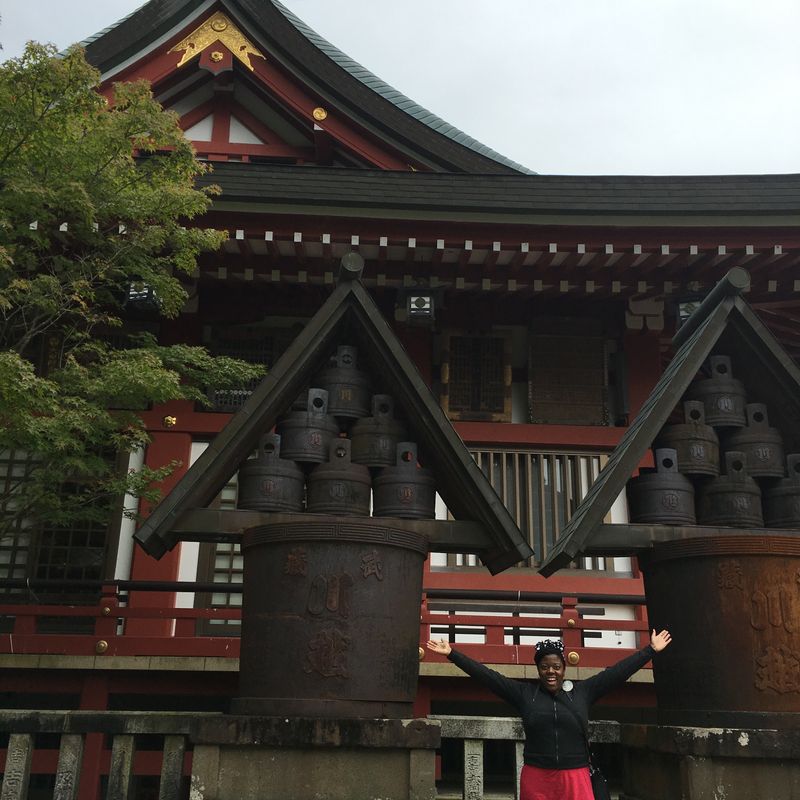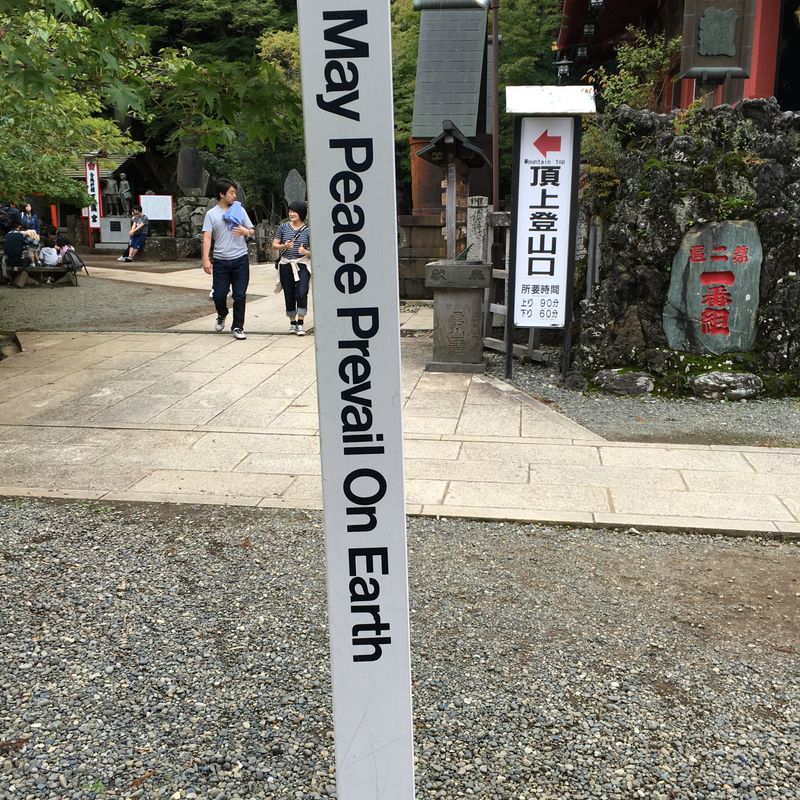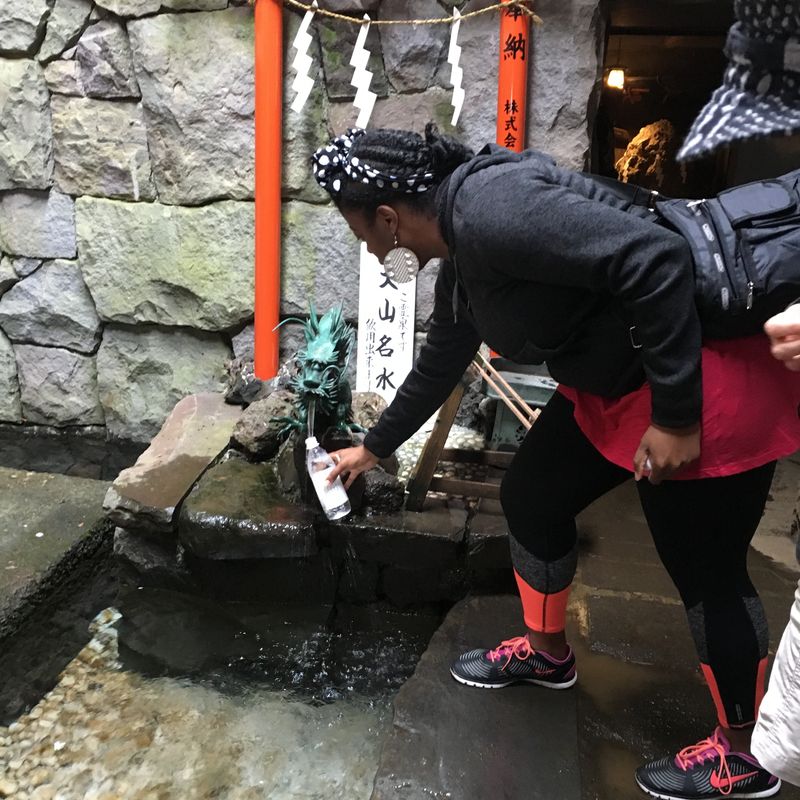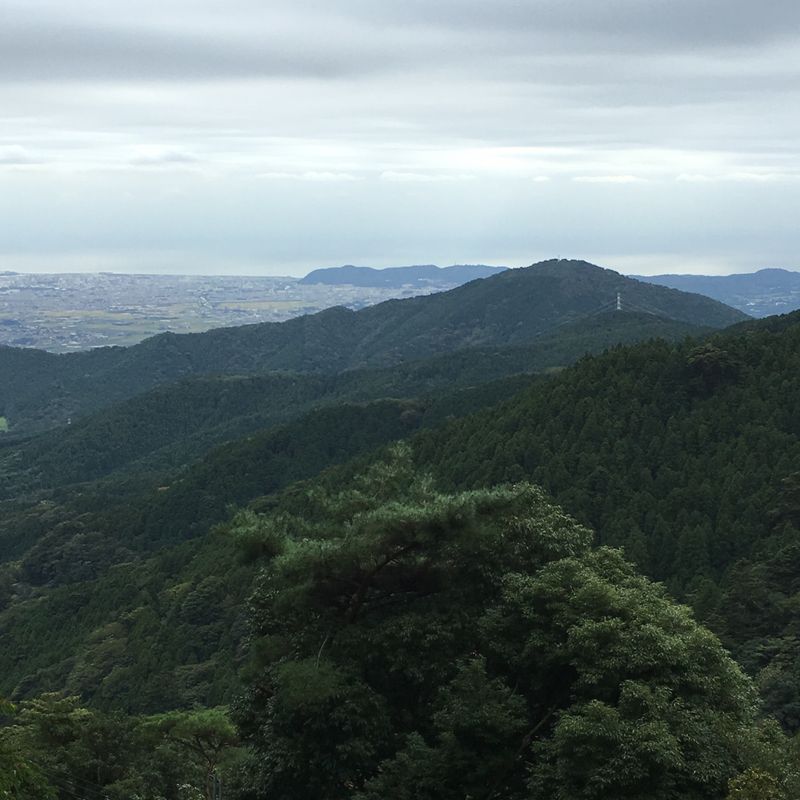 Prior to coming to Japan, I had never gone hiking. I never lived close to the mountains and I just never really had the interest nor was I opposed to it, I just didn't have the exposure. After my two weeks in Japan, I went hiking for the first time ever at Mt. Oyama! It was really nice and more challenging than I anticipated. I'm an athlete and have played sports all of my life so I thought that it would be a breeze! Silly me! Well there was a breeze, but it wasn't easy. It was a good cardio and leg day for me. It also just so happened to be sports day so there were a ton of people enjoying the nature and fun of hiking. There were shops and food along the way. I got the chance to bottle some fresh spring water and it was definitley better than the Deer Park or Dasani that I'm used to! My group and I stopped for ramen on the way back down. I even met a new friend and we both shared an interest in collecting rocks. Ultimately, just being active and getting out can provide the necessary level of exercise to be healthy.
Healthcare and Services
Since being in Japan, I have gone to a few specialists to upkeep my health. I had an issue with my neck, or so I thought, and I was advised to go to an acupuncturist. I was skeptical at first because I had never done acupuncture before. After checking around for recommendations and reading reviews I found an English speaking acupuncturist who is also a chiropractor. Each visit is ¥5,500 and there is no set time for session length, it just depends on the service(s) you need.
When I went in it was very clean, the staff were very nice and I felt welcomed and comfortable. My doctor asked me a lot of questions first and then did some checks to see what the problem could be. He asked if I carry heavy things for my job and I told him that I didn't. Then he asked some more probing questions. When we got to the root of the problem we found out that it was my work bag, that is usually heavy and I carry it on the same shoulder every day, was what caused my neck pain. So, he treated my shoulder and he also readjusted the opposite shoulder which was apparently slightly out of the socket and I didn't even know it. I heard the pop when he placed it back in! After leaving I felt great and was no longer hurting. I went back twice afterwards and he told me that I didn't need to come so often because I was in pretty good shape.
Overall the service was great and I appreciate the honesty and not trying to price gouge! I am not a fan of taking medicine for every little ache and pain so this was a great alternative for me and it eliminated the root problem altogether and not just treating the symptoms. Not to mention that it is affordable right out of pocket and didn't require a prescription.
The other service that I've used was going to the dentist! I did the same thing, asked around and checked a few places out, and then I found an English-speaking dentist. The office was very very clean, great staff and a wonderful atmosphere. They answered all of my questions and gave me all of my options up front before anything was done. I originally went for a checkup and routine cleaning. I also knew that I had a few cavities. The initial visit and cleaning was ¥6,500 ($57) and then for the work that I needed done to fill my cavities was ¥26,404 ($232). So all together the total cost was ¥32,904 ($289). This was the cheapest dental service that I've ever received and my dentist did a great job!
My advice for healthcare services in Japan would be to ask around and ask lots of questions. It's best to find English-speaking doctors so that things don't get lost in translation. I would also advise checking with your current insurance company to see if they cover the cost first. I do not have Japanese insurance, but my insurance does cover the cost. I have to manually file a claim, which means my doctor has to fill out their portion of the form, I submit it and then I get reimbursed.
Being healthy in Japan isn't hard and it is not expensive! Make healthier food choices, walk instead of driving, and drink more water when going out! Adapting to a lot of the Japanese culture has created a healthier lifestyle for me! I've lost a total of 20 pounds since being here. It can be done and you can do it!


---
1 Comment
this was great! Japan really inspired me to be more healthy as well. I love how easy it is to go hiking here!! like you i hadnt done it before.