Sep 12, 2017
Quick & Easy
Life gets busy, crazy and hectic! Meal prepping seems impossible and coming home after a long day to cook is unbearable! No need to fear, 7-Eleven is here! This is no average nor ordinary convenient store food. You know, hot dogs, nachos, hoagies etc. 7-Eleven in Japan is epic and tasty. Satisfy your stomach and pockets with healthy proportioned food options. Take the guess work out of it and put health back into meals. Below I will provide you with a quick and easy 7-Eleven meal. You be the judge!




What to Buy?
All you need for this meal is a bread (they have so many bread options starting at ¥112), salad (again they have multiple salad options. It is about preference), salad seasoning (the blue package), soup, fruit and a drink of your choice! Pictured above are all of the items that I purchased for this meal, which cost ¥1163 so in USD that's less than $10 for this healthy meal! I didn't have to do anything except put the salad seasoning on the salad and sometimes I put the bread in the oven. The salad seasoning is so yummy by itself I don't even use dressing. I just sprinkle a little lemon juice on the lettuce to make the seasoning stick more and that is it! This says a lot because I don't like "dry" salads and salads without meat, but this one is rather delectable!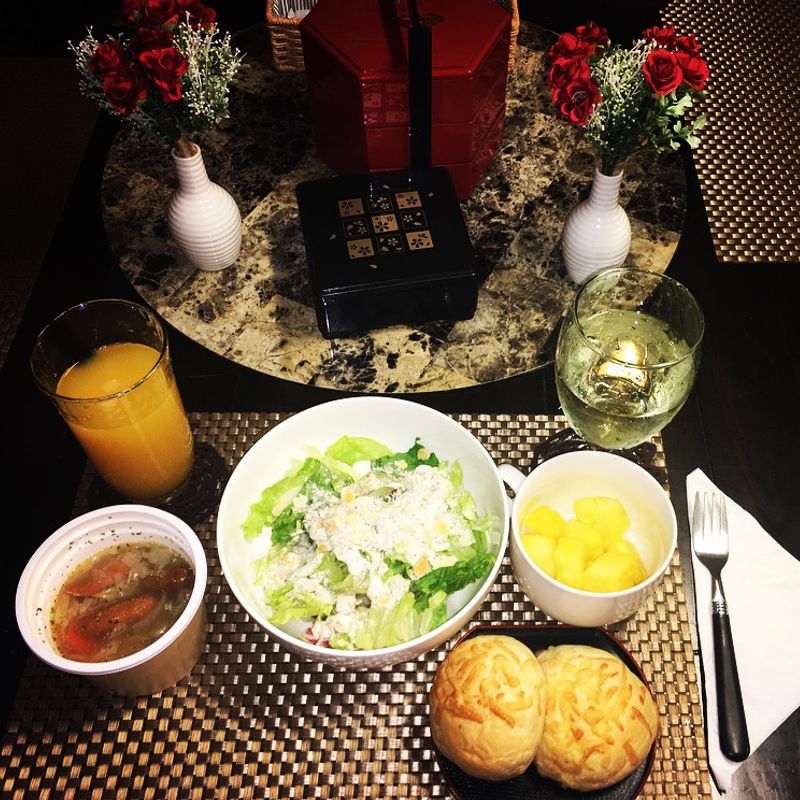 At the store they will warm up the food items that require a microwave, which is perfect because I do not own a microwave. I live In a Japanese apartment (it is considered a mansion) with a gas stove and fish grill only. I had to purchase a countertop stove. They give you all of the necessary untensils for your items, i.e. chopsticks, spoon, fork, straw etc. They also bag your hot food items separately from everything else.
Things to Know about Japanese Food
Japanese food comes portioned to satisfy not portioned to make you full. If I tried to eat Japanese food in American portion sizes, I would go broke! It forces you to eat less by controlling how much you have in each package. It is best to by less versus in bulk. They do not use a lot of preservatives so a lot of the expiration dates are only good for 1-2 days because the food is fresh. I initially wasted a lot of food when I first moved here because I bought too much at one time and within the expiration date it went bad.
Another thing to know, more so about eating out at dine-in restaurants, water is the primary drink and is always provided first! Unlike American restaurants where you order water for your drink. It is a good habit, which has forced me to drink more water. So I typically have water with every meal. This also helps to fill you up!
Fruit is eaten more as a dessert and not as a healthy snack. The natural sugars make fruit really sweet compared to Japanese sweets, which typically are not rich and super sugary.
When it comes to salads they eat A LOT of shredded cabbage versus lettuce. It took some getting used to, but it's not bad. They actually eat a lot of cabbage in general. The soup pictures is a vegetable soup with broth, Japanese sausage, carrots and potatoes. It seems so simple yet it is so delicious.
7-Eleven is the Best
In conclusion, not only do I love 7-Eleven, but I basically live there! I visit so much I'm able to understand more Japanese as a result. The nice cashiers at the multiple locations that I visit also know me now! There are many other convenient stores like Family Mart or Sunkus usually within a very small radius of 7-Eleven and on every other corner. I choose 7-Eleven because of the quality, prices and amazing customer service. When in Japan wine and dine from 7-Eleven to understand my exact sentiments.
---