Oct 17, 2018
Explore the outdoors and nature of Yamagata (山形), a region of Japan that has inspired many a poetic verse, with this guide to getting there from Tokyo and how much it costs to do so.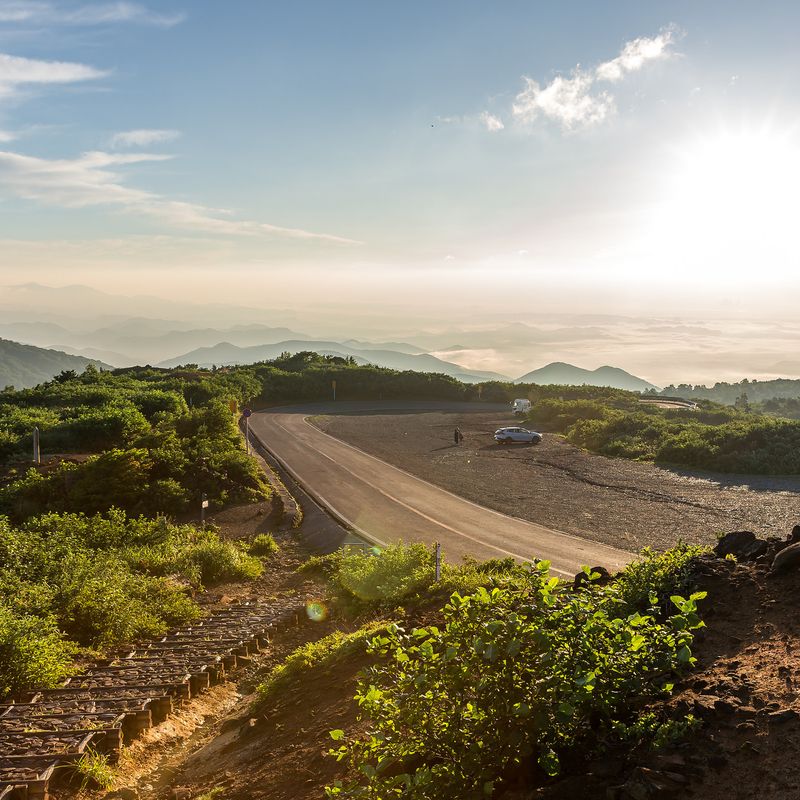 Yamagata Prefecture and the city of Yamagata itself sit plump in the middle of northern Honshu. Centrally located then, Yamagata the city is a convenient center of operations for residents and travelers who like to spend time in the outdoors, particularly on mountain slopes and hiking trails, and afterwards maybe submerged up to the neck in onsen waters under a starry sky.

Yes, Yamagata is home to some of Japan's best wilderness playgrounds, perhaps the most famous of which is Zao Onsen, southeast of Yamagata city. 'Zao' is an area of ski slopes and hiking trails centered around a stunning caldera lake and home to a resort town (or maybe 'village' would be more appropriate) where post-adventure stories are swapped over smokey servings of jingisukan (Mongolian BBQ). It's at Zao Onsen, in winter, when you can see the somewhat famous juhyou -- 'snow monsters' -- evergreen trees covered in frozen, warped, snow.
Sometimes it seems that anywhere you go in Japan haiku poet Matsuo Basho has already been there and penned a couple of lines about it. This is especially the case with Yamagata, scenes of which have been captured in many of the serial drifter's verses -- long before the idea of a direct Shinkansen from Tokyo to Yamagata were even possible to conceptualize.
The town of Yamadera might be the most famous of Basho's subjects in Yamagata, home to some rocky and precipitous, though quiet striking, religious structures.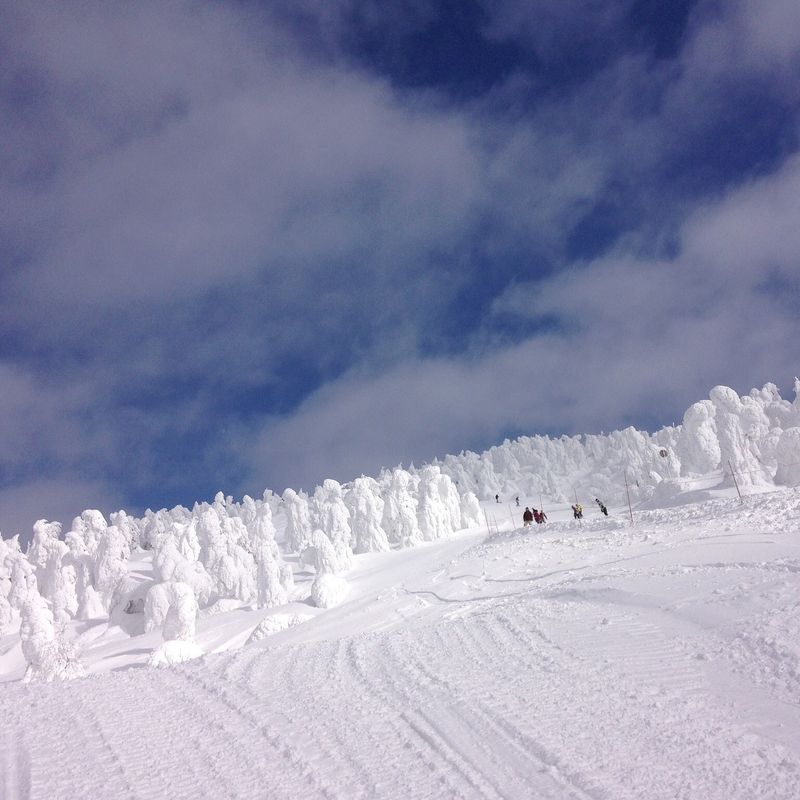 In Ginza Onsen, Yamagata can boast (but not too loudly) of having its own quaint hot-spring center. But this one's still a little off-the-beaten-path, so we might not want to be too gobby about it.
Access from Tokyo to the Yamagata region then is likely to be via Yamagata the city -- a regional travel hub (such as it is) with an airport and a train station that can handle Shinkansen from Tokyo, and the most the most logical base for those who wish to spend time discovering the many shades of Yamagata's charms.
In detailing how much it costs to travel from Tokyo to Yamagata, fares and prices are listed in Japanese Yen and, where bookings are possible, made around one month in advance of departure.
Tokyo to Yamagata by Shinkansen
The names are a little confusing when it comes to direct Shinkansen from Tokyo to Yamagata. Is it Yamagata Shinkansen or Shinkansen Tsubasa? Is the Yamagata Shinkansen an actual entity traveling from Tokyo, or is it just poneying on the back on the Tohoku Shinkansen for part of the way?
Perhaps Yamagata Shinkansen, Tsubasa trains would be the best way to describe the only direct Shinkansen from Tokyo to Yamagata. Journey times are around 2 hrs 40 mins and the costs are listed in the table below
| | | |
| --- | --- | --- |
| Unreserved seat | Reserved seat | Green seat |
| 10,450 | 11,340 | 14,560 |
First departure from Tokyo to Yamagata...
6:12 'Tsubasa' - arrives Yamagata 8:57
Last departure from Yamagata to Tokyo...
20:42 'Tsubasa' - arrives Tokyo 23:28
An alternative Shinkansen option between Tokyo and Yamagata is to go via Sendai, Miyagi. Akita Shinkansen (Yamabiko and Komachi trains) make the run from Tokyo to Sendai in 1 hrs 30 - 45 mins. From Sendai take JR Senzan Line trains to Yamagata, around 70 mins.
Travel via Sendai will add an extra 15 - 20 mins onto journey times (along with an extra ~2,000 yen compared to cheaper seats on direct Tsubasa) trains, but it is a legitimate option for getting from Tokyo to Yamagata which could add greater flexibilities to travel itineraries and schedules.
The costs listed below are for the combined fares of the Shinkansen to Sendai and the JR train to Yamagata. Seat choices are the for the Shinkansen only. (No 'reserved seat' option on Akita Shinkansen).
| | |
| --- | --- |
| Reserved seat | Green seat |
| 12,060 | 15,650 |
Other trains from Tokyo to Yamagata
Even with rapid or express trains taken into consideration, options for train travel between Tokyo and Yamagata don't look pretty. On the contrary, they look pretty awful. Thrifty travelers should brace for 8-9 hrs jumping between up to eight trains. And really, rather than this being "thrifty" travel, it would perhaps be better described as "crazy." At a cost of around 7,000 yen, travel from Tokyo to Yamagata on such trains would seem to make little sense.
This being said, an 8-9 hr train journey may be a good way to make use of the seasonal Seishin 18 Kippu (青春18切符) which could see budget travelers and those with the stomach for a bit of adventure get from Tokyo to Yamagata for as little as 2,370 yen. Read more about the Seishun 18 Kippu in an earlier article on City-Cost.
For travelers arriving from overseas, all of the journeys above are covered by the Japan Rail Pass.
The JR East Pass (Tohoku area) could also be used here as the pass covers journeys to the region from Tokyo. The flexible 5-day pass costs 20,000 yen if purchased in Japan. 19,000 yen when purchased overseas.
Flights from Tokyo to Yamagata
Yamagata is served by Yamagata Airport (GAJ), a small(ish) operation pretty much a straight 15 km north of downtown Yamagata city.
The only airline operating flights from Tokyo and Yamagata is Japan Airlines (JAL).
Flights with JAL depart Haneda Airport with a flight time of just over one hour. There look to be two flights a day in either direction.
| | | |
| --- | --- | --- |
| Type | Return | One way |
| Economy | 22,680 | 9,890 |
| Class | 24,680 - 32,080 | 10,890 - 12,090 |
Getting from Yamagata Airport to downtown Yamagata / Yamagata Station
Shuttle buses keep a schedule according to flight arrivals (not a packed schedule). The 980 yen one-way fare takes travelers downtown (25 mins) and to Yamagata Station (35 mins).
It's possible to walk from the airport to the nearest train station, JR Sakuranbo Higashine. JR Yamagata Line trains take 30 mins to Yamagata Station. The fare is 410 yen.
Expect to pay around 7,000 yen for a regular taxi from the Airport to Yamagata Station.
Highway buses from Tokyo to Yamagata
Through highway bus service / booking platform WILLER we could find a number of highway buses from Tokyo to Yamagata (station).
There is a day service departing Shinjuku (BUSTA) arriving at Yamagata Station just over six hours later. Fares for Willer Express' RELAX[NEW] seats start from 3,400 yen.
The Willer Express overnight bus departs Shinjuku arriving around eight hours later in Yamagata. Fares from 4,100 yen.
Tohoku Express departs Tokyo Station (Yaesu Exit), Ueno Station, and Asakusa Station (in that order) for an overnight journey to Yamagata (Yamako Bldg. - just east of Yamagata Station).
There is one bus per day and the journey time is around 7 hrs 30 mins. Fares from 6,000 - 6,700 yen.
Driving from Tokyo to Yamagata
Tohoku Expressway forms the backbone of the 350-400 km drives from Tokyo to Yamagata, snaking north of the capital past Utsunomiya and Nikko and on to Fukushima. The Tohoku Expressway begins around Kawaguchi in Saitama, just across the border with Tokyo. Access from Tokyo might be via Route S1 Kawaguchi Line (首都高速川口線).
Northwest of downtown Fukushima, drivers will hit Fukushima Junction (JCT). Here swing west onto the Tohoku-Chuo Expressway. This will become Route 13 around the city of Nanyo before turning back into the Tohoku-Chuo Expressway near the Costco at Kaminoyama. From here its around 5km to the west side of Yamagata City. Get off at Yamagata-Chuo Interchange.
According to Nippon Expressway Company (NEXCO) the drive from Tokyo to Yamagata (at least the highway part of it) will take around 4 - 4.5 hrs. Expressway tolls will be around 8,000 - 9,000 yen.
The cost of renting a car in Japan for a trip from Tokyo to Yamagata with a pick-up in the former and a drop-off at the latter might be around 25,000 yen for a basic k-class car for 12 - 24 hrs.
Picking up and dropping off rent-a-cars at different locations can be an expensive business in Japan. For around about the same cost, divers and passengers could rent the same car for five days if they bring it back to where it is they picked it up.
Getting from Yamagata to Zao Onsen
Buses from Yamagata Station depart one an hour between 6:50 am and 6:55 pm. Fares are 1,000 yen. The journey takes 30-40 mins.
The last bus back from Zao Onsen to Yamagata is at 7:45 pm.
Taxi services can run travelers arriving at Yamagata Airport straight to Zao Onsen. Expect to pay around 12,000 yen for the fare though.
Have an answer to the question, "How much does it cost to travel from Tokyo to Yamagata?", let us know in the comments.
See our 'How Much | Travel' series for more destinations from Tokyo and beyond ...
How much does it cost to travel from Tokyo to Osaka?
How much does it cost to travel from Osaka to Fukuoka?
How much does it cost to travel from Tokyo to Sendai?
See us on ...
Twitter and Facebook: @citycostjapan
Instagram: @city_cost_japan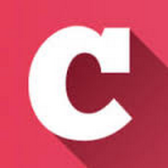 A Q&A and blogging community about life in Japan (plus a load of life-in-Japan stats!). Get your questions answered, share your experience! | Inquiry -> KyodoNewsDigital International Media | Tokyo, Japan | +81 3 6252 6402
---