Jan 4, 2016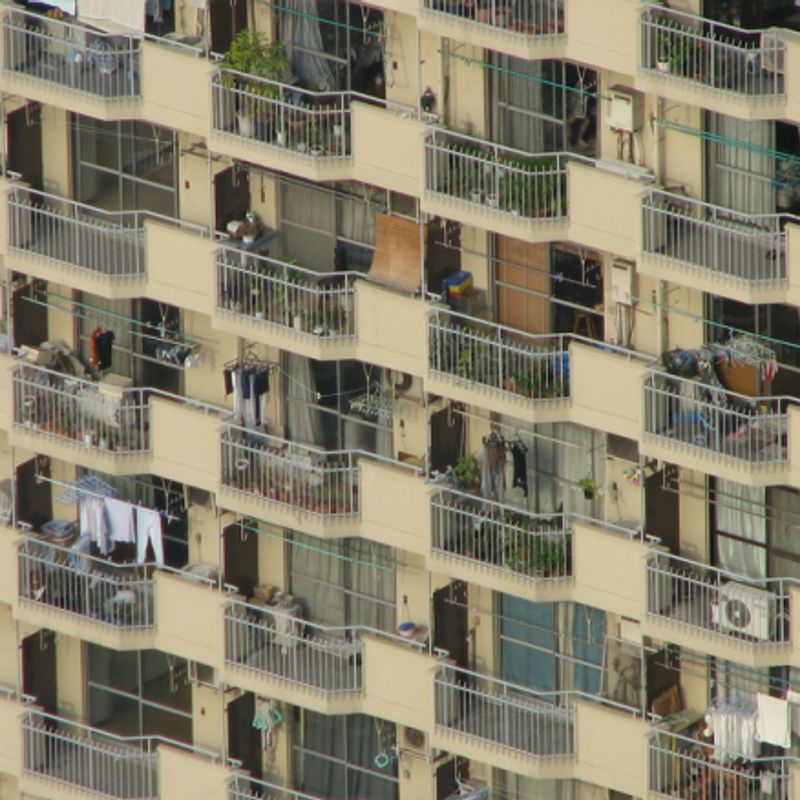 Given the often extortionate costs of getting into an apartment in Japan, it can seem like a cold slap in the face that said living space is likely to be as bare as a poor student's fridge. It's not always thus, there are options for renting fully/partially furnished places in Japan, at a price of course. The likelihood is though, that you'll need to do some shopping soon after moving in. In this post we want to look at the cost of furnishing an empty apartment.
What's on the list?
Some of the essentials …
Kitchen - stove / refrigerator / microwave / kettle / washing machine
Living - sofa / heater
Sleeping - futon
Buying brand new
The Appliances
Let's compare prices for buying a lot of this kit from Japan's electronics mega chains, Yodobashi Camera, Bic Camera, and Labi (Yamada Denki). What we've gone for here are the cheapest of each item that we could find. At the upper end of the scale, the sky's the limit! Prices are without tax.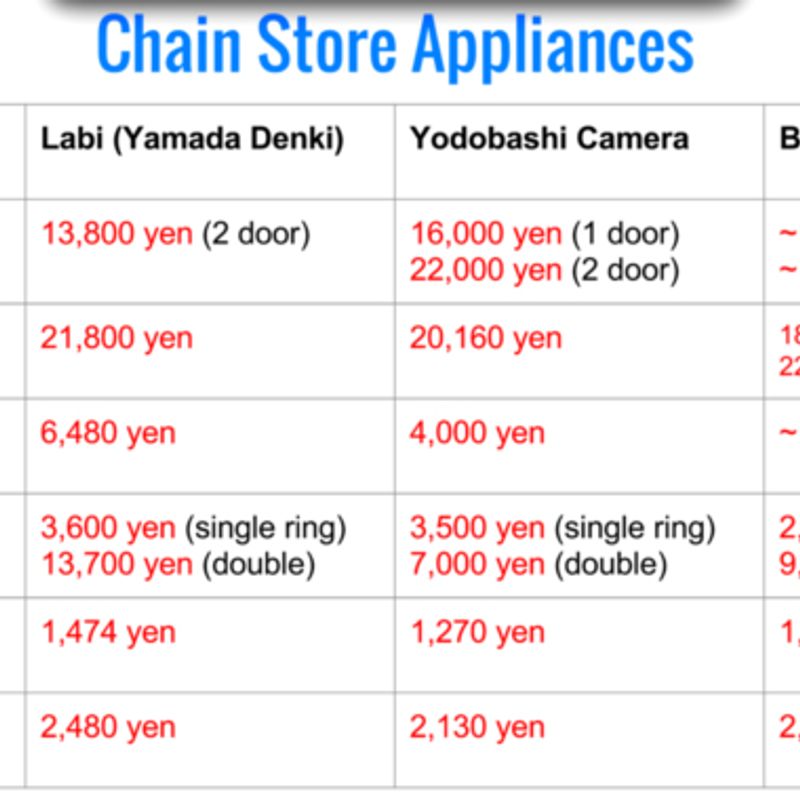 The Sofa
An earlier post on City-Cost (here), looks at the logistics of buying a sofa in Japan. The post compares two heavy hitters, ニトリ (Nitori) and IKEA. ニトリ is the cheaper of the two. You could pick up a rather Spartan two-seater for around 10,000 yen. 20,000 yen will bring far more choice (and comfort). ニトリ will deliver your sofa free of charge. Over at IKEA, expect to pay ~ 30,000 yen for one of their simple two-seaters. Delivery of a sofa, between ~ 4,000 - 7,000 yen depending on area of residence.
The Futon
As we're trying to keep prices down, unquestionably the cheapest form of bedding is a futon (布団). In our local Ito Yokado the cheapest futon set we could find was 7,980 yen (inc. tax) - this was a 3-set job; bottom bit, duvet, and pillow with covers for each.
Totals: ~56,000 yen - ~107,000 yen
Of course, with most of the above, going second hand will reduce costs considerably, and the 'used-shopping' scene in Japan is rich in value and quality. See an earlier City-Cost post for some in help in getting started with second hand stores in Japan: Bargains Galore at Japan's Second-hand Stores
Another option is to look out for 'sayonara sales' where expats leaving the country for good are usually pretty desperate to get rid of any clutter that they don't want to bring home with them.
Reducing Clutter, another post here on City-Cost, introduces some outlets through which you could pick up something to fill out your new living space on the cheap.
When thinking about the cost of furnishing an empty apartment in Japan, it's important to be aware of 'cost' as a fluid concept. Prices will vary from store to store, season to season. Also, we haven't mentioned airconditioning here. All the but the rock bottom apartments in Japan come with air-con fitted. Although, this may be region dependant. Up in Hokkaido there is perhaps little need for this during summer, and in winter, a heavy-duty heater may be more appropriate. In other areas of the country, if you can get through the summer without switching on the air-con, well, you're a bonafide hero. But it surely isn't possible, is it?! No, save yourself the hassle and rent a place with air-con already installed. For heating in winter though, it must be cheaper to switch to a simple electric heater.
When it comes to curtains (surely an essential) there are just too many variables; the number of windows, size, how dark/warm you want the room to be. Plus, you can always improvise with some sheets and clothes pegs whilst you get the rest of your apartment furnished and fit for living.
If you have any thoughts or suggestions on the cost of furnishing an empty apartment in Japan, we'd love to hear them. Post your comments below!
Twitter: @City-Cost_Japan
Images (both cropped to fit)
Top: Ian Muttoo Flickr License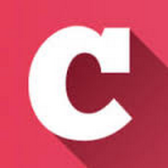 A Q&A and blogging community about life in Japan (plus a load of life-in-Japan stats!). Get your questions answered, share your experience! | Inquiry -> KyodoNewsDigital International Media | Tokyo, Japan | +81 3 6252 6402
---
1 Comment
A Kotatsu is a nice variation on a heater, plus it's a year round table as well. Some people opt to sleep inside and they're so cosy.