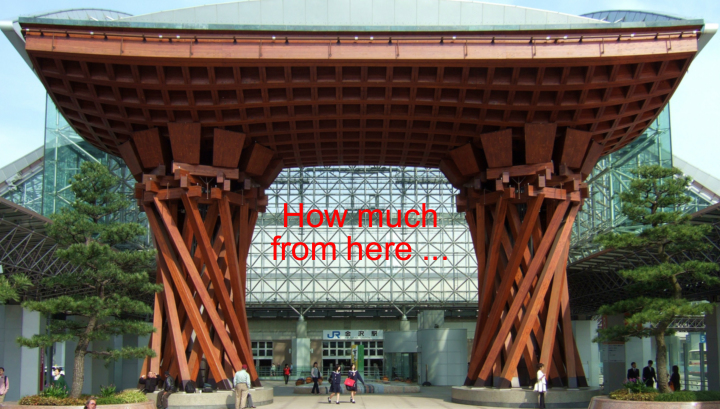 In 2014, the opening of the Hokuriku Shinkansen put the city of Kanazawa firmly on Japan's map. Journey times on trains from Tokyo were cut from a 4-5 hour bum-numbing slog, down to a much more endurable 2 hrs 30 mins. But how much does it cost to get there?
Flights
Prices here are based on booking one month before departure. Booking earlier than this will likely make things cheaper.
Kanazawa is serviced by Komatsu Airport (KMQ).
The flight time between Tokyo and Kanazawa is around 1 hrs - 1 hrs 15 mins.

Low Cost Carriers

Fares (one way / return)
IBEX (in conjunction with ANA) (from Tokyo, Narita) - ~16,000-24,000 yen / ~32,000-43,000 yen

Flag Carriers - Most ANA and JAL services operate between Tokyo's Haneda Airport (HND) and Komatsu Airport.

Fares (one way/round trip) (taxes/surcharges included)

ANA (from Haneda):

Economy - 24,890 yen / 44,780 yen

Business Kippu - 19,340 yen / 38,680 yen (ANA card members)
Tokuwari - 13,190 yen / 26,380 yen
Tabawari28 - 11590 yen / 32,180 yen
Premium - 31,990 yen / 63,980 yen
Premium Tokuwari - 26,390 yen / 52,780 yen
Prices from Narita cost a little more. There are more services flying from Haneda.

JAL - Cheaper. Easier (or limited) seating choice. Flights below are from Haneda (Tokyo). There are limited flights from Narita.

Economy - Fares from 10,590 yen / 21,180 yen

Class J - Between 1,000 to 7,000 yen extra
From Komatsu Airport to Kanazawa Station, buses take 40-60 mins and cost 1,130 yen.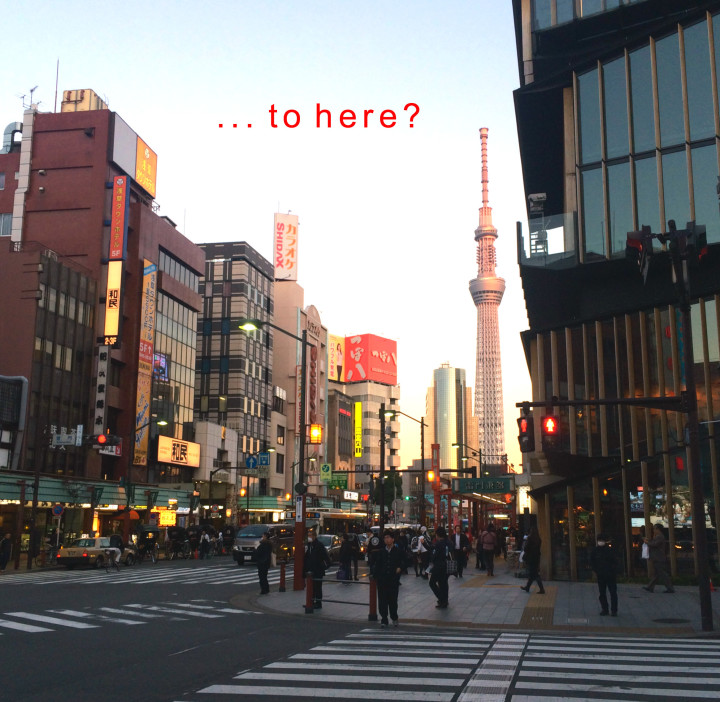 Shinkansen
The Hakutaka & Kagayaki Shinkansen use the Hokuriku Shinkansen Line between Tokyo and Kanazawa stations. Journey time ~ 2hrs 30 mins.

Unreserved seat (13,600 yen) / Reserved seat (14,120 yen) / Green seat (18,750 yen) / Gran Class (26,970 yen)

There are very few special deals or complicated discounts with the Shinkansen. Prices are pretty much the same no matter when or how you book.

How much does it cost to get back? No 'return' fares, so just double the price of getting there.

The Japan Rail Pass is valid on Shinkansen between Tokyo and Kanazawa.

The price to get from Tokyo to Kanazawa using only local trains is around 9,000 yen. 10 hrs + without a break!



Bus
The cheapest way to travel between Tokyo and Kanazawa. In Tokyo, the largest number of services depart from Shinjuku Station. In Kanazawa, many buses arrive/depart at Kanazawa Station. Journeys are at night and take around 9 hrs.

One way fares start from around 4,000 yen.

English speakers would do well to check out Willer Express.

Fares (one way, based on bus/seat type)

RELAX - 4,340 yen

RELAX[NEW] - 4,390 yen
RELAXWIDE - 6,200 yen
Night bus booking sites Bus-Channel can get you started in English, but you'll be directed to Japanese language sites in order to make bookings.



Other Services
Up for an adventure? Why not make use of the Seishun 18 Kippu? This ticket could see you travel as far as you can on local trains for as little as 2,370 yen per day. The trip from Tokyo to Kanazawa will take a good 10 hours. Check out our earlier post about this ticket here.

Drivers should expect to pay ~ 10,000 yen in highway tolls (source: NEXCO). The journey takes about 6 hrs (without getting lost). How much does it cost to rent an automobile? NIPPON Rent-A-Car has 'subcompact' cars which can be rented for around 7,000 yen for up to 12 hrs.

Got an answer to the question, How much does it costs to travel from Tokyo to Kanazawa?. Let us in on the info below.



See our 'How Much | Travel' series for more destinations from Tokyo.
Osaka: How Much Does it Cost to Travel From Tokyo to Osaka?
Fukuoka: How Much Does it Cost to Travel From Tokyo to Fukuoka?
Nagoya: How Much Does it Cost to Travel From Tokyo to Nagoya?
Sapporo: How Much Does it Cost to Travel From Tokyo to Sapporo?
Hiroshima: How Much Does it Cost to Travel From Tokyo to Hiroshima?
Kyoto: How Much Does it Cost to Travel From Tokyo to Kyoto?
Sendai: How Much Does it Cost to Travel From Tokyo to Sendai?
Tokyo: What's The Cost of a Day's Train Travel in Tokyo?
Twitter: City_Cost_Japan
Kanazawa Image (top) (cropped, text added)

Henry Burrows Flickr License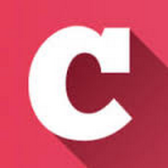 A Q&A and blogging community about life in Japan (plus a load of life-in-Japan stats!). Get your questions answered, share your experience! Twitter : @city_cost_japan | Inquiry -> KyodoNewsDigital International Media | Tokyo, Japan | +81 3 6252 6402