Jan 11, 2019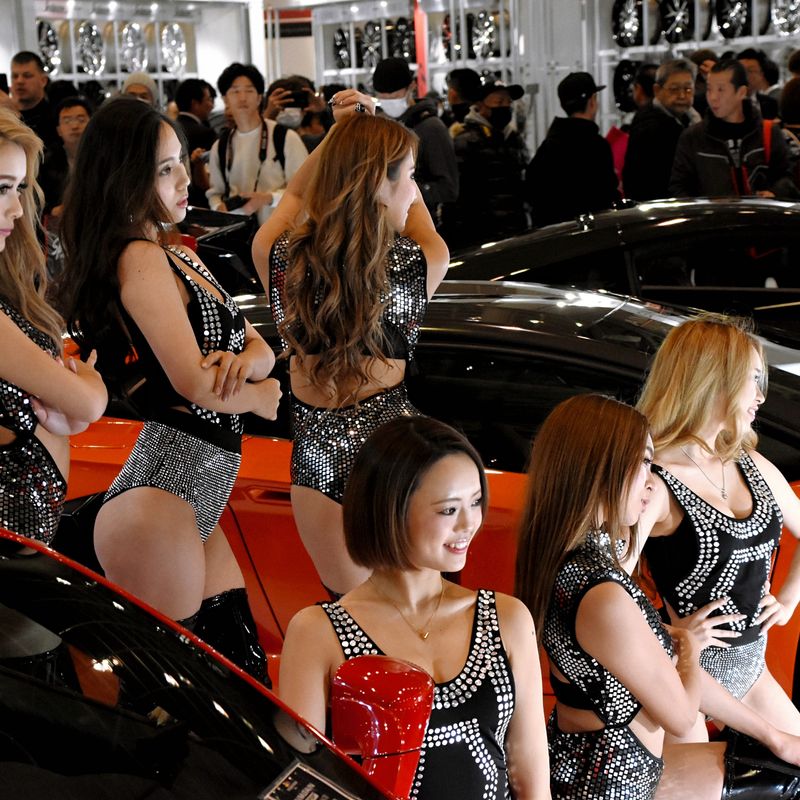 Jan. 11, 2019: Tokyo Auto Salon 2019 - Convention center Makuhari Messe, east of Tokyo, was built for events on the booming scale of Tokyo Auto Salon. Nearest train station Kaihimmakuhari wasn't. Alighting my train at around 8:30 and I already have to queue to get off the full-to-capacity platform (largely men) into the station itself, and queue again at the gents (a rarity, sorry ladies). And Tokyo Auto Salon hasn't even opened to the press yet.

Then it's that terse chase through Makuhari's purpose-built office dystopia, a glass-plated Milton Keynes of the Far East stocked with echoing skyscrapers, malls, diners and an itinerant populace, largely topped up by whatever oversized showcase is going on in the Messe -- video games, tech, rockstars, cars …
Doors for TAS press open at 9:00 but the registration and pass counters have been open since 7:30. In the business-carpeted lobby of the Messe's International Conference Hall journalists play with phones, camera and TV crews fiddle with kit, sheltering from bracing Tokyo Bay winter winds outside.
Doing press for events like Tokyo Auto Salon starts off a little like alighting an airplane at destination's end -- the irritable urgency of wanting to get out … or in this case 'in' to the venue. Nothing can happen quick enough, from fixing camera flashes to making sense of event-floor maps written in Japanese.
Perhaps in the case of Tokyo Auto Salon a sense of urgency is a good thing. There's an astonishing amount of stuff to take in at the custom car circus (over 4,100 booths and 900 vehicles shared around 330,666 visitors across the three days at TAS 2019). When you're there as press, you've really got to get the most out of it in on the Friday morning, Day 1, before a frantic fan-base pours in and pours over the motors, the kit and accoutrements, the booth models and race queens, making the task of getting unobstructed photos a yawning test of patience, which I would inevitably fail.
For the serious motoring hack though, press morning at TAS is likely structured around press conferences held at the booths of marquee manufacturers. Here, industry types in suits shuffle up to stages and motoring marketeers with long job titles enter stage left to movie trailer soundtracks only to then dampen the mood with even longer speeches, the 'anti' in front of a climatic silky-sheet unveiling of a car underneath.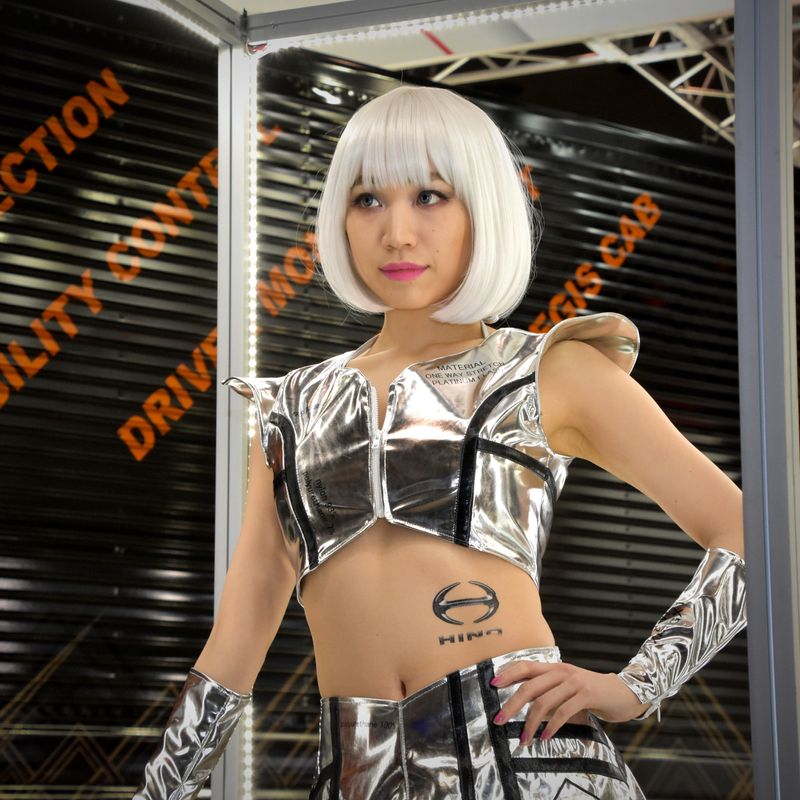 (Dancer at the booth of Hino Motors, Ltd., the truck manufacturer had kind of disco-meets-glam space age thing going on at their booth at Tokyo Auto Salon 2019)
Between serious contemplations of car-door-opening action and driver-seat comfort nowhere is the challenge of getting a clear shot at Tokyo Auto Salon greater than when booths bring out the booth models for group photo sessions.

Such sessions are typically scheduled and at the more popular shows (not sure of the criteria here) if you're not there a good half an hour early, good luck finding any cracks of light, any show sightings, amidst a densely-packed, camera-toting hoard of, well, 30-40 something-year-old men.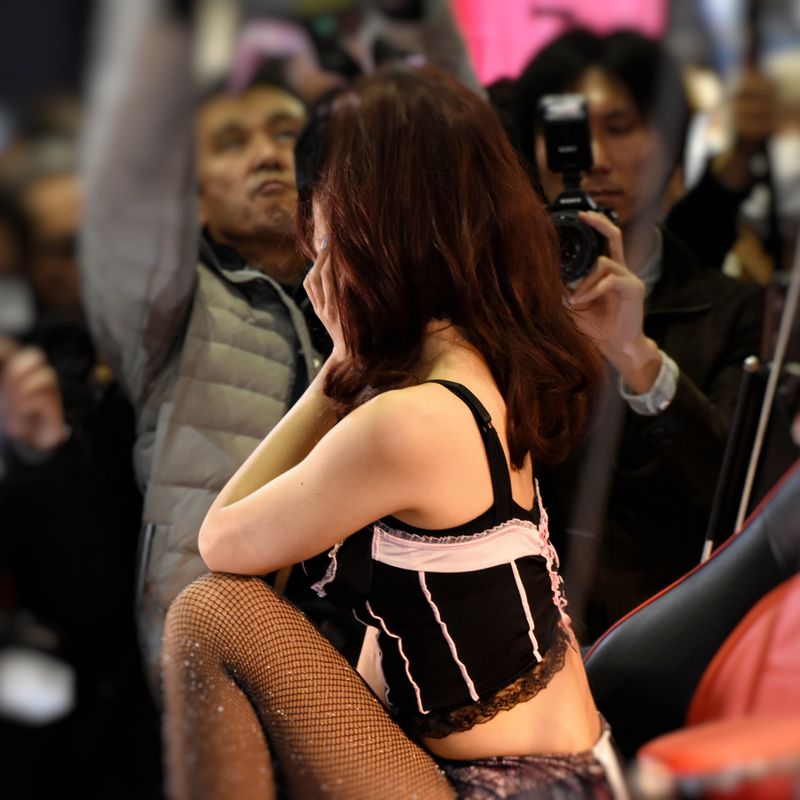 Chivalry has gone from these gatherings. Japan's prostrate humility gaping in its absence. No one is going to give an inch. Rather, they're going to take any going spare with stretched arms, absurd lenses, and looming selfie sticks. And none of them are focused on the vehicles, although the models do reflect them.
At one show I found myself stood behind a hobbying movie maker whose sole focus was a zoom-in on cleavage. No face nor costume. Not a slither of chassis. Just fullscreen and static cleavage. But filming it. Constantly.
Brazen behavior? No doubt. Totally inappropriate? Normally. But there's a reciprocity going on here, between model and photographer, that would appear to have transcended the boundaries of social norm.
At one point during the event a photographer lets out a "Uwaaah" at the passing of a booth model. She stops and he begins to inquire (with no attempt to conceal his delight) about spots of moisture dotted about the rear of her skirt. She giggles and tells him that the material makes her sweaty. He asks if he can take a picture. She says, "Sure," and pokes out her posterior. The mind boggles.
Far from the show's finest moment (and probably its lowest) it's one that does reflect the sensory overload going on here. If you're into custom cars, tuners and bejewelled bits of automotive engineering, Tokyo Auto Salon is sure to draw out of you your own sense of the "Uwaah" if not the sound itself (should you be able to collect the lower half of a dropped jaw from up off the floor).
It's as exhausting as it is intoxicating in here amidst an expansive hugger-mugger of creative abandon, questionable taste, exotic shapes, wanton excess and the beguiling frustration that comes with not being able to wrap one's mind around it all.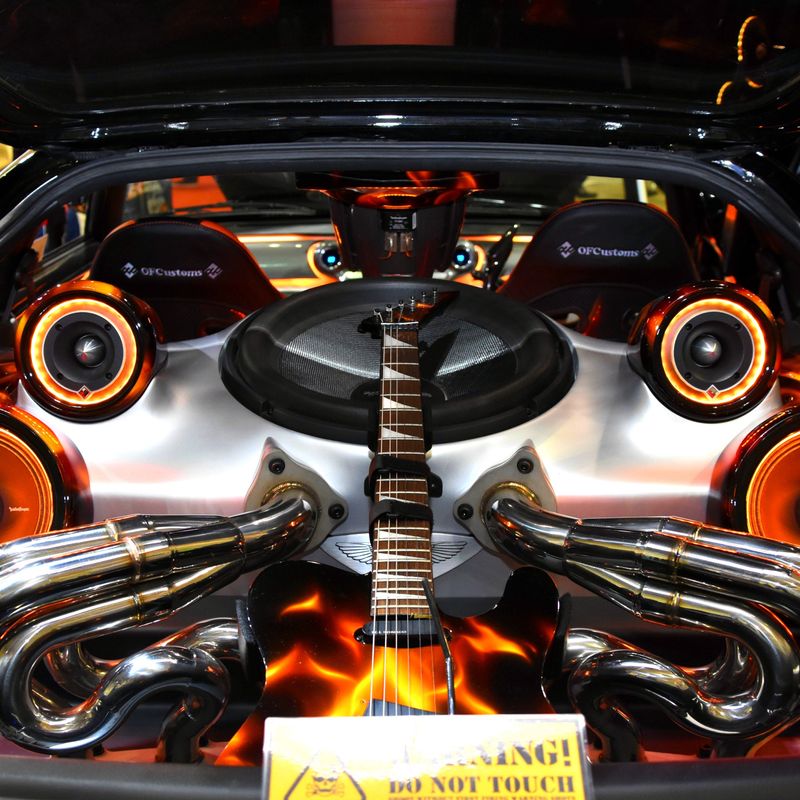 (Rock-star radness at Tokyo Auto Salon 2019 -- Toyota Raven Supra replete with flaming guitar)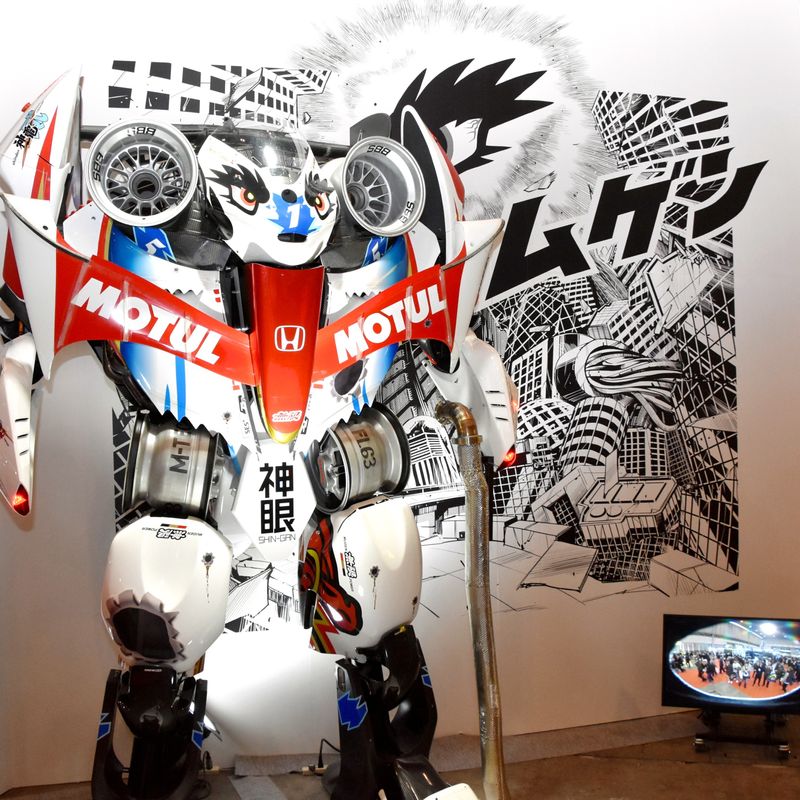 (Pop-cultural stylings at the Honda booth, Tokyo Auto Salon 2019)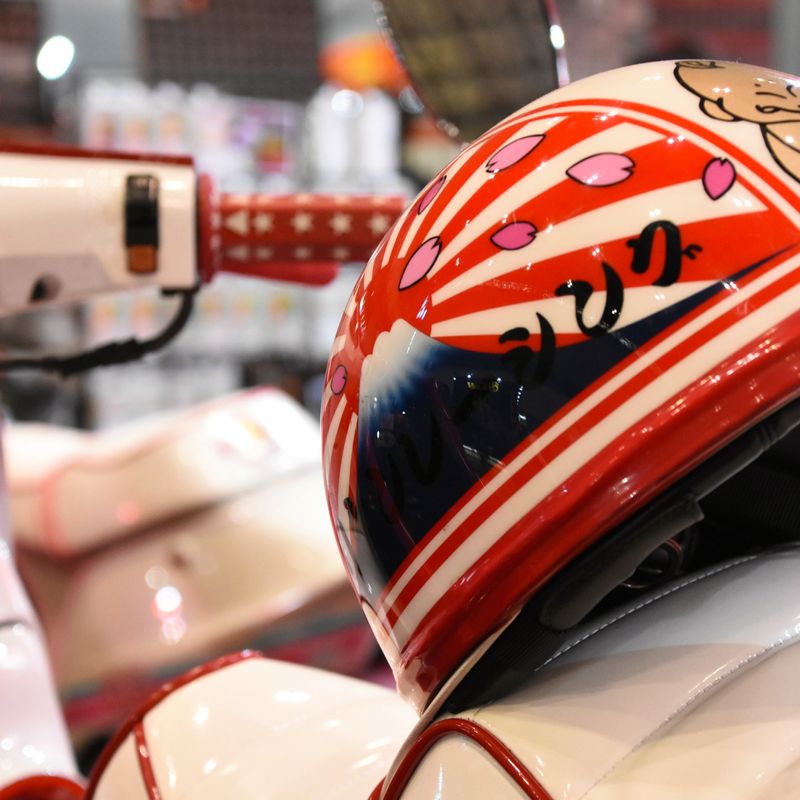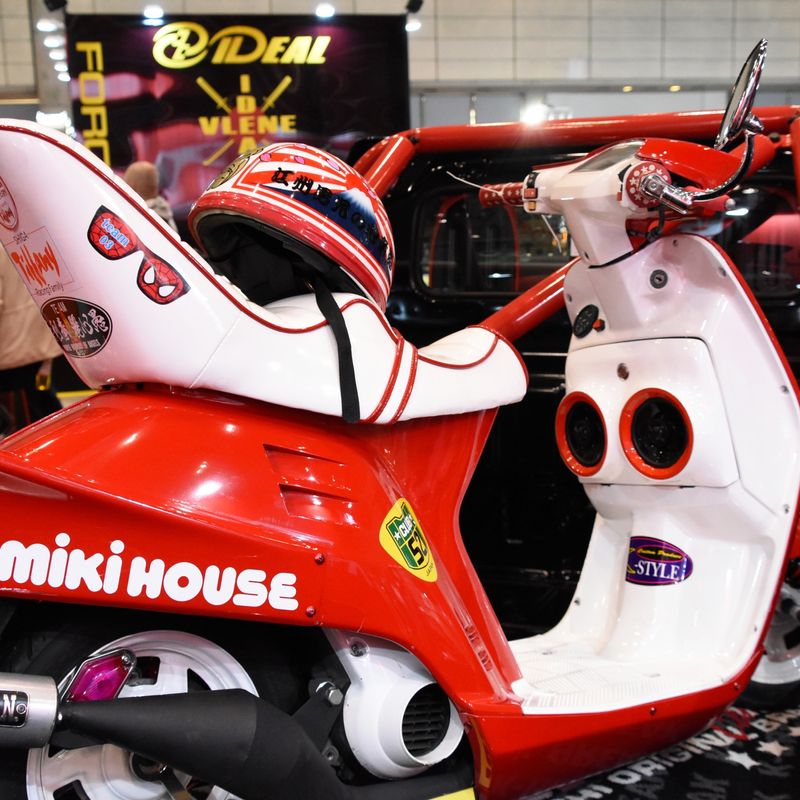 (Even scooters look cool at Tokyo Auto Salon)
Late afternoon and I'm making for Messe's exit as others continue to pour in. It's hard to pull yourself away from the TAS experience with both mind and SD cards plagued by all the intricacies and sordid details inevitably missed. But the legs are knackered from the straining and squatting required to get into photo-taking repose with a rucksack full of gear. And as much as the event venue is crowded, it's going to be all-out chaos when the post-show exodus forces its way towards the station.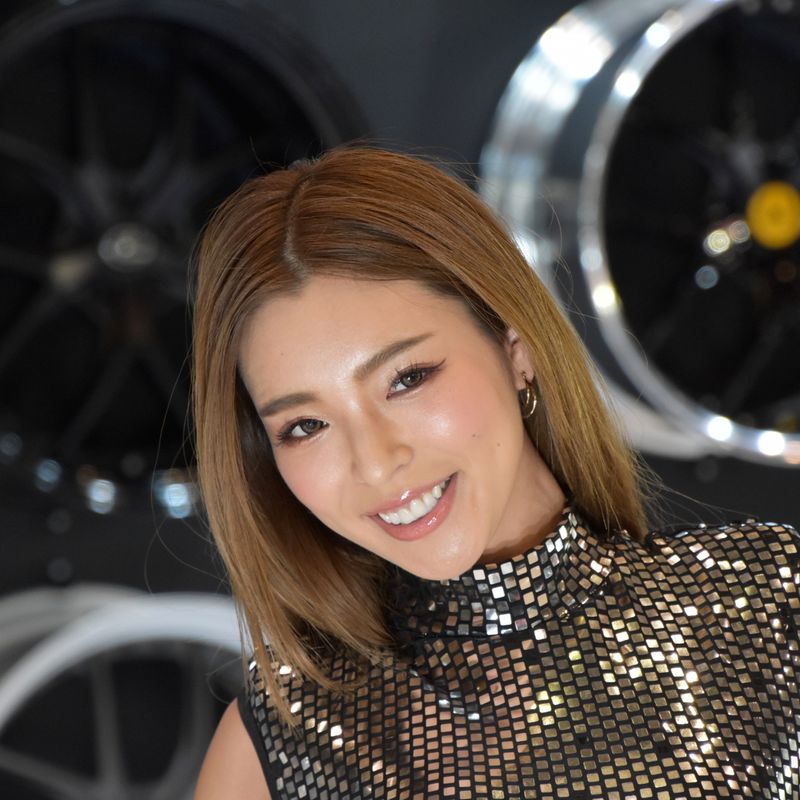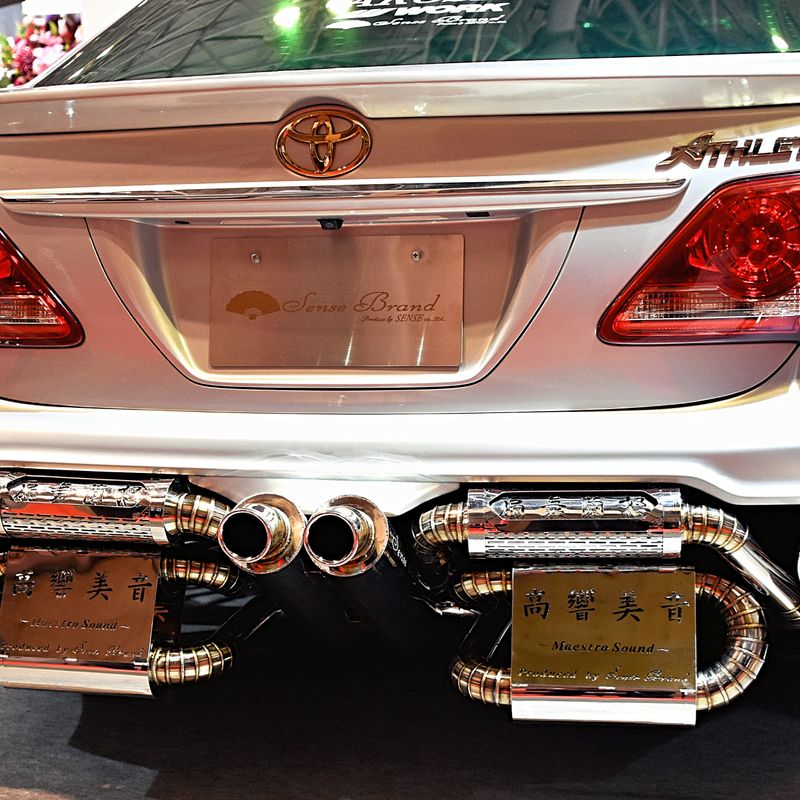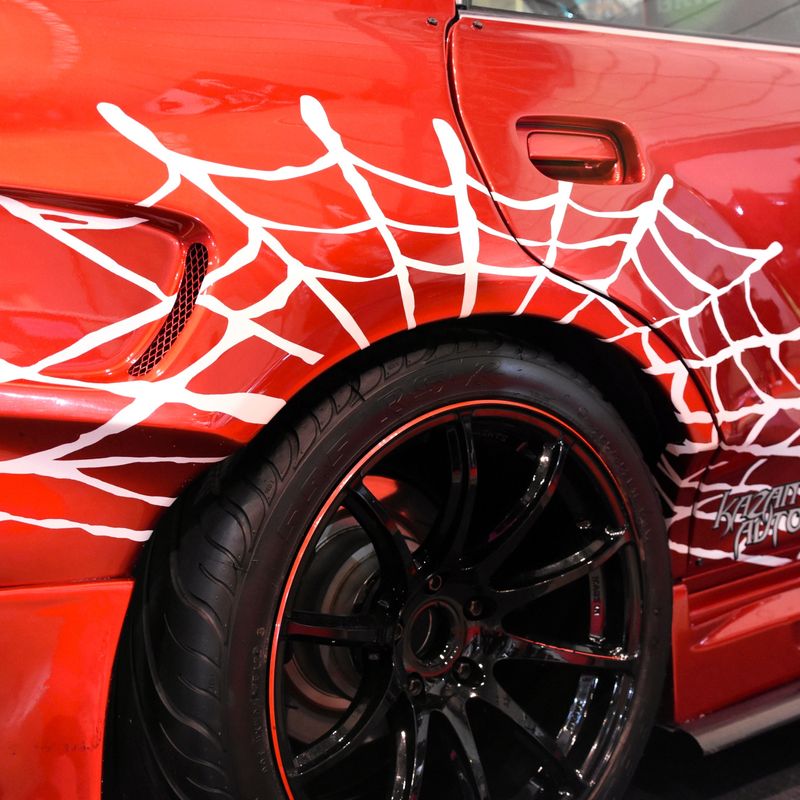 Related ...
Tokyo Auto Salon 2019: Round up of best, coolest cars
Tokyo Auto Salon 2019 gets into gear on first day of custom extravaganza
Gallery - Booth models of Tokyo Auto Salon 2019
---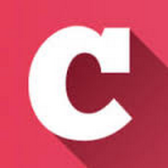 A Q&A and blogging community about life in Japan (plus a load of life-in-Japan stats!). Get your questions answered, share your experience! | Inquiry -> KyodoNewsDigital International Media | Tokyo, Japan | +81 3 6252 6402
---