Feb 6, 2018
A guide to travel from Tokyo to Takayama, how much it will cost, and how to travel on to the amazing World Heritage-listed villages in Shirakawago and Gokayama.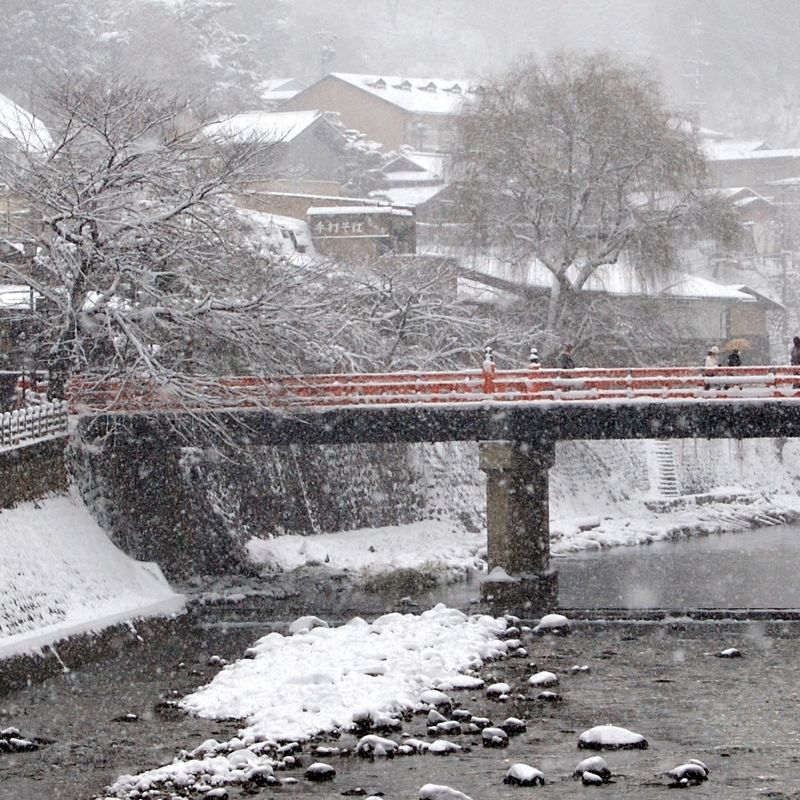 Beautiful Takayama (高山) is the center for travel in and around Japan's Hida region -- a land of mountains hiding remote valleys, delightful onsen towns and the World Heritage-listed villages of the Shirakawago and Gokayama regions, displaying fine examples of gassho-zukuri, a style of thatch roofing that, together with the moody mountain backdrops, has seen these remote communities become the subject for many a glossy photo book.
But the city of Takayama itself, remains a delightful place to visit, and really should be considered a must for anyone heading in this direction. Yes, its booming popularity in recent years has perhaps lowered the "quaint" factor by a shade of two but Takayama is justly popular. The compact and pleasant city boasts a beautifully preserved merchant district -- Sanmachi-suji -- a myriad of museums provide insight into local arts, crafts and the history of the Hida region, and in Hida Kokubun-ji (飛騨国分寺) the city has a temple housing a number of Important Cultural Properties and a gingko tree thought to be some 1200 years old. The Takayama Festival, held in two parts (mid-April and mid-October) is one of Japan's best-loved traditional festivals, and the city really will be booming at these times. And then, of course, there's the access to the villages of Ogimachi (Shirakawago) and Ainokura (Gokayama) ...
Tokyo to Takayama by train
This is fairly remote part of Japan (although it doesn't prevent an army of visitors finding their way here). Accordingly, getting from Tokyo to Takayama isn't as easy as other marquee attractions in the country.
Takayama train station sits west of downtown. The compact nature of the city, however, means that most attractions can be accessed on foot from here.
Shinkansen via Nagoya
Perhaps the easiest way to get from Tokyo to Takayama by train is via Nagoya, an easy, but not cheap, ride on the shinkansen. From Nagoya to Takayama, JR Takayama Line limited-express "Hida" trains cover the distance in around 2.5 hours.
Shinkansen costs from Tokyo station to Nagoya station
| | | | | |
| --- | --- | --- | --- | --- |
| Train | Unreserved | Reserved | Green seat | Time (mins) |
| Nozomi | 10,360 | 11,090 | 14,680 | 98 |
| Hikari | 10,360 | 10,880 | 14,470 | 104 - 125 |
| Kodama | 10,360 | 10,880 | 14,470 | 168 |
There's little point in taking the slower Kodama shinkansen. Nozomi shinkansen are the fastest trains to Nagoya and with a price difference between the Hikari that should be considered negligible.
Nagoya to Takayama: Limited Express Hida trains (~ 2.5 hrs)
| | | |
| --- | --- | --- |
| Unreserved | Reserved | Green seat |
| 5,510 | 5,830 | 8,260 |
First train from Tokyo to Nagoya: Nozomi, 6:00 arrives 7:34
From here, travelers can make a quick connection to Takayama ...
7:45 Limited Express Hida arrives Takayama 10:16
Total cost from Tokyo to Takayama (via Nagoya / Nozomi shinkansen)
Unreserved - 15,870 / 31,740
Reserved - 16,920 / 33,840
Green seat - 22,940 / 45,880
There are no special deals on return journeys, which will just be double the cost.
Limited Express Hida trains have comfortable seating similar to that of a shinkansen, and have "wide view" windows from which to take in the scenery.
Avoiding these limited-express trains from Nagoya will mean hopping on a Tokaido Line train to Gifu and changing to the JR Takayama Line from there. A possible course could be thus ...
NAGOYA - (JR Tokaido Line New Rapid Train) - GIFU - (JR Takayama Line) - TAKAYAMA
Journey time: 250 mins
Fares: 3,350 yen
So the traveler will be able to save from around 2,000 yen (4,000 yen return) although it will be around double in the expense in terms of time.
Shinkansen via Toyama
Kagayaki and Hakutata trains on the Hokuriku Shinkansen Line from Tokyo station make the trip out to Takayama, the northmost stop on the JR Takayama Line.
| | | | | | |
| --- | --- | --- | --- | --- | --- |
| Train | Unreserved | Reserved | Green seat | Gran class | Time (mins) |
| Kagayaki | n/a | 12,530 | 17,360 | 25,580 | 130 |
| Hakutata | 12,210 | 12,530 | 17,360 | 25,580 | 160 |
No difference in fares then, but the Hakutata does have an "unreserved" seat option.

The same Limited Express Hida trains approach Takayama from the north, taking around 90 mins.
| | | |
| --- | --- | --- |
| Unreserved | Reserved | Green seat |
| 2,840 | 3,160 | 4,120 |
Total cost from Tokyo to Takayama (via Toayama / Kagayaki shinkansen)
Reserved / Unreserved - 15,370 / 30,740
Green seat / Reserved - 20,520 / 41,040
Gran class / Green seat - 29,700 / 59,400
The earliest of these trains from Toyama departs at 8:00 am but travelers won't be able to get here on time from Tokyo. A 7:20 Kagayaki shinkansen arrives at Toyama in plenty of time for a 9:52 train to Takayama, arriving at 11:23
Local trains from Toyama to Takayama will require a change at Inotani
TOYAMA - (JR Takayama Line) - INOTANI - (JR Takayama Line) - TAKAYAMA
Journey times: around 130 mins
Fares: 1,660 yen
Note that departures for this route are only once every two hours or so, although the times between connections are only 2 - 10 mins.
Total cost from Tokyo to Takayama (via Toayama / Kagayaki shinkansen / local trains)
Reserved: 14,190 / 28,380
Green seat: 19,020 / 38,040
Gran class: 27,240 / 54,480
So the traveler can makes savings from around 1,000 yen (one way) taking this slower route from Tokyo to Takayama.
Overall though, the cheapest way from Tokyo to Takayama by train seems to be via Nagoya using an "unreserved seat" on Hikari shinakansen and the local JR Takayama trains (via Gifu) from Nagoya and our destination, Takayama
One way: 13,860 yen
Return: 27,720 yen
Tokyo to Takayama by bus
Using a highway bus service was always going to be the cheapest way to get from Tokyo to Takayama. And the most direct.
Takayama bus station is just 100m north of the train station. It's also known as the Takayama Nohi Bus Terminal.
Nohi Bus handle a number of bus services / tours in the Hida region including highway buses departing from Busta Shinjuku in Tokyo. Journey times from Tokyo to Takayama by this bus are around 5.5 hours.
At the time of writing there were 6 daily departures from Busta Shinjuku, some of which are provided by Keio Bus.
| | |
| --- | --- |
| Depart | Arrive |
| 7:05 | 12:35 |
| 8:15 | 13:45 |
| 9:15 | 14:45 |
| 11:05 | 16:35 |
| 14:35 | 20:05 |
| 17:05 | 22:35 |
| *22:55 | *4:35 |
* from April 7 - Nov 5

How much does the highway bus cost from Tokyo to Takayama?
Fares: 6,690 yen (one way) / 12,040 yen (return)
For online reservations of the services above (in English) you'll be directed to highwaybus.com
We also found some buses to Takayama through the WILLER highway bus booking platform, all of which seemed to be daytime journeys.
5,040 yen- 6,690 yen (one way) with Chuo Highway Bus Alliance - 5.5 hours from Busta Shinjuku
Buses from Takayama to Shirakawago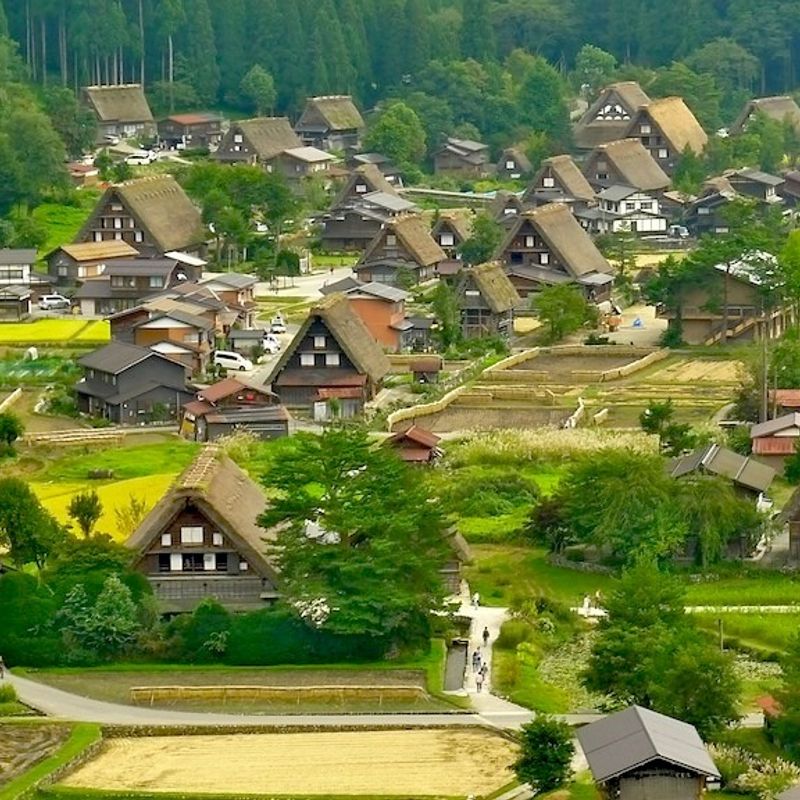 When people say "Shirakawago" they are typically referring to that image they might have seen from up on high looking over the striking scene of a village of gassho-zukuri houses, captured in a perfect frame of broody mountains. This is Ogimachi (荻町), although it's more common to hear "Shirakawago," the main attraction of the Shirakawago region and a UNESCO World Heritage Site since 1995.
As of 2016, buses from Takayama and other parts of Japan have been arriving at the Shirakawago Bus Terminal in the north of the village.
Nohi Bus run 16 daily, round-trip bus services between Takayama and Shirakawago Bus Terminal. The journey takes around 50 mins. The first departure of the day from the Nohi Bus Terminal in Takayama is at 7:50. Last regular service is at 17:50 (although there is a weekday service that departs at 19:00). The last bus back from Shirakawago Bus Terminal is 17:30 daily (19:43 on weekdays).
One-way / return fares: 2,470 yen / 4,420 yen
Note that some of the services require a reservation .
Buses from Shirakawago to Ainokura and Suganuma (Gokayama)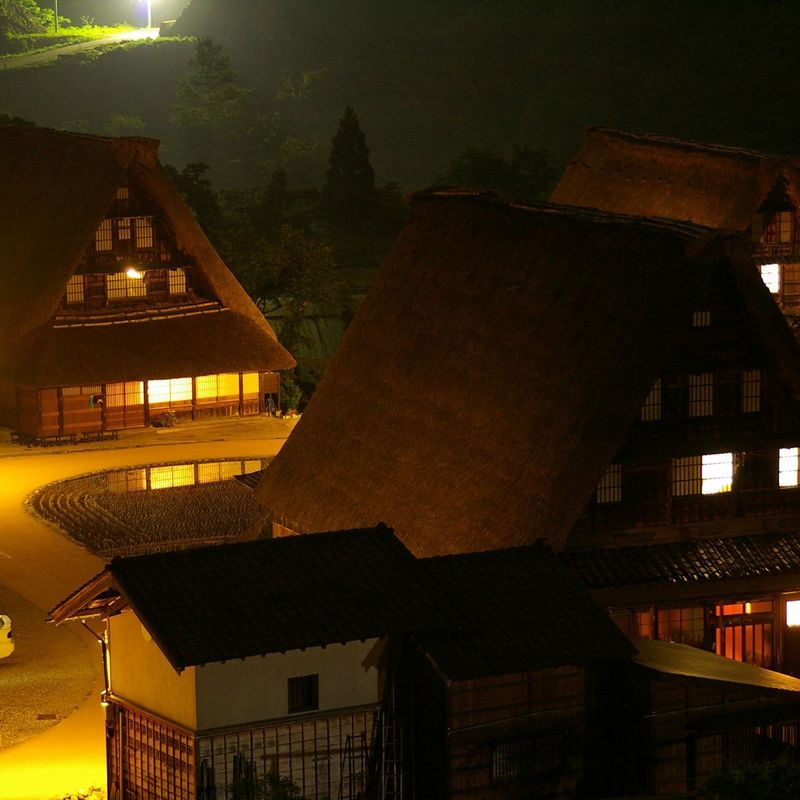 If the crowds of Shirakawago / Ogimachi are acting as a deterrent, more adventurous travelers might want to head for the villages of Ainokura (相倉) and Suganuma (菅沼 - above) in the neighboring Gokayama region.
There are nearly 20 gassho-zukuri houses in Ainokura making it the largest of these villages in Gokayama, although it remains the most isolated. By comparison, Suganuma has nine (although there are a handful more in neighboring Gokayama Gassho No Sato which can be accessed on foot via a tunnel connecting it with Suganuma).
Along with Shirakawago / Ogimachi, Ainokura and Suganuma also boast UNESCO World Heritage status.
To get to Ainokura from Takayama, travelers must first make their way by bus to Shirakawago. From Shirakawago the "World Heritage Bus" operated by Kaetsunou Bus makes stops at Ainokura (Ainokuraguchi - 45 mins) on its way to the terminus at Takaoka Station. These buses also stop at Gassho no Sato (30 mins) and Suganuma (31 mins).
The first departure from Shirakawago is at 7:00 am. Last departure is at 16:00. Coming back, the final departures are as follows:
| | |
| --- | --- |
| Stop | Departs |
| Ainokura (Ainokuraguchi) | 17:18 |
| Suganuma | 17:33 |
| Gassho no Sato | 17:34 |
The above services arrive at Shirakawago at 18:10.

Remember, however, that the last bus back from Shirakawago to Takayama is at 17:30 on weekends and holidays (19:43 weekdays).
There are six "World Heritage Bus" services, in both directions, each day. Be aware of changes for weekend / holiday schedules.
How much does it cost to get from Shirakawago to … ?
| | |
| --- | --- |
| Destination | Fare |
| Ainokura (Ainokuraguchi) | 1,300 |
| Suganuma | 860 |
| Gassho no Sato | 860 |
Visit Kaetsunou Bus for the full details of fares and timetables (mix of Japanese and English).
Total travel (transportation) budgets for travel to and around Takayama, Shirakawago, and Gokayama.
Using the bus from Tokyo and limiting sightseeing to Shirakawago, the traveler might by looking at a transport budget of around 17,000 yen (including the return to Tokyo). Those who prefer to takes trains and also want to include the villages of Gokayama in their itinerary might be looking at around 40,000 yen on transport.
Bus tours departing Takayama for the villages of Shirakawago and Gokayama generally start from around 5,000 yen for tours that take from 5 - 8 hours.
There are concerns about the impact so many visitors and tour buses are having on these once remote villages and the local way of life. These are still very much "working" communities the existence of which isn't purely for the purposes of tourism. Tread carefully, be respectful, and take your trash away with you.
Driving from Tokyo to Takayama
Given the relative lack of public transport options for travel to and around the Takayama area, getting here by car could be seen as a sensible, and enjoyable, option.
Much the route will be spent on the famed Chuo Expressway, so often the subject of excited traffic reports during national holidays in Japan.
Access to the Chuo Expressway might start around Shinjuku where drivers can get on the Metropolitan Expressway (Route 4) at Nishi-Shinjuku junction (西新宿JCT). The Metropolitan Expressway becomes the Chuo Expressway somewhere in Tokyo's Setagaya ward.
Out of Tokyo and into Yamanashi prefecture, the "Chuo" bends north towards Nagano prefecture and the city of Matsumoto.
At the town of Okaya (on the shores of Suwa Lake) change from the "Chuo" to the Nagano Expressway staying on this until Matsumoto junction (松本) just west of the city of the same name.
From here drivers will take the mountainous Route 158 (sometimes called the Nogumi Expressway) all the way into Takayama.
How much does it cost to drive?
In expressway tolls the drive from Tokyo to Takayama will cost around 7,500 yen with driving times of around 5 hours (source Nippon Expressway Company / NEXCO).
Renting a car
With a 5-hour driving time from Tokyo and all that there is to see in the Takayama / Shirakawago area, taking at least three days (two nights) for this trip would seem sensible.
Expect costs of around 15,000 - 20,000 yen for a simple K-class rent-a-car over three days with a pick up / drop off at the same location in the Shinjuku area.
It might not be easy to find rent-a-car operators that can offer a drop off in Takayama. If they do, expect to pay significantly higher rates.
Have you ever traveled from Tokyo to Takayama? How much did it cost? Share your Takayama travel tips in the comments below.
Further reading:
Spring Takayama Festival, one of Japan's most beautiful matsuri
See our 'How Much | Travel' series for more destinations from Tokyo and beyond ...
Tokyo to Nikko: The cost of getting there and around
Tokyo to Karuizawa: The cost of getting there and around
Osaka to Kobe and on to Himeji Castle: "how to" and "how much it costs"
See us on ...
Twitter and Facebook: @citycostjapan
Images:
Top: Paul Davidson Flickr License
Shirakawago: Cliffano Subagio Flickr License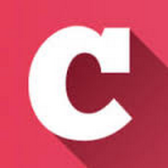 A Q&A and blogging community about life in Japan (plus a load of life-in-Japan stats!). Get your questions answered, share your experience! | Inquiry -> KyodoNewsDigital International Media | Tokyo, Japan | +81 3 6252 6402
---