USER BLOG
Join the best expat community of Japan. Now!
Share your Japan experience

Create blogs/Join the Q&A

Earn points and get rewards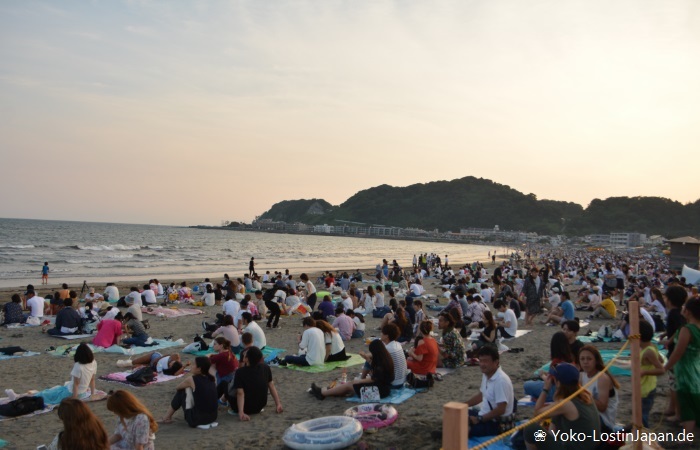 Impressions from the Kamakura Firework Festival
Last week on Wednesday, 19th July 2017, the Kamakura Firework Festival was held at the beaches of Kamakura. Because a friend from Germany was visiting Japan right now and we wanted to meet that day we decided to go to the fireworks. We bought some drinks at the Kombini and went to the Yuigahama Beach, which I just visited two weeks before for the hostel review. For sure, we also passed by the WeBase Hostel where they were also selling snacks and gave us some free uchiwa. Arrived there we searched for a nice place and reserved it with a blue sheet. Then we looked for some food and enjoyed the time until the firework started. I really like to watch all the women in Yukata, because I am totally into it. And for sure, I was wearing one by myself, too. The firewor started in time and lasted around 50 minutes. It was super beautiful, especially because it was over the water and the lights were reflecting on the sea. So amazing! I really loved it and I am thinking about going there again next year. I even made a video about out visit to the firework festival. I would be happy, if you take a look. It is with English subtitles!Have you visited any firework festivals so far this year?
Sea Fireworks Festival in ATAMI
It's summer time! It's that time of the month where fireworks and yukatas take the center stage!Last Friday, we were invited by my aunt to spend the weekend in Atami. They have a lovely house there so we had an awesome place to stay for three days. One of the things I love about Atami is it just gives off that calming and relaxing vibe, unlike the busy city-life in Tokyo. Days are lazy and people aren't always in a hurry. Another thing is that they showcase amazing fireworks displays. Every year, Atami holds the 'Atami Sea Fireworks Festival' 10 times throughout the year. Luckily, we were there to witness one this summer. If you want to know more about this festival, just click this link: Atami Fireworks Festival Sched.Fireworks are one of the top eye candies for me. I love seeing them light up the sky, make explosions of illuminating confetti, and how they slowly fade away makes you wonder if there's even more. It just makes you want to live the moment and enjoy it before it lasts. Here are a couple of GIFs I took all the way from our Aunt's rooftop. We were a bit far, so some of the videos might not give justice to what we have witnessed. Still, it didn't make the fireworks any less beautiful and mesmerizing as they really are.I also captured this short one that made me say, 'Awwww'. What cute little shape can you see?Finally, one of the best parts...I hope this will be just one of the many fireworks displays I'll be able to witness. I am still on the look out for our next hanabi viewing, maybe this time it'l be somewhere in Tokyo. I'd also want to try wearing a yukata for that full hanabi viewing experience. If you have any suggestions where to watch next, don't hesitate to leave a comment below:) Til then, I'l just leave you staring at these magical views.with love and pixiedusts,RedhairedAlice
RedhairedAlice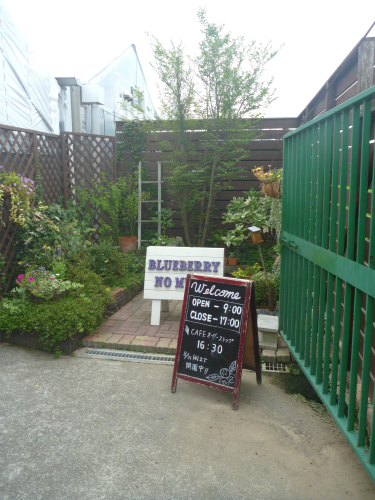 Eating on a Picking Farm
After thinking about the best place to eat outdoors for over a month and always answering, "no where," finally I have an answer. It's way too hot during summer in Japan, so eating outside is not at all appealing to me. We don't see outdoor seating everywhere as soon as the weather warms up in spring, the way I do in the US. Somehow, eating outdoors never caught on here. I blame it on the high humidity and bugs that are abundant during the part of the year that's warm enough to be outside on purpose. Camping and outdoor BBQs are popular for some people, but a lot of others would rather avoid the inevitability of sweating and bug bites. Even covered areas and gazebos are hot and don't keep the bugs out. Indoor patio spaces are a nice compromise, with the comfort of air conditioning and the functionality of outdoor furniture. I found my answer for the best places to eat outdoors when I went out to the countryside to go blueberry picking. The best place to eat outdoors is on a farm – in other words, picking and eating fruit. It's been a really long time since I've done this, and I'm excited to do a lot more of it in the future. In fact, we had a great time blueberry picking and decided to go there every year. In this particular case, we paid an entrance fee (700 yen) to an organic (pesticide free at least) blueberry farm, and there was no time limit. Link to the farm review here. We were given baskets to collect the blueberries in, from both an outdoor area and a green house. There was outdoor seating in a covered area, which is where everyone went to eat their berries (not including the berries immediately eaten after picking). There's a small 'stream' shallow pool for kids to stay cool in and a place to wash our hands before eating. I was happy to see a lot of young children, making that connection of where food comes from. We were alone while in the green house – probably because that's where the mosquitoes were hanging out and we didn't get the wind so it got too hot quickly. We heard the blueberries grown inside can get as big as coins, but didn't see any that big. At this farm there was also a 'cafe' and gift shop indoors, in an air-conditioned space with plenty of seating. There was a small pond inside with huge goldfish and I saw staff letting some kids feed them. The cafe sold items like blueberry soft cream and smoothies. But everyone ate outside. I'm not sure if it was because of potential messes (there were tons of dropped blueberries which eventually got stepped on) or just because no one really thought to go inside. (I know with small kids it's easier to clean up if we eat outside in the warm seasons – my mom used to literally hose off my brother and I after we ate popsicles as kids. )We had called in advance to ask if it was alright to bring outside food because it sounded good to add blueberries to a salad. We got the okay and while eating thought that yogurt would be a good choice next time. They were also yummy on their own of course.Have you gone to a picking farm in Japan yet? We're hoping to do this a lot more in the future. So glad it finally worked out to go.
helloalissa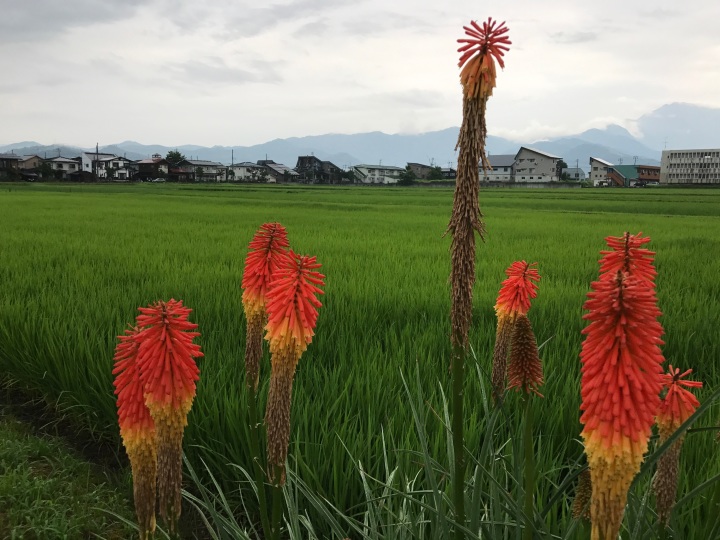 Hello, countryside life!
We officially got the keys to our countryside house after 4 years in Tokyo. And with views like this, I'm excited. A slower pace of life (hopefully!) in a more relaxed setting is just what the doctor ordered. Also, our house is dog approved and he settled in right away. I'm so glad some of the rooms are tatami mats - I feel like they're very kid friendly compared to harder flooring!Are you a country or a city dweller? If you had the choice, which would you rather? Before moving to Japan I lived in a town of about 100,000 people (I guess you could call that a small-ish city) and it was a good size. I would say it had enough to keep you occupied, but still had a nice quiet pace of life when you needed it. Plus, I only had about a 10 minute drive to work there daily - can't beat that!
genkidesu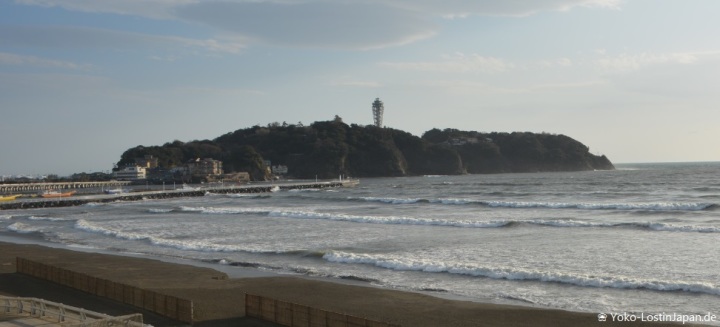 Japan by the Water: A trip to Enoshima
There are many places you can visit as a one day trip from Tokyo. One of the best, at least in my opinion, is the small island of Enoshima, located in Kanagawa prefecture. You can reach it easily within around 90 minutes from Shinjuku station and spend a wonderful day there. Let's take a closer look at the island and the area around! Sightseeing Spots on Enoshima Island Enoshima island has many spots to explore. Mainly, this island is home of the Enoshima shrine which is separated into three smaller shrines. All these shrines are dedicated to the goddess Benzaiten, which is officially known as the goddess of "everything that flows", meaning words, eloquence and music. However, the more popular image of her is the goddess of love. This is one reason why this shrine is especially well visited by couples. The Samuel Cocking Garden is a small botanical garden built on the former residence of the British trader Samuel Cocking. In the late 19th century, he purchased a big part of the island. To the garden belongs the Sea Candle, a phone tower constructed like a lighthouse and including an observatory. If you want to relax for a while, you can spend some time at the Enoshima Island Spa, an onsen resort with indoor and outdoor pools. Next to the all naked gender-separated bathing, they also offer a mixed area which requires bathing suits. Last but not least, there are the Iwaya Caves. These are famous for the myth existing about it. The goddess Benzaiten should have created Enoshima to imprison a sea dragon, which you can find inside the caves. On a clear day, you even can see Mount Fuji from Enoshima. But for this you really need luck. What to do around Enoshima Enoshima is not only the island itself, also the small city on the mainland belongs to it. There you can find the Enoshima Aquarium, which is a large and modern aquarium right along the beach. A little bit expensive, but especially the jelly fish area is worth a visit. The coastal area around Enoshima and Kamakura is famous for their beaches. The sandy beaches in front of Enoshima are very popular and often crowded in summer. Restaurants are lining up and you can even rent deck chairs and parasols if you want to spend some time there. You should also take a walk inside the small city. On the shopping streets some stores are lining up, you can get souvenirs and even find some nice restaurants. Want to save money? If you want to save a few yen on your travels, the train companies offer different passes for the Enoshima area. The best might be the Enoshima One Day Pass from Odakyu. This pass includes the round trip from Shinjuku, Shinyurigaoka or Machida to Enoshima on the Odakyu line, and you can use some facilities for free, too, including the escalator, the light house, the Samuel Cocking Garden and the cave. The price ranges from 1550 to 1970 yen, depending on your departure station → Website. Another opportunity from Odakyu is the Enoshima Kamakura Free Pass. This one includes only the train fees, meaning the round trip from Shinjuku, Machida or Fujisawa to Enoshima and unlimited rides on the Enoden Line. Here the prices are between 610 and 1470 yen. With the pass you can get discount at some facilities → Website. JR is offering the Kamakura Enoshima Pass. This one gives you unlimited train rides on the JR lines in the Kamakura/Enoshima area, starting from Ofuna or Fujisawa, and also includes the Enoden line and the Shonan Monorail. The price here is 700 yen → Website. Have you ever been to Enoshima? What did you like best?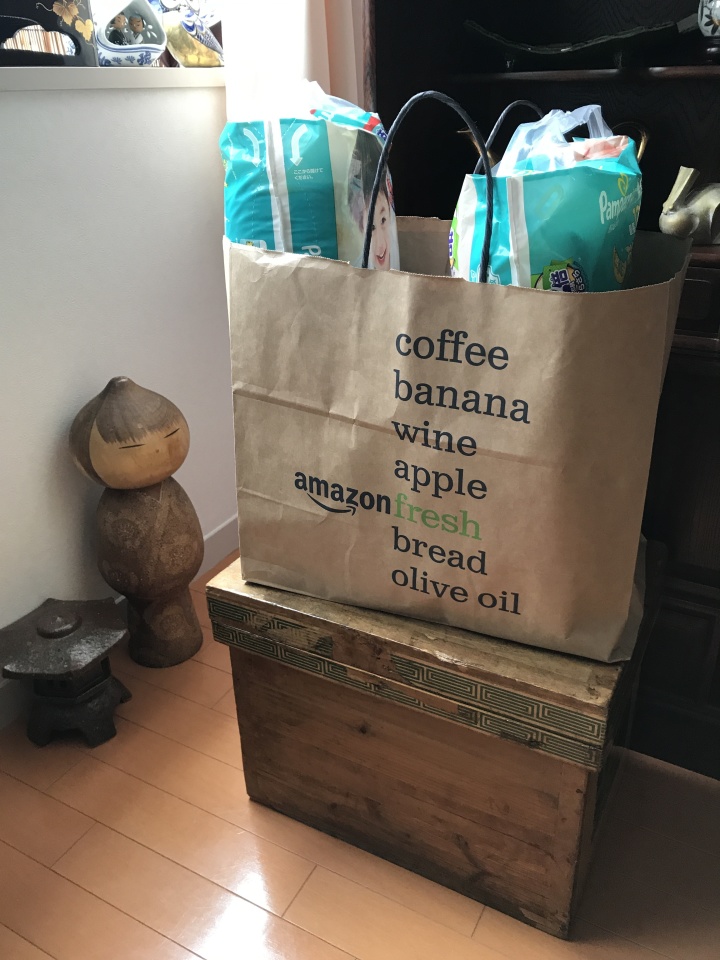 Testing out Amazon Fresh in Tokyo
We have officially moved out of our old place and right now we are staying with my in laws in Tokyo until we head to Niigata in a couple of weeks. It was the perfect chance for us to test out Amazon Japan's relatively new offering, Amazon Fresh. Right now it is only available in certain wards of Tokyo - but they are looking at expanding that further. We ordered diapers and wipes for our little ones, fruit and veggies, some salmon, yakisoba noodles, as well as shampoo and conditioner.Here's a picture of one of the bags (the fruit and veggies already were packed away in their rightful places!)The presentation was really nice. It felt like an upscale supermarket that we were purchasing from, with everything in large Amazon Fresh bags with modern branding. The quality of all the fruit and veggies was excellent too, which was something I was initially a bit skeptical about.To use Amazon Fresh you will need to be an Amazon Prime member (3900 yen annually) and there is a 500 yen charge per month for having the Fresh service active on your Amazon account. They do have a free 30 day trial for both of those things if you want to give it a whirl. They also had a coupon code for 2000 yen off your first Fresh delivery - not a bad deal!Another thing to bear in mind is that any deliveries under 6000 yen will incur a delivery fee - we specifically ensured to go over that to avoid paying a fee!Would you use Amazon Fresh if it was available in your area?
genkidesu

Three summer festivals in Japan you can enjoy for free!
Summer in Japan is hot and humid – one reason why many travel guides does not advise to make a trip to Japan during this time. But there is a great reason to spend this time in Japan anyway: Summer Festivals! And do you know what the best bit is? You can enjoy them for free!! Here are three things you shouldn't miss during your summer in Japan! Firework Festivals Firework Festivals, in Japanese called Hanabi Taikai (花火大会) are mainly held all over Japan from July to August. You can find at least one every weekend and some are even held in the middle of the week, still luring thousands of people at once. The firework display mostly takes around one hour or even longer with different parts and stories. You can see many different shapes, like normal light balls in every color, but also a golden rain and even smileys, stars and so on. If you haven't seen Japanese fireworks before, you will definitely be impressed. A part of Firework Festivals sell tickets for a reserved seat area from where you can have a perfect view but you don't really need this. If you are at the event area early enough, you can still find enough space to sit down and enjoy the beauty of the fireworks. Some of the most famous fireworks displays in Japan are the Sumida Fireworks and the Adachi Fireworks in Tokyo, the Yokohama Fireworks around the Minato Mirai area, the Kamakura Fireworksat the beach, the Osaka Tenjin Fireworks, the Uji Fireworks in Kyoto, the Miyajima Fireworks and so on. There are really so many to see and you definitely shouldn't miss this free opportunity! Tanabata Festivals Tanabata Matsuri (七夕祭り), the Japanese Star Festival tells the story of the loving couple Orihime and Hikoboshi, which represent the stars Vega and Altair, which are normally separated by the Milky Way. Only once a year they can meet and this is a reason to celebrate. Traditionally you write down your wish on a piece of paper and hang it on a bamboo tree, hoping that this wish will become true. Many places offer this for free. But next to writing down your name, also colorful festivals are held at some places across the country in July and August. And for sure, you can join them for free. The most famous one is taking place in Sendai in August, but also in the Tokyo area you can find a big festival in the beginning of July at Hiratsuka. Smaller festivals are held in other cities, too. Bon Odori Festivals Bon Odori (盆踊り), meaning Bon Dance, is a dance festival often held around Japan during the Obon time. At night everyone comes together and dances. The dance is simple and slow and easy to learn, so you can join the crowd quickly. Normally there is a stage in the middle for taiko drums and other musicians, and everyone is dancing around in a circle. There are some big festivals like the Marunouchi Ondo Dai Bon Odori Taikai in Hibiya Park and the Oedo Matsuri Bon Odori Taikai in Tokyo, but to be sure small Bon Odori Festivals are taking place in nearly every neighborhood. Bon Odori Festivals are a good chance to get in touch with the Japanese culture and people. So why not join it for a free dance through the night? For sure, there are thousands of festivals held all across Japan that you can join for free. This is only a small selection of what you shouldn't miss this summer. Have you ever visited one of these festivals?