USER BLOG
Join the best expat community of Japan. Now!
Share your Japan experience

Create blogs/Join the Q&A

Earn points and get rewards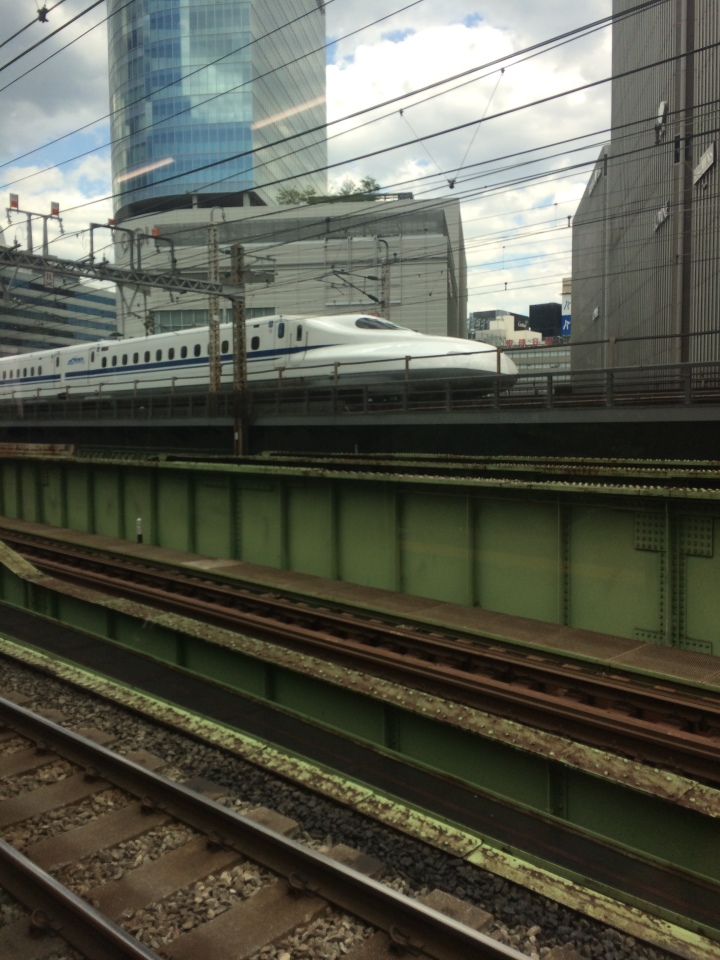 Shopping trips to Tokyo
Shopping Streets in TokyoEven if you don't try to drive, navigating Tokyo can be overwhelming as it is the world's biggest Metropolitan area. Tokyo is a huge city with an enormous number of subway and train lines running all around it and through it. It can take time commuting from one place to the other but once you get used to the subways and their complicated schedules, a journey through Tokyo can be very exciting. Ueno, Tokyo and Ikebukuro stations are all giant hubs for throngs of people going to work, travelling and coming back home. I live in a rural area of Japan, so a Tokyo trip is the most exciting, adventurous, and at the same time potentially exhausting way to spend a day. It requires planning ahead and figuring out platforms for departure and arrival in advance. Using a smartphone as you go saves preparation time (until the batteries run out!) but it is best to plan your transport and stay in advance. So far, I have been to Jimbocho (Tokyo's biggest bookstore district), to Harajuku, to the Ikebukuro fashion district, and to Nippori.HarajukuTokyo's fashion district for youth which is in Shibuya ward, is located west of Tokyo Station. Harajuku Station is surrounded by Yoyogi park in the west, Shinjuku National Park in the north, and Jingu Stadium in the northeast.It was a beautiful sunny day and when I set out to explore Harajuku, and the streets were quite crowded. Having made the mistake of wearing uncomfortable shoes, I dropped in a few shoe stores and soon had a lovely new pair of comfortable sandals for 1,700 yen. The day was saved and my feet were happy to explore. My companions soon got tired of shopping, and fortunately, right next to Harajuku's bustling streets, Yoyogi park is quiet and full of trees and good places to relax.JimbochoJimbocho is the city's biggest bookstore district, where you can buy cds, dvds, and books of all genres in old and new editions. So many books are stored in these classic, old city blocks that anyone can find a bit of everything here, from antique Japanese books to books in English about trains around the world. Science, literature, history, and many other sorts of books are for sale in English and in Japanese. Jimbocho Station is just north of Tokyo station.IkebukuroIkebukuro is located northwest of Tokyo Station in Toshima ward. I haven't had a chance to properly window-shop Ikebukuro yet, but it was bustling when I went and seemed full of younger people, and had a party atmosphere in the evening.Nippori fabric and textile townNippori is Japan's textile town, located north from Tokyo Station. Maybe this is where ambitious fashion designers come to shop for their materials. I have not planned yet what materials I need for certain projects. When I was in the lining section, I thought of "Sex and The City" and the New Yorker tulle skirt. There is are also plenty of silks, leather, cushion fabrics, sewing materials, and kimono fabrics to browse. I am really grateful that I am able to explore Tokyo once a month. It has always been a pleasure to see the crowds, trains and subways as well as the city's unique markets and other areas for shopping.
Ooray2775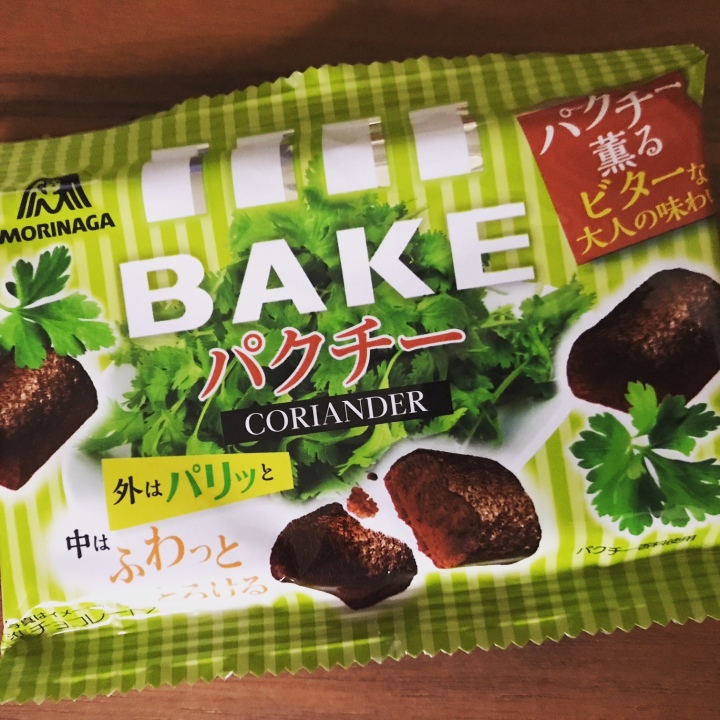 Flavor combinations gone wrong - chocolate and coriander?!
I had to share this with you all as an example of flavor combinations gone wrong. Sure, there's been some wacky flavors of Kit Kats that I've tried over the years, but none shocked me as much as chocolate and coriander for these chocolate pieces...The only way I could describe it to a friend was "if you're craving chocolate and Mexican food all in the same mouthful". What were my thoughts? Definitely unusual. I tried it knowing it would probably be weird (which it was) but if you're into trying the wackiest tastes Japan has to offer this was up there. I am a huge chocolate/sweets fan but I could only try one piece (I say that it's for research purposes!) and when I offered some to my husband he gave me the strong "no way!"...but I wonder if anyone else has tried it and liked it.Curious to know - what have the weirdest taste combinations been that you've tried during your time in Japan? Let me know in the comments - would love to hear some of your stories!
genkidesu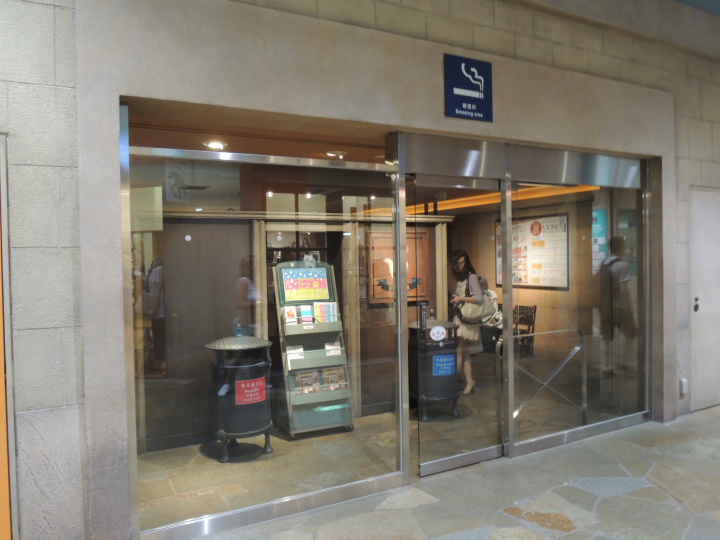 Pets vs. Smokers when it comes to real estate rentals...
We finally managed to find a suitable rental property out in the countryside yesterday - we still have to get the contract finalized but it's basically all said and done. It's a big weight off our shoulders and having that step done is allowing other things to fall into place as well. One thing that puzzled me about the process of hunting for a place out here though was the prevalence of places that would simply say off the bat that pets weren't allowed. No negotiations, no willingness to take an extra pet fee (that we were prepared to pay, if needed). We have a small dog who is completely house trained, and his breed doesn't shed - but yet we were told time and time again during the course of this house hunt that pets weren't allowed because the property owners were worried about the smell. I found it pretty ironic though that the vast majority of places we went in to inspect smelled heavily of cigarette smoke! It surprised me that there was such apprehension towards pets, but no one is out there enforcing a "no smokers" rule. At the end of the day it is the property owner's choice as to what they will and won't allow, but this found me shaking my head a lot throughout the process. A dog that is housebroken and doesn't smell at all gets the absolute no - but no heads turn when people smoke like chimneys in a house!
genkidesu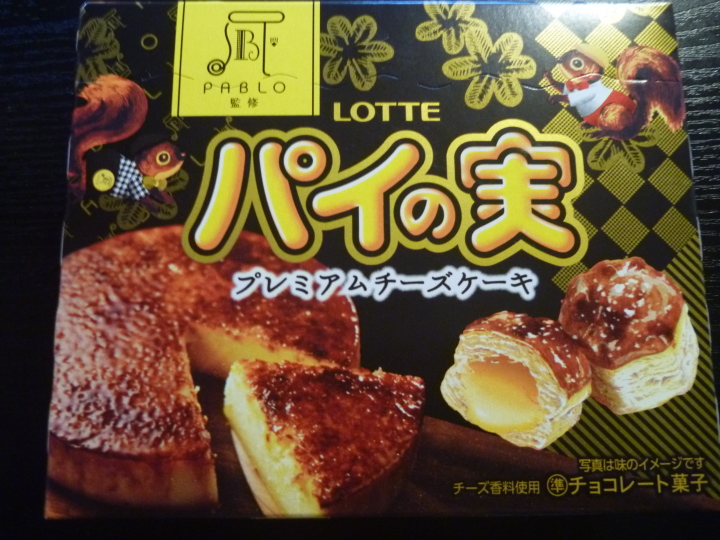 Pie No Mi パイの実
There are so many snacks unique to Japan, often with a western, but not quite feel. Pie No Mi means 'fruit pie,' but strangely contains no fruit. I've seen this Lotte brand snack with chocolate filling and green tea filling in the past, but recently saw a 'Premium Cheese Cake' filling and thought it sounded nice to try. For between 100-150 yen for a small box (one or two adult servings, depending on how snacky you feel, around 16 pieces), Pie No Mi is also available in bags of smaller packs (each pack a kid size serving).The bite sized snack is made up of a crispy (margarine based) baked pie crust type outside with a bit of chocolate (or other flavored) cream inside. It's somewhat nostalgic, considering pie is not popular in Japan compared with the states.The cheese flavor was super mild and barely noticeable unfortunately. I wasn't interested after eating around half and shared the rest of the box with my husband. (Note that the picture on the box is just to illustrate the flavor, there is no cheese cake inside each snack.)
helloalissa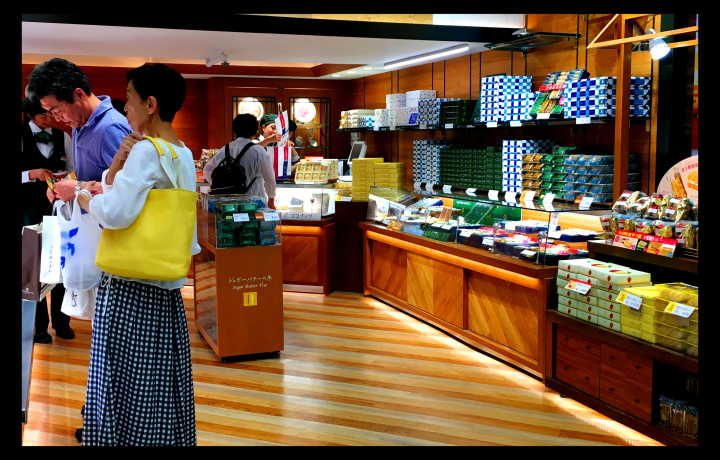 Omiyage: To Give or Not to Give?
Pictures, videos, and souvenirs— These are just some of the things that remind us about that trip we've planned for days, weeks, months, or even for years. It helps us recreate those wonderful memories as vividly as it could in our minds. We post those pictures and videos on our social media to share the positive vibe it has brought to us. Souvenirs or Omiyage is given to the people we are close with to express that we have not forgotten them during our vacation. But, do we really "need"to? *** In Western culture, Omiyage might be a little different from just purchasing a souvenir. OMIYAGE is defined as a gift you have bought on your trip intended for co-workers, friends, and family, while a SOUVENIR is usually for oneself. In the Philippines, we also have our own version of omiyage which is called "pasalubong," hence; it is not a NEW custom I need to adopt. However, most of my friends in Japan are from Western countries that's why I got curious on how they view this tradition. I asked my Japanese friends and foreign friends if they like giving omiyage or they feel obligated to do so. From Japanese's perspective: • Most of my Japanese friends said that they don't feel they need to buy omiyage for their colleagues. They like giving and receiving it. • Others said that they give omiyage because their co-workers also do the same when they go on a holiday. • However, some of them feel the "need" to purchase omiyage because it is how they can convey their "thanks" to their co-workers, who have been working very hard, while they are relaxing on their vacation. From a foreigner's perspective: • Surprisingly, many of my foreign friends said that they also like giving omiyage since they get some "holiday snacks" from people at work. • Some stated that they only buy omiyage if they feel they want to or just share it with people they are close with or co-workers they like. • While others didn't feel buying souvenirs for co-workers is a must, one had mentioned that it is a "cultural obligation." Even if you don't think you are obligated, you just do it because it's just how the things go in this country. Like what they say, "Do as the Romans do." *** Offer the things you can afford and make sure to leave something behind for yourself. That's why when I'm broke from traveling; simple, I don't force myself to purchase omiyage. Also, I don't work in an office in Japan, so I'm not pressured to get some Tokyo Banana for my co-workers xD If I still have a budget for it, I grab a box of cookies with cute designs and put it in a fancy gift bag, giving it to my friends and some of my colleagues.I bought them from my Kanazawa trip! I do understand that there are some situations that can't be helped. Let's face it, no matter how small a gift is, just the thought of someone buying something for you triggers a good feeling, hence, if you don't receive those holiday trinkets while the others do, it stings a bit. As a result, to avoid office drama, we offer omiyage to all of our co-workers. How about you? What do you think about this custom?
Bella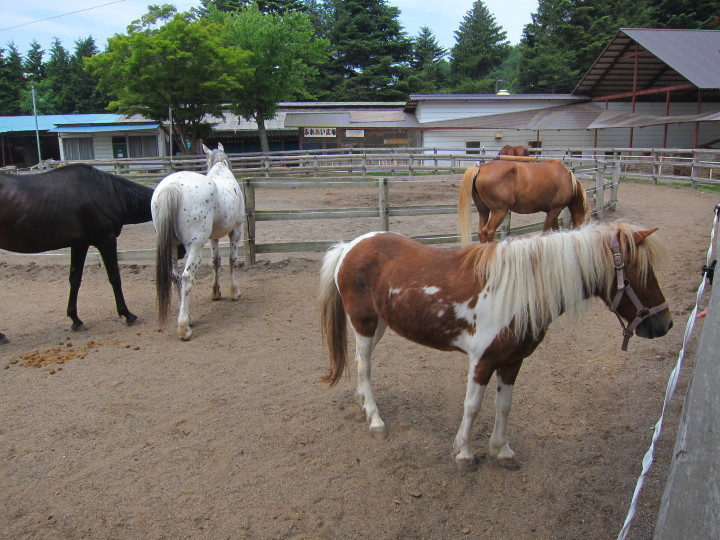 Horse Farm in Saku (Nagano)
Slowly it gets hot in Tokyo, so we took the opportunity and went to the cool Nagano Prefecture for a weekend. By car it took 2 1/2 hours from Tokyo to Karuizawa / Saku. For the first time without traffic jam.Our first goal was high up in the mountains, the Suetoshi horse farm. We were lucky that the rain stopped when we arrived and the sun came out while we had 20 degree.The Suetoshi horse farm has over 100 horses and ponies as well as many other small animals. The highlight, however, are the so-called miniature horses, which are just 80 cm tall. The horses were very kind but as soon as you had something to eat, they started to fight for the food. I am usually afraid of big horses, but these small miniature horses were so sweet.There were also many small and large dogs laying around or playing with the visitors. Right next to the horses was a small minizoo with goats, geese, cape barracks, pigs, guinea pigs and rabbits. I really love rabbits, that´s why I played and feed them for a while. The farm offers various options for riding. Once the normal guided ride around the farm for starters. However, you can also take lessons or even take a trip with the horses through the mountains. I would have loved to go on a tour to the nature, but unfortunately I´m just a beginner, so it is kind of difficult. If you are a big horse fan you should use that chance!After that I visited the small Sheltland Ponies. There was a 2 weeks old little folen, which was so sweet and already much bigger than the miniature horses.The horse farm is really a great adventure if you love horses very much!
Crazydeath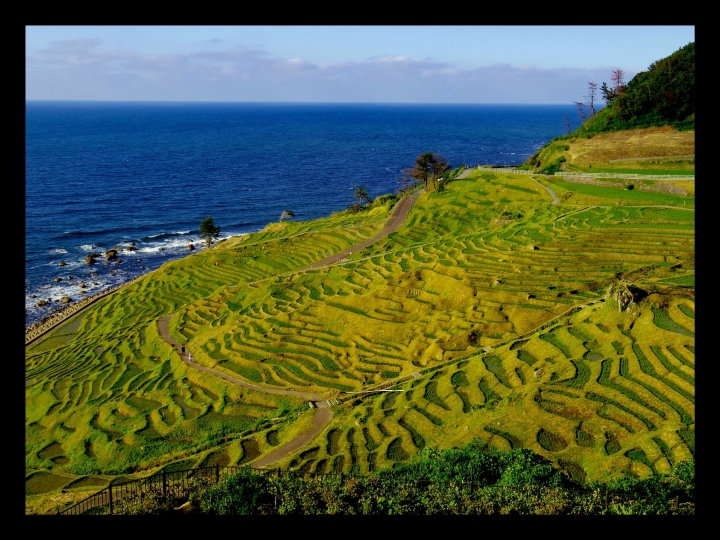 From Kanazawa-shi to Wajima-shi: A Noto Peninsula Roadtrip!
How to roam a place that is barely visited by BUS and unreachable by TRAINS? Answer, drive a car. Japan is a very convenient country to travel around. Almost everything is connected by trains or subways. There are buses that go around the nooks and crannies of every street. However, if you'll visit the faraway gems of Noto Peninsula, by car is the best option to see the most of it. And wouldn't it be fun to have a road trip by the sea with this hot weather?Shiroyone Senmaida in Wajima-shi *** Since we don't have a car, we rented one. Rental cars are easy to find in Kanazawa-shi. There are tons around the station, plus, the information center in Kanazawa station has an English support, making it easier for non-Japanese speakers to locate one. • Make sure you have the papers you needed to rent. • There are rent-a-cars that only accept CREDIT CARD so make sure to check on that. • There is an English guide about "Driving in Japan," get one! • Most of the rental cars are AUTOMATIC. • It cost about 7,000- 10,000 yen (or more). • Some GPS can be translated in English. Ask the rental service about it. We still used GOOGLE MAPS because the GPS of the car we rented wasn't very reliable. Additional Info: http://www.japan-guide.com/e/e2024.html *** Why Kanazawa? We were captivated by a poster of Shiroyone Senmaida at the train station, so we decided to plan a trip around that area.Fukura Lighthouse (Shika-machi) Fukura lighthouse takes about an hour by car from Kanazawa station. We didn't plan to visit it, but we got lost and spend a lot of time driving around! We were afraid we won't see the beauty of the coast outside the car.After minutes of googling, we found our first destination; Fukura Lighthouse, the OLDEST wooden lighthouse in Japan that was built around the Keicho Era. Among the bushes and narrow path, you'll find it. There's another lighthouse nearby that might confuse you. But, don't fret! OLD Fukura is just couple of steps away. Additional info: http://satohama-tokei.jp/english-guide/ Ganmon Rock Ganmon, which means "Gate Rock," offers a 20 minute boat ride for an up close glimpse of its majestic rock formation and other sightseeing spots. There is also a cave that you can check out, which is according to legend; it is where Minamoto no Yoshitsune hid when he was escaping from the founder of Kamakura Shogunate, Yoritomo. Unfortunately, we didn't have much time. Hence, we just viewed it from afar. Additional Info: http://www.hot-ishikawa.jp/kanko/english/20002.html Shiroyone Senmaida From Ganmon to Senmaida by car, it takes about an hour. There is another rock formation on the way called Hatago Iwa, but the sunset was almost on its way so we quickly drove to our main destination. At 5:00pm, finally, we saw the sunlight made the sea sparkle and the rice paddies golden. It was indeed a relaxing scene and a wonderful place to take photographs. Using machineries in Shiroyone's small paddies is a bit challenging, thus, planting and harvesting the rice are done by volunteers and locals. Sunset viewing in this place is perfect by the end of April to July. That is why this is the TIME to pack your camera, get ready to listen to the ocean hit the shore, and anticipate the cool breeze of Noto Peninsula. Additional Info: http://senmaida.wajima-kankou.jp/en/
Bella