I've been to a lot of Japanese gardens, but only this one in Tsuyama was FREE. :D Gotta love freebies! :D
Don't get me wrong...there are tons of other gardens I've paid to see that are wonderful and definitely worth seeing, like Korakuen in Okayama and Suizenjikoen in Kumamoto, but Shurakuen in Tsuyama is unique with just as much history as any other Japanese garden.
What captivated me about Shurakuen was the beautiful water lilies. I've never seen so many.
Anyway, don't miss this wondrous FREEBIE in Tsuyama. It's close to the historic Edo period Joto Street and to the ruins and partial reconstruction of Tsuyama Castle. :D
Find me on social media, and don't be shy to give me a shout anytime! :D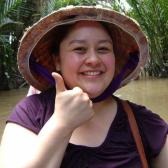 I'm half-Japanese originally from Canada, and I've been living in Japan since Sept. 2010.

I keep a blog about living in Japan and travel - Trekking with Becky - www.trekkingwithbecky.com