Aug 10, 2016
Today I attended a lesson at the Coto Language Academy.
I paid ¥2500 to learn how to make Oshi Zushi. The class was in basic Japanese. It was a lot of fun! We got to learn how to make this different type of Oshi Zushi. It's a cold dish, and ideal for the summer. The money you pay is for all the food, utensils, and the teachers time.
I got to learn how to make sushi rice. You steam the rice, and then transfer some rice to a bowl and add sushi vinegar. Using a rice spoon you cut through the rice to mix in the vinegar, whilst someone fans the rice to cool it down. The rice needs to be cooled down, otherwise you can burn yourself.
Once the rice is ready you set up the mould. Make sure you wipe the bottom of the mould with water, because the rice is sticky. You don't want it to stick to the bottom when removing it. Put a layer of rice into the Oshi Zushi mould and press down to make it flat.
Then you can add any filling you like. Here I chose tamago (egg). Then I added avocado to it.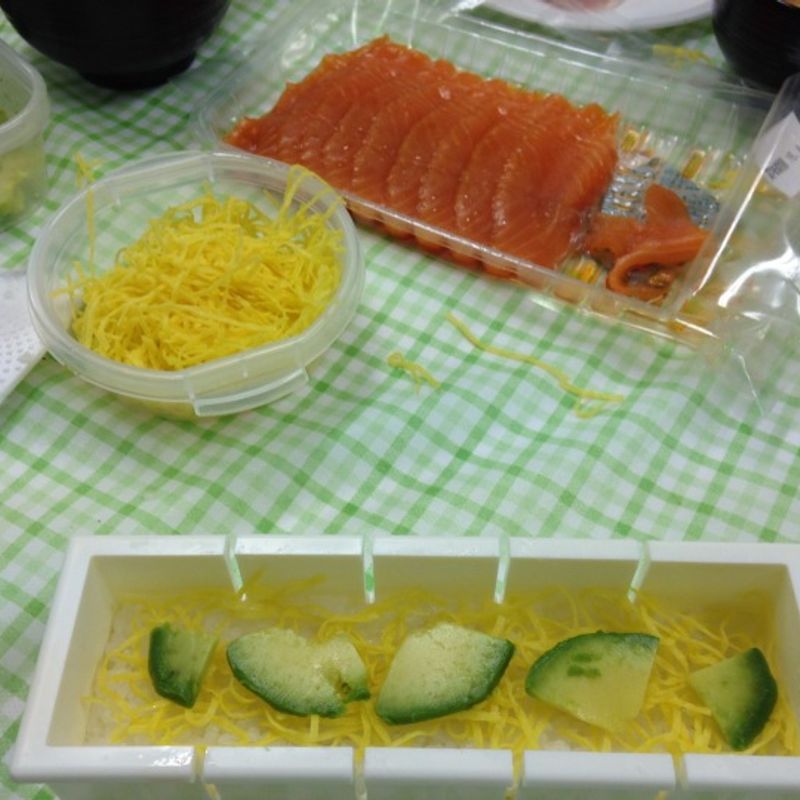 Then you need to add another layer of rice. I chose the pink rice.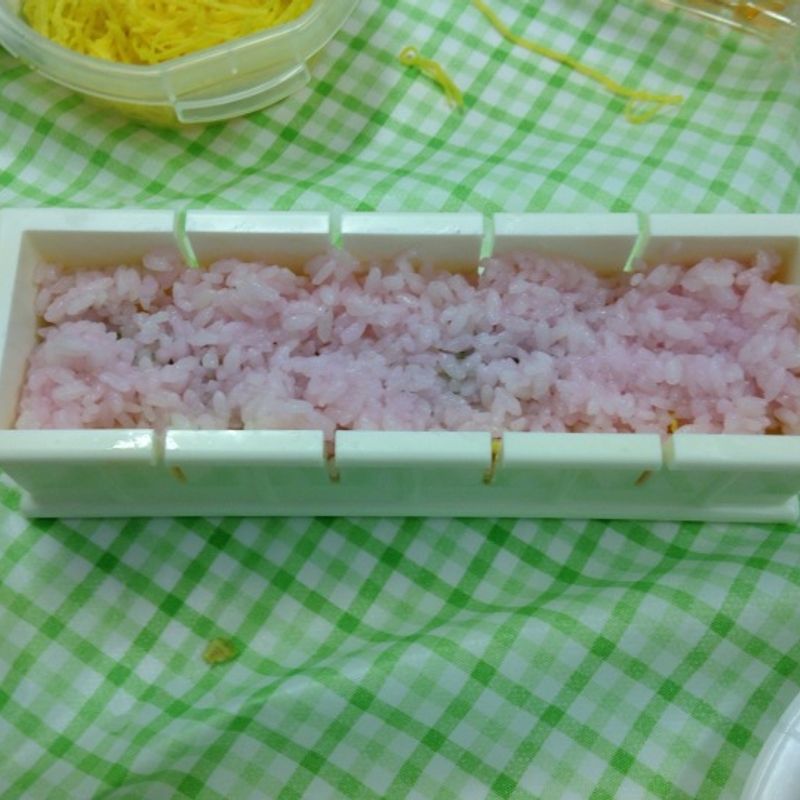 You then need to press down again.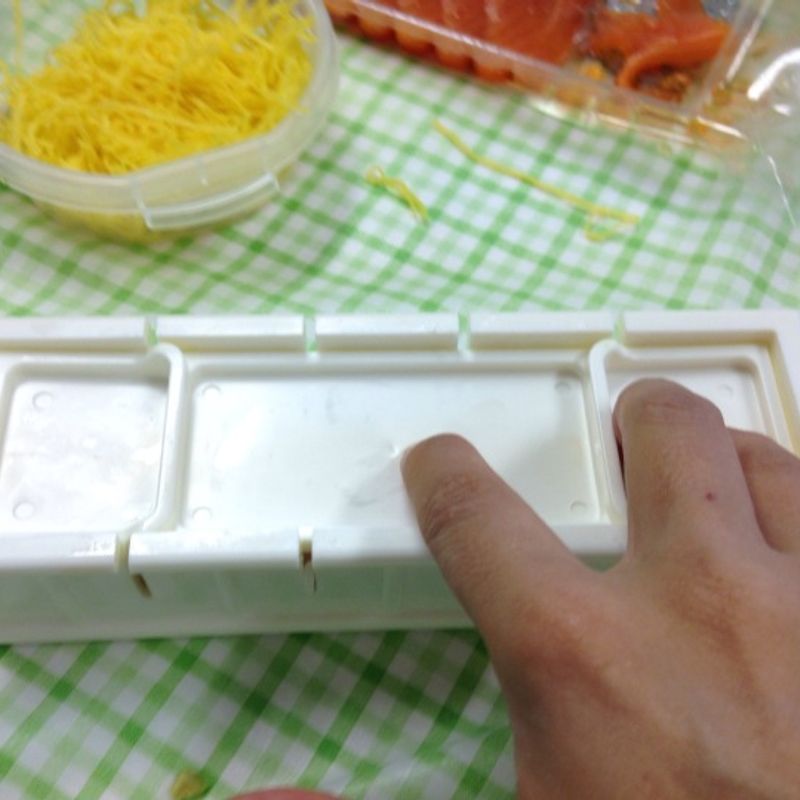 The mould needs to be only 90% full. Remove the press, and take a sharp knife. As you can see on the mould there are slats. This is where you put the knife to cut the Oshi Zushi. Replace the press. You now need to remove the rice from the mould. You need to push on the press and pull up on the mould. It should come away easily. Remove the top press and using the sharp knife again, cut the Oshi Zushi. Don't forget to add your decorations. Then remove the Oshi Zushi from the base of the mould to a plate. My plate was too small, so I did piece by piece. Serve with soy sauce, wasabi, and miso soup. Serve watermelon for dessert.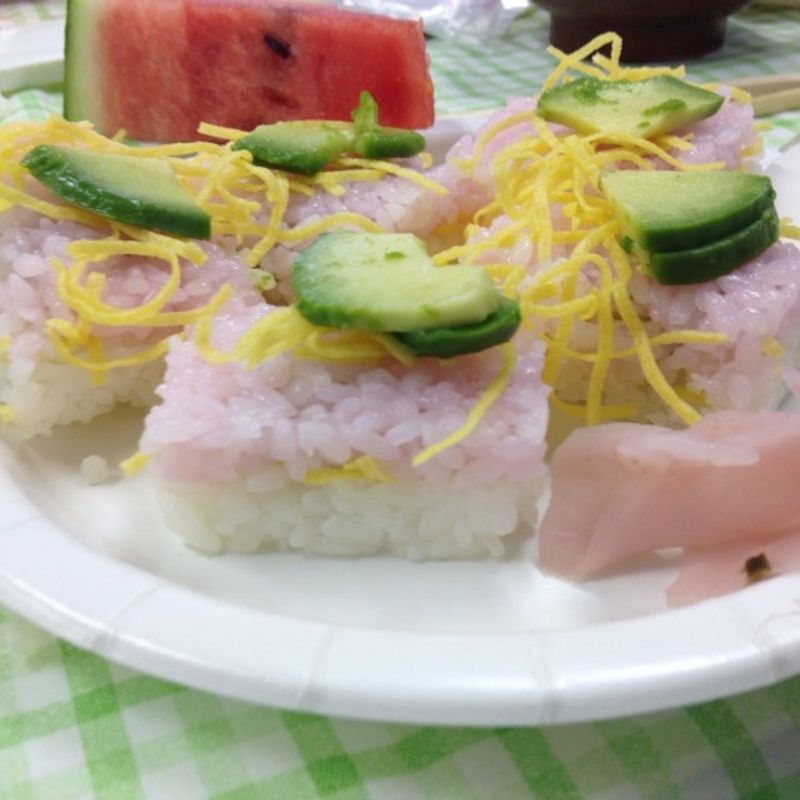 The Coto Language Academy is located in Iidabashi, Tokyo. They offer regular classes in cooking and arts in addition to their Japanese lessons. They also cater for allergies and vegetarians. You need to advise them of this information in advance.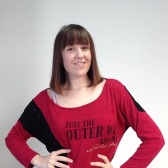 A twenty year old something, who came to experience working life and travel in Japan. What will she experience? What will she see? What will she do? Find out in this amazing travel blog and Jvlog!
I also have a daily updated Facebook Page! https://www.facebook.com/smallgirlbigjapan
---
2 Comments
But... Oshi Zushi is about the special fish... Is the pink rice made with akajiso? That seems like a good idea.

I believe it was. I didn't make the pink rice. They made pink rice for the purposes of practicing presentation. We also had special fish. Mines not made with the fish as I'm vegetarian. I wanted to learn, so I could make it for others. @helloalissa