Feb 5, 2017
This foreigner is experiencing the Sumo tournament preliminaries for the first time ever! Join her as she finds out what exactly goes on in a sumo match/event. It's not what you'd expect!
Note: In the video I said they traditionally wrestled at the shrine, I was meant to say the temples.
A full article will follow within a few days!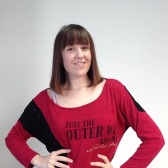 A twenty year old something, who came to experience working life and travel in Japan. What will she experience? What will she see? What will she do? Find out in this amazing travel blog and Jvlog!
I also have a daily updated Facebook Page! https://www.facebook.com/smallgirlbigjapan
---