Jul 31, 2016
Kabukicho, Shinjuku, is full of nightlife. It is known as the electric city. The neon lighting, arcades, host bars, karaoke, and the giant Godzilla really set the tone. However, did you know that Kabukicho plays host to one of the most unique modern experiences you'll get in Japan? The Robot Restaurant.
The price is a little pricey (¥8,000 per person; ¥1,000 extra if you want a Japanese bento box) but the show runs for around 90 minutes and you get your money's worth of robots, neon lighting, singing, and dancing. It's also a very sexy, so ladies don't worry too much if your boyfriends tongue is hanging out. My boyfriend was doing that and all I did was laugh at him.
More information available here! Robot Restaurant
Check out this sneak peak.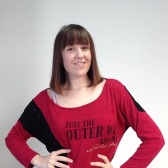 A twenty year old something, who came to experience working life and travel in Japan. What will she experience? What will she see? What will she do? Find out in this amazing travel blog and Jvlog!
I also have a daily updated Facebook Page! https://www.facebook.com/smallgirlbigjapan
---