Sep 27, 2017
Craving for some sizzling meat? Well, this restaurant might be the one you are looking for: ステーキガスト!




A photo of us in front of the STEAK GUSTO restaurant in Soga, Chiba, Japan.


Japan has become popular for so many varieties of delicious Japanese foods, from ramen to sashimi, sushi, katsu and so many others. Just by seeing those restaurants side by side I can say that the Japanese are truly food enthusiasts. More so, this great country offers not only Japanese cuisine but caters to other tastes as well, such as steaks and hamburgers.
Steak Gusto!
This is a family restaurant that everyone can enjoy. As the name suggests, their menu is mainly beef and burgers.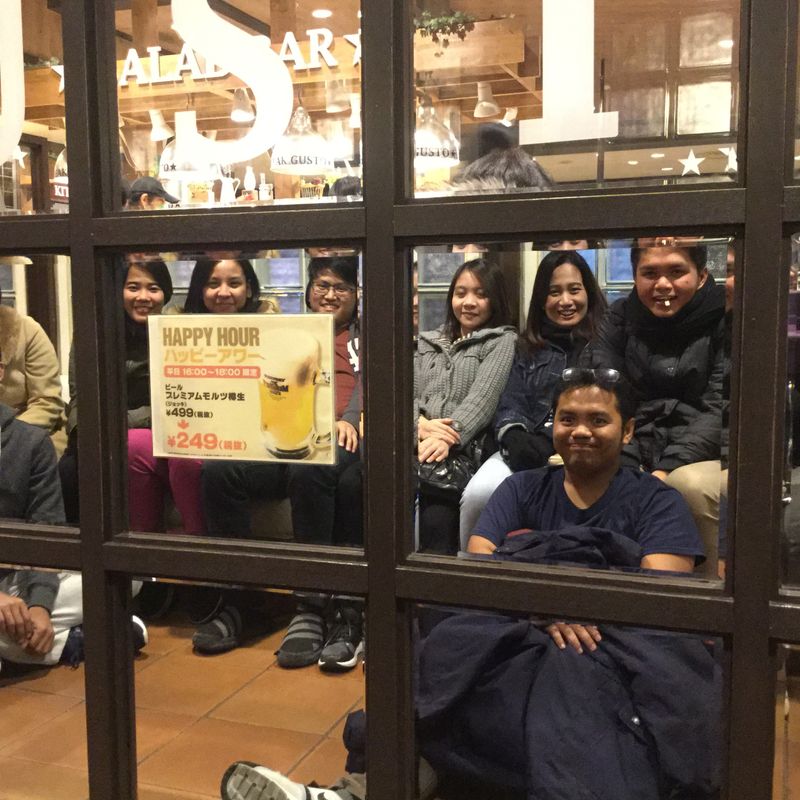 This is our photo as we wait after we made our reservation. Do not worry, it was not a long queue.
It was our friend's birthday at that time and we happened to celebrate it at a western-style restaurant. We were on our bikes to Steak Gusto and we walked our way in and made our reservation on the spot (but if you prefer to make your reservations in advance, you can). As everyone can see, I quite have a large group of friends and this restaurant can cater to many groups.
Ordering is as easy as one, two, three. The menu includes photographs of all the dishes they offer. You do not have to worry if you cannot read Japanese alphabets (kanji / katakana / hiragana). I say to you, the pictures are as good as the actual meal! You'll want more when you taste it!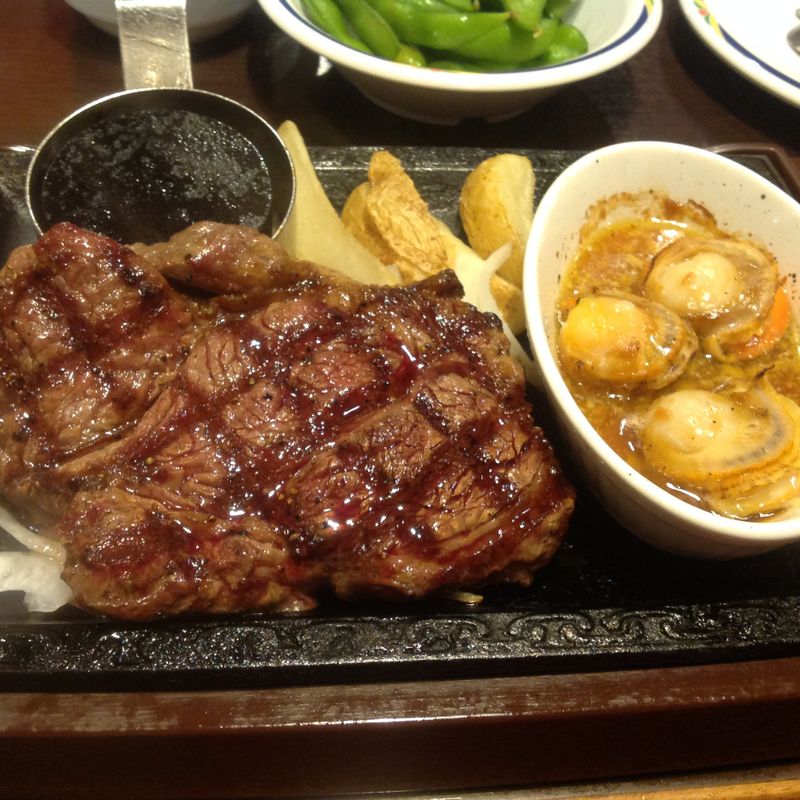 They served our order sizzling with a hot coal to keep it warm . We were very careful not to touch the plate and ,of course, the coal . The meat was deliciously good and tasty.
GO ON! EAT as much as you want! DRINK as much as can! :)
With this great main dish, believe it or not, there is an all-you-can-eat-buffet included with every meal. They have a salad bar with a generous selection of fresh fruits and vegetables. Imagine, you can make your salad to your preference! They also have breads, soups and rice. And if you want to try different beverages as well, you can order your meal with the unlimited drinks set from the drink bar. They have varieties of beverages to choose from, including soft drinks, juice, coffee and teas. The drink bar and salad bar are all self-serve counters, which is common to many Japanese restaurants like Steak Gusto.
All these worthy, mouth watering foods and services cost us an average of 1,500 yen each.
The atmosphere is calm and warm, and everyone can be casual. I felt very comfortable eating here. And for the bonus, THEY HAVE A WIFI! You can post photos of your food real-time.
STEAK GUSTO restaurants can be found anywhere now in Japan and if you happen to be in a hungry, western-style mood for the day, I recommend you and your friends to go and let your hunger be satisfied there.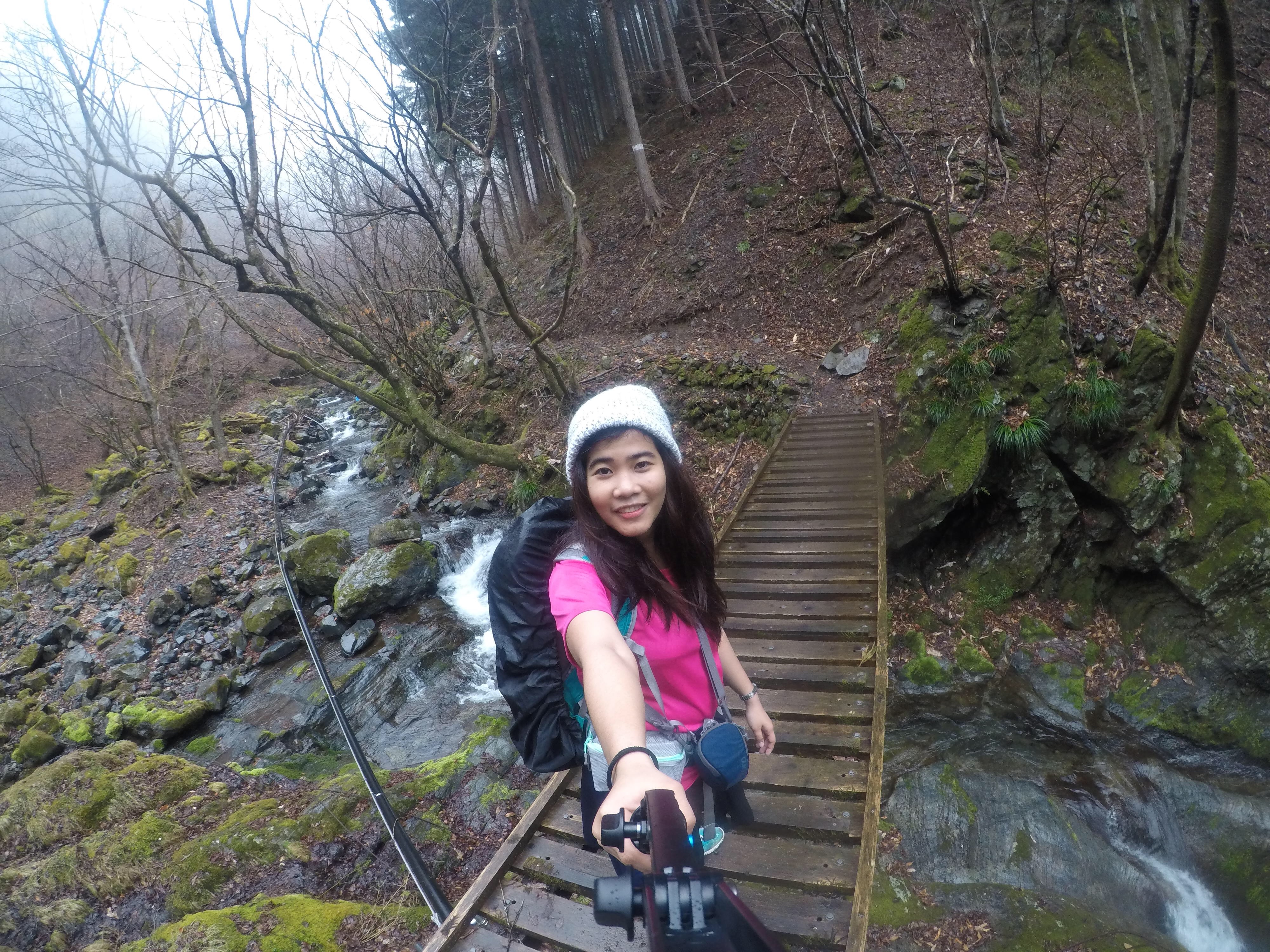 WONDER if you may but WANDER you must. Engineer on the outside. Wanderer inside. Follow me on Instagram http://www.instagram.com/jennyrosesales
---
1 Comment
@jinirus I've been there for some times and I can say it is good place serving delicious steaks. ;)