Mar 17, 2019
Imagine my surprise when I went to my local Daiso and saw they were selling sriracha crackers! For a country that doesn't really seem to care for spicy foods, it was a bit of a shock. Maybe the sriracha craze that swept the West has finally made its way to Japan.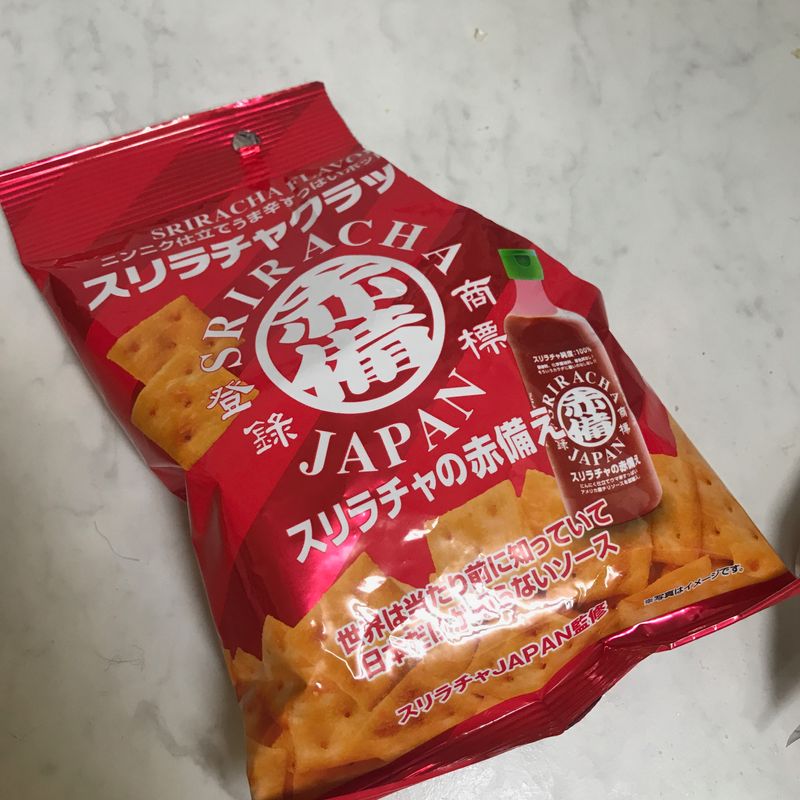 On the package wasn't the familiar rooster sauce I used. Rather, it was Sriracha Japan. At first, I thought it was just a made up brand for the purposes of this snack, but when I went to the grocery chain Seijo Iishi, I saw the same brand sold in bottles! It really exists. It was more expensive than the imports at Kaldi, though, so I didn't have a chance to try it. But, if you're curious, you can get more information about it on their website.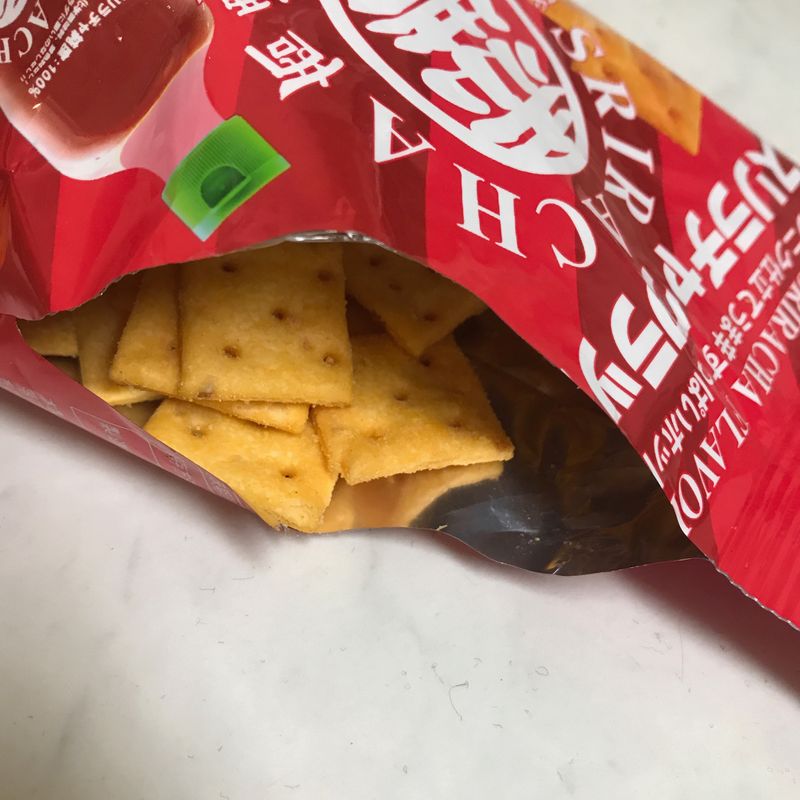 The crackers looked like regular Cheez-Its, a popular snack in the States. I never found Cheez-Its to be a tasty snack. They didn't have much flavor and they turned to mush in my mouth easily. Though it was prominently advertised on the packaging, I wasn't very thrilled when I opened it and saw that they looked almost exactly like Cheez-It snacks.
But, flavorwise, they were completely different! They weren't too spicy (just as sriracha isn't overbearingly spicy). Rather, they had a really balanced flavor that complimented the cracker. They were good plain, but I could imagine pairing them with a nice herbed cheese.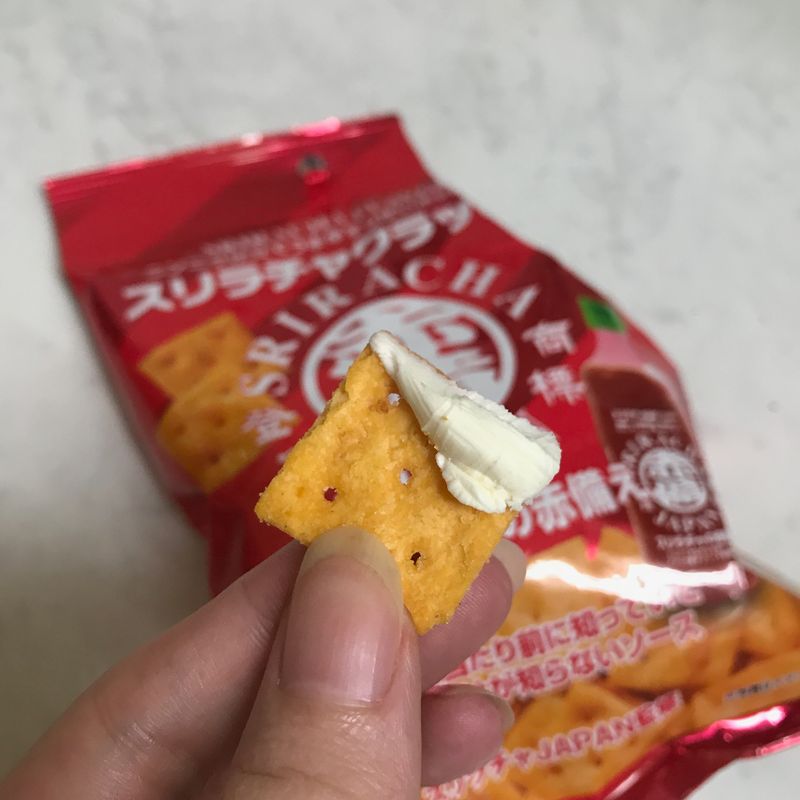 Unfortunately, I didn't have any real soft cheeses in my fridge, but I did have cream cheese which is delicious on anything. Of course, it went well with the cracker and I finished the entire package in one sitting.
If you see these at your 100 yen shop, or even in a normal grocery store, I recommend buying them! I guess it reflects well on the Sriracha Japan brand, too, because now I'm curious about trying more of their products!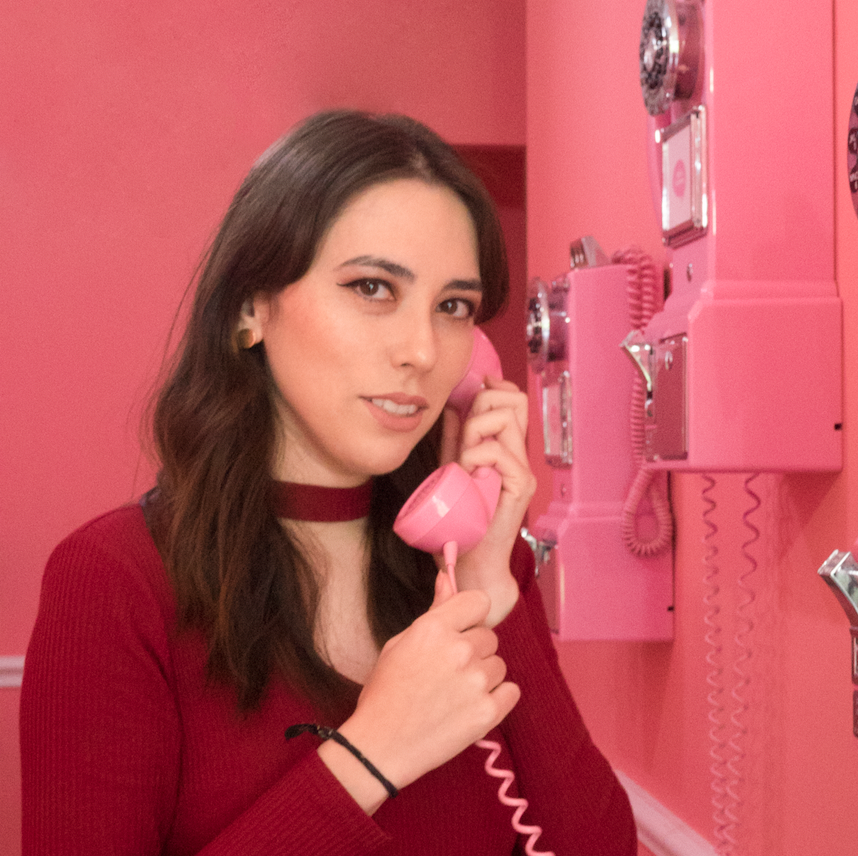 I like petting cats and eating snacks.
Check me out on IG for more Japan-ness: www.instagram.com/mochuta/
---