Apr 10, 2018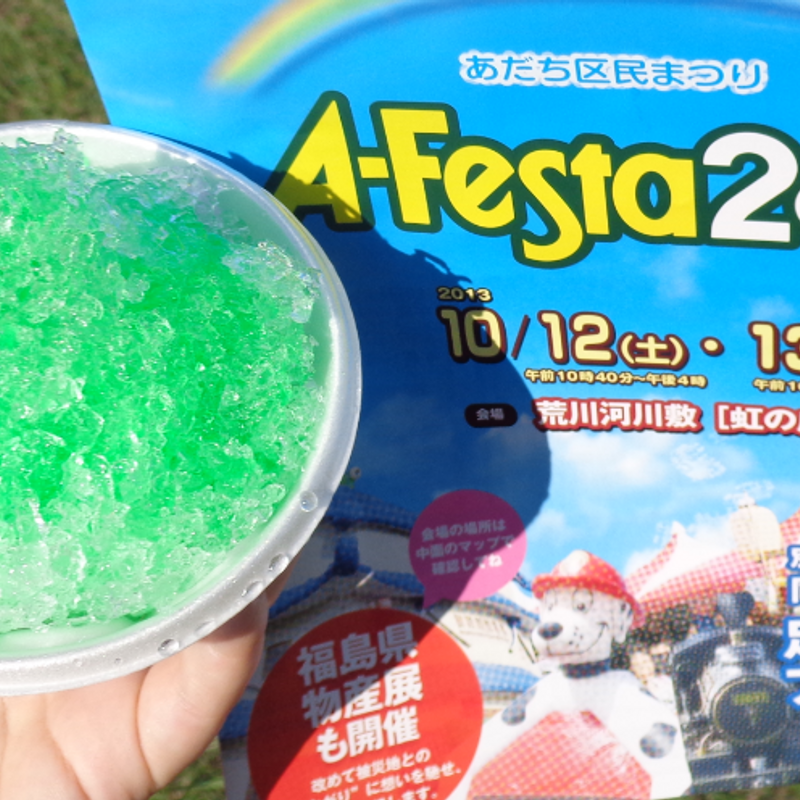 It is already some years ago that I lived in Adachi-ku (足立区), one of the 23 wards in Tokyo located on the northern part of the metropolis. While at the time on a working holiday visa I lived there in a small share house for a while. It is a quite nice area for living, in my eyes.
You have a good train connection from Kita-Senju station (北千住駅) where five different train lines are running (JR East, Tokyo Metro and more). Right in front of the station there is a small shopping street with the most important shops you need for living such as supermarkets and 100 yen shops. Some restaurant chains have their shops there and also smaller restaurants from local people can be found.
The share house was located only five minutes from Kita-Senju station and another five minutes walk brought me to one of my favorite spots of the area: the banks of Arakawa River (荒川). The river comes from Saitama and ends up in Tokyo Bay. The famous Sumida River is a branch of it. I enjoyed walking around the banks of the river from time to time to escape the crowds of Tokyo's big city life.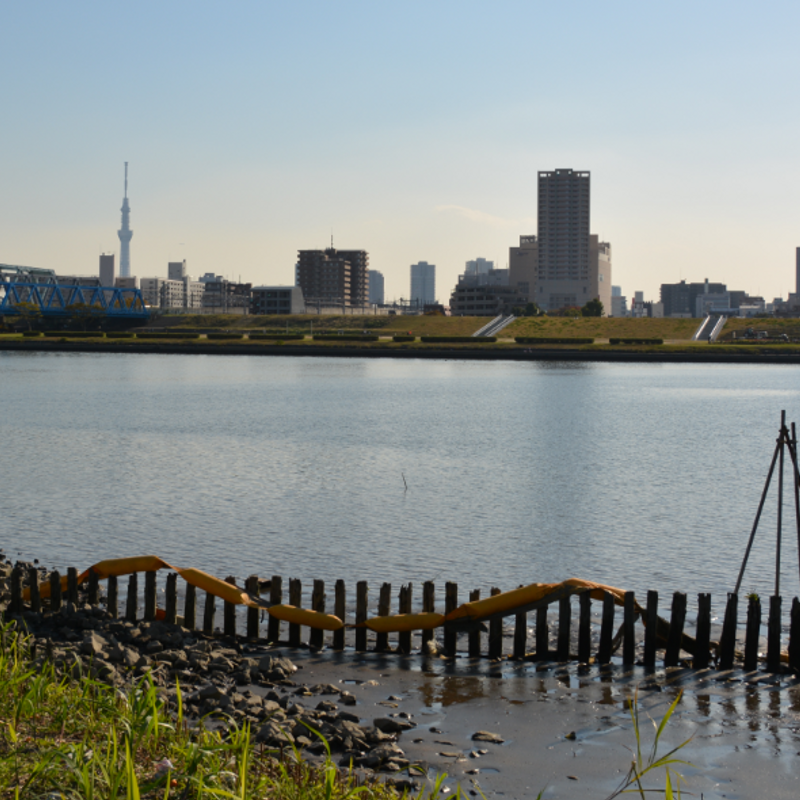 One morning in October I woke up to the sounds of drums. I am actually a big fan of Japanese traditional festivals and so I like to hear the taiko drums. I was curious where the sound was coming from so I got into my clothes and went outside. Guided by the drums I ended up at the river. The huge meeting place which was normally empty, or with baseball teams or other people doing sports, was suddenly filled with many colorful tents and people.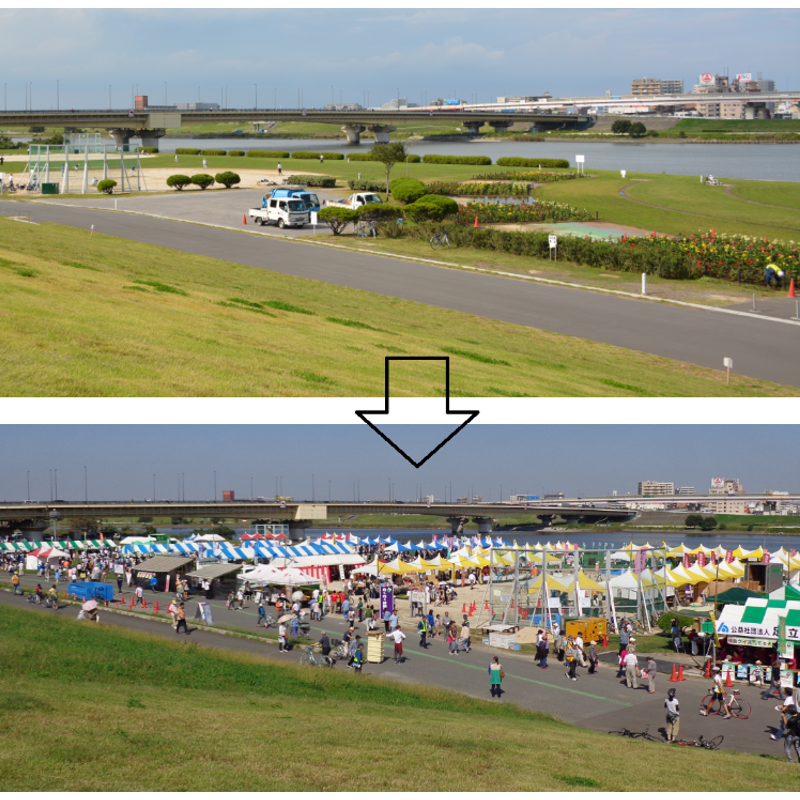 A-Festa is the citizen festival of Adachi which is already held for some years at the Niji no Hiroba (虹の広場, Rainbow Plaza) on the banks of Arakawa River. It usually takes places on a weekend at the beginning of October. Made for adults and children, you can find different zones to enjoy your time at the festival. For sure, there are many places for children with games and sporting activities, so it is a great festival for families. But also as an adult you can have fun there!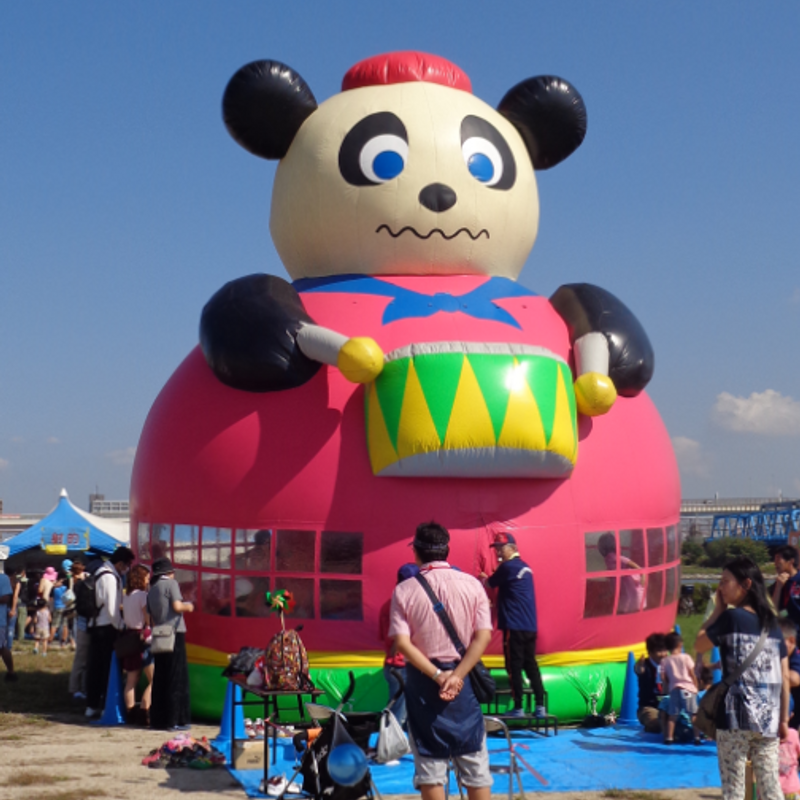 At the festival stage is a program on both days. Mainly performances and dances from local organizations by children and amateurs, but it is fun to watch them. Last year even a fashion show and contest was taking place there.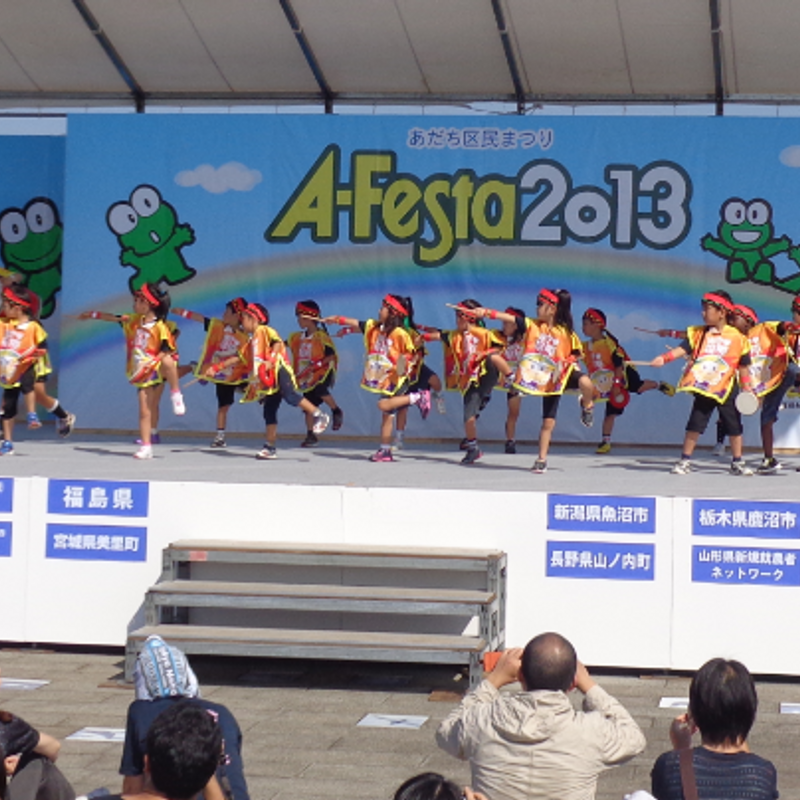 A special shopping zone is build up, too. There you can find local products, but also a bazaar and children's flea market. For sure, food shouldn't be missing at a Japanese festival, too. When we have been there some years ago we ate three-colored dango and kakigoori (shaved ice with sirup). But you can also take a look to the restaurants around the river area and at the shopping street. Some have special offers while the festival is on.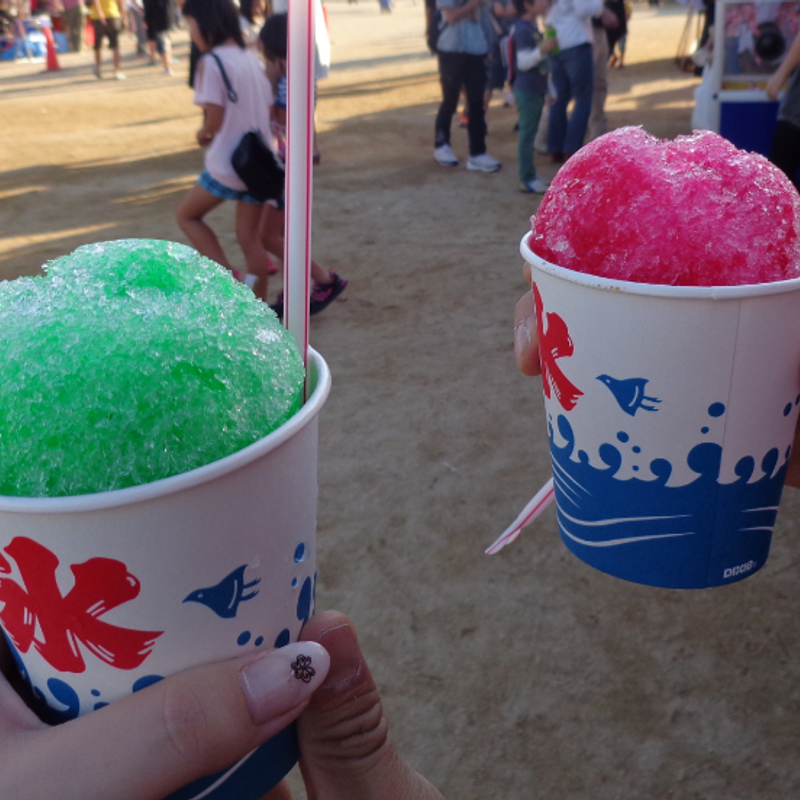 Being on the river banks, eating kakigori and listening to the music in the background really brought one back to one of the summer festivals in Japan. Even though it was the beginning of October. I enjoyed the festival a lot and we took a look there on both days of the weekend. It is always nice to think back to this time and maybe I can go there again, just because of the nostalgic feeling.
Event Website: http://adachikanko.net/a-festa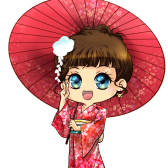 German woman who made several trips to Japan, did one year Working Holiday and started living in Japan again since Oct' 2016 with Japanese husband. Loves music, cats, traveling and food.

Also take a look to my German blog and my Youtube Channel (new video every Friday) → https://www.youtube.com/c/YokoLostInJapan
---