Feb 15, 2017
When you are at the supermarket, have you ever noticed there are different sorts of KitKats? Did you even notice they change seasonally? Actually, Japanese people are really crazy for KitKat and there are not only a few different sorts, there are MANY different sorts. Let's take a look at the KIT KAT MANIA.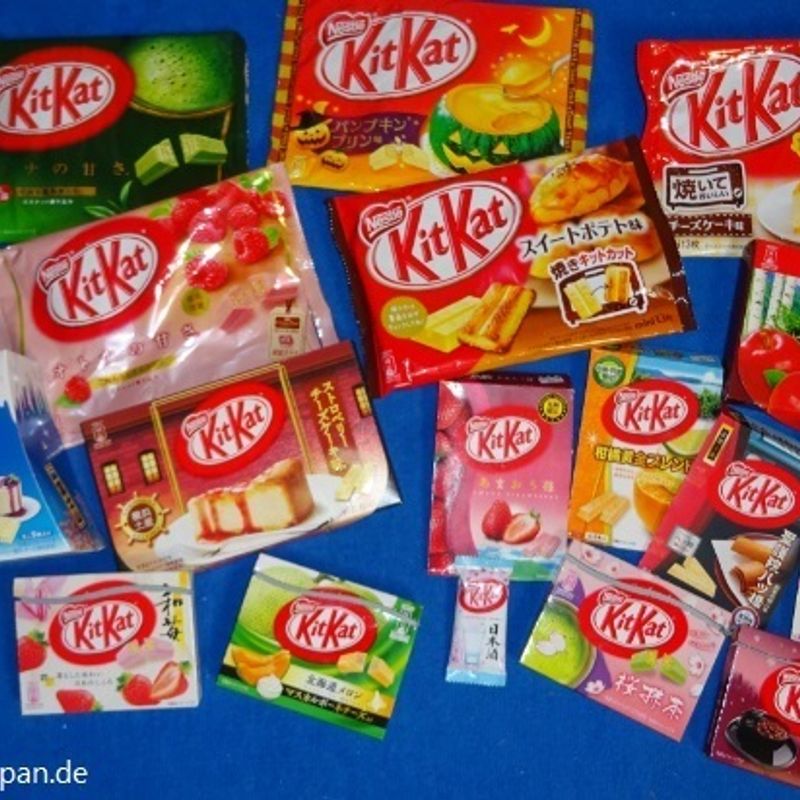 KitKat was introduced to Japan in 1973, but as we know the Japanese people, it didn't stay with a normal milk chocolate taste. Japanese people are creative when it comes to food and sweets and so within the over 40 years of KitKat in Japan more than 300 versions have been released.
But how could KitKat become so popular in Japan? At least one reason is its name itself. KitKat is often pronounced as "kitto katto" in Japanese which sounds like "you will surely win" (きっと勝つ kitto katsu). Because of this the chocolate snack is seen as a lucky charm. Many people use it to get cheered up for university entry exams. Even special versions of KitKat are sold for this season of the year when special words are printed on the chocolate.
The regular versions of KitKat

There are some versions of KitKat you can find all over the year in Japan. These are the regular milk-chocolate KitKat and a bitter chocolate version. For sure, it wouldn't be Japan if there wasn't a Maccha KitKat version which looks pretty good in green and really tastes like green tea. Another version you can often find is strawberry KiKat. The new KitKat Luxury Every Day also seems to stay for a longer time. Mainly these packs with 12 chocolate bars inside are available at supermarkets and drugstores and cost around 200 to 400 Yen.
The seasonal versions of KitKat
Japan is famous for the time-limited products which are only sold within specific times a year. For sure, this also goes with KitKat. Every year they have new ideas and release new products changing with the seasons. But take care, mainly you can have them only once and soon after the seasonal change they disappear – and won't come back.
However, as example for an always-coming-back version you can see Pumpkin KitKat around two months before Halloween. There are some sorts of Yaki-KitKat which you can bake inside the oven, coming up regularly with different tastes. Some seasonal versions are: Rasberry, Vanilla Ice, Sweet Potato, Baked Cheese Cake, Ginger and even more...
Fun fact: the Japan Post is releasing a special designed KitKat every year for New Year's greeting. However, it's just a special look for the regular milk chocolate KitKat.
The regional versions of KitKat
Here you can find another reason why KitKat is so popular in Japan. The tradition of Omiyage lets people buy regional-limited products on their trips – why not to choose a regional KitKat? But don't worry, you don't need to travel everywhere to try the regional versions. Sometimes you also can find them at duty free shops and Don Quijote stores. The regional versions mostly include some special products of the area, just like apples from Shinshu area, Maccha from Uji or Momiji from Hiroshima. Mainly it is a box of 12 KitKat Minis which costs 800 Yen (+ tax). Sometimes smaller packs with five chocolate bars are also available.
Here you can see the recent regional versions which you also can find on the Nestle website. But don't worry, there are even more versions.
Tokyo – Rum Raisin
Yokohama –Strawberry Cheese Cake
Shizuoka & Kanto area – Tamauya Honten Wasabi
Nagano – Shinshu Apple
Tochigi – Tochi-Otome Strawberry
Kanto Hokuriku area – Azuki Sandwich
Kyoto – Itokyuemon Uji Maccha
Kyoto – Itokyuemon Roasted Tea
Kobe - Kobe Pudding
Hiroshima – Momiji Manju
Kyushu – Amaou Strawberry
Kyushu & Okinawa – Purple Sweetpotato
Kyushu & Okinawa – Green Tea of Kumamoto
Also added to the local souvenirs are the Sake flavoured KitKat and Strawberry Cheese Cake KitKat which have a special box design. The last one looks like Japan's famous Mount Fuji. You mainly can find these at the Kanto area.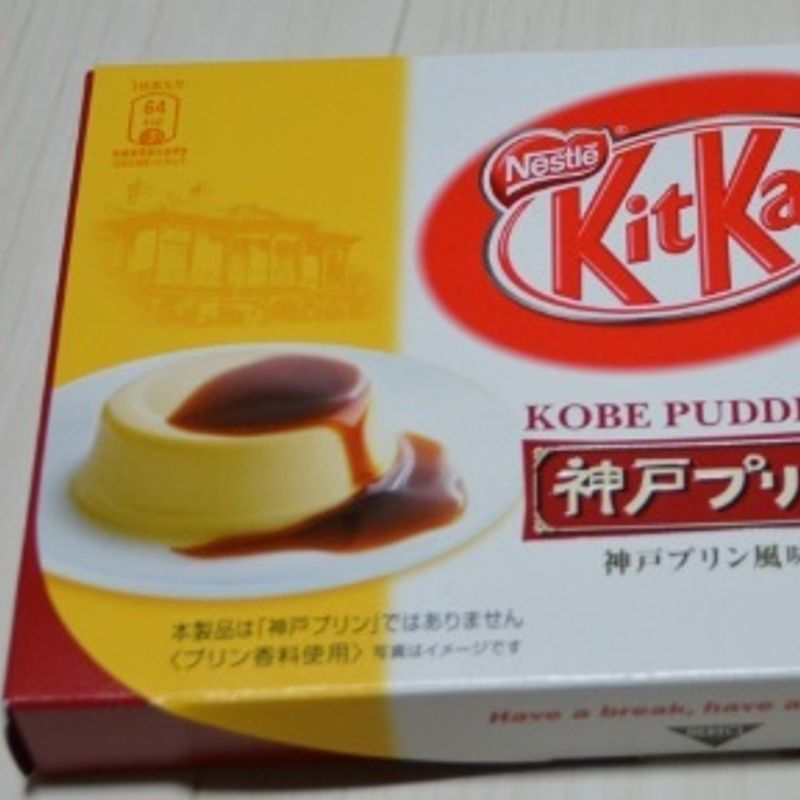 The airport versions of Kitkat
Especially for foreign tourists, there are big boxes of KitKat which you only can get at the airport. These include ten smaller boxes each with three KitKats inside. That's why it is perfect to take it home and present them to friends. Sure, sometimes you also can find them at other places. One example, which versions you mainly find at Haneda airport, you can see on the picture below. There they have Japanese Strawberry, Hokkaido Red Bean, Sakura Maccha and Uji Green Tea. Lately, they also added Hokkaido Melon with Mascarpone Cheese which is pretty delicious. So, take your chance to get these boxes at the airport.
KitKat Chocolatory
From 2014 the KitKat Mania went on with special shops which only sell exclusive KitKat versions. By now there are nine KitKat Chocolatory stores all over Japan, however four of the stores are located in Tokyo. The other you can find in Osaka, Kyoto, Nagoya, Fukuoka and Sapporo. At these stores you can find KitKat Sublime versions, special fruit versions and gift boxes. They even have an online shop. Check out the website here.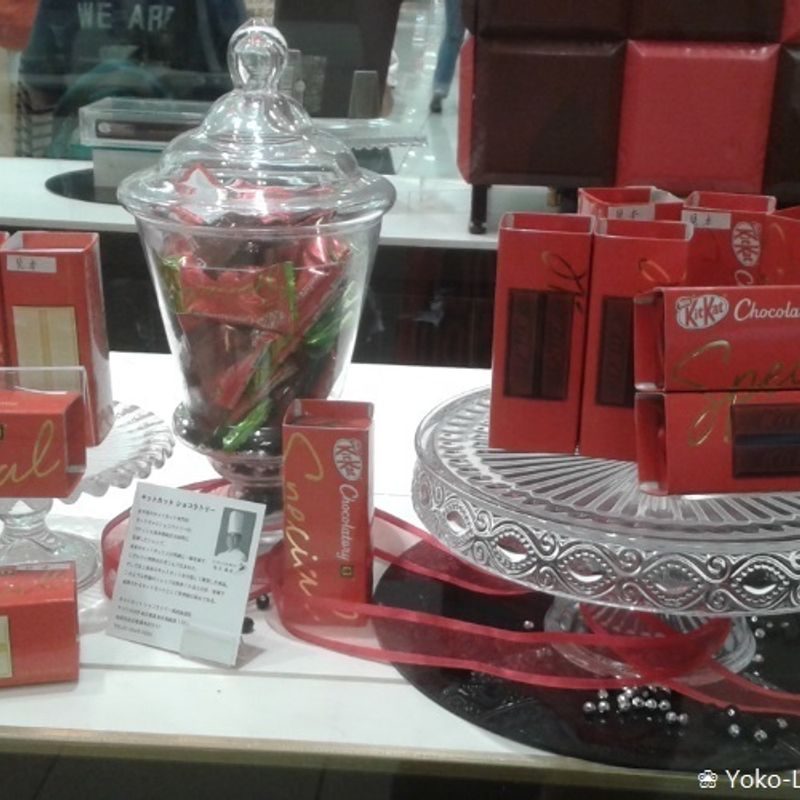 - - - - - - - - - - - - - - - - - - - - - - - - - - - -
How about you – are you going with the KitKat Mania in Japan?
Have you tried different KitKat versions? Which do you like best?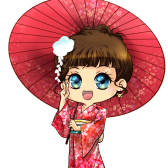 Young German woman who made several trips to Japan, did one year Working Holiday and started living in Japan again since Oct' 2016. Love music, cats, traveling and food.

Also take a look to my blog and my daily updated FB page → https://www.facebook.com/yokolostinjapan/
---
3 Comments
I had no idea about the history of KitKat and that it is seen as a good luck charm. :-O I love all the different flavours, my favourite to date was one that was out about 2 years ago and it was called something like "Adult flavour". It was dark chocolate. Yummmm. Thank you for sharing.

@Saitama You're welcome. My favorite one was the Yatsuhashi KitKat from Kyoto - had a light cinnamon taste. But unfortunately this is also not produced anymore :(

I seem to remember that they brought out a Gold coated Kit Kat fairly recently, or within the last year or so. I like the sound of the apple one in your list of regional flavors.