May 1, 2018
I am a huge fan of the cute bear Rilakkuma and his lovely family. This year they are celebrating their 15th anniversary with many events here in Japan. Usually I have to go to Tokyo for these kinds of events, however, recently I could join an event that was mainly held in Kanagawa Prefecture (and a little bit in Tokyo). Not only Rilakkuma is celebrating its anniversary, but also the Keikyu train line is up for their 120th anniversary. A good opportunity to celebrate together.
Since March 5th until May 13th you can find several places celebrating the cooperation event between Rilakkuma and Keikyu Line named 一緒にごゆるりお祝い (Issho ni Goyururi Oiwai, Celebrating together relaxedly). In this arcticle I want to introduce some of them.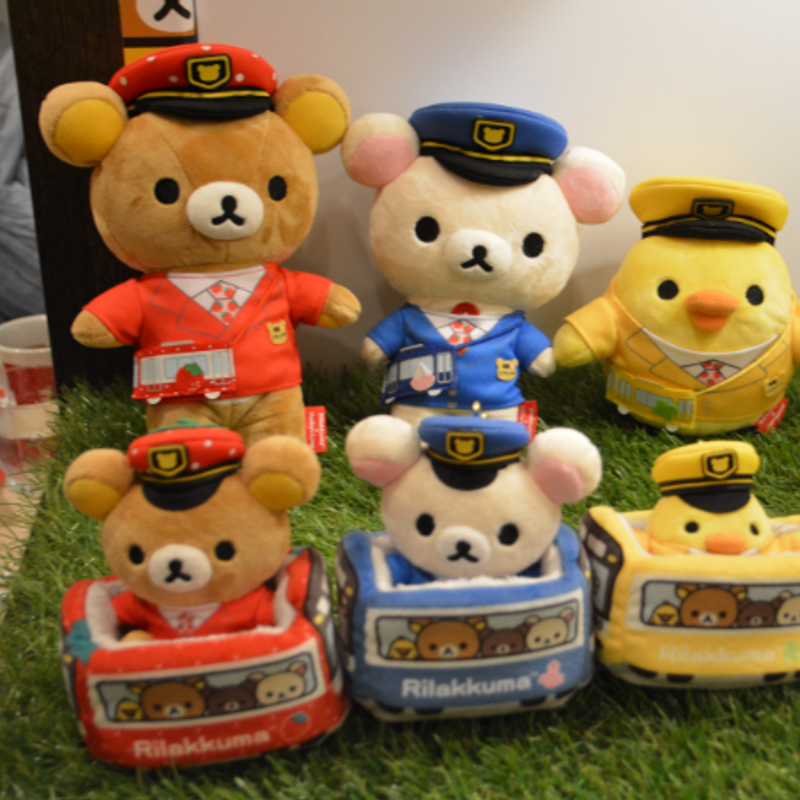 Rilakkuma-themed trains and stations
One of the highlights are the three trains which were designed for the event. One for each of the characters such as Rilakkuma (blue train), Korilakkuma (red train) and Kiiroitori (yellow train). They are operating on the Keikyu Line every day and are super cute.
Furthermore, three stations got renamed fitting in the Rilakkuma-theme and were decorated accordingly. These are Kamiooka which became Kamigaooooka (上がお大岡), Otorii which became Ookiiroitorii (大キイロイ鳥居) and Kurihama which became Rilakkurihama (リラッ久里浜). It was really fun to take photos of the decoration and they even have a special photo spot at every station.
Even some bus stops and Keikyu buses have a limited-time Rilakkuma design, too.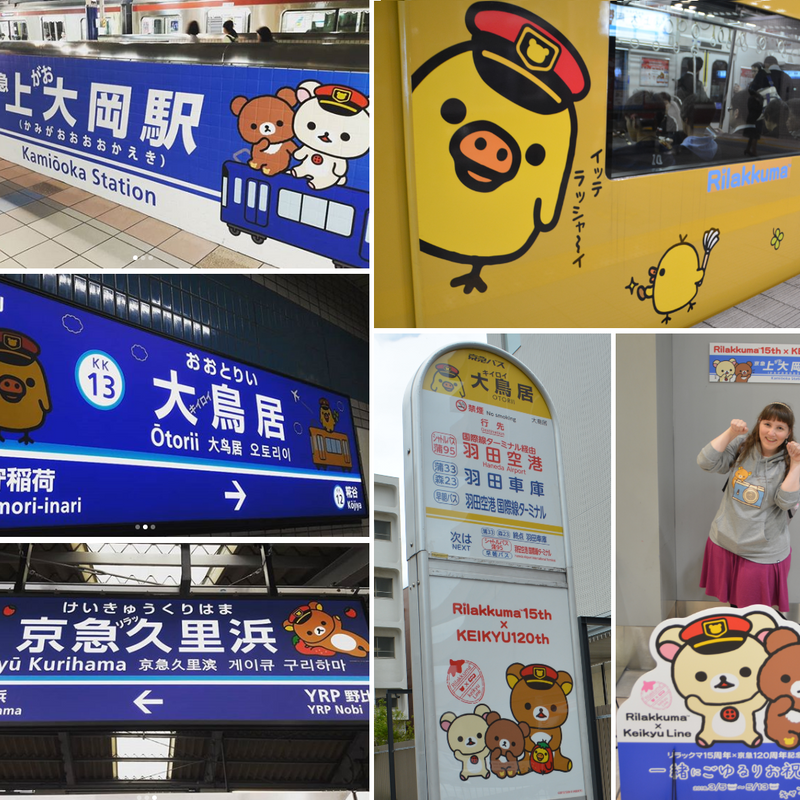 Stamp Rally
The stamp rally was taking place from the beginning of the event until April 15th. The earlier ending has one reason: you can win a special Rilakkuma-themed train travel on the last day of the event. For this you needed to collect five stamps, one each at the Rilakkuma stations I mentioned earlier and two more stamps at Yokohama station and Haneda airport. For this you could buy a special set for 1,500 yen including a special one-day-ticket for the Keikyu Line, a flyer and post card for collecting the stamps and a unique clearfile you can use as bag.
Traveling to all the stamp spots takes some time, but it was also nice, because you could stop by places you normally don't go. Furthermore, many Rilakkuma spots were on the way where you could take a look. And if you are lucky you can win a prize at the end.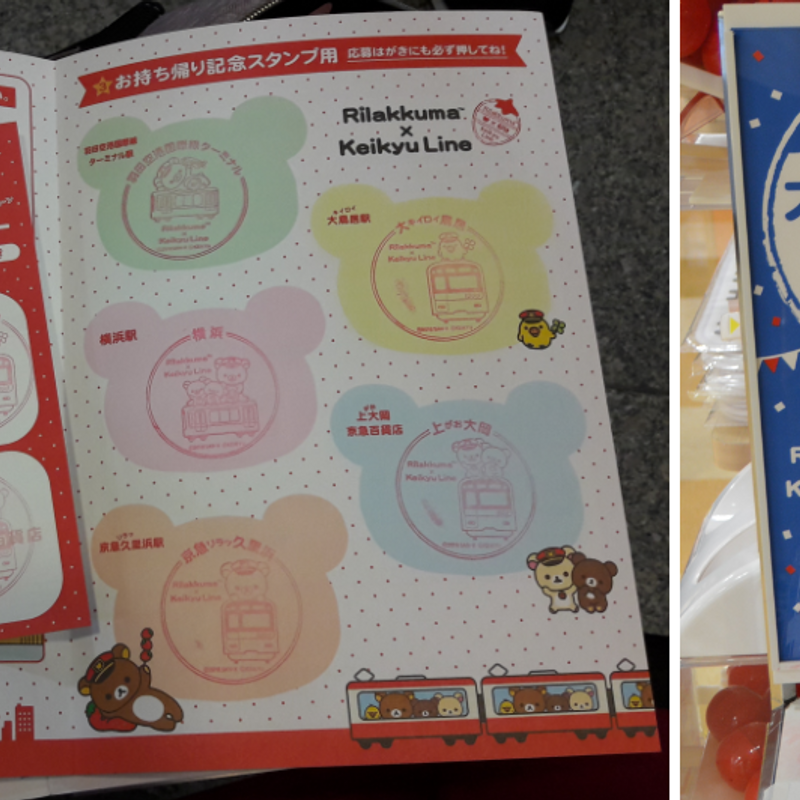 Rilakkuma Café
A time-limited Rilakkuma x Keikyu Line Café was opened at Kamiooka station. They have some special dishes which all look really cute and it is hard to choose between them. The decoration inside the cafe is pretty nice, going with the train theme. We went on a Sunday and it was quite crowded. At the entrance you can get a time-ticket for your entry. When we have been there the waiting time was about 1 to 2 hours but if you are lucky you also can enter right away.
All the food and drinks we tried were very delicious, but also a bit expensive.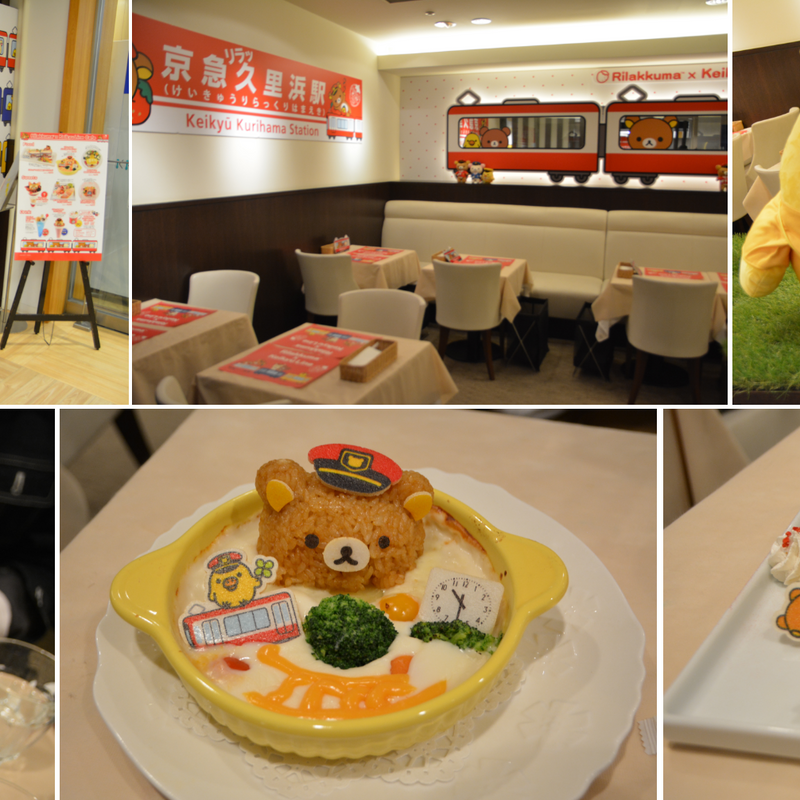 Rilakkuma Station Soba & Sweets Calender
But that was not all about food. At three station of the Keikyu Line (Shinagawa, Kita-Kurihama and Koganecho) you could by a special soba menu in the Rilakkuma theme with a different version at each station. The price of 580 yen is totally OK for it and you get the chance to eat in one of the small soba shops.
Furthermore, there is a colaboration with the Sweets Calender shops at Yokohama and Kamiooka station. There are all kinds of different sweets in the Rilakkuma design, each available for a limited time. This includes donuts, rollcakes, macarons, cookies, cheese cake and more. They are all quite pricy, but I tried a few and they are all incredibaly delicious.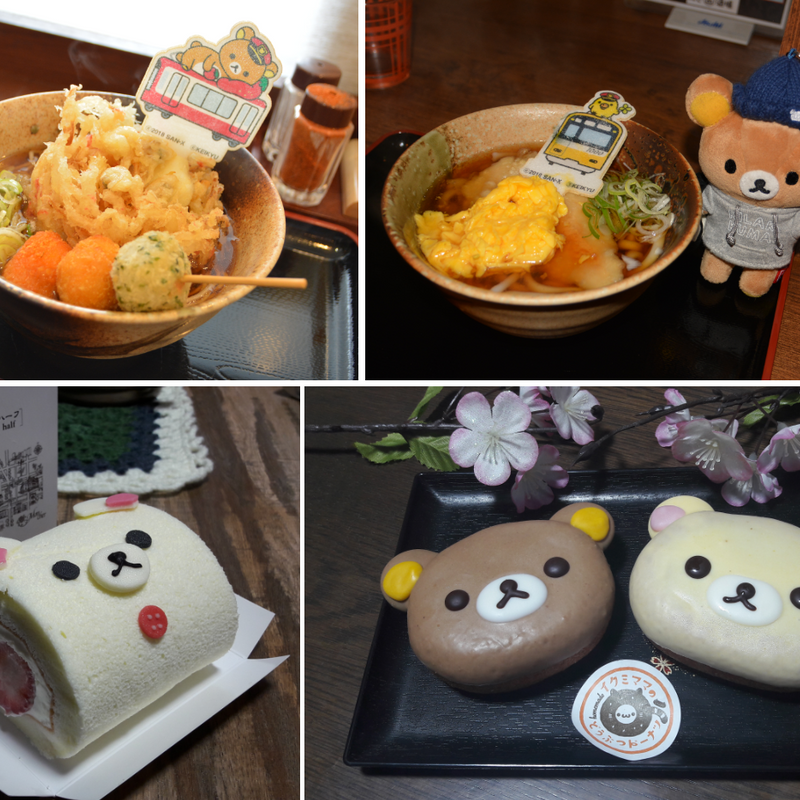 Special Merchandise
For sure, for an event like this plenty of merchandise was released. Not only cute, plush toys and key chains, you can also find pens, notebooks, clearfiles and more. They even have cute bath mats. The goods are partly different depending on the location and sometimes limited to the place. Also, special sets of train/bus tickets, food menu and a plush toy are available at some stations.
And more
That is still not all. There is a Rilakkuma x Keikyu Line themed cruise ship which is a nice idea. There were also several events where you could meet station master Rilakkuma and take a photo with him and so on. Find all the information on the official website.
I really enjoyed the event and I think it is a great collaboration. If you have spare time left until May 13th and are interested in Rilakkuma, why don't you take a look to the stations and the cafe?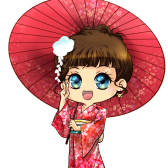 German woman who made several trips to Japan, did one year Working Holiday and started living in Japan again since Oct' 2016 with Japanese husband. Loves music, cats, traveling and food.

Also take a look to my German blog and my Youtube Channel (new video every Friday) → https://www.youtube.com/c/YokoLostInJapan
---
1 Comment
When I found out about this event it was already too late to participate! Oh well, maybe someday it will make a comeback!