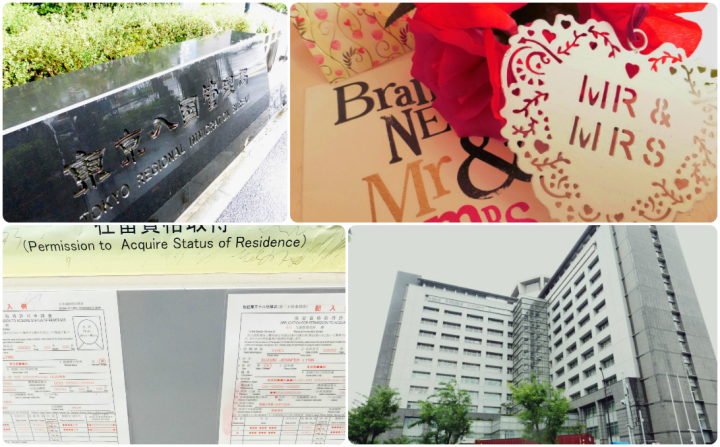 In Japanese, a spouse visa is known as a 配偶者ビザ/haigusha visa.
I'm British. My partner is Japanese. We got married in Japan.
I'm going to lay out the steps we went through to get ME a spouse visa.
Step 1 - Research
With all things related to immigration in Japan, it's best to make some phone calls first and know exactly what you need to do, before you go and do it. Visiting immigration is nobody's idea of fun, so as much as possible you don't want to be making repeated visits due to a lack of preparation.
Call immigration. If possible, have someone Japanese do it for you. Depending on who you speak to, you may get conflicting answers. With someone fluent in Japanese at the helm, you should be able to get through to the actual department that deals with your specific inquiry and so get the most accurate information on getting a spouse visa in Japan.
Step 2 - Call your embassy
I had to do this to see whether or not they issue 婚姻証明書/koninshoumeisho (some sort of marriage certificate). If your embassy does, you need to collect it, and include it with the documents submitted to immigration. In the case of the UK embassy, they don't. That's fine, but you need to write/sign a note stating this and hand it over to immigration.
Step 3 - Know the rest of your documents
Japanese partners bear most of the brunt here. The image below lists the documents needed.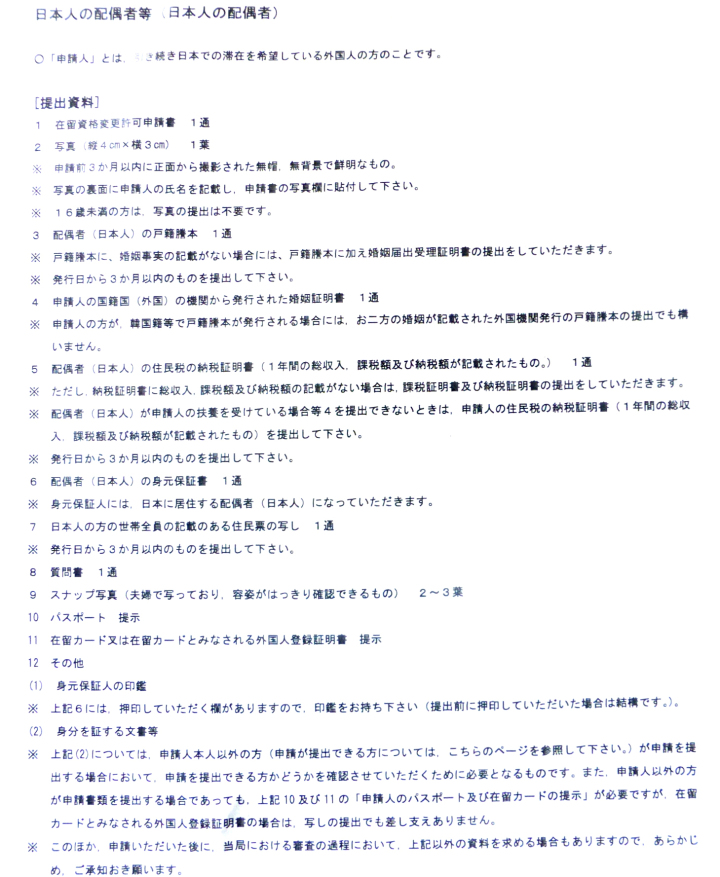 1) Forms for me to fill out (the standard Permission to Acquire Status of Residence)
2) Photo (as in passport style)
3) 戸籍謄本/kosekitouhon - family register (my partner's)
4) 婚姻証明書/koninshoumeisho - marriage cert. (from my embassy - mentioned above)
5) 住民税の納税証明書/juminzei no nouzeishoumeisho - proof of city tax(my partner)
6) 身元保証書/mimotohoshousho - form stating my partner will be responsible for me
7) 住民票/juminhyo - residence cert. (partner's)
8) Question form (for partner to fill out)
9) Pictures (proof of our relationship)
10) Passport (mine)
11) Residence Card (mine)
12) Inkan (name stamp of Japanese partner)
Some of these will require a trip to the city hall for Japanese partners
Your 'passport' style photo needs to have been taken in the last three months.
Highlights of No.8, the question form (again, to be filled out by Japanese partners) include …
- The date and place we first met!!! (I think we had to speculate on this).
- A one-page written account of our relationship, from when we first met to the present.
- A brief statement of our language abilities.
- A brief description of the steps I've taken (if any) to learn Japanese.
- A brief description of what we do when we can't understand each other (Not joking!).
- The names, ages, phone numbers of our immediate family members.
- If we met through a matching service; names and dates.
- How many times (with dates) we have been to each other's home country.
Photos - we took along a handful of photo highlights. Submitting images of you with the in-laws is important here. Photocopies are no good, but reprints are fine. At the counter, they asked us to stick 3 pics on a piece of paper. They don't get returned. Tight arses!!
Love letters/emails/cards - These people think they're the NSA. If you've spent time apart, you may be asked to submit examples of your long-distance correspondence. They didn't ask us to do this, but we threw in a couple of Valentine's cards that were collecting dust, anyway.
Step 4 - Get your stories straight
Internet forums recount experiences of couples being quizzed at immigration, testing the non-Japanese partner in the accuracy of what had been written in the aforementioned 'relationship history'. This, however, didn't happen in our case.
Step 5 - Go to immigration and try not to lose your cool (pt 1)
I had to go. My partner didn't, but came along anyway.
I'll be honest, I think Tokyo Immigration Center is the worst place in Japan. This coupled with everyone else's mood reflecting the same thing (including the people that work there), really does make it … the worst place in Japan (for me, at least)! Still, losing your cool isn't a good idea here.
We went to two counters. One to have our documents checked for anything missing. Another, to have them checked again and then submitted. We were seen to with all the enthusiasm and interest that I've come to expect from immigration, i.e. none! A number ticket was issued. We waited maybe an hour or so to be called back to the same counter. We wrote our address on a postcard and left. The postcard is delivered to you when your visa is ready for collection. Get the address right!
Step 6 - Wait
Said postcard was delivered to us about 3 weeks later.
Step 7 - Go to immigration and try not to lose your cool (pt 2)
Again, my presence was required. Not that of my partner's.
Documents ..
- Passport
- Residence Card
- Postcard
- 4,000 yen payment stamp
I got my stamp at the convenience store in the immigration building. I presented this and the rest of my documents to the relevant counter. I was then given a number ticket and told to wait. So, I waited. For about 1 hr 30 mins. When my number was called, my passport was returned along with a new Residence Card (with my status as a spouse) and my old Residence Card with a hole punched in it.
Step 8 - Quit your job and enjoy a life of slobbing out at home
A joke obviously, but as far as I understand it, I'm now the legal/financial responsibility of my partner.
Notes on getting a spouse visa in Japan
I would say this process took us 3 months (from early research through to collecting the visa).
Immigration forms can be downloaded, but to be sure, it's best to pick them up from immigration.
I'm writing this the day after I received my visa, so that's how up to date this is.
My partner and I didn't meet on a sunny beach and then decide to get married a week later (we've been together for ages).
We both work.
I don't need a spouse visa (I already have a visa, sorry had a visa, through work).
The process on the part of immigration is so intrusive, bureaucratic, and miserable, that my constant moaning about it almost led to us, well, not needing/wanting to apply!
I'm glad it's over!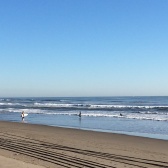 Traveler, surfer, and scribe. Based in Tokyo for six years.