Jan 8, 2019
This guide regarding how to renew a spouse visa in Japan is based on personal experience. As with all matters related to obtaining, renewing, and extending visas in Japan personal experience can provide an idea of what applicants can expect and will hopefully serve as a good place to get started in one's research into the procedures. However, it cannot be definitive. That kind of certainty can only come from immigration officials (although even then the applicant may find themselves subject to the whim of whatever mood the official is in at the time).

Note -- while common parlance would call this a "renewal of a spouse visa," it's actually, in Immigration Bureau of Japan terms, an "application for extension of period of stay (for spouse of Japanese national)." Spouse visa - 配偶者ビザ / haigusha visa
This situation is this -- expat living in Japan married to a Japanese national. Both holding down steady incomes, taxes / pensions / health insurance all paid (sort of) on time, first time renewing a spouse visa that was valid for three years. And if you need any reassurance to keep on ready, the application was successful!
I know, "How did you get a first spouse visa valid for as long as three years?" (when a lot of folks only come away with one year, sometimes a paltry six months).
The answer -- I don't know. Maybe the Japanese partner wrote an eloquent essay detailing the history of our relationship. Perhaps the officials got all warm and fuzzy over one of our Valentine's Day cards. Or maybe they enjoyed pictures of Japanese partner and I posing for photos with future in-laws in the garden back home? (Yes, as inexplicable as it might sound all of these were among the myriad of non-returnable items that were submitted during the invasive headache that was the initial spouse visa application process.)
Whatever the reason (I suspect that dating for some years in Japan before getting married may have been a factor), we came away with the visa status "Spouse or Child of Japanese National" valid for three years. And that was due to run out by mid-December 2018. We began visa renewal procedures in early October and came away with the renewed spouse visa by the end of the same month. So that's how recent / up-to-date this guide to renewing a spouse visa is.
When can you begin visa renewal procedures?
Three months prior to the expiry date and as long as applicants submit the application before said expiry date, that's also fine. Refer to the relevant Immigration Bureau of Japan page below:
http://www.immi-moj.go.jp/english/tetuduki/kanri/shyorui/03.html
Note -- a Japanese visa isn't like, say, a Japanese driver license in the case of which holders are sent a reminder that the license is up for renewal. With visas it's up to the holder to stay abreast of things. (Could it be that they want us to forget?)
Renewal of a spouse visa will require two visits to your regional immigration office.
Documents for spouse visa renewal
Well, the good news here is that renewal of a spouse visa is emphatically easier than getting one in the first place.
(First visit)
The bad news is that you still have to go to city hall and get the following (because these things are made to expire, photocopies are no good, and ostensibly, the city just wants more of your money and immigration wants to test your resolve):
Your spouse's koseki-tohon (戸籍謄本) - this is a kind of family registry

Juminhyo (住民票) - certificate of current registered residential address

Spouse's nozei-shoumeisho (納税証明書) - Tax Certificate (income / taxes paid over last fiscal year)

Spouse's kazei-shoumeisho (課税証明書) - Resident Tax Certificate (residence tax paid / due to be paid)
Cost: ~ 300 yen per copy (in our case)
Note - The koseki-tohon can only be obtained from the city hall where the family was initially registered and only by your spouse, their lineal relatives (or an attorney). So, in our case this meant asking a favor of the mother-in-law (who still lives in the area that is some distance from where we reside now). Allow for the time required to do this and get it posted out.
Otherwise these documents can be prepared in a matter of minutes (depending on how many people are waiting).
Note - In the case of the tax certificates we went with those belonging to both Japanese spouse and myself. We were told (over the phone) that those of the Japanese spouse alone would be fine, presumably as they are in full-time employment, but just for good measure we handed over my own as well.
You will also need to bring along ...
Your passport
Your Residence Card (aka Gaijin Card)
Photo (4 cm by 3cm, taken in the past three months
Letter of Guarantee - mimoto-hoshousho (身元保証書)

Application forms (Application for Extension of Period of Stay)

The mimoto-hoshousho (身元保証書) is available in Japanese and English and can be collected at the immigration office or downloaded and printed out (PDF here - http://www.moj.go.jp/content/000007419.pdf)
More details about the photo:
http://www.immi-moj.go.jp/english/tetuduki/kanri/shyorui/03.html
We assumed that this was for the Japanese spouse to fill out, which they did.
The application forms
Application forms for extension of period of stay applications are available online at the Immigration Bureau of Japan website. You can download them in PDF format, print them off (A4 size), and fill them out in advance. This is what we did and highly recommend doing likewise as it's a real timesaver on the day, and rather than filling them out in the tense atmosphere of an immigration office, you can do it in the calm and considered surrounds of home.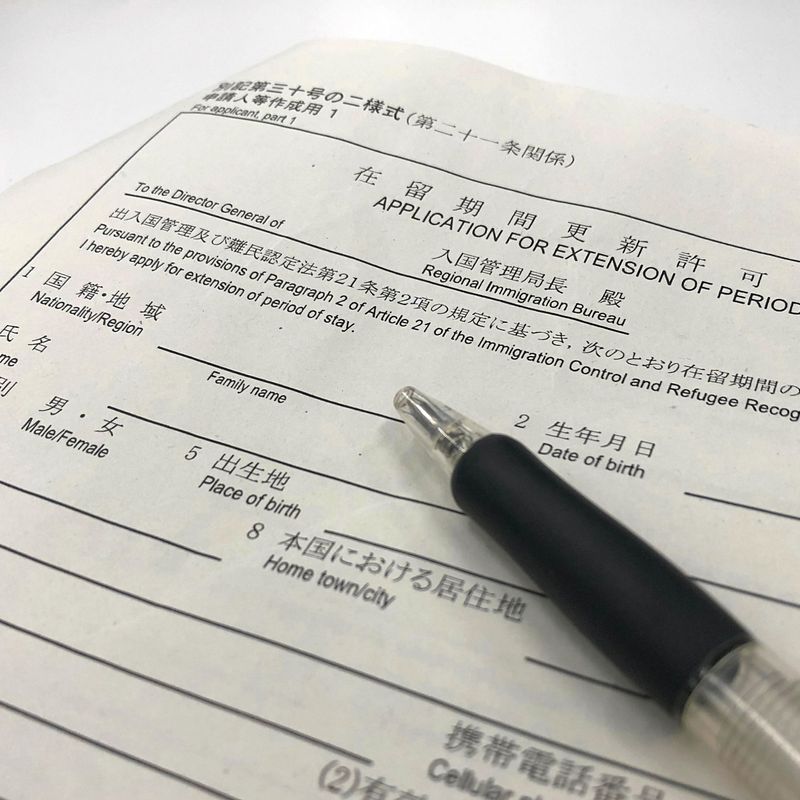 Download the forms (in English): http://www.moj.go.jp/content/000103542.pdf
For the most part we found the forms pretty straightforward. Where there was some confusion or hesitation ...
Part 1, item 13: "Desired length of extension"
Well, we got three years first time around, why not go for five this time? Why not indeed? So we did. And they gave us three. Why did they ask then?
Part 1, item 14: "Reason for extension"
This is one of those, "Well, duhh!" trick questions, isn't it? A bit like at immigration when they ask you if you're carrying any drugs or guns. We looked online to see what others had put and in the end we went with, "To continue living in Japan with my wife / husband."
Part 2, item 18: "Authorities where marriage, birth or adoption was registered and date of registration" - followed by options for "Japanese authorities" and "Foreign authorities."
The confusion here might be that you're thinking, "Well, hopefully our marriage is valid here, there, and everywhere." We got married in a city hall here in Japan (as does everyone despite the fancy hotel ceremonial finery) so we just filled in the "Japanese authorities" bit (with the name of the city office where we were wed) and left the "Foreign authorities" part blank.
Part 2, item 20-1: "Method of support to pay for expenses while in Japan"
This section provides space to enter your own income as well as that of a "Supporter in Japan" and "Guarantor." The difference between "supporter" and "guarantor?" Not sure, but given that the partner would also be handing over a signed "Letter of Guarantee" during the application we went with "Guarantor" on the forms, too.
This meant meant not filling in anything for Part 2, item 20-3 and Part 3, item 21.
The photo you glue to the space on the form provided (glue available at the immigration office. I also signed and dated it on the back (although not sure if that's required).
The first visit
I turned up at my regional immigration office (not Tokyo) about one hour after opening. All the application forms were available to those who didn't have them already and were laid out in an easy-to-understand fashion.
I took a ticket from the machine at the counter and waited -- for about 45 mins? -- before my number was called. A, typically, surly member of staff went through my documents before taking them all and telling me to wait for my name to be called. About 10 mins later it was and I was given the postcard on which to write my address. Write the address clearly and carefully as this postcard is sent out to let you know your visa is ready for collection.
My passport was returned with a kind of receipt stapled onto one of the pages indicating a reference number and stamped with the date of the application.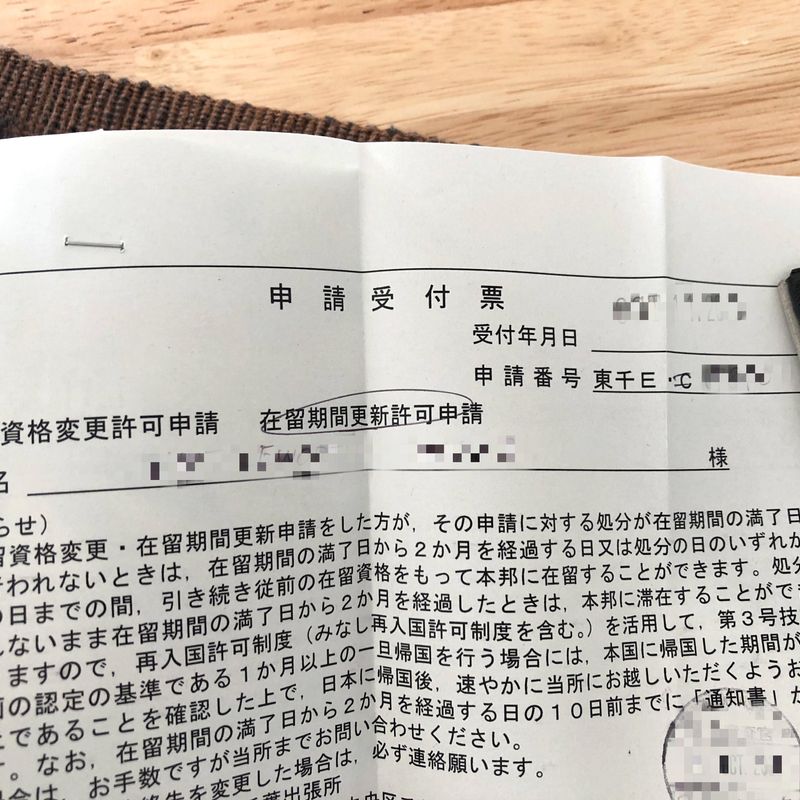 And then we left.
Note -- the Japanese spouse came along on the first visit to make sure everything went smoothly, and yes, to enhance the appeal that we are still (happily) married! (Note that your spouse doesn't have to be present, in fact nor do you if you have a lawyer go as proxy.)
The second visit
I think the postcard indicating that the visa was ready to be collected arrived around two weeks later (two weeks to a month seems to be pretty standard for visa renewals in Japan).
Documents for the second visit ...
Postcard
Residence Card (you'll be getting a new one ... hopefully!)

Passport (with receipt inside)

4,000 yen (in a revenue stamp / 収入印紙)

Certificate for Payment of Fee
Yes, the cost for an extension of period of stay is 4,000 yen. This MUST be in the form of a revenue stamp. All immigration bureau in Japan will likely have a post office or convenience store nearby (usually in the same building) where these can be purchased.
("A 4,000 yen revenue stamp, please." - "Yon sen yen no shunyuinshi kudasai.")
The revenue stamp is to be glued onto the single A4-page Certificate for Payment of Fee. It looks like this: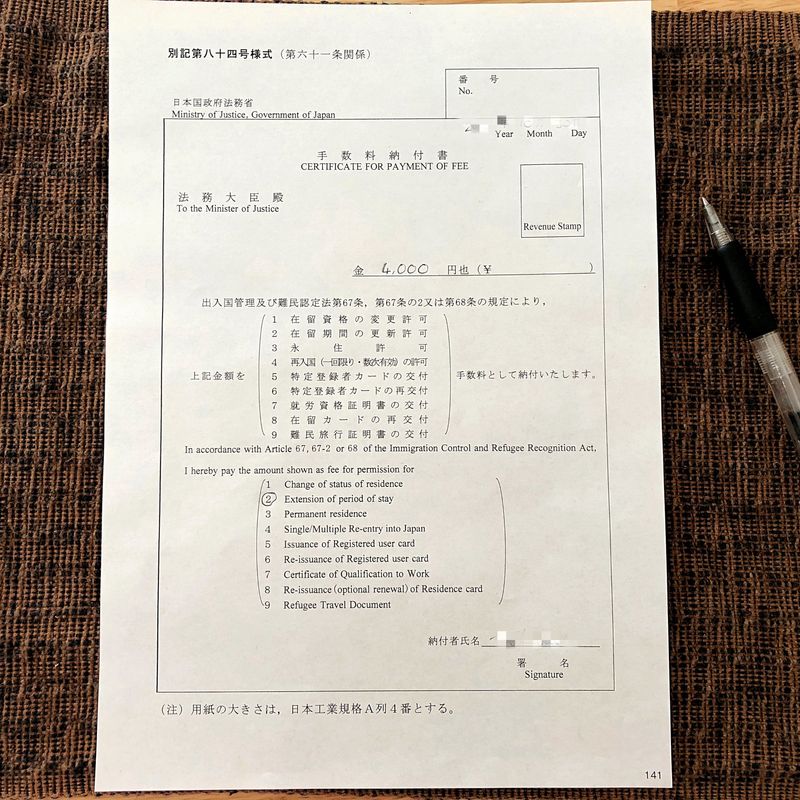 Note -- At the Tokyo immigration center queues at the on-site convenience store can be long
So, back at the same regional immigration office, I took another number (for a different counter) and waited ... for around 20 - 30 mins. Same kind of deal -- documents checked, wait for name to be called (another 20 mins) and this time take delivery of a new Residence Card. Take time to check the details -- spelling of name, address, period of stay e.t.c.
Done!
How long do you have to collect a visa?
I submitted my application on Oct. 11. I went to pick it up on Oct. 30. The deadline for collection was Dec. 20 (as indicated on the postcard). So, maybe from the time immigration stamps the postcard to be sent out to you, it looks like you've got one month to collect.
Notes on how to renew a spouse visa in Japan
Unless you've a really good handling of Japanese, renewing a spouse visa will be emphatically easier with your Japanese spouse onboard, especially when it comes to getting documents from the city hall. That said, for visits to the immigration office itself, you should be fine going solo.
Upon arrival at the immigration office it's probably best (to save time) to collect a ticket first before filling out / checking any assembled documents.
At my regional immigration center there is a law firm right next door doing a stiff trade in visa support. For around 10,000 yen said firm will handle a simple visa extension for you. Unless your circumstances are quite particular this would appear to be a redundant service.
Immigration office hours across Japan are generally 9:00 to 12:00 and 13:00 to 16:00. Submitting an application late in the morning may then mean having to wait through lunch to wrap things up. This is a particular risk at the busy Tokyo Regional Immigration Bureau. Late-in-the-day applicants run the risk of having to come back the next day to wrap things up.
If possible, have your Japanese spouse call up immigration and speak to an official beforehand to make as sure as possible you'll have all the documents required. (Two visits to immigration is more than enough for a year or so.) I say "Japanese spouse" because you really want to avoid any ambiguity when it comes to visas.
The Tokyo Regional Immigration Bureau in Shinagawa Ward set up a kind of help line at their on-site Immigration Information Center a few years ago. While I haven't called it in a while, I have in the past. As far as my understanding goes, the people that answer are not immigration officials and are really limited to answering only the basic questions (but will have a stab at answering more complex ones to save face, even if it means dishing out the wrong information). If you feel your question is even remotely complex, call an official department. Better still, have someone Japanese do it.

Do you have any experience with renewing a spouse visa here in Japan? Let us know what you felt about the process in the comments below.
See us on ...

Twitter and Facebook: @citycostjapan
Instagram: @city_cost_japan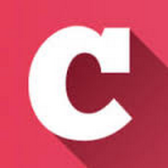 A Q&A and blogging community about life in Japan (plus a load of life-in-Japan stats!). Get your questions answered, share your experience! | Inquiry -> KyodoNewsDigital International Media | Tokyo, Japan | +81 3 6252 6402
---