Dec 31, 2015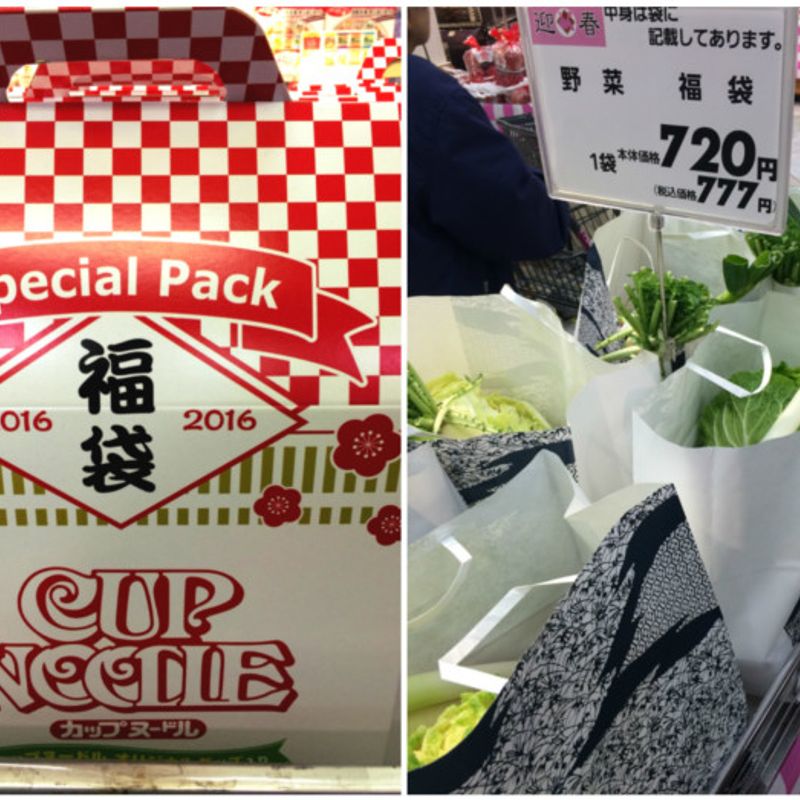 If you don't know what fukubukuro (福袋) in Japan are, click on an earlier post here. Now, I usually associate these New Year's lucky 'dip' bags with a) mad bartering outside of Shibuya's 109 b) long queues outside of Apple stores as obsessives try and get their hands on a cut-price Mac c) disgusting displays of wealth from department stores offering up some otherwise unwanted item plated in gold and from the person stupid/bored enough to buy it.
So, it came as a nice surprise to see some more 'salt of the earth' fukubukuro in my local supermarket today. Most prominently, 'pot' noodles. They'd also done away with the element of surprise by labelling clearly the contents of each bag (I guess they figured people who can be surprised by a pot noodle must be few and far between - they're probably right).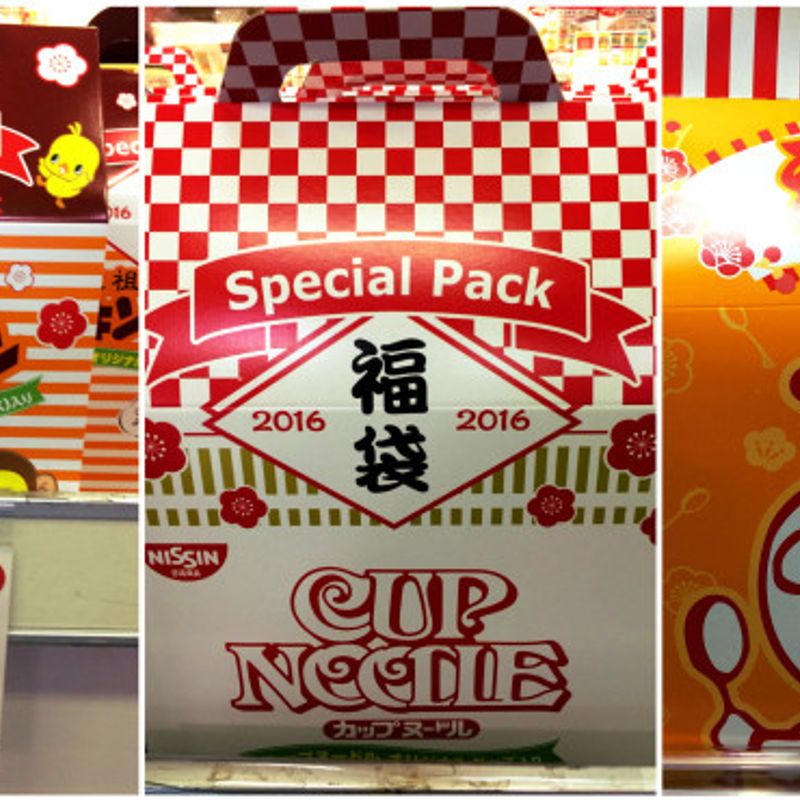 All the New Year's fukubukuro were 1,080 yen (inc. tax). Here's what I spotted (image above)...
日清食品 / NISSIN Shokuhin - チキンラーメン / Chicken Ramen Fukubukuro
Includes a 5 pack of ramen, ramen okonomiyaki, and two chicken ramen themed cup/pot meals.
日清食品 / NISSIN Shokuhin - Cup Noodle Fukubukuro
6 Cup Noodles; Tomyamkun, Milk Seafood, Chili Tomato, Curry, Classic, Seafood
エースコック / Ace Cook Fukubukuro
Pack of 5 wantanmen, 4 cup ramens, 2 soup harusame, and one cup of phở (Vietnam) noodles.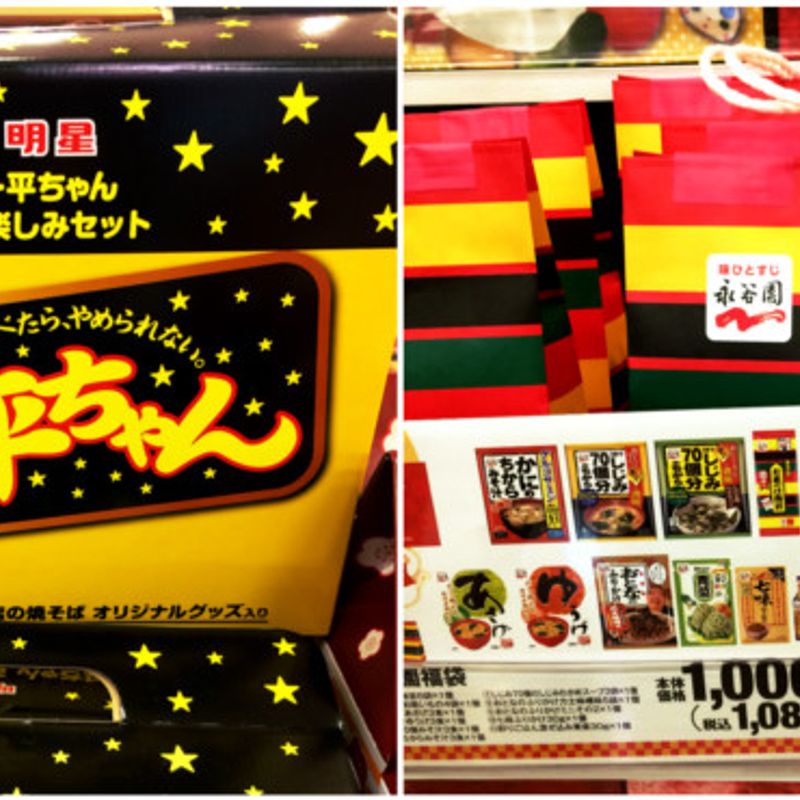 明星食品 / Myojyo Shokuhin (famous for cup yakisoba) Fukubukuro (image above, left)
5 cup yakisoba, 3 cup ramens, and a couple of notebooks (don't ask).
永谷園福袋 / Nagatanien Fukubukuro (image above, right)
11 items; a mixture of miso soups and furikake.
花王 / kao Fukubukuro (no image)
This fukubukuro seems to have done away with excitement and unbridled indulgence, instead going for practicality. Inside, 4 types of washing liquid/fabric softener. Now, I've never been a fan of conspicuous consumerism and shopping as a hobby, but still, we can allow ourselves a little more excitement, can't we?
Now, you'd probably struggle to make a romantic date out taking the partner shopping for vegetable fukubukuro, but still, you can put together a nice (cheap) stew when you get back.
In my local supermarket; 野菜福袋 / Vegetable Fukubukuro (main image) - 777 yen
I spotted a cabbage, a lettuce, one carrot, one mid-size daikon, and a leek. Winning!!
I'd really like to know what, shall we say, 'alternative' fukubukuro you guys have spotted in Japan.
---
4 Comments
I must have read your mind, or yours mine!! I came to post my lucky dip bag post and low and behold!! Thankfully, yours is a different angle to mine, so I think it fits. :-) And I've linked it in mine for consistency. Happy New Year!

@Saitama Thanks. Are you going to be buying one this year? I don't usually get them but I thought I might treat myself this year. I'm thinking about one from Murasaki Sports. Although, is it better to just keep the money and spend it on something I really want? Wow! Big questions!!! Happy New Year, Saitama

@Tomuu Every year I am tempted and every year I somehow manage to resist, must be some of that New Year resolve. I don't think I'll ever enjoy one as much as the first (and only) fukubukuro. Let us know if you get one... and if you squealed!!

@Saitama Just come back from Yokohama. Didn't fare too well to be honest. Some of the queues today were pretty long. The Disney shop, I think wins the prize for the longest (not that I was in it).