Aug 18, 2016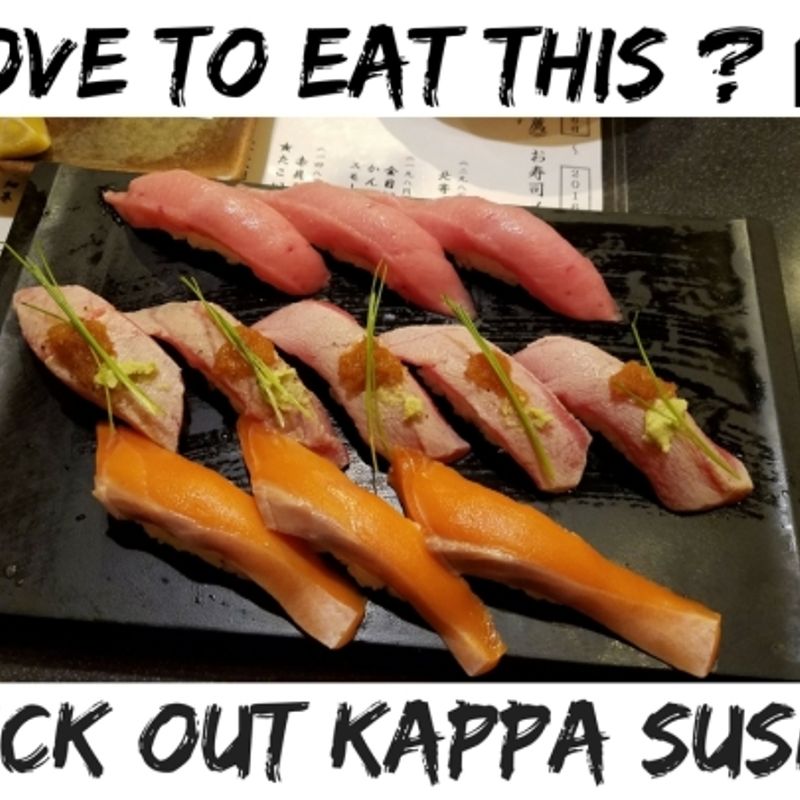 I love sushi! Just want to make that known first and foremost (Lol). With that being said, let me introduce you to Kappa Sushi restaurant. This place is great! Anywhere from 90-500 yen per piece of sushi and other items, you can eat like a king! However, for me personally, I usually eat sushi that are in the 90-120 yen range. So, get a seat at a booth or a counter top and let the sushi train begin! If you have never heard of "kaiten zushi" or better know as "conveyor-belt" sushi, well this is it. There are a few ways you can go about eating here. First, sit and wait for something you like come by, grab it, and eat. Or, you can do what I like to do...order direct to your table. Over every table there is a touchscreen display with pictures of everything you can order. Many kinds of sushi, snacks, drinks, dessert, and even beer. Don't worry if you can read Japanese. There is a button for English too. For example, i like salmon sushi with cheese. So find it in the menu, pick how many you want, and hit "place order". Easy right?! Then sit back and wait, and before you know it the "sushi shinkansen" will arrive with your order. I love riding the shinkansen in Japan so i always get a kick out of this lol. Oh, and remember one thing...the sushi shinkansen can only carry 4 plates at a time. So choose wisely! Also, hot or cold green tea is available for free. There is a hot water spigot already at your table. Just add some green tea powder from the small metal can on the table, some hot water, then enjoy! Once you've eaten to your desire, or wallet allows, just hit the "finished" button and an attendant with come over and laugh about all the sushi you just engorged yourself with...no no, I'm just kidding, but sometimes that's how i feel (Lol). Remember, It's polite to stack all your plates on top of each other and by color. The attendant will count the plates by color and add it all up, put it on your ticket, then just pay at the register at the front & voila! You just ate at Kappa Sushi for the first time!
Below is a link to their webpage showing how many are located throughout Japan...
http://www.kappa-create.co.jp/en/shop.html
Checkout my video below to see what a trip to Kappa Sushi looks like...
---
3 Comments
I love to go kappa sushi. not expensive and taste not that bad :p

@Yuju Me too. For the price it's pretty good. And wont break your wallet ;)