Feb 21, 2018
Ome is a mountain city in rural Tokyo. It is probably best known by Japanese and long-term expats for Mt Mitake, a popular hiking area albeit less traversed than nearby Mt Takao. Indeed Mt Takao and the neighbouring area of Okutama enjoy much more tourism trade than overshadowed Ome, but Ome offers a more off the beaten track mountain sanctuary. It is a good location for the expat family with young children looking to get out and about in the fresh mountain air without necessarily hiking.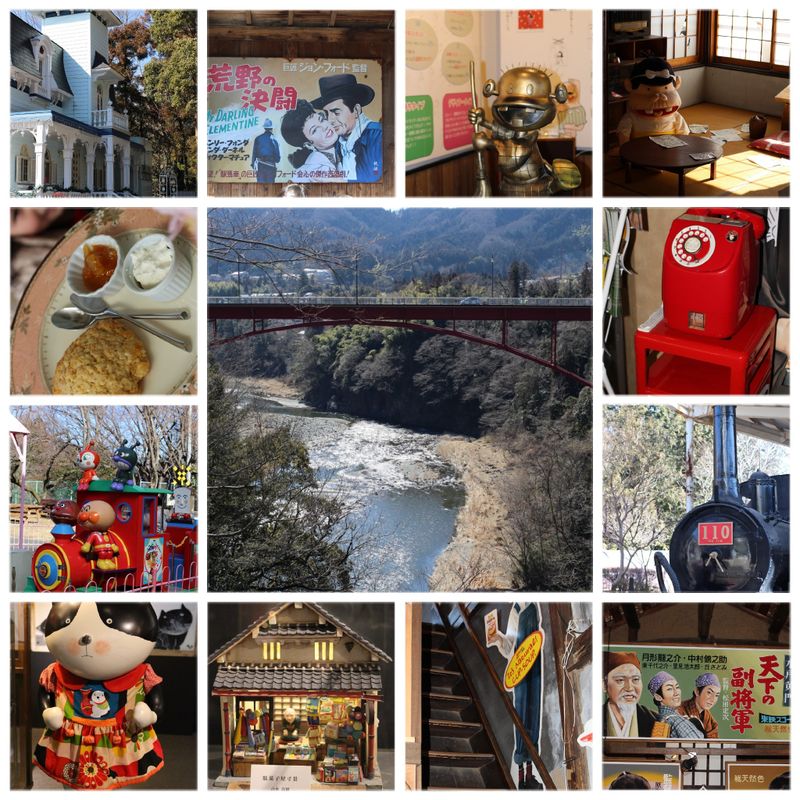 Last week my two youngest kids and I set off for a one-day outdoor adventure in Ome. I wanted to bring them to the Ome Railway Park which I had only heard of the day before we set off. Despite owning numerous tourist books for Tokyo, I had never come across this location. When I knew we would be going to Ome, I did a quick search on the City-cost reviews to find somewhere that we could enjoy lunch. It was there that I found the information for Rose Town Tea Garden and so I found the part of the day that would be my treat to myself, something I rarely indulge in. The tourist books pointed me to the Showa retro town which made up part of our afternoon until we had to leave to get back in time for my older kids getting home from school.
Here is our one day itinerary for Ome, doable by car or public transport:
Ome Railway Park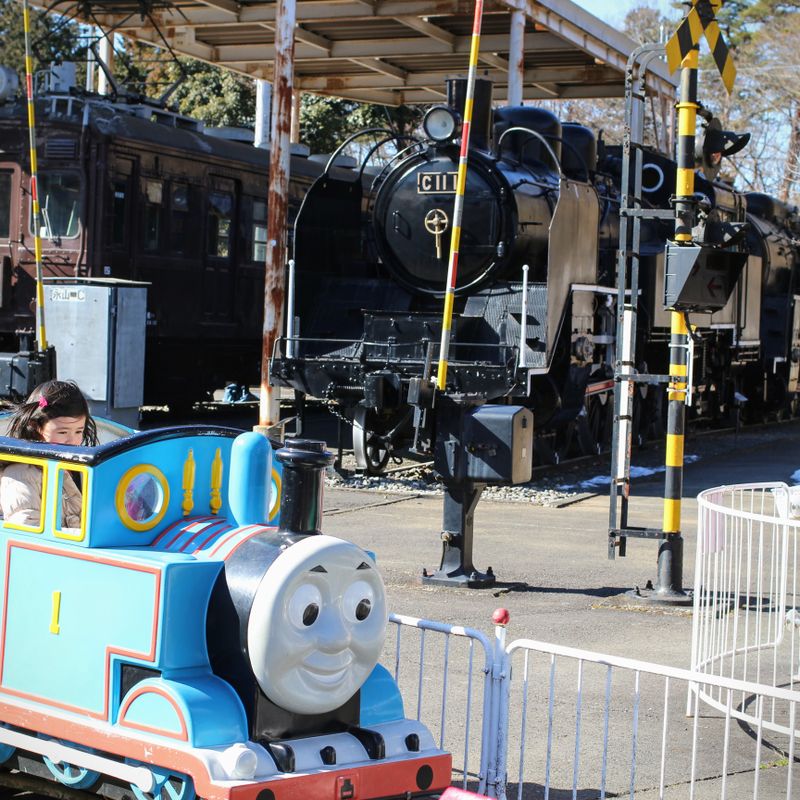 Like a lot of Ome City, Ome Railway Park has a retro feel. It is an outdoor museum cum play area; about a dozen coin operated rides. It has one indoor area; two floors in the only building in the park. In this area they have a model town train show every hour on the half hour. A member of staff narrates the journey of a selection of trains in the large model train town. Toward the end of the show Anpanman and Thomas the Tank Engine trains appear, much to the delight of children. The park is tiered due to the hilly location. As such, I wouldn't advise bringing a buggy or stroller into the park.
Best suited to: children under six and / or train lovers.
My three and five year old really enjoyed the rides in the park, but I don't think my seven or eight year old would have found it engaging enough. The highlight for me was the 110 model steam locomotive from 1871. As a family we enjoyed the large track mini train at the bottom of the park (down a huge flight of stairs).
This railway park gets great reviews from train buffs, who thrill at the collection of historic railway engines and carriages. It was a big hit with my kids due to all the coin operated rides, a lot of which are modes of transport. For example, there are at least three rides that go around a track and there is also an airplane and helicopter ride.
Touring / Play Time: the park is quite small, so about two hours is probably enough time. We were there on a quiet day so there were no queues for any rides, and three of the train exhibitions were closed for a repaint. We were in and out in ninety minutes.
Opening hours: 10 am to 5.30 pm during Spring, Summer and Autumn. In Winter the park closes at 4.30 pm.
Cost: The park itself is quite cheap to enter at just 100 yen, but almost everything else in the park costs money. Most rides are 100 yen each, some are 200 yen. The rides do two laps. You can get change from a change machine right by the entrance to the park.
Website: Ome Railway Park
Language: Japanese only
Access
Address: 〒198-0041 Tōkyō-to, Oume-shi, Katsunuma, 2 Chome−2−155
By Train: Google estimates it as a 12 minute walk from Ome Station (on the Ome Line), but it is quite a hilly walk and with kids I would add another 5 to 7 minutes on to that estimate.
By Car: Approximately 15 minutes from the Ken-o Expressway. Parking is free. The parking lot is located at the crossroads by the cliff front. There is an area outside the museum that people park, but that is an official road and parking is not actually permitted.
Rose Town Tea Garden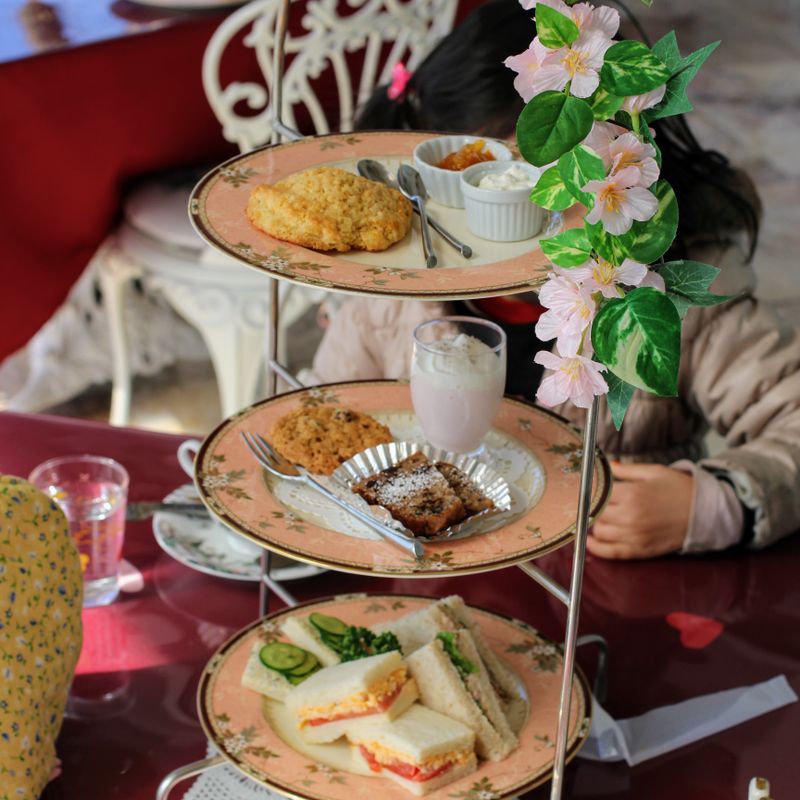 If you do nothing else in Ome, you must visit the Rose Town Tea Garden and treat yourself to a sumptuous Afternoon Tea in a charming Victorian House with a superb view of the Tama river. It is one of the best value Afternoon Teas I have had in Japan. The architecture, décor and moreover the view, add to the overall decadence. Despite being mid February we sat outside where it was surprisingly warm in a sun trap. They provide blankets you can use to keep your legs warm.
I got the set that comes with soup and salad. Everything is fresh and homemade. The afternoon tea comes with fresh sandwiches, desserts and scones of the day and of course a pot of tea. They have a great choice of tea, at least 19 different types. They have other lunch sets, including an Afternoon Tea set for older children. I shared my afternoon tea with my two children. It was no problem to do this. They have smaller sized forks and spoons for younger children. I love that they give them proper glasses, regular porcelain plates, and cups if they are having tea. No plastic in sight. They have a high chair and even some toys beside one of the two pianos inside, augmenting the experience for kids.
Time: We spent a very relaxed and leisurely hour and a half at Rose Town Tea Garden. If I wasn't time conscious we probably would have stayed for another 30 minutes.
Opening hours: Open Tuesday to Saturday from 11 am to 5 pm.
Budget: About 2000 yen. Afternoon tea with soup and salad costs 2,800 yen. Without soup and salad it is just 1,800 yen.
Website: Rose Town Tea Garden
Language: English (main) and Japanese
Access
Address: 〒198-0171 Tōkyō-to, Oume-shi, Futamatao, 1 Chome, 二俣尾1-3-1
By car: 15 minutes drive from Ome Railway Park on route 28. Parking for about six cars.
By train: 5 minutes walk from Hinatawada train station on the Ome Line.
Showa Retro Town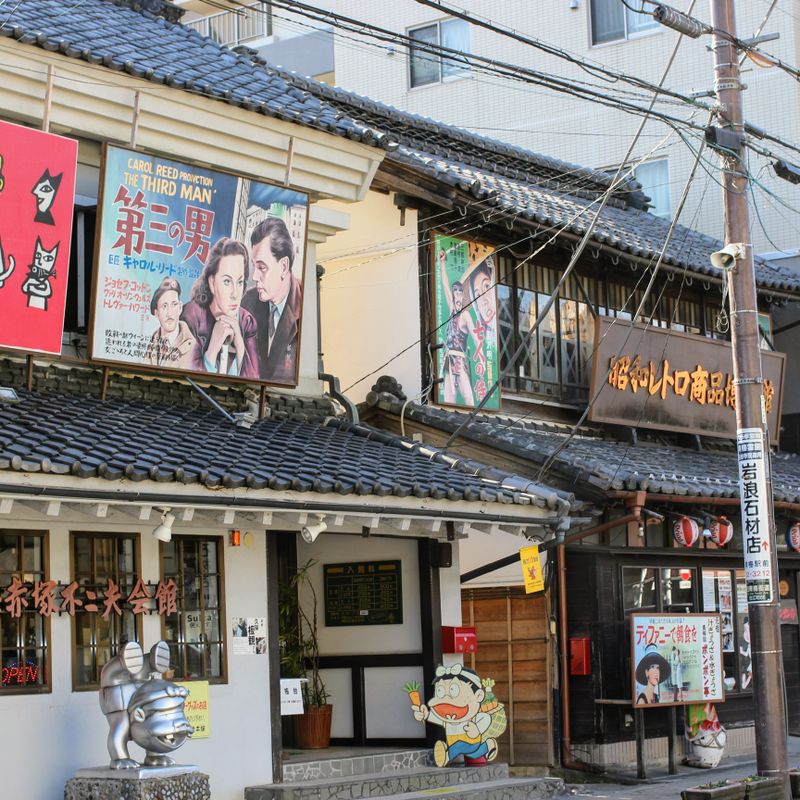 After our delicious Afternoon tea, we made a quick stop in the neighboring "belly button" manju shop, to pick up some of the infamous confectionery. Then it was a straight run to down town where there is a small Showa town. The area centers around 3 art museums and there are some Showa period billboards as well as an old style bus stop and some other paraphernalia on the streets.
The most illustrious of the three museums in the area is probably the Fujio Akatsuka memorial hall. I think most long-term expats at least know of "Tensai Bakavon" and may even have watched some of the anime or seen the manga. The kids quite liked this small museum despite the fact they don't have a lot for kids. The first exhibit has a funhouse mirror which probably set them off on the right foot for touring a museum dedicated to a Japanese artist or comic books and cartoons they don't know. They liked the tatami room on the second floor with a life sized Bakavon, supposedly it is a replica of a famous room where many manga artists created their work. There are some invaluable original works I would have liked to examine more, but, well if you have kids – no explanation needed!
Next door to the Fujio Akatsuka memorial hall is the Showa Goods Retro Museum. It is very small, but full to the brim of Showa period goods. The kids did like looking at the displays, particularly the one with toys, but they were done after just 10 minutes. It would have been great if they had some old toys out for them to play with. The last of the three museums, the Showa Gento kan, was even less engaging and they were done in 5 minutes. It is a showcase of Showa era dioramas with miniature cat people.
Time: depending on the ages of your kids and their interest in anime and / or retro signage and goods or the Showa period you may only need an hour at this location.
Cost: You can buy a pass, Showa wo meguru sankan meguri ken, that allows you enter all three museums. It costs 800 yen for adults and 450 yen for children of elementary school age or older. Children under six years old can enter for free.
Opening hours: All three locations are closed on a Monday and open from 10 am to 5 pm Tuesdays through to Sundays.
Language: Japanese only
Websites:

Fujio Akatsuka Memorial Hall
Showa Retro Goods Museum
Showa Gento-kan
Access
Address: Sumiechō, Oume-shi, Tōkyō-to 198-0084
By car: 8 minute drive from Rose Town Tea Garden. No official parking, but there are two coin parking nearby.
By train: a five minute walk from Ome Station on the Ome Line.
I initially thought to go to Ome, because I thought the famous plum blossoms in the region might be in bloom. An Internet search revealed that, very tragically, three years ago the plum blossoms had to be cut down due to a widespread disease of the trees. Despite not being able to take in some seasonal natural beauty, we really enjoyed our time in Ome. There are other points of interest in the city, some of which you will find on City-cost. There are various parks, as well as an art gallery, period houses and an abundance of renowned restaurants in the area too. I particularly recommend Mt Mitake, especially if you like hiking. If you are looking for a family day out in a scenic mountain location that is off the beaten track Ome may be the place for you!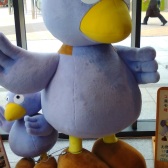 Level 8 LocalGuide with Google. Blogging about life in Japan as an Irish WAHM to 4 kids on insaitama.com.
---
2 Comments
Love this part of Tokyo - it feels so removed from the hustle and bustle which is lovely! Great write up!

@genkidesu thanks a million. It feels more like Saitama to me than Tokyo. You forget, well I do at least, that not all of Tokyo is skyscrapers and bullet trains! I love Mt Takao too, one of my favourite out-of-Tokyo-Tokyo spots! Thanks again for posting about Rose Town Tea Garden, so grateful your review was on C-C or I'd never have known about the gem that it is