May 17, 2017
The easiest way to scapegoat the crowds of Golden Week is to travel the end of April, rather than the cluster of days in May. Showa no Hi, a holiday to celebrate the birthday of Emperor Showa who passed away in 1989, marks the official start of Golden Week annually on April 29th (or April 30th if the 29th falls on a Sunday as in 2018). Due to the nature of my husband's work our holidays always have to be booked last minute. We are rarely able to get a last minute booking for anywhere other than our go to family holiday getaway of Tokinosumika for the May holidays, but we have always been able to get a reservation for pretty much anywhere with only days to spare for Showa no Hi. And that is what we did this year.
For the first time in years we decided to try somewhere different to our favourite family resort in Gotemba. We also decided that it was the right time to introduce our kids to the pleasures of camping, a past time we hadn't enjoyed in over ten years. So on the 24th of April with only five days left to the start of Golden Week I started ringing around campsites in Saitama. We found a place in Nagatoro, Chichibu, which seemed to suit our particular needs. They actually didn't have a tent site left, but they had a log cabin available and we promptly booked it.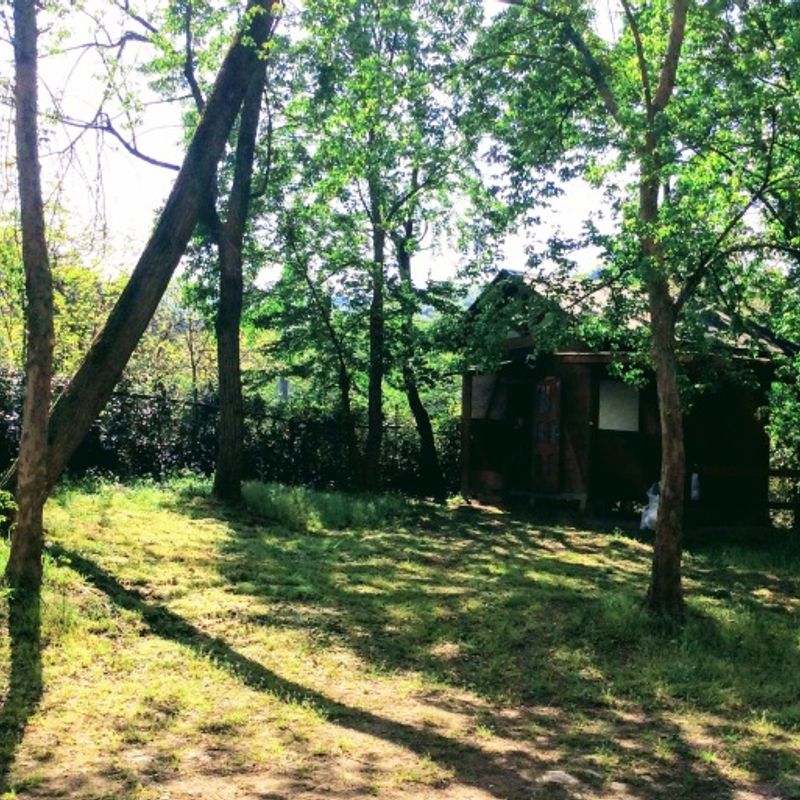 When we arrived at Nagatoro Autocamp we were marked down for a six people cabin that was twice the price of what we had requested. After a to and fro of words, the misunderstanding was resolved and we were directed to the five people cabin we had requested. There are actually six of us, but all my children are under eight years old so a five people cabin is more than enough for this type of holiday. The cabin is literally just a floor, ceiling and four walls; three of which had windows with gaping holes under them! There are no curtains, no furniture, no trimmings of any sort, but it had one light, futons and bed covers. There is a kamado outside the door with seats alongside it and nearby there was an area for washing dishes and prepping food. It was perfect for what we wanted: a camping experience without the hassles of having to bring the camping essentials. The first day was spent hiking in the area and playing in the campsite, which has water play in the Arakawa river as well as a small playground and reading room. There is lots of natural stunning beauty in the Nagatoro area and we had some of it on our doorstep. The neighbouring area is a nature park and you can take a short cut from the camp site to the pathway through the land. The Nagatoro Line Kudari (boat down the Arakawa River) passes right by the campsite and you can watch it from the foot bridge that links the campsite to the far side of the river and subsequently to the quaint Nagatoro Station.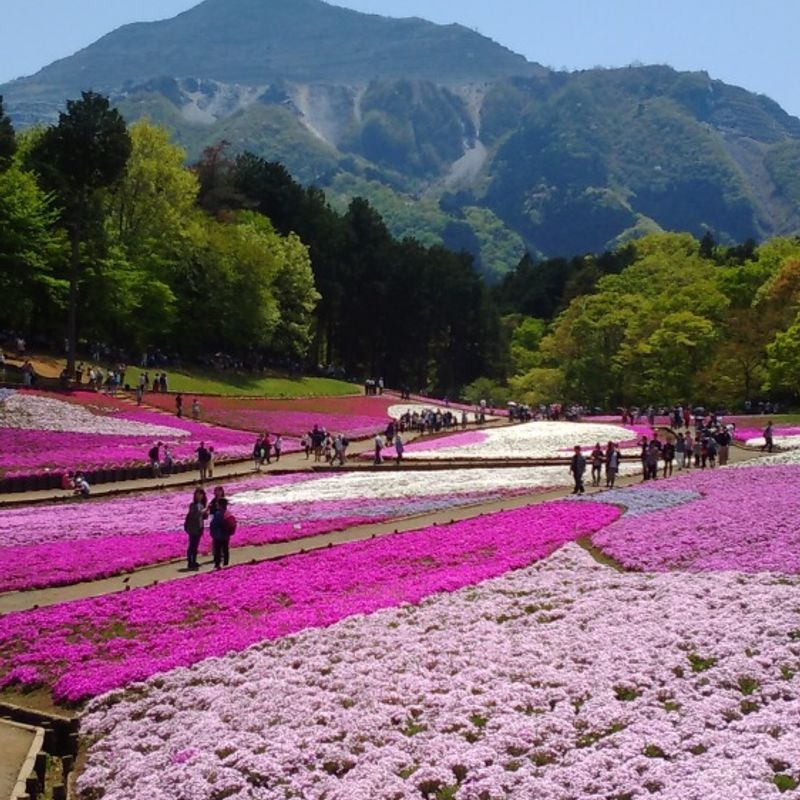 On the second day after enjoying camp life from the early hours to the more reasonable hour of 9 am, we checked out and made our way to the Hitsujiyama park to see the famous Moss Phlox there. I had researched an old hiking trail to get to the park to avoid the crowds that the Moss Phlox festival draws each year. We were also able to park off the beaten track and didn't have to face the hour long queue to get in to and out of the park's overflow car park. The scenery was stunning and the atmosphere electric. They have loads of food stalls for the occasion, but unfortunately they are lacking seats and we had to queue to sit down with our food. The park has a lot for a family to do with a small sheep farm and fantastic athletic playground. After the park we started to make our way home as we wanted to avoid the traffic jams and also because we had plans to stop in Hidaka for hotsprings and also sightseeing.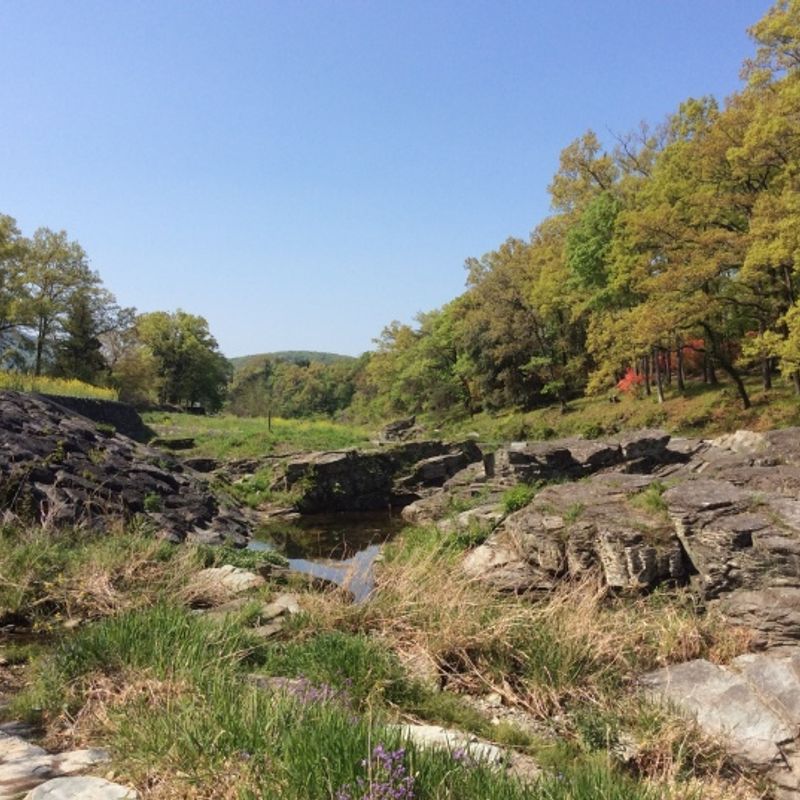 All in all, the kids really enjoyed their first experience of camping cum glamping. Nagatoro Autocamp was a great choice for a first family camp trip, but there are plenty of other camp sites in the area with lots of different accommodation options. We had actually planned to take the Steam Locomotive Paleo Express up to the area, but it didn't work out for us this trip. Regardless, there was plenty of fun things for kids to enjoy and there is still more for them to enjoy in our next family camping trip to Chichibu.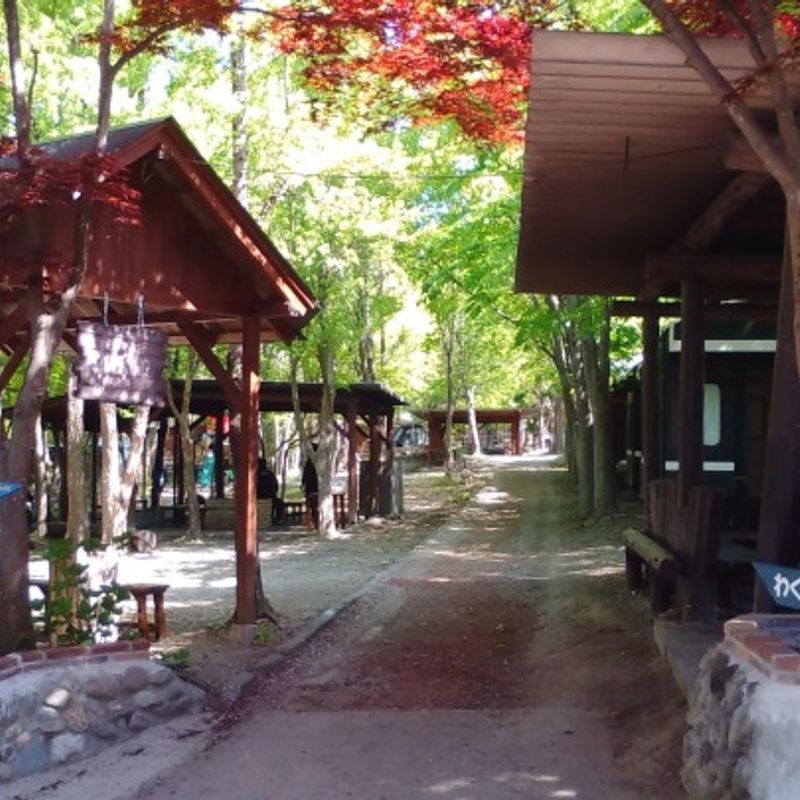 Details

Nagatoro Access
By Train: Nagatoro Station is on the Chichibu Tetsudo and Steam Locomotive Paleo Express lines. It is about 2 hours from central Tokyo. The main connecting stations to get the Chichibu Tetsudo line are Hanyu station on the Tobu Isesaki Line, Yorii station on the Tobu Tojo / JR Hachiko lines and Ohanabatake station on the Seibu Chichibu line and Kumagaya Station on the Joetsu Shinkansen / JR Takasaki lines.The latter, Kumagaya Station, is where you can catch the Steam Locomotive train that goes once a day on the weekends. The Shinkansen from Tokyo takes about 40 minutes to get to Kumagaya Station.
By Car: About 25 minute drive from the Hanazono Interchange on the Kanetsu Expressway.
Nagatoro Autocamp Details
Access: From Nagatoro Station the Nagatoro Autocamp is about a ten minute drive by taxi, but it is almost the same on foot (about 13 minutes) as there is a foot bridge you can use to cut the journey if you are walking.
Phone: 0494-66-0640 between 8.30 am and 5.30 pm
URL: http://www.nagatoro-camp.com/
English Information: http://insaitama.com/family-friendly-nagatoro-autocamp-chichibu/


Hitsujiyama Park Details
Access: Approximately 15 minute walk from Seibu-Chichibu Station, serviced by the Chichibu Tetsudo, Redarrow (Ikebukuro line) and Seibu-Chichibu lines. Approximately 20 minutes walk from Seibu-Chichibu and Chichibu Tetsudo line's Ohanabatake Station. It takes 1 hour and 20 minutes to Ohanabatake station on the Chichibu Tetsudo line. Approximately 25 minute walk from Seibu-chichibu line and redarrow (Ikebukuro) line's Yokoze station. By car; approximately 20 minutes drive from Minano-Yorii Toll Road. Parking is 500 yen per day during peak season.
Phone: 0494-21-2277
URL: chichibuji.gr.jp
English Information: http://insaitama.com/stunning-shibazakura-moss-phlox-at-hitsujiyama-park-chichibu/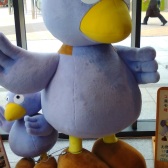 Level 8 LocalGuide with Google. Blogging about life in Japan as an Irish WAHM to 4 kids on insaitama.com.
---