Oct 13, 2017
Guri to Gura to Sumire chan
Sumire with Guri and Gura

Nonezumi no guri to gura wa
Asa okiru to sugu
'Ninjin genki kana'
'Ingen nobita kana' to
Niwa no hatake e ikimashita
Ninjin no happa wa ao ao shite
Daibu komiatte kiteimashita.
Guri wa happa wo mabikimashita.

Field mouse Guri and Gura get up in the morning
To go to a farm for healthy carrot and fine bean
as soon as possible.

Carrots have green leaves, they have come out a lot.
Guri thins out some leaves.

Ingen mo Genki ni nobiteimashita
Gura wa tsuru ga makitsuku yo u
Bou wo tatete yarimashita.

Beans are growing healthy. Gura mends vine and places sticks.

Guri to gura wa, nemoto ni tsuchi wo kabusetari
Mizu wo yattari hito hatarakishite,
saa, bokutachi mo asagohan, harapeko harapeko
to te wo araimashita.

Guri and Gura work to cover root with soil, water them,
Also boys gets hungry, they wash hands and have breakfast.

Asagohan wa ninjin no happa wo tappuri haitta
omuretsu desu.
Guri ga,
U-n oishii. Bokutachi no hatake wa taishita monoda
To iuto gura ga,
Bokutachi rippana ohyaku shouda ne to iimashita.
Soutomo konda wa kabocha wo tsukurou to
Guri ga iimashita.
Un tsukurou. Amai pokupoku no kabocha Gura mo harikirimashita.

For breakafst, they used plenty of carrot leaves to make omelete.
Guri,
mm, tasty. Gura says great thing from boys' field,
we are solid farmers as he says.
Indeed, Guri says he cooks pumpkin from the menu.
Hn, make it. Gura is thrilled to say sweet and crumbly pumpkin.

Gohan ga sumu to sassoku Guri wa
Kabocha no shurui to tsukurikata
Gura wa kabocha ryouri iroiro wo
Hondana kara motte kimashita.

As soon as possible, Guri looked types of pumpkin to cook and
Gura brings book from the shelf how to make various types of pumpkin.


Soshite isshokenmei yonde itatoki, genkan de
Konnichiwa, kabocha desu. Amai pokupoku no
kabocha desu to kawaii koe ga shimashita.

When they are reading together, at the entrance there is
beautiful voice saying 'Hello, here is pumpkin.
Sweet and crumbly pumpkin'.

Guri to Gura ga tonde iku to
Onnanoko ga maruku fukuranda ookina ryukku wo
Shotte tatte imashita.
Atashiwa Sumirechan yo. Zu-tto mukou no
Sumire wa rappa kara kitano.

Guri and Gura jumped and saw
a big Sumire who carried a big and round backpack.
I am Sumire. I came from the other side of the village.

Sumire chan wa ryukku wo oroshite
Hora konna ni ase kaichatta
to hitai wo kosurimashita.

Girl Sumire dropped a backpack
Well, she got sweaty, rubbed her forehead.

Guri wa isoide roppu ni mizu wo kundekimashita.
Gura wa isoide taoru wo mottekimashita.
Aa oishii. Sumire chan wa mizu wo 3bai okawarishite
Arigatou, to taoru kao wo fukimashita.

Guri hurried to pour water into a cup.
Gura hurried to bring a towel.
Aa, delicious. Sumire chan drink water 3 times,
Wiped her face and said Thank you.

Sorekara suwatte ryukku wo ake
Ryoute wo sororisorori naka ni ireruto,
'Yoisho' to kabocha wo dashimashita.
'Hai, omiyage'.

Then she sat, opened her bag
and slowly from inside the bag.
Yoish, took out the pumpkin.
Yes, a gift.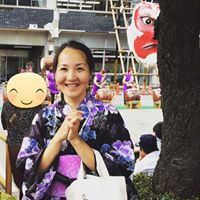 A mother who is interested in taking photos, hiking, and traveling. Favorites are sewing, knitting, sipping coffee. I am very happy to be found city-cost expat community in Japan, to dedicate it to improve writing skill.
---