Oct 19, 2018
Last month, I went to the Tokyo City Keiba Racecourse (if you use Google Maps, typing in Oi Racecourse is just fine) in Shinagawa with some friends to see how Japanese race courses are different and accommodating to foreigners.
I would suggest taking the Tokyo Monorail to the stop. I got on at Hamamatsucho Station. It was a smooth transfer; you didn't have to leave the building at all. You follow the arrows (which are in English), head up the stairs and head like you were going towards Haneda Airport.
From there, you get off after two stops at Oikeibajo-Mae Station. From that station, it's only about a 4-minute walk to the race track. You arrive at the front gate and to get through will cost you just 100 yen.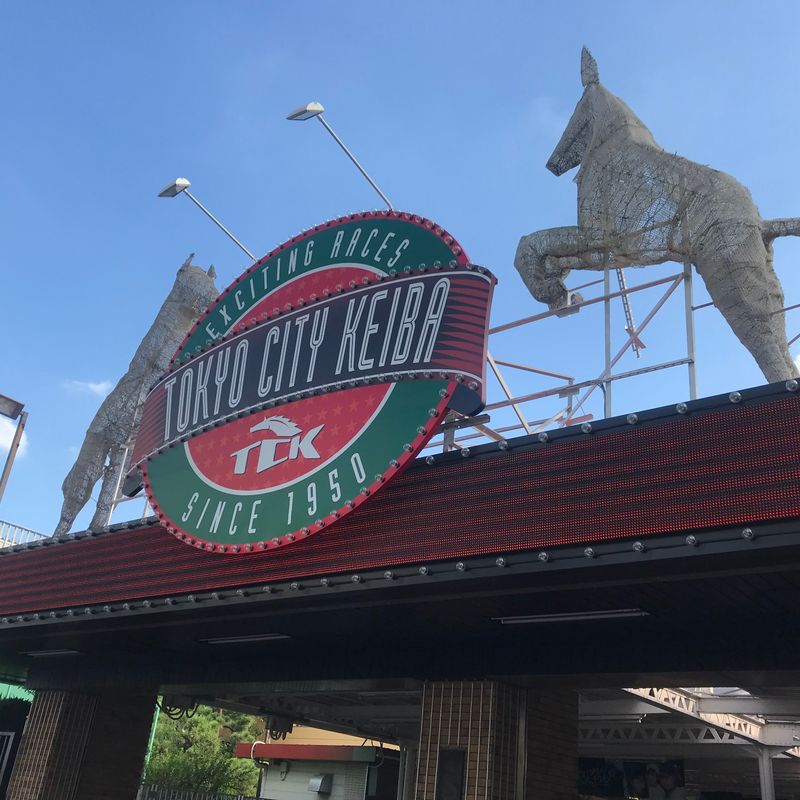 The front entrance
This race track is stunning and clean. In my head, mostly due to the smell that will hit you once you get off the train, I thought it was going to be run down looking, trash and beer everywhere, with a bunch of men playing at the races. This horse race track changed my mind for sure.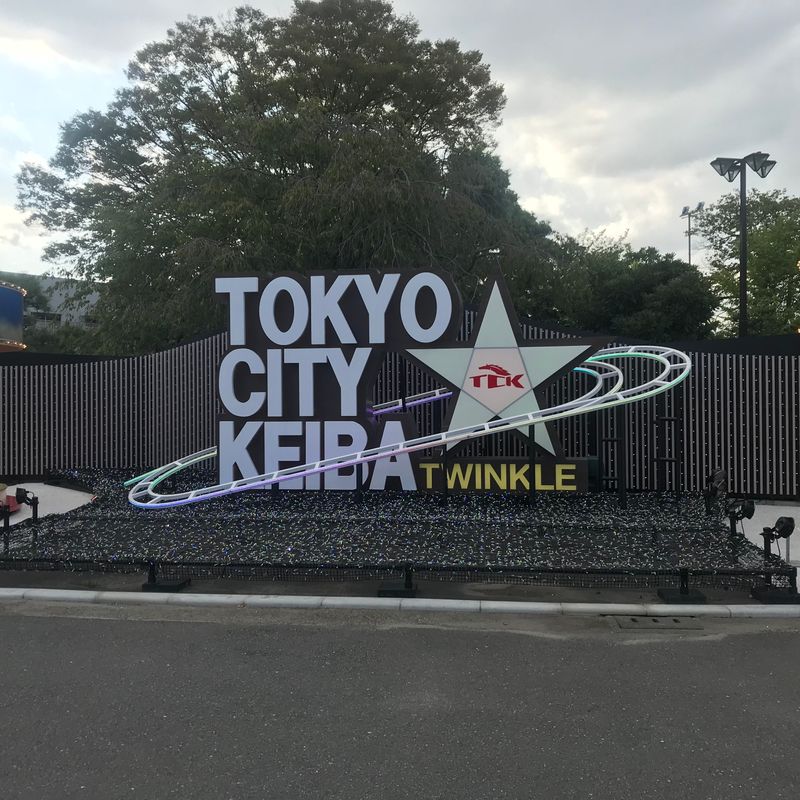 Once you go through the entrance, this display appear after you walk down the path.
You walk into these clean, tall buildings; you have an alley of different vendors for food and drink. I even saw a separate building called the 'Kid's Room,' so you could bring the family, drop the kids off and have some time for you and the misses.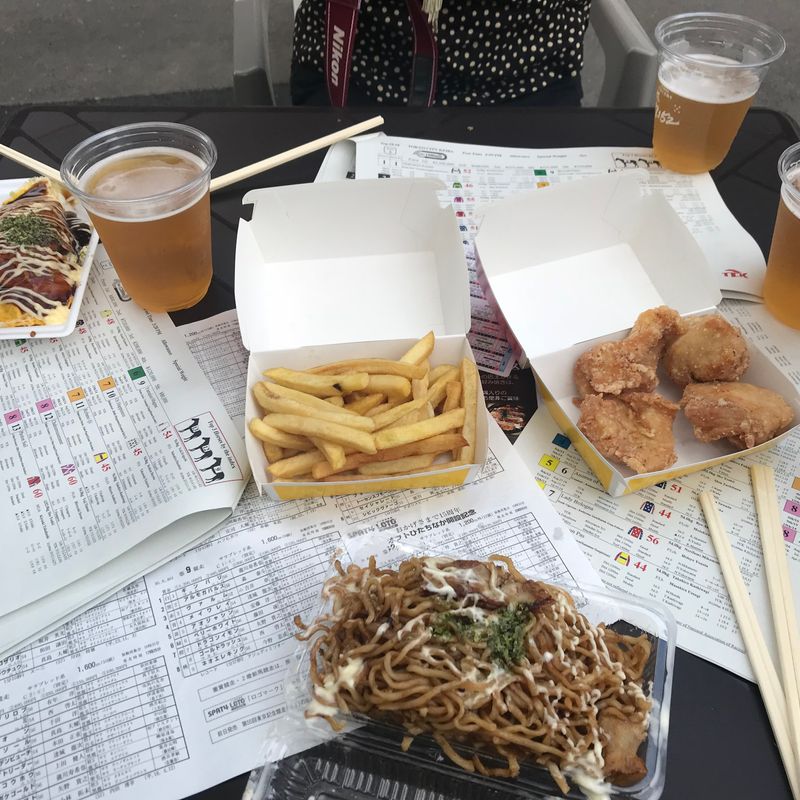 Yakisoba, karaage and fries are just some of the foods offered at the vendors. The racetrack even have their own line of craft beers on site.
I have been to a race track before in New Orleans; made my bets, learned about dirt and turf, the odds and even won, so I had an idea about what to do with my friend. Tokyo City Keiba racecourse is reaching out to so many demographics, the way that they are showing that; it's impressive.
Just before you go in to make your bets, you can watch the horses take laps around this track. They are usually the horses for the next race. It was nice to watch them and see who was tired and who had a lot of energy.
As a native English speaker and someone whose Japanese isn't impressive what so ever, they had pamphlets in English going over how to make your bets and what each term meant.
A little help from your amateur better then -- there are different ways to bet on a horse. When you choose your horse, you can pick them for different categories. Some are Win and Show.
'Win' means your horse will take first place and nothing less. This bet can win you a lot of cash, but it's a lot riskier to take.
'Show' means that your horse can come in first, second or third place. This bet is pretty much what I use because I have a better shot of winning something as little as 170 yen then losing it all in a 'Win' bet.
NB* - 'Place' is not an option that can be selected at Tokyo City Keiba but if there are 7 or fewer horses racing, selecting 'Show' means your horse can 'place' either first or second. You still have a better chance of winning, but you won't win as much as if you had bet it to 'Win.'
The track can give you an English guide on the horses and on the race times. When we were there, there were at least 12 races that went on during the day. The paper that racecourse staff can give you, details the different times of each race. Now, if you want to know the odds of the horse and the ones who are bound to win; sadly, those odds are only on the Japanese version of this paper.
Making a bet is where it gets tricky. You grab a ballot, and it's only in Japanese. I can read easy kanji, but when it comes to the most complicated ones, that's where I get lost. Through my trial and error, let me help make this as easy as possible and make sure you avoid any bumps in the road.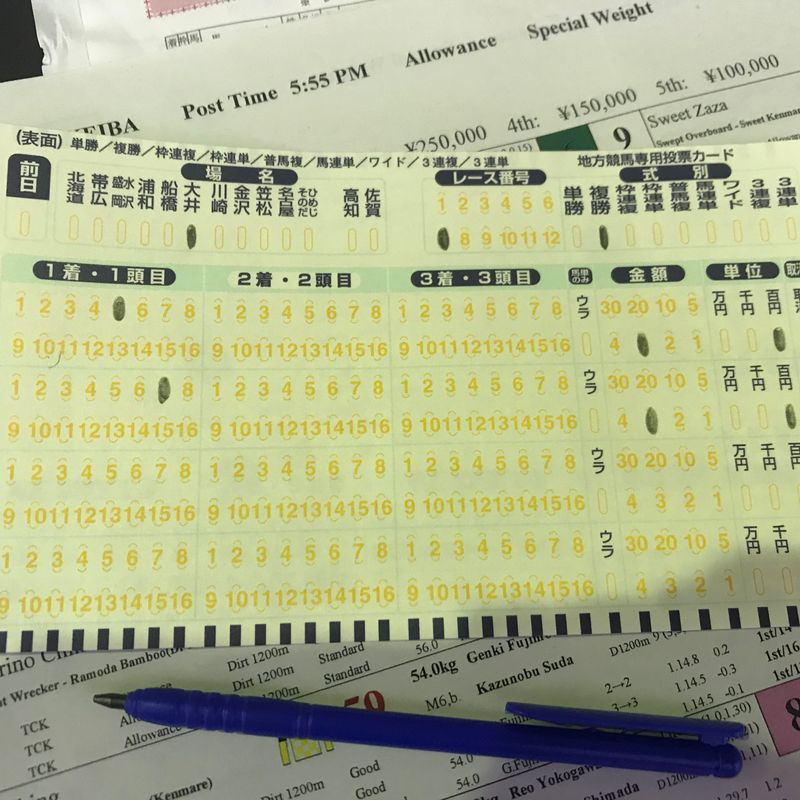 This is what the betting form will look like. They are in stacks by the wall and near the machines.
場名ーPlace Name
Here you want to fill in where it says 大井 for Oi Racecourse.
レース番号- Race Number
Here you fill in what number race it is. This section is relatively easy, due to one race being held after another. On the English guide with all the horses for each race, on top, there will be the Race Number to help you.
式別ーBy Formula/Your Bet Style
This section is where you put either 'Win,' or 'Show.' This section is where I did a lot of refilling out because I would fill things out wrong and then I would have to relearn what to do. On this, there are more than three bets you can make, but those three are the ones I do. If you know horses and racing, go ahead and do yours. Let me tell you which kanji means what.
単勝 (Tanshou) ー A Win (Win/First Place)
複勝 (Fukushou) ー Multiple Wins (Show)
At the time of visiting I did't know that 'Place' was not a betting option. Maybe I should've asked the staff. Though I kept putting my horses on 'Show,' so I wasn't too upset about it.
After you choose your betting style, you then move down and start selecting your horses. Here, you have three columns with four separate sections below each one. At the end is where you bet the money. You can bet 1, 2, 3, 4, 5, 10, 20 or 30. Little odd but only because the section next to the numbers is if you want to bet in the style of 10,000 yen, 1,000 yen or 100 yen.
万円 - 10,000 Yen
千円 - 1,000 Yen
百円 - 100 Yen
After you are done filling out your betting card, head over to the betting machines (where it will be written in English above, so they are easy to spot) and from there, you insert your money first, then your form. The machine will tell you when it's ready to give you your ticket by having a green button light up. Hit that green button, and an official betting ticket will come out.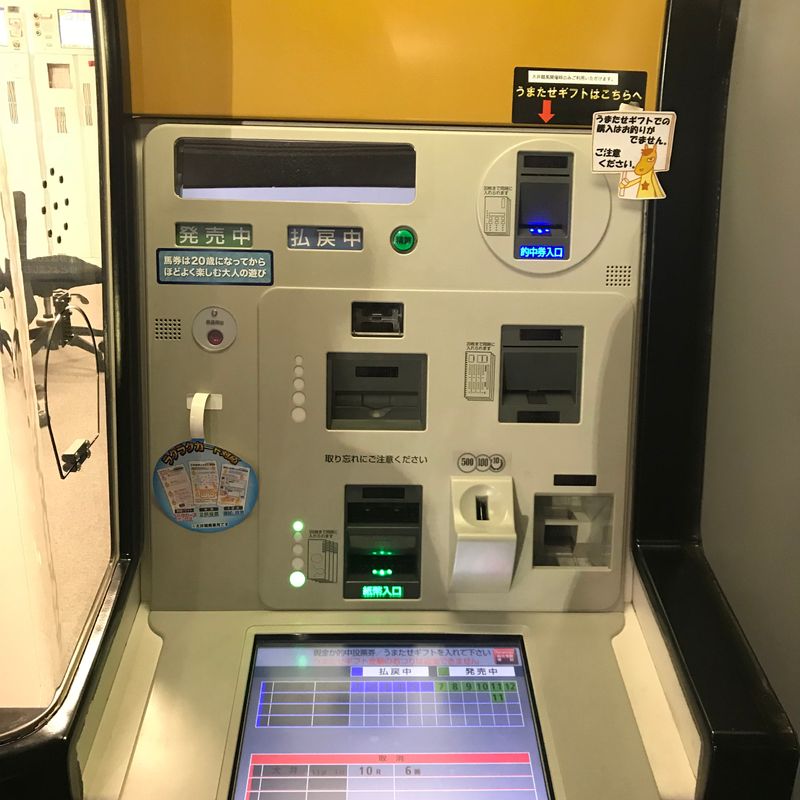 This is the machine you will use to insert your betting form to get an official ticket. Remember: money first then the ticket.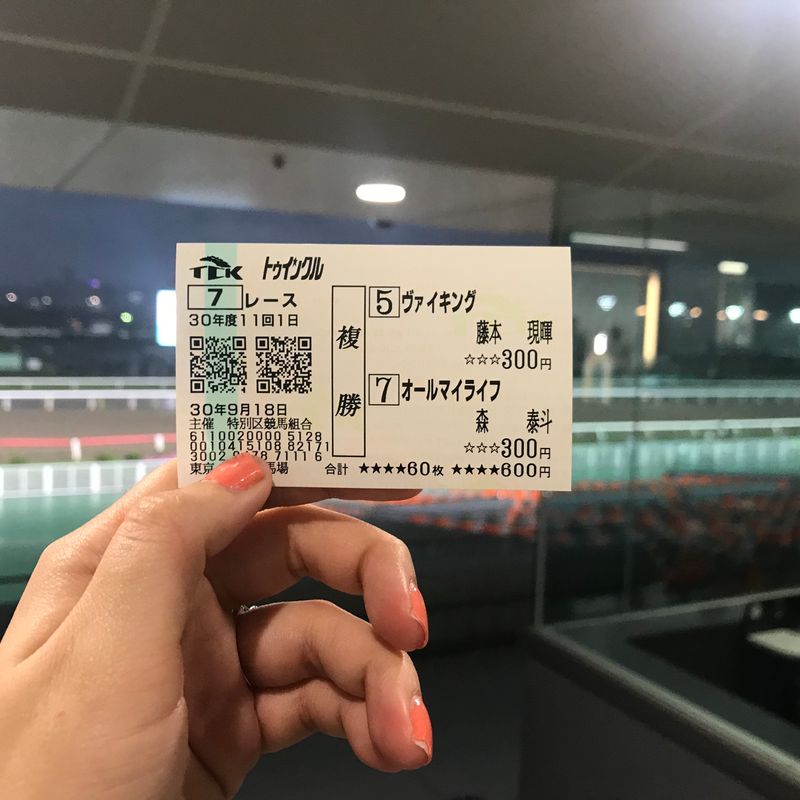 This is what your ticket will look like once your have everything filled out, put your money in and hit the green button. Here I chose "Show" for horses 5 and 7.
Then enjoy the race. After the race is over, and (hopefully) you won, an announcement will be made (with some music) to tell you that you can go and collect your winnings. On the top right of the machine, you can insert your betting ticket, and it will then tell you on the screen how much you earned. Hit that green button once again and out comes your money.
There is a sign above some of the machines instructing you how to make your bet and to collect your winnings. Again, this facility is good at being friendly towards foreigners.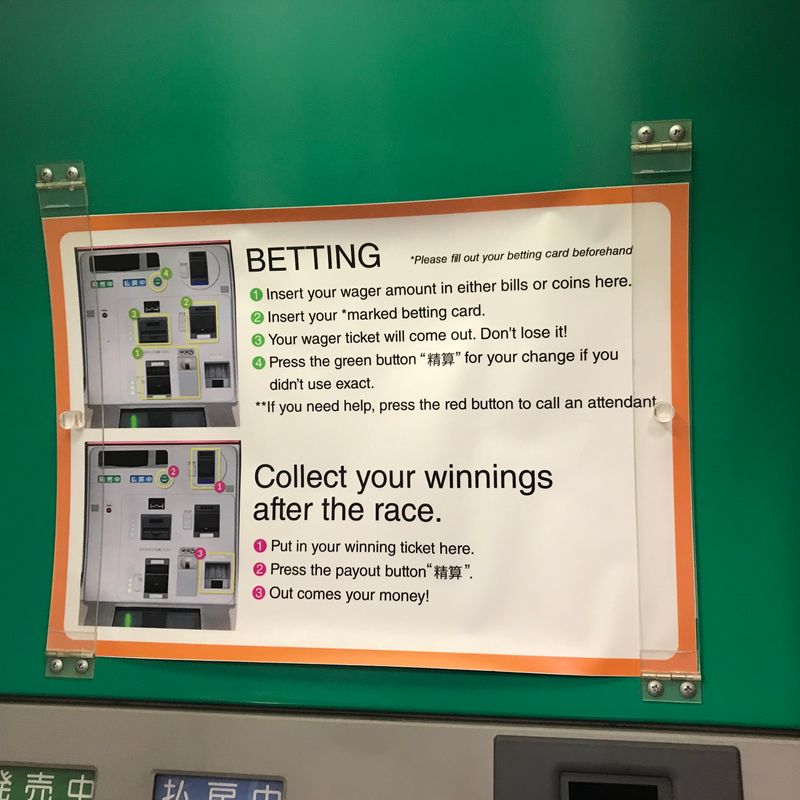 Also, these machines and forms are on each level of the buildings. If you made your bet on the ground floor but decided to move to the second or third floor, don't worry, you don't have to make a trip back downstairs to get your winnings.
Sadly, that day I only won 170 yen. It was a great experience, and I had a blast with my friends. It's something that I want to bring people to, though if someone is sensitive to smell, I would advise not to because the horses do have an overpowering smell. Going to the race tracks once, in your life, it's something you can say you did. Honestly for 100 yen to get in, you can watch horses race without betting at all.
Tokyo City Keiba was a nice place to go. It had great food, drinks and you got to see all the excitement in people while they cheered for their horse. Sometimes, things like this can bring people together.
This post is supported by Tokyo City Keiba, one of City-Cost's Supporters helping City-Cost bloggers to enjoy life in Japan and engage in new experiences.



---