Aug 27, 2016
Yes, this is the best cooler this summer. But mind you, I may be a little biased about this, but as you read on, you will see why I think this way. And may I add, this is not an ordinary shaved ice. This is a bowl of concoction that can surely cool you down and give you that truly refreshing feeling now that the weather is hot.

This is Halo-Halo, a popular dessert / refreshment snack that has been around for so many years in the Philippines and is now available in some Filipino restaurants in many different countries like Japan. Halo-halo has been a popular cooler in the Philippines since time I remember, usually during summer, but it has evolved into a well-loved dessert or oftentimes a refreshment snack available to all Filipinos from all walks of life almost all-year round from the small cafeteria or eateries in the street corners to high-end restaurants and dining shops in various places across the country. Halo-halo (pronounced as hah-lo' hah-lo') which literally means "mixed", is a bowl or a tall glass of shaved ice that comes with portions of yummy native ingredients. Fruits and sweet treats tossed in one glass or bowl, with shaved ice, topped with ice cream, a scoop or two, and with lavish sprinkle of evaporated milk…Imagine all that, Uhm, what can you say?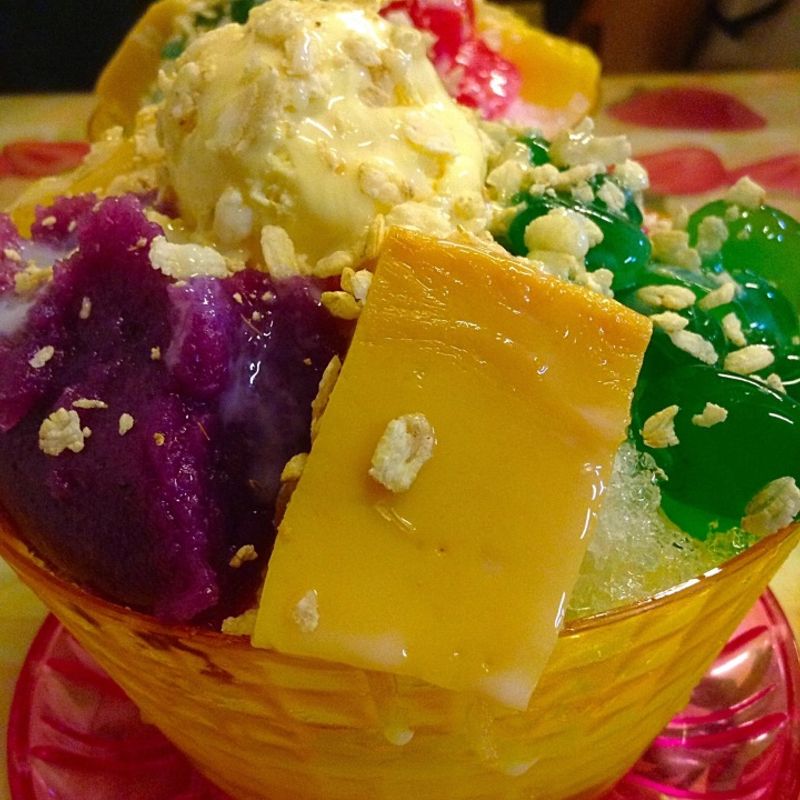 Well, what do you think about this bowl?

Halo-halo evokes fond childhood memories, when I, along with other children in the neighborhood, would run across the unpaved road in our village, scratching my head under the sweltering heat of summer sun, towards the small space along the street, where a wooden bench and a small table were set up, to buy a glass of halo halo from an auntie. You would know that someone was selling halo-halo in the street corner because the ingredients, usually in clear canisters, were neatly and carefully arranged on the table. Back then (oh until now) we call everyone older than us auntie or ate (atche in my own dialect) even though we are not related to each other by blood. There, with all the child`s wonder, innocence and excitement, I would order a glass of halo-halo and eagerly watch the auntie put the ingredients onto my glass one by one, first the sweetened saba (a local variant of banana), then the sweet potato and so on and so forth including the well-loved ingredient when I was a kid, the sakobi (small rounded chunky - munchy gel usually in red color). That time, I think it would be kind of special when you would have other ingredients like purple yam and the pinipig (pounded immature rice grains). After putting all the ingredients, she would manually shave ice from an ice block with all her might, place the shaved ice onto the same glass, on top of the ingredients and then pour on some coconut water and then the most important ingredient: evaporated milk. I think those were the times then when I often secretly wished that the auntie would pour an extra amount of milk onto my glass. ehe. I would then pay the auntie seven pesos (P7.00) for my glass of halo-halo (that is, if my perforated memory serves me right about the price). Seven pesos is approximately 15¥. My childhood memory is like that, enjoying this summer delight at an affordable amount!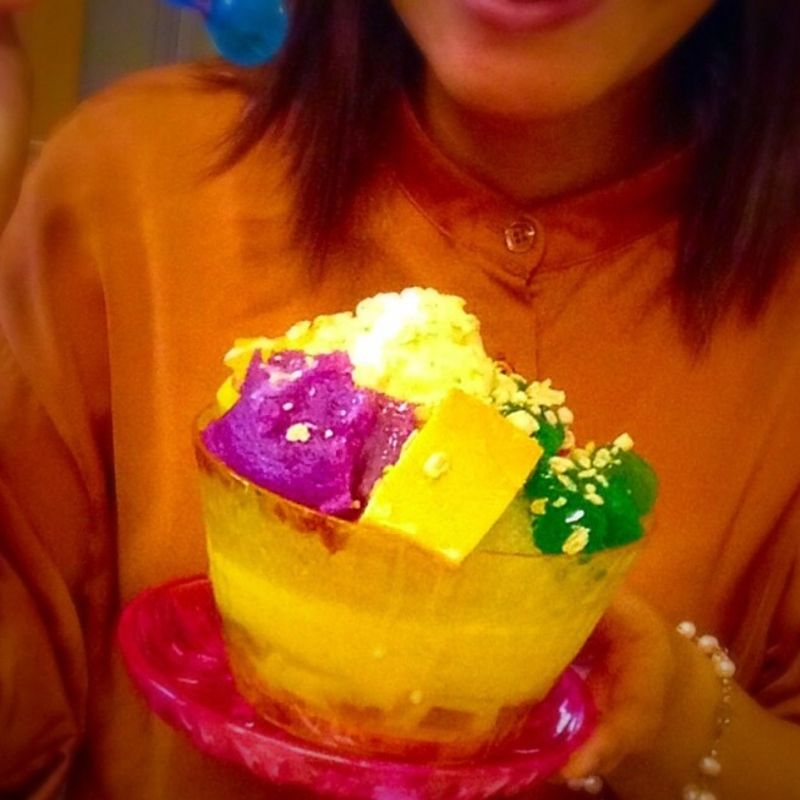 This is me holding my bowl of halo-halo. Can you get a glimpse of that smile on my lips?
Perhaps my fondness for halo-halo is intertwined with sweet memories when I was a child that it has grown to be one of my faves. This is why I think I maintain some prejudice when it comes to summer coolers wherever I go. I have tasted shaved ice here in Japan and other summer concoctions but nothing comes close to the taste of halo-halo, in my own opinion. In Singapore, there is this called bo-bo chacha, a shaved ice dessert that is closely similar to halo halo except of course for some local ingredients and the main ingredient used. Halo-halo's main ingredient is evaporated milk; while Singapore's bo-bo chacha uses fresh coconut milk extract, giving the cooler a more distinct creamy and yummy taste than halo-halo. Likewise, Malacca's ice cendol tastes really nice, and it is a very famous ice cooler in the said part of Malaysia, but because halo-halo is close to my heart, I would say that I love halo-halo more than Bo-Bo chacha and ice cendol. Now you see, I am very biased.
When I heard that a Filipino Restaurant near my place here in Japan is serving this Filipino specialty, I was so delighted! Along with my colleagues, two Japanese and one Brazilian, I went to the restaurant where we feasted on some Filipino dishes called caldereta and sinigang. Then we ordered halo-halo for our dessert! We have assumed that each of us could not finish one bowl, because it looks big on the photo. So what we did was we ordered only 2 bowls for sharing - and yes we had enough, and actually, even more than enough! One bowl is big for someone who eats moderately (surprisingly, I am a moderate eater...oops, am I? ehe). A bowl of halo-halo served at that restaurant where we dined can be shared by 2 to 3 people :-) This time I have affirmation for my personal taste because my colleagues liked the halo-halo, too! It's oishi katta desu!

Halo-halo is served in many different ways in the Philippines with prices ranging from P20.00 (approximately 50¥) to --- well, I could not actually tell the price for an order of halo-halo at an upscale restaurant. The most expensive halo-halo I have tried so far in a good restaurant cost around P200.00 more or less, but then again, I don't rely much on my 'photographic' memory for the price accuracy. But one thing is for sure: the higher the price, the more ingredients that a bowl or a glass of halo-halo contains; and the more ingredients and the more special the ingredients become, the higher the price of an order of halo-halo becomes. Oh just now I remember having halo-halo (create your own) over some buffets in some nice hotels. But I could not exactly remember the details, please forgive me for my poor memory :-(
Usually, a regular glass or a bowl of halo-halo contains the following ingredients:
* sweet beans
*coconut gel
*palm nut
*boiled sweet potato
*boiled saba (a local variant of banana; not the usual banana that we know)
*young coconut shreds/meat (but if you want it more special, you can use macapuno, a a special coconut variant)
*sakobi (this is how we call it in Tagalog) but I think most people now don't use it for halo-halo anymore, so I say this one is optional
To make the halo-halo special, you can add these ingredients. Take note that the following are optional YET CAN MAKE THE HALO-HALO REALLY SPECIAL AND MORE DELICIOUS:
*pinipig (pounded immature rice grains)
*ube or the purple yam
*leche flan (a delicious sweet dessert in the Philippines which is like a caramel pudding)
*ice cream (preferably ube flavor or vanilla)
*fruits, usually jackfruit, fresh or sweetened (not all people like the taste of jackfruit so I say this one is optional)
And please don't forget the shaved ice and the evaporated milk. These are the two main ingredients :-)
So what are you waiting for? Go to the nearest Filipino restaurant in your area and ask if they serve halo-halo or you can make your own version using the ingredients listed above. If you have questions about how to make it, you can leave your message here and I will try to answer in the best way that I can :-)
---