Aug 18, 2016
It was in autumn last year when I made my first visit to Japan. I came as a first time solo backpacker in the suburbs of Kansai Region, exploring the quaint and charming streets of Nara, Kyoto, Osaka, Himeji and Okayama. Being a first time tourist here, I got lost several times, figuratively and literally speaking. It was a week's travel, I think long enough for a first time solo traveler, but I felt the days have passed by so quickly that I said to myself "I want to come back, hopefully in springtime when the Sakura Trees are in full bloom."
My second visit came fast and unexpected though. This time I am here not as a tourist but as a trainee and definitely not on a springtime as I had always hoped for. Rather, it is in summer when the searing hot sun is likely to burn my brown skin. Well, I must confess I really do not like summer (that much) or if I were to choose among all seasons, summer will come as my least choice. Perhaps, I feel I have enough of hot weather in my country or maybe because beaches and sands on hot days are not just my thing. Either way, I'm not sure. All I am certain is that summer doesn't sound so appealing to me. Like a child, I have always fancied springtime, winter and autumn - the ones I never get to enjoy in my beloved tropical country. But right now I am here in Japan this summer. As my host representative warned me before my arrival here: summer in Japan is really hot. And I am saying now: yes, indeed.
The first time I and my co-trainee met with our host representatives in Tokyo in May, they told us that they were giving us straight two weeks summer vacation this August. Hooray, isn't it? So we (my co-trainee and I) roughly planned some itineraries and Mt. Fuji came first in the list. Alas, our vacation is about to end in a few days and not a hint or sight of Mt. Fuji has even been seen. Good thing however is that even before our official summer break, we started our summer getaways earlier on, during weekends. As of this time, thankful to have visited a couple of nice places, mostly in and around my prefecture, Aichi. There's a lot of them, but here on this blogpost I'd like to give particular highlight to two places I had liked the most -so far - this summer: the two beautiful parks in a nearby prefecture, the home to Mt. Fuji: Shizuoka-ken. I guess this summer, this is the closest we can get to Mt. Fuji, ehe.
1. Hamamatsu Flower Garden
This is a European-inspired garden, about 30,000 square meters in size and a home to a hundred thousand plants and flowers like lavenders, lotus and roses and many other varieties, depending on the season. Here, you can go around the park by train ride for only a hundred yen! I was impressed by the greenery and the beautiful landscape. The wide lawn and the beautifully trimmed plants and trees made me remember a childhood favorite movie Edward Scissorhands! Maybe Edward is outthere as the head gardener :-)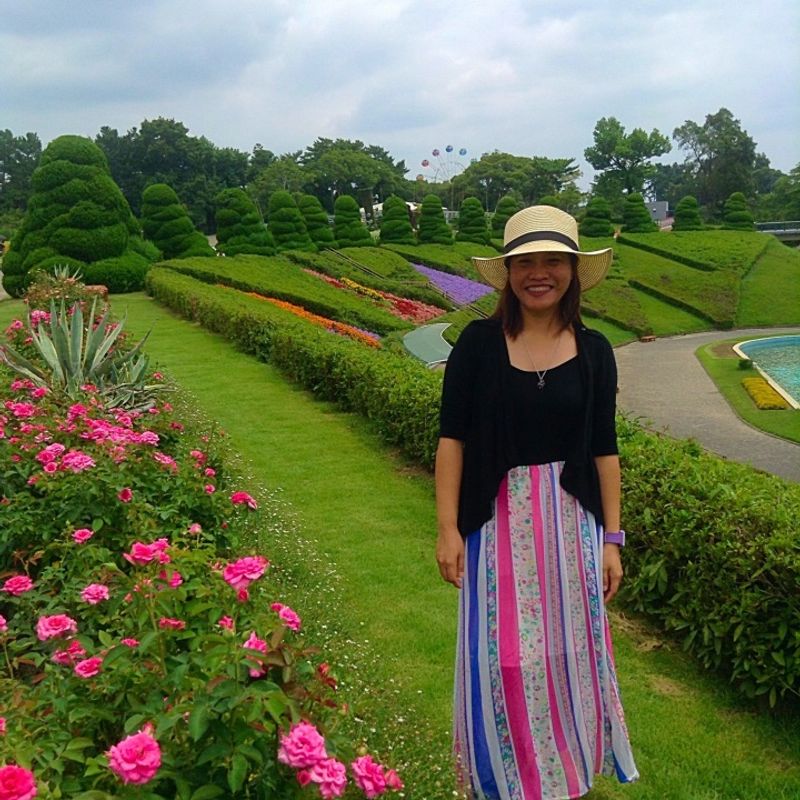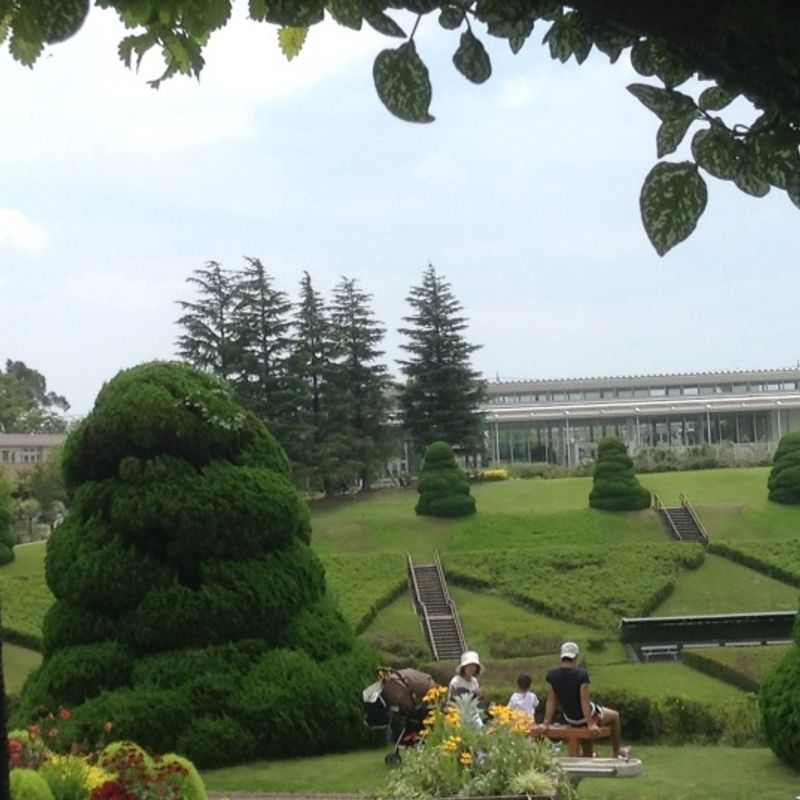 Just a portion of the park's beautiful landscape!
I read that there is a musical fountain show in the park which starts at 5pm but haven't seen it for we have left the place early.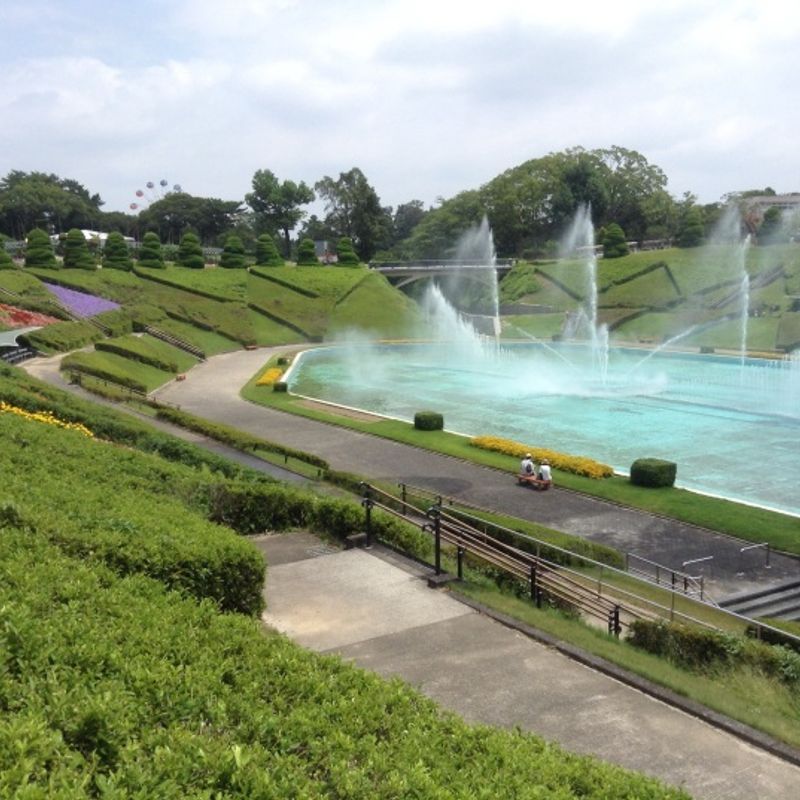 The area where a musical fountain show is held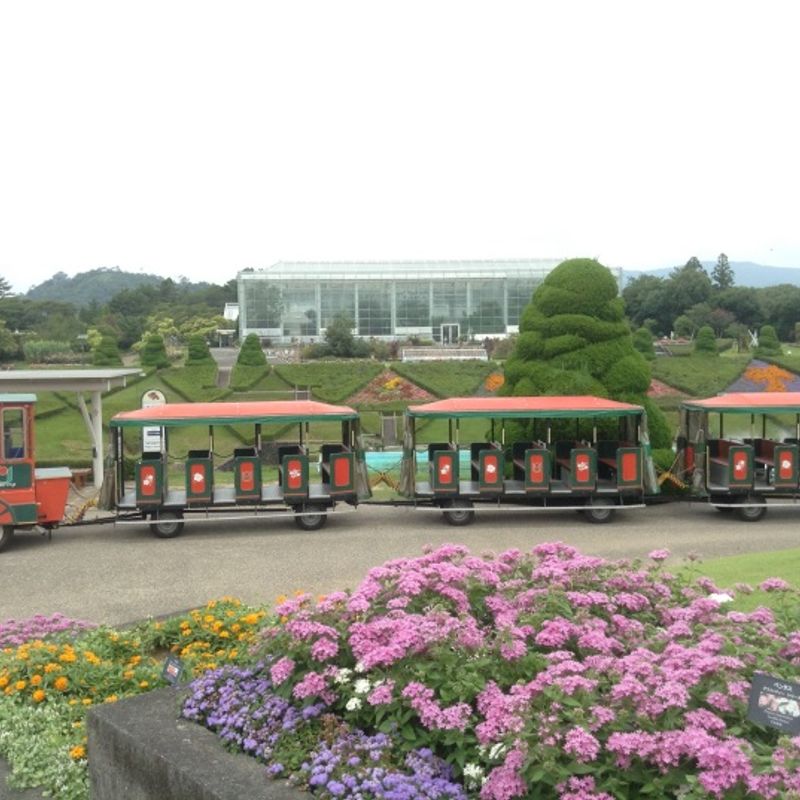 Train ride for only a hundred yen!!!

One of the best things about this place is the free entrance. Not only that, they also provide free use of umbrella, baby cars and wheelchairs for those who will need. I give my thumbs up to this park.
2. Hamanako Garden Park

If you visit the Hamamatsu Flower Garden, you wouldn't surely want to miss the chance to go to another park nearby, just a few minutes ride by car.
The Hamanako Garden Park is another beautiful park in Shizuoka Prefecture. It is really an ideal place for walking around, biking, family fun and picnic without shelling out money for entrance fees!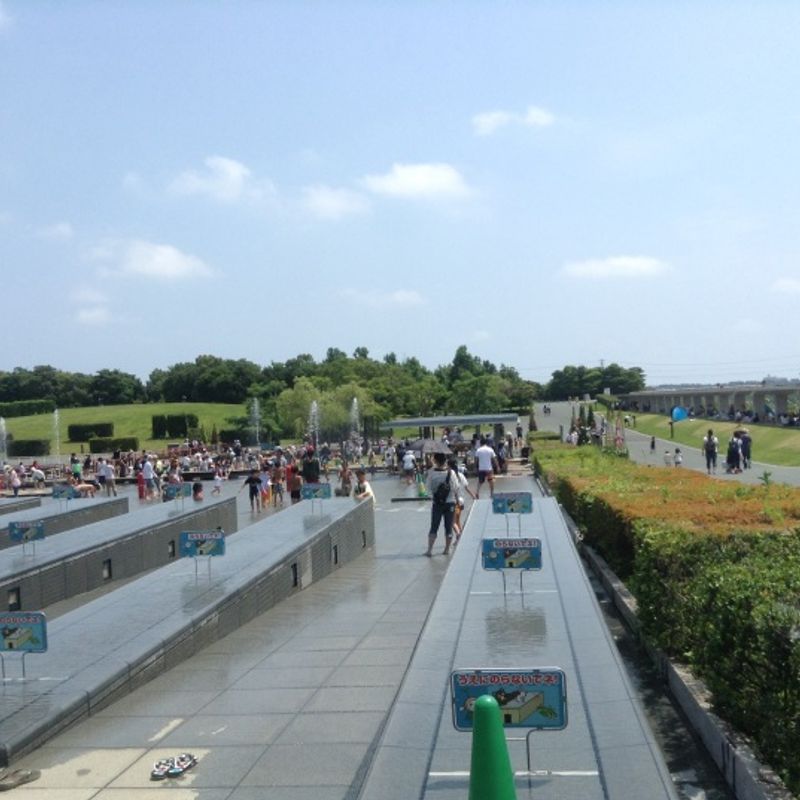 At the entrance of the park where kids enjoy the water under the hot sun!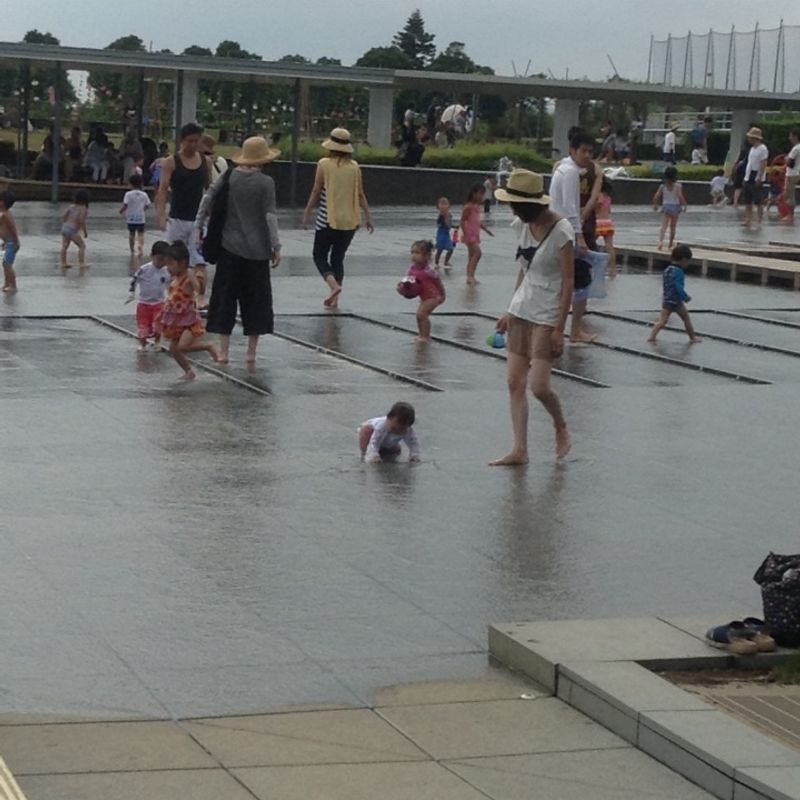 The Hamanako Garden Park just like the Hamamatsu Flower Park is a home to many flowers and plants. Here you can enjoy many things like the view from the sky tower deck (for a certain amount, however), garden cruise (If I remember it right 600yen per pax?), biking and a lot more. Lots of flowers are grown in the park depending on the season. And since its the season of sun, we got to see the sunflower field which by the way I sooo liked! It reminded me of the wild sun flowers in an open space next to my apartment during my college days.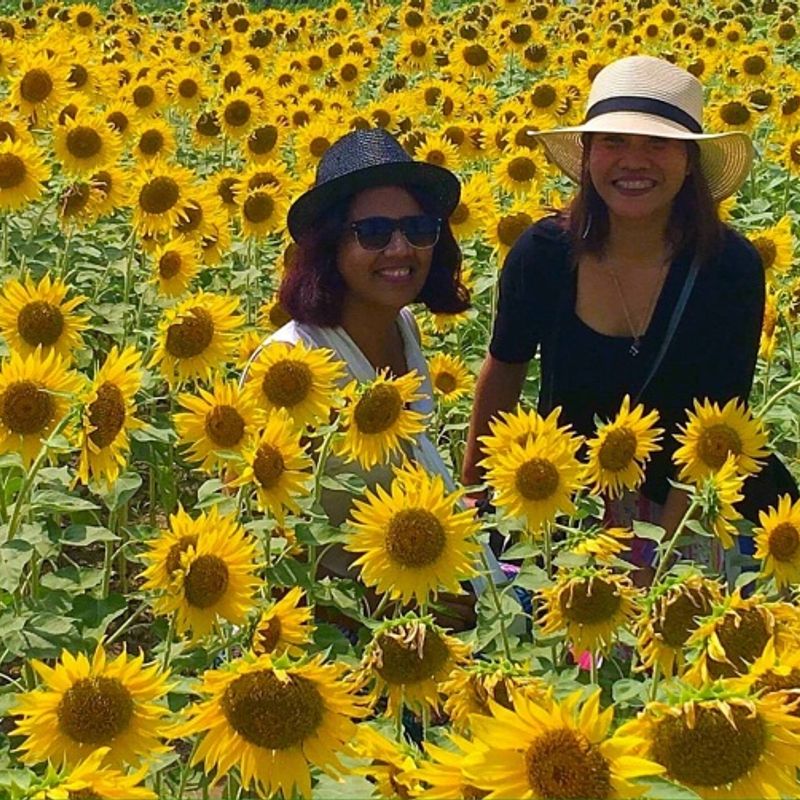 My co-trainee and I at the sunflower field. Lovely isn't it? I mean the sunflowers haha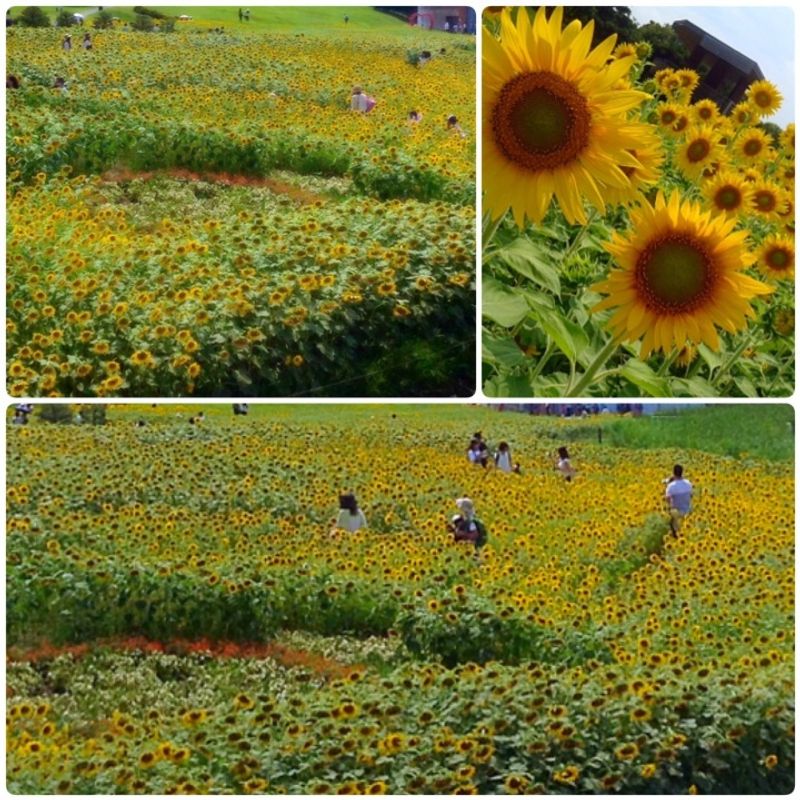 The sunflower field at a distance.I think most of the sunflowers start to wither when we came but they are beautiful even so.
I am seeing a number of online posts by friends here in Japan and I was like kind of overwhelmed to realize that there are indeed lots of places worth a visit this summer - many of them I have not gone to - yet - ranging from mountains, rivers, waterfalls, and many others! I hope I can visit them even when summer ends. Our summer break is nearly coming to an end and in a few days, we are going back to our usual work and training (me at the city hall and my co-trainee in school). And I must say that so far I'm thankful for the opportunity to enjoy summer here in Japan and I hope to make the best of the remaining days of summer until it gives way to another season. Cheers!

---
4 Comments
Those sunflower fields look really nice. They kind of remind me a little of home.

Yes they are really really nice! I was so delighted to see the fields. They also reminded me of my college days! @DaveJpn

If you're around in winter you'll have a better chance to see Mt. Fuji, although it certainly likes to hide. I agree with you about summer. My least favorite time of year (and I come from a country where we might not have a hot summer), but these gardens look like a good place to feel a bit fresher. Actually, I hear the summers in Aichi, or Nagoya at least, are super humid. Enjoyed your post.

@SalarymanJim Thank you for reading and for your comments. Very nice of you. Unfortunately, I won't anymore be here in winter but I hope I will be able to see Mt. Fuji (not necessarily climb) before I return home. Yes, you are right,very humid now in my place.