Sep 20, 2017
When you've had enough of the bright, bustling city of Tokyo, why don't you go take things slow and head to the other side of Japan? And where else can you experience that peace, quiet and a more cultural side? Well, one of the best places would be in Kyoto, which happens to be a name you get when you interchange the two syllables of Tokyo, how amazing is that?
Kyoto is most popular for it's Shinto shrines, temples and historical places that the Japanese people surprisingly preserved over the years, and eventually which became tourist attractions for both Japanese and foreigners to enjoy today.
I really love historical places and temples, because they give you that feeling of being transported back in time, it's like seeing and imagining how people back then lived, and how truly creative they were, building such amazing looking temples and shrines without the need for any of the equipment that is used today.
I want to share my "Top three sights to visit in Kyoto". For me, I'd like to recommend going there in the Autumn season when it is perfect to see the koyou (紅葉) or the seasonal turning of leaves into red color, which is really beautiful, especially around the temples and shrines.
1.Kiyomizudera Temple
Kiyomizudera is a huge temple made mainly out of wood. When we went there, some parts of the temple were covered because it was under renovation.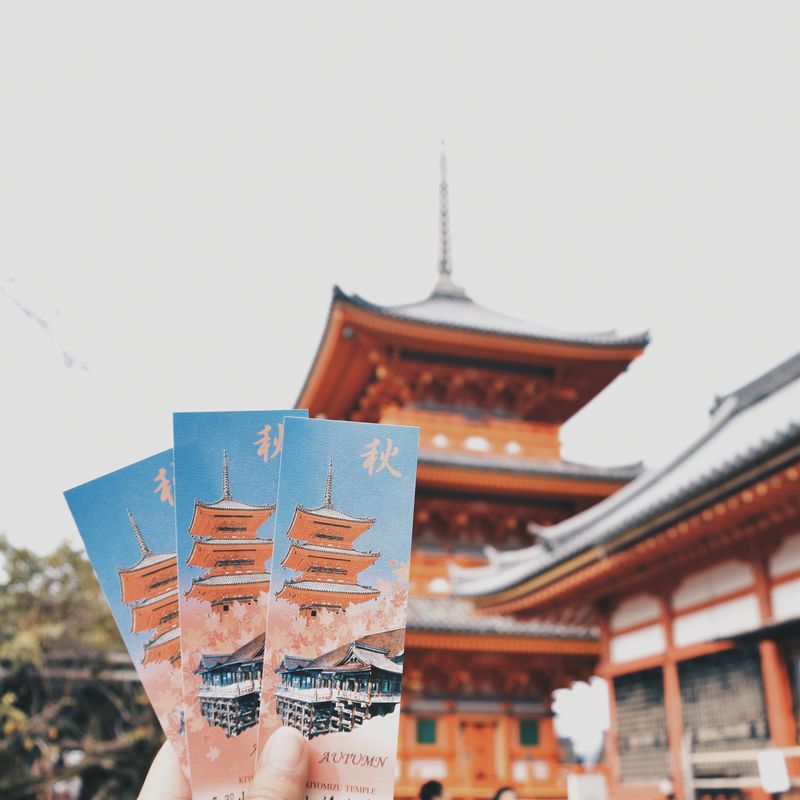 There is an entrance fee before you enter the main wooden stage of the temple. This ticket costs 400 yen.
But before that, I had the opportunity to take a look around and have my picture taken just before the entrance of the wooden stage (since there was a lot of people around, might as well take things slow and appreciate the momiji (autumn colours), like the one at my back, which is very beautiful!).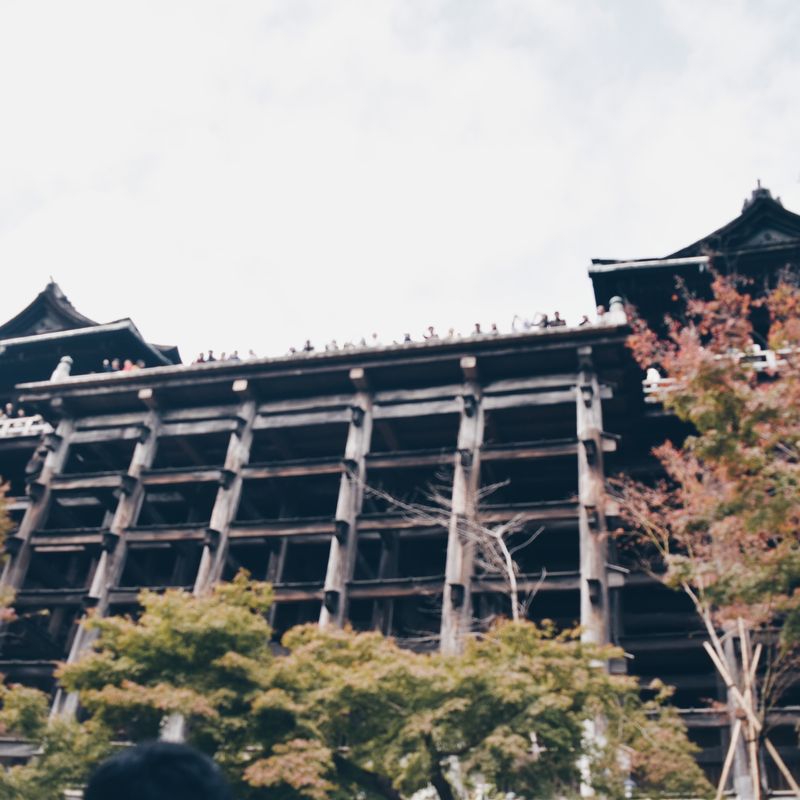 And this is the view from below the stage just before we go up.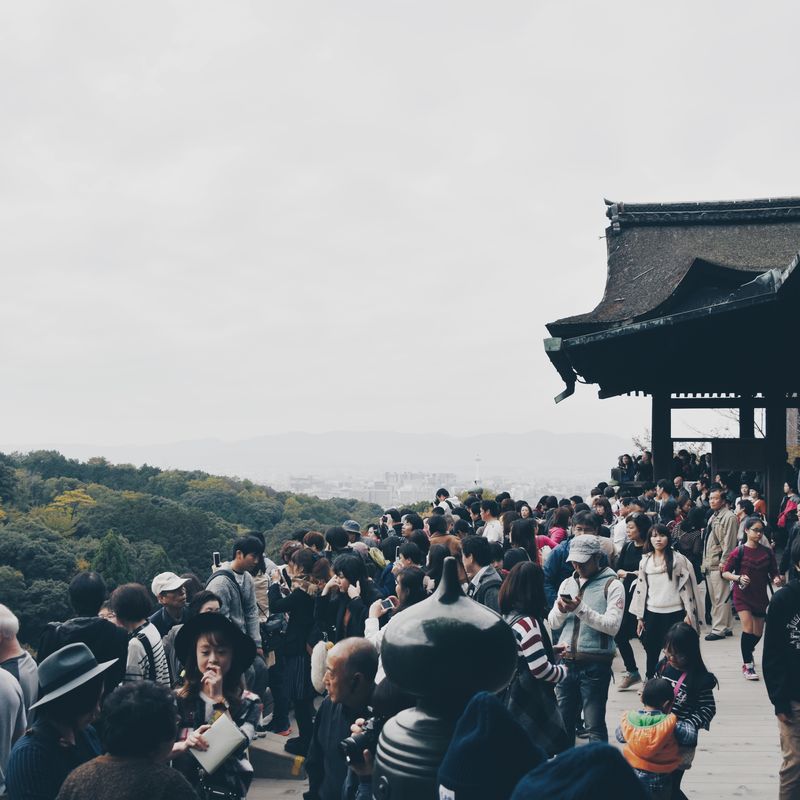 As you can see, this place is really crowded, but the view here is so worth it!
Just like this. This view is really so relaxing if you love nature.
After taking some time in that area, we decided to leave and go down to see what more the temple had to offer.
Suprisingly enough as we walked along our way down, I saw how the stage where we came from looked from afar and took a shot. It is really so perfect, having the trees with it.
Aside from the wooden stage, there is also a lot more to see in the temple, such as ...
Okunoin Hall, Shaka Buddha (the historical Buddha) and Amida Buddha. There is also a three-storied Koyasu Pagoda standing among the trees in the southern part of the temple grounds, which we didn't get the chance to enter since it was really crowded.
If you want to go here, you can ride bus number 100 or 206 from Kyoto Station and get off at Gijo-zaka, from where it is a ten minute walk to the temple.
2. Fushimi Inari Shrine
This is probably the most interesting shrine I've been to in Japan. What makes it so unique is the number of orange torii gates that seem to lead the way into the forest of Mount Inari. And you know what's the best? The entrance is free!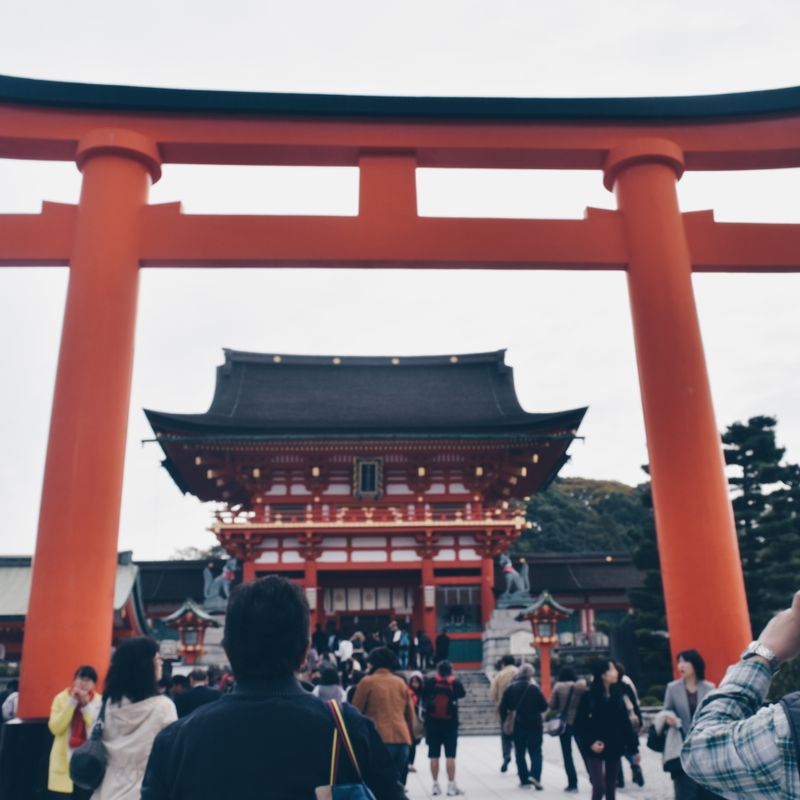 By the entrance, you can see this very huge torii (gate). There is so much orange color in this place, which is a very attractive sight for me!
Like this shrine's main building.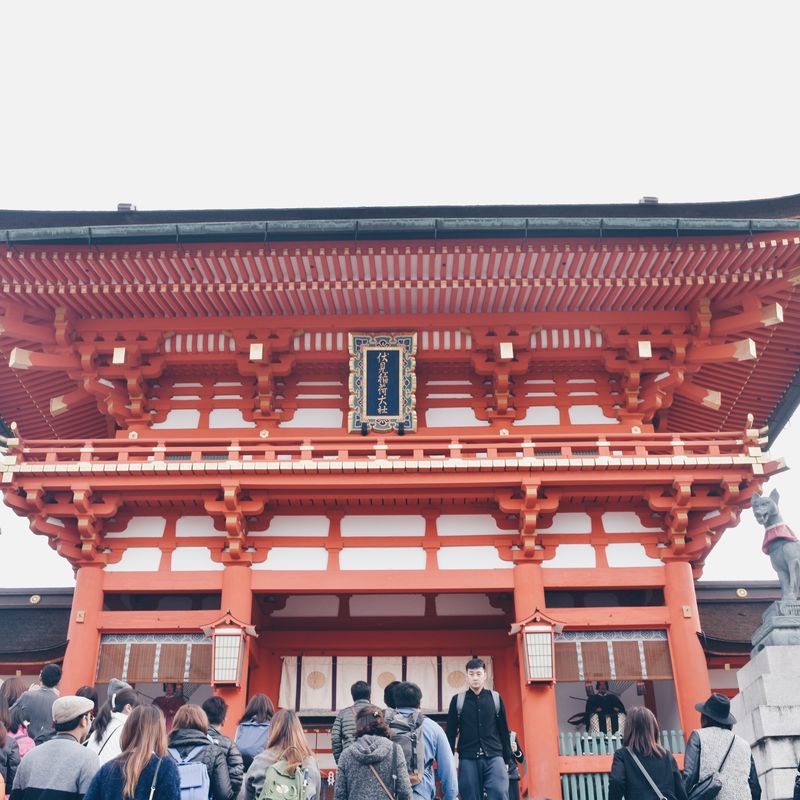 Walking inside we arrived at the entrance of the hiking trail made up of thousands of torii gates which I later learned to be called Senbon Torii, in Japanese. It's really a sight just looking at the kanji written on each one of torii (although I can't read them). They seem to be names of people and dates, though I can't be sure.
Just as the outside is impressive, wait till you see the inside of this trail. The inside is so stunning, too! Perfect for that little photoshoot with your friends!
This trail will lead you to the mountain, but then we decided not to go on, just seeing the torii gates for us was enough to be satisfied with this shrine.
If you want to go here, also from Kyoto Station, you have to get off at Jr Inari Station, along the JR Nara Line, from there you can see the shrine already.
3.Kinkakuji
Kinkakuji or The Golden Pavilion is also a unique kind of temple, for its architecture, for where else can you see a temple looking so extravagant? This actually used to be a retirement villa, from what I have read, and the visitors are not allowed to enter inside the pavilion.
There is an entrance fee also for this site, the ticket costs 400 yen.
Kinkakuji is open until 5 pm, and lucky for us, we arrived 15 minutes before the closing, but it wasn't actually a good time since it started to get dark. Also we didn't have enough time to look around very much so I suggest that you come here in the morning when the Pavilion is brightly lit by the sunlight, it would have been a very nice sight.
Fortunately, I took this shot just before sundown
We left the Pavilion as it closed, and as it was also getting darker around the area.
If you want to go to Kinkakuji, from Kyoto Station, you can ride a Kyoto City Bus number 101 or 205. You just have to walk a little from the drop off points to get to the the inside of the Kinkakuji grounds.
These are my top three "must see" sights in Kyoto! The experience was really amazing and so different from the modern city Tokyo, so if you want something different, try going to Kyoto, where there is actually a lot more to see. Also the food here is the best!
Hope it gives you ideas regarding your itineraries for your Kyoto trip! Till the next blog!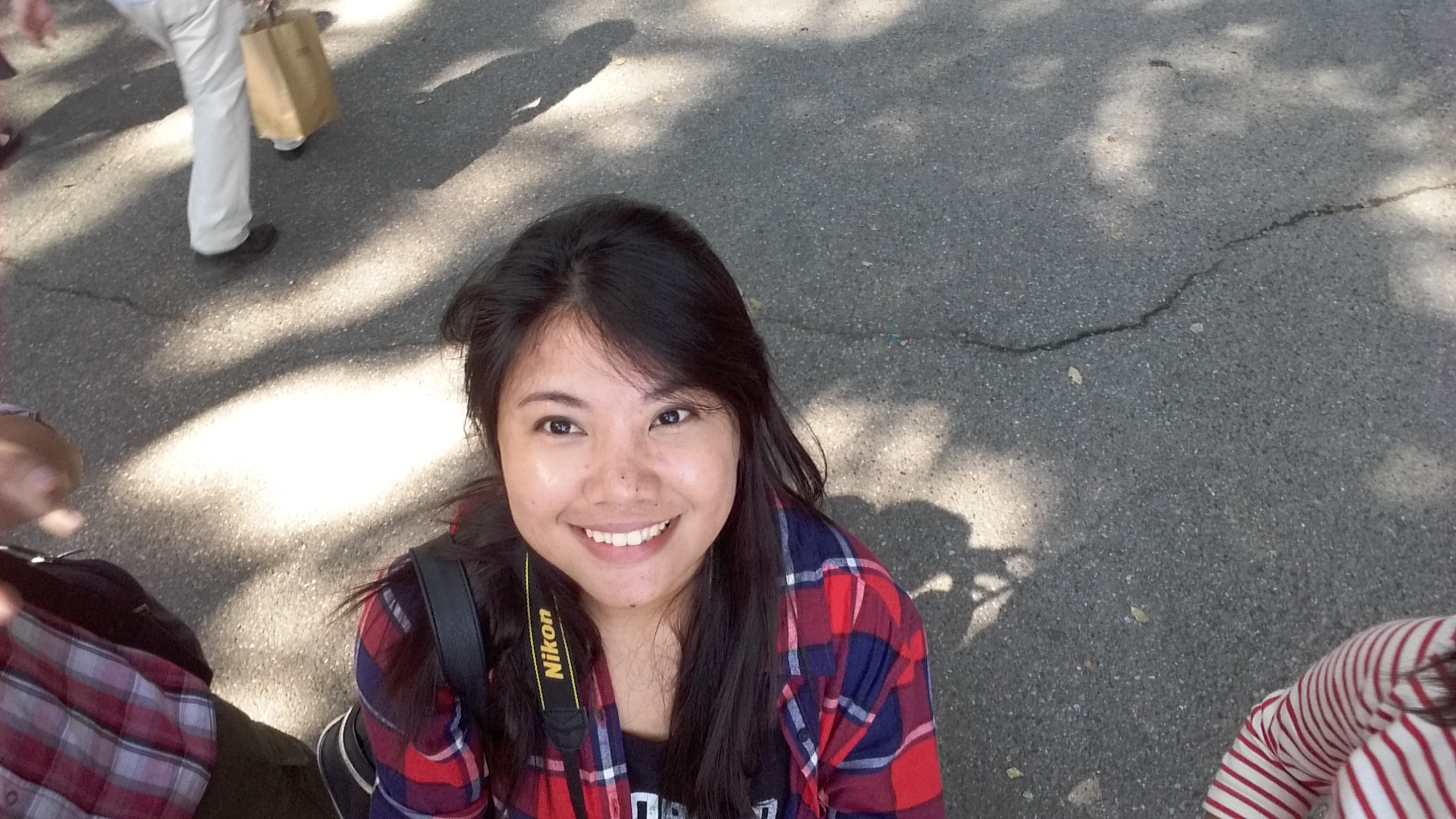 Filipino Engineer trainee in Chiba. I love food, travel, art and photography.
Follow me on instagram @jecapiguerra
---