May 10, 2017
If you're in Tohoku and looking for a little break from the daily grind, a little road trip out to Yamagata may be just what you need. There, on a rushing river of clean mountain water, sits the little town of Ginzan.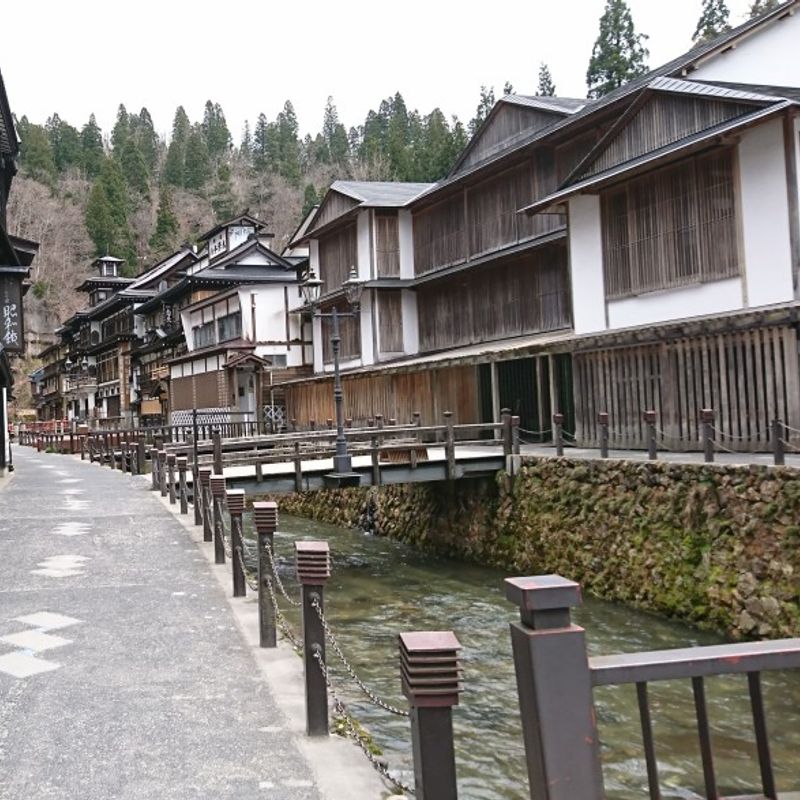 According to Japan Guide, the little town was once home to a silver mine, hence the name "Silver Mountain", though now it has more of a reputation as a fantastic spot for onsen. There are accommodations available at the timeless ryokan that line the little strip of river, but they do tend to be expensive. It is possible to enjoy many of the onsen as part of a day trip with no reservations or intent to stay at the hotel, but plan your time accordingly. We spent so much time on the road driving out there that we had few options aside from eating a nice soba lunch and heading out for our afternoon engagements elsewhere.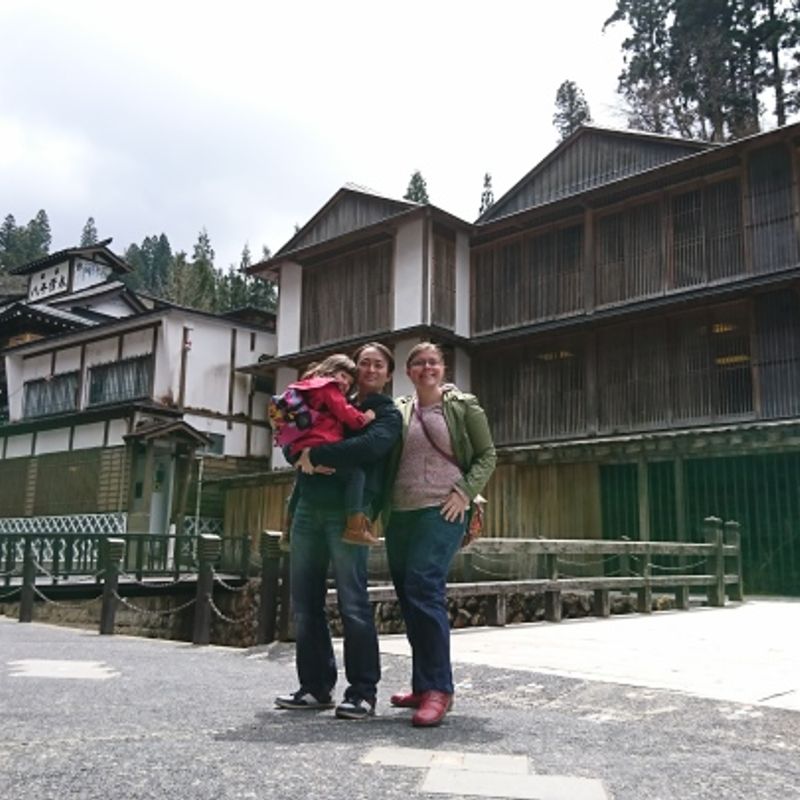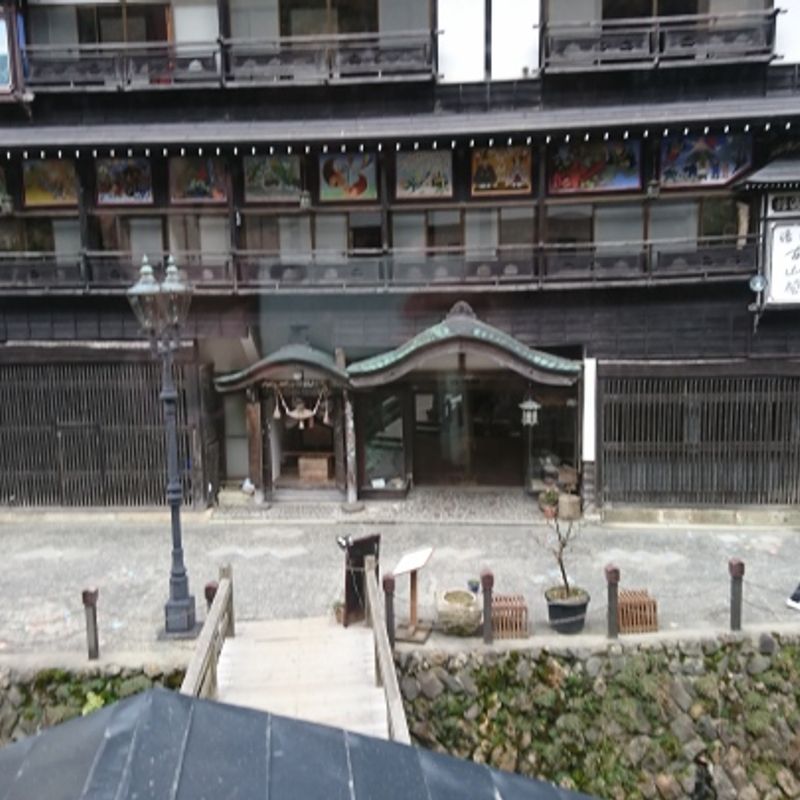 Even with our limited time, the experience was more than enjoyable. Many of the ryokan have little cafes attached with wonderful views of the stream and buildings opposite, all seemingly trapped in another time. Our choice for restaurant was superb, as the hand-made soba delighted all, including the fussy toddler among us.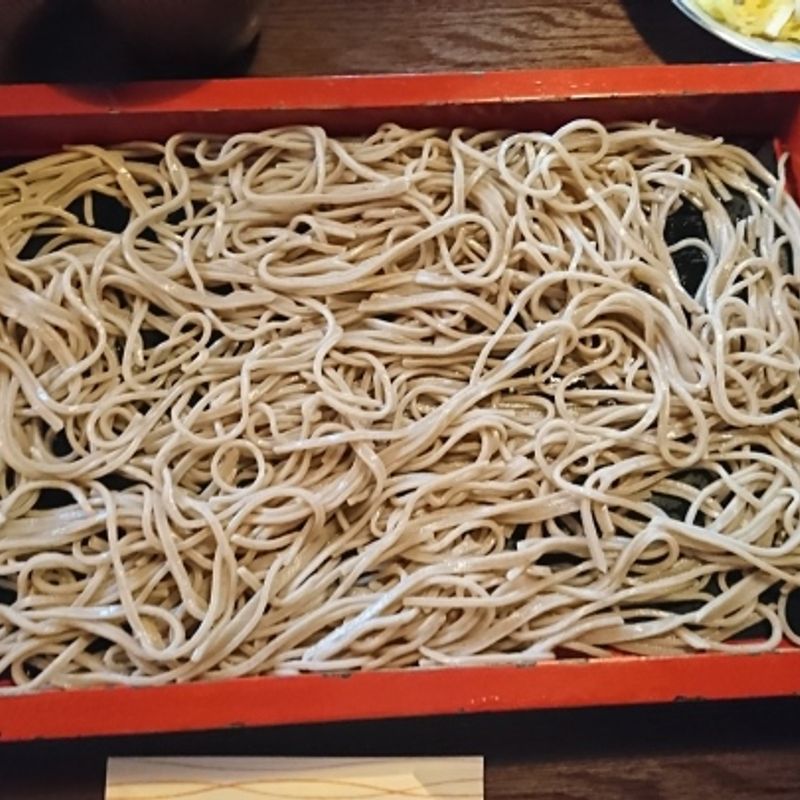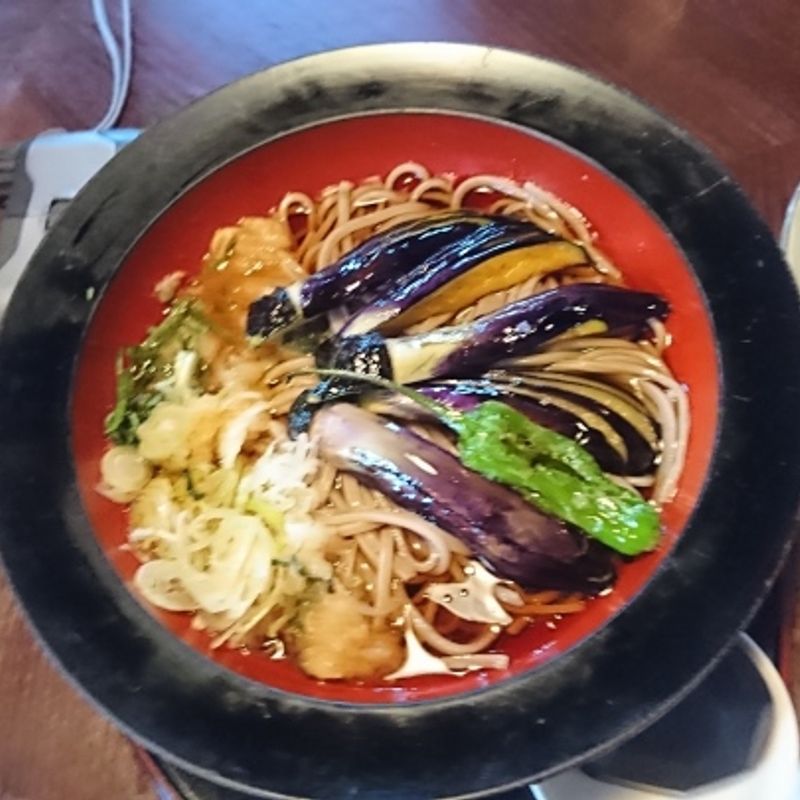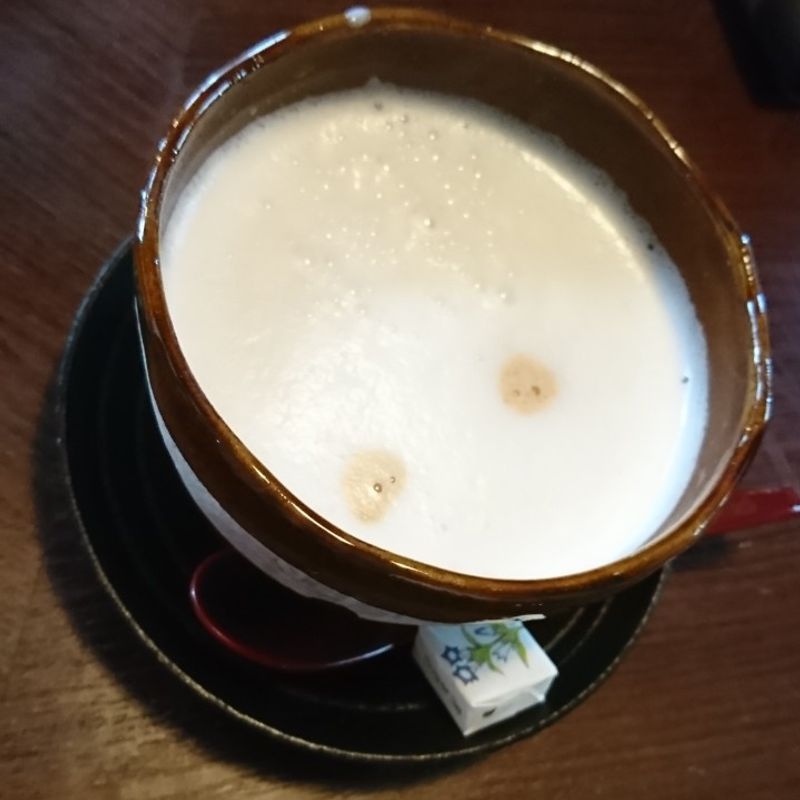 I ordered a coffee out of caffeine-related necessity, unsure of how it might come out. You never know with little, out-of-the-way places. The resulting beverage might be fantastic or atrocious, depending very much on information that cannot be gathered without a thorough observation of the kitchen equipment or first-hand knowledge. Soon, my little cup of cafe late came out in a traditionally-crafted cup, and I was thrilled with the results. The milk-froth was perfection, with tiny bubbles that popped on my lip.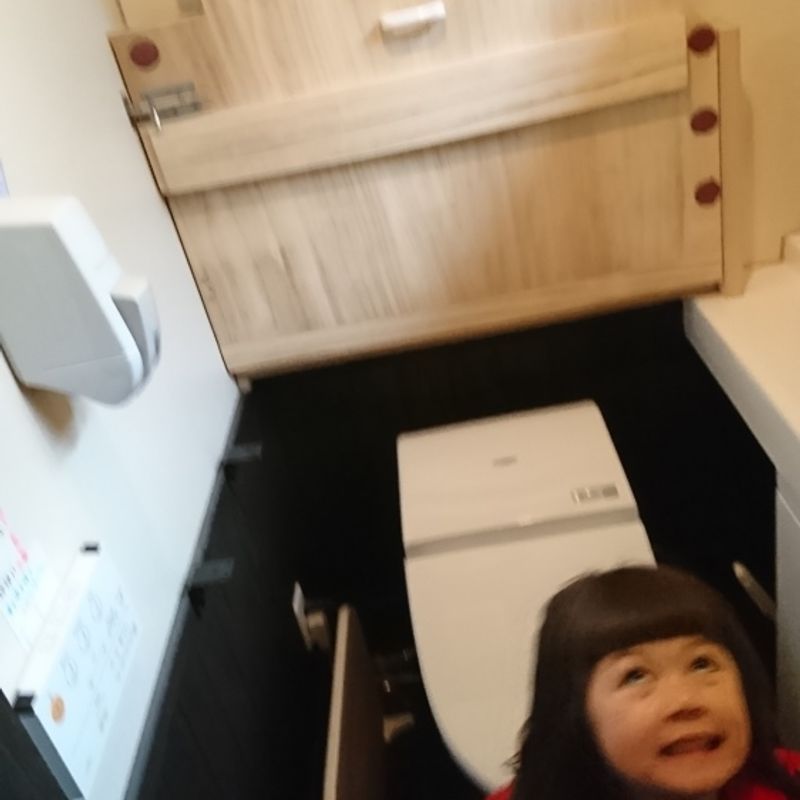 Also surprising was the bathroom condition. Most little towns I go to offer little in the way of comfortable potty-going, especially for women with children. To my surprise, there were many stalls, all well-maintained, and the one we wound up in even had a fold-down changing table. If you've done travel with toddlers outside of major cities, you know what a special find this is.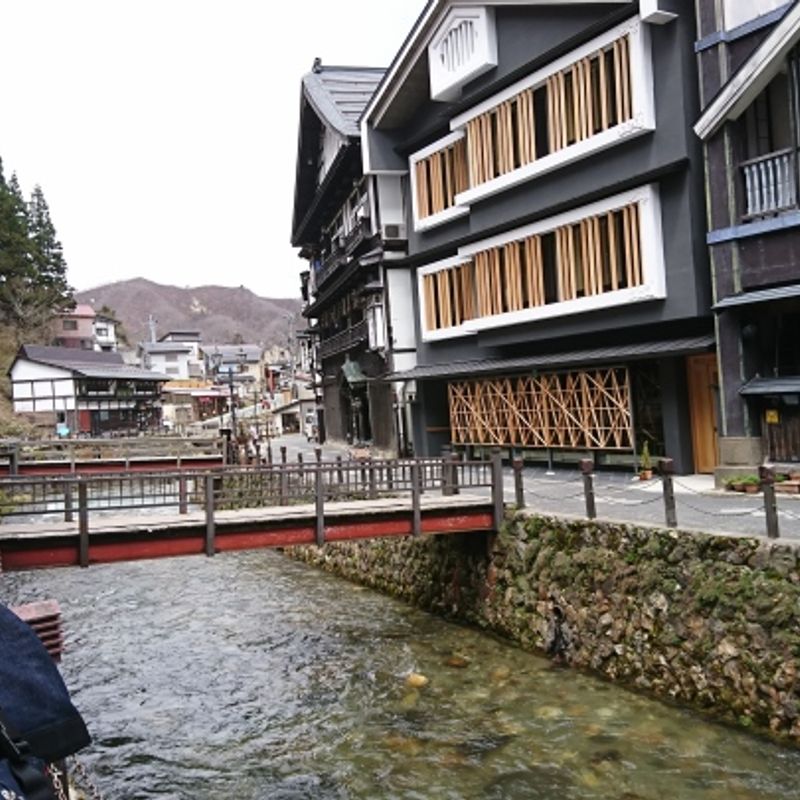 Travelling to such a secluded area can be tricky, and many of the roads that lead there may not be usable in winter due to weather-related difficulties, but there are also buses from Oishida Station (1,660 yen and 2+ hours from Sendai with a transfer at Uzen-Chitose) that take an additional 40 minutes to get to a bus stop a short walk from the main area. If you drive, you'll be parking a little bit further away, so bring walking shoes unless you have a room and parking spot reserved at one of the onsen-hotels.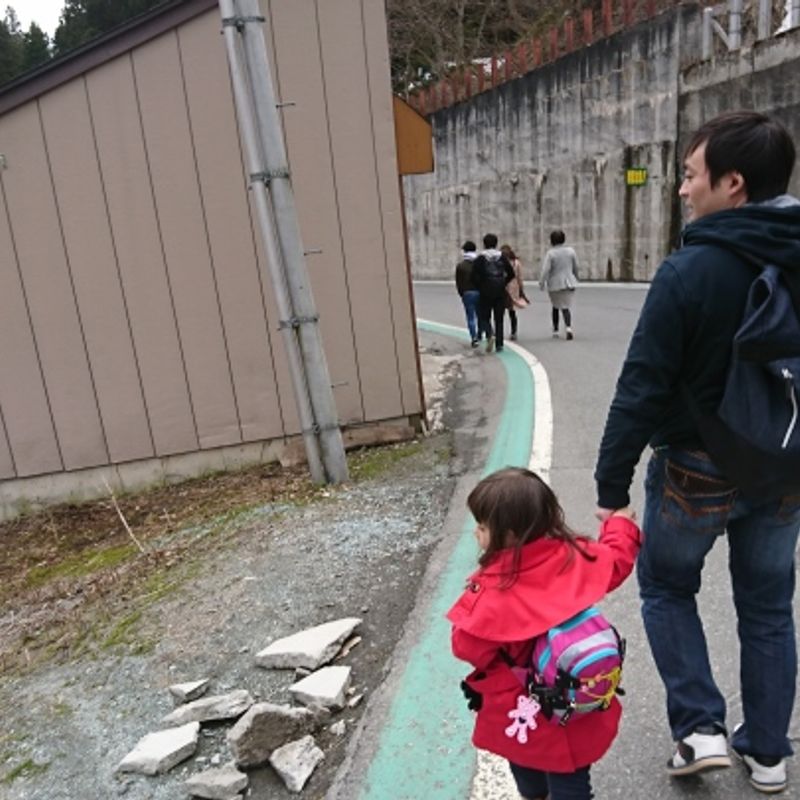 Part of our downhill walk from the public parking area to Ginzan, which took 10 to 15 minutes with a three-year-old.
The crowd may be bigger on national holidays. Our trip occurred during a particularly nice pre-golden week weekend and, while we didn't have the town all to ourselves, getting pictures without any other tourists was hardly challenging.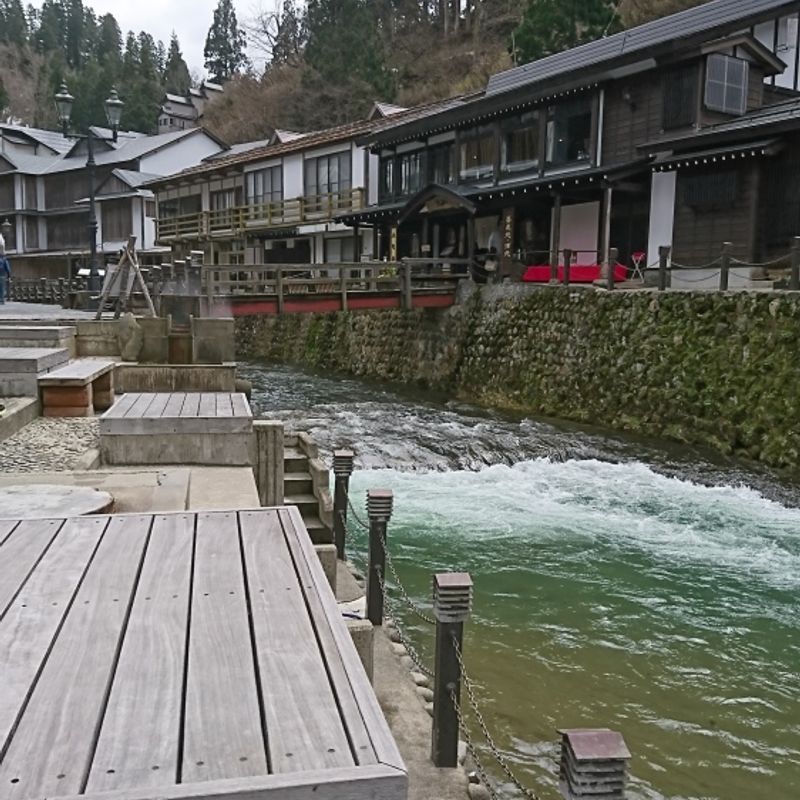 This is the view from the footbaths and you can see some of the wooden bench seating on the left.
Even if you don't have a reservation at one of the hotels, you can definitely still enjoy the free foot bath, open air and in full view of the river. We found the water a bit too hot to enjoy for too long, and make sure to bring a towel if you're looking forward to this part of the adventure.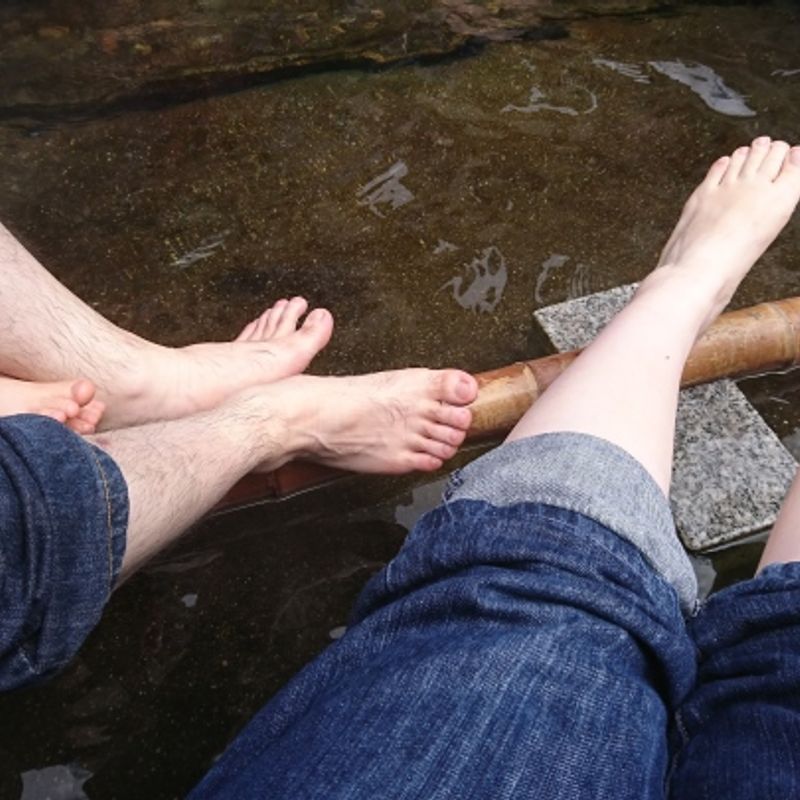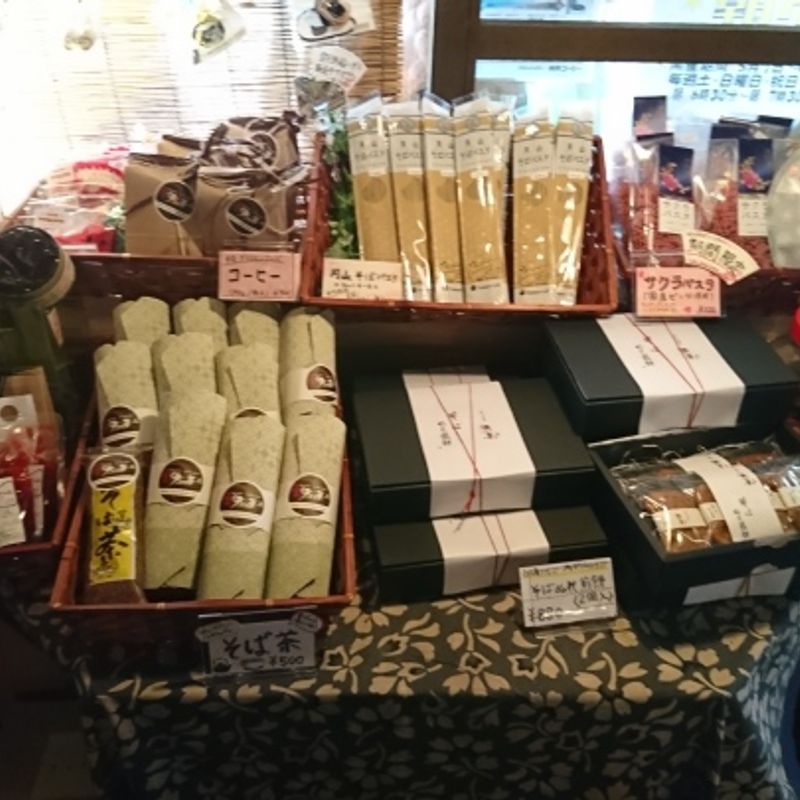 There are also two public baths, open for small fees and a number of little souvenirs offered in many of the cafes and shops. The cafe we went to had postcards, tea, soba, coffee, and other locally made treats. If you're looking for that perfect postcard picture of yourself in historical Japan, a little shop at the front of the town even rents kimono to tourists for reasonable hourly prices.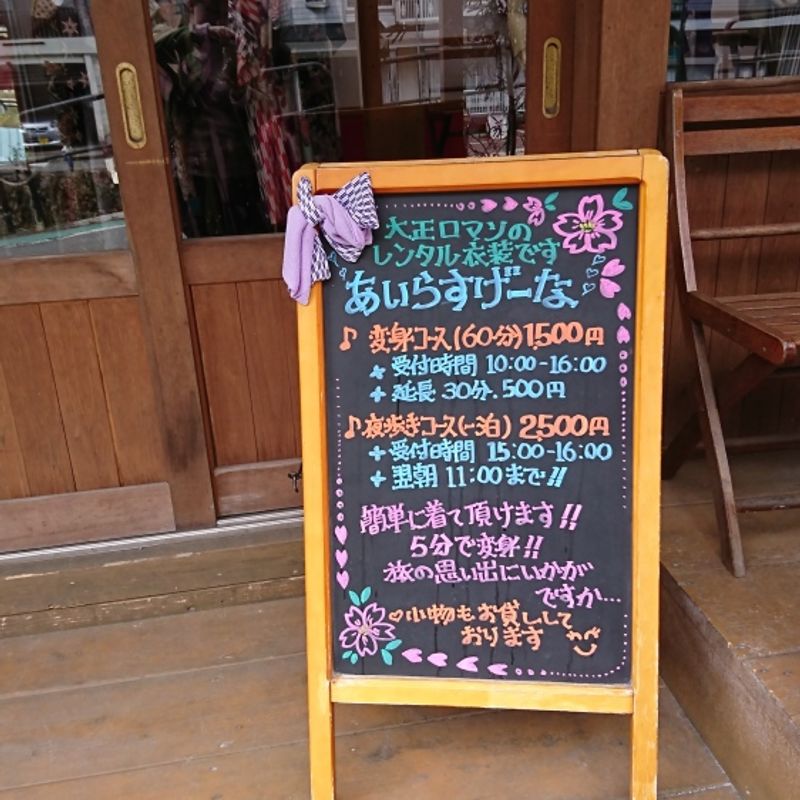 So if you're looking to walk into a little Tohoku history, come out to Ginzan.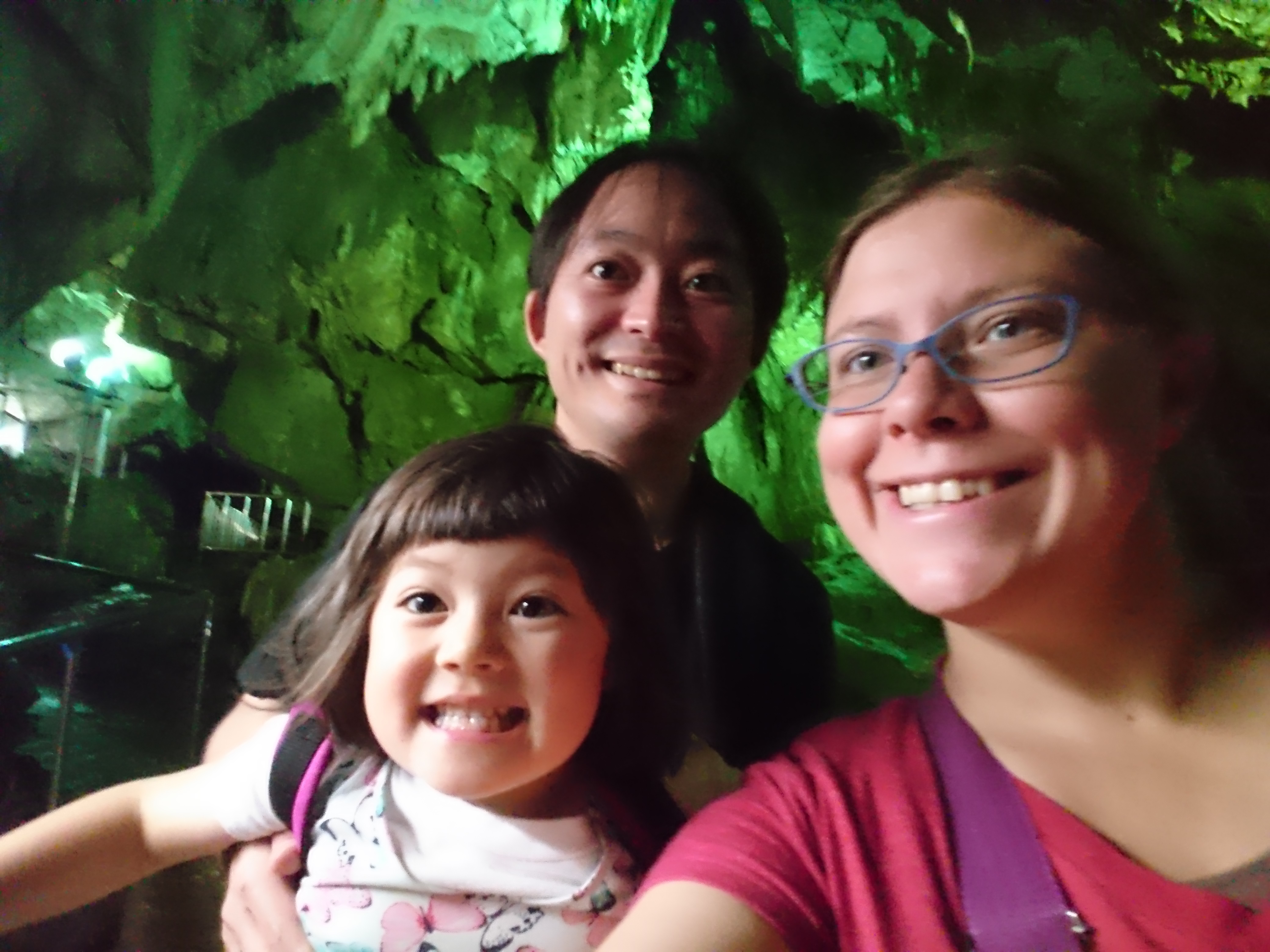 A working mom/writer/teacher, Jessica explores her surroundings in Miyagi-ken and Tohoku, enjoying the fun, quirky, and family friendly options the area has to offer.
---
4 Comments
I´m planing to go there in July but because I don´t like onsen, I´m wondering if it is really worth it to spend a whole day there. The old town area is not that big I guess or?

@Crazydeath The little town isn't that big and you could walk down each side of the river within half an hour, but it is worth it to enjoy some of the food and drinks available. There's also access to the now-inactive silver mine for which the town came into existence. I didn't know about it, or we would have gone there, too. There's also a little sake brewery-shop and a number of other little attractions, according to thise site: http://tabi-sake.com/tabisake/ginzan-onsen/en/ I'd recommend reserving at least half a day just to make the trip out there worth it, but there's no reason to get accommodations, especially if you're not so keen on onsen. I guess the length of your trip depends on how long you want to soak in the atmosphere. Personally, I could have used another couple of hours beyond the lunch date that led to this post.

Looks like I nice place. It's always nice to be able to get away outside of the holiday periods. How was the drive there? I mean, is it scenic and worth the journey in that regard?

@DaveJpn I think it was pretty scenic. Driving through Yamagata often is, if you're not used to seeing tons of mountains. I took pictures of the snow still on the ground in April, because that's a weird thing to see for me.