Sep 1, 2017
Osaka may be the second largest city in Japan (Or is that Yokohama?) but it typically gives way to nearby Kyoto and Nara when it comes to sightseeing. Essentially, Osaka sits in a tough neighborhood in this regard and most locals would admit it. Still, in a city of this size it should come as no surprise that there is much to be enjoyed in the way of sightseeing and attractions, some of which can call themselves "world class". In studying lists of the best things to do in Osaka or the most popular / recommended attractions the city has to offer, over half of the entrants on our list were shared by just about every other list that we checked (from both a domestic tourist and an international tourist perspective). In this regard then, one shouldn't expect much in the way of surprise from our "best 10" list for Osaka. Anyway, it's not really ours, it's an amalgamation of others. Our primary concern is how much these things cost to enter. In this way we hope the list can be a budget planning resource for visitors to the city. In detailing the transport costs, we've done so from Shin-Osaka Station, which is where Shinkansen pick up / drop off from other parts of Japan. This list of best things to do in Osaka is in a no particular order.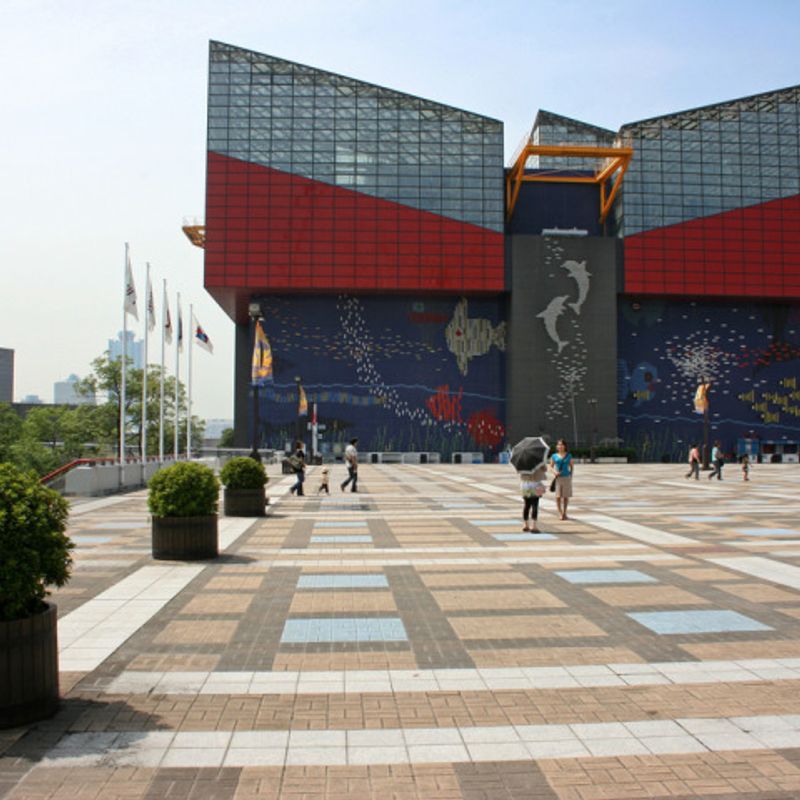 Osaka Aquarium Kaiyukan
One of Japan's most celebrated aquariums, Osaka Kaiyukan can also boast of being one of the largest of its kind in the world. Superlatives like this are a sure fire way of bringing in the visitors and so it is that Osaka Aquarium remains staple on most Osaka sightseeing itineraries.
With an aquatic setting to boot (the facility occupies a spot near Osaka Bay) Osaka Aquarium introduces visitors to the "life aquatic" of the Pacific Rim (the Ring of Fire) over a series of 15 + tanks that spiral down from the facility's 8th floor. At some 9 m deep, 34 m long and filled with 5,400 tons of water, the largest tank, entitled "Pacific Ocean", is reserved for Kaiyukan's largest resident a whale shark, the largest species of fish in the world. With other tanks entitled Aleutian Islands, Monterey Bay, Tasman Sea and even the Falkland Islands Osaka Aquarium can boast of a diversity that is hard to match anywhere else in Japan, and maybe even the world.
Osaka Aquarium Kaiyukan entrance cost: 2,600 yen
Cost from Shin-Osaka Station: 280 yen (nearest station, Osakako (Subway Chuo Line) - a 5-min walk to the aquarium)
Web: http://www.kaiyukan.com/language/eng/index.html








Osaka Castle
The subject of much aerial photography and something of a city symbol Osaka Castle (Osakajo) has seen plenty of action befitting of a facility whose purpose is to repel attack. Construction of the castle began in 1583 before it was destroyed in the early 17th century, rebuilt a few years later only to be destroyed again in 1665 when it was burned down after being struck by lightning. Despite the castle's turbulent beginnings the current structure dates back to the 1930s and can boast the stunning feat of having largely avoided Allied bombs dropped on Osaka during WWII. After a significant spruce up during the 90s it must surely be one of the only castles in Japan (perhaps the world) that has an elevator. Now there's some "castle" authenticity for you!
With its extensive park-like grounds, a performance arena, and a museum about Toyotomi Hideyoshi (one of the unifying figures of Japanese history) Osaka Castle is, understandably, a regular fixture on lists of the best things to do in the city. Even more so during "cherry blossom" season when the castle grounds assume the position as one of Osaka's most popular hanami spots.
Osaka Castle entrance cost: Main tower and museum - 600 yen (Nishinomaru Garden - 200 yen)
Cost from Shin-Osaka Station:
To Osakajokoen (Osaka Loop Line) - 180 yen
To Tanimachi Yonchome (Subway Chuo Line) - 230 yen
Web: http://www.osakacastle.net/english/index.html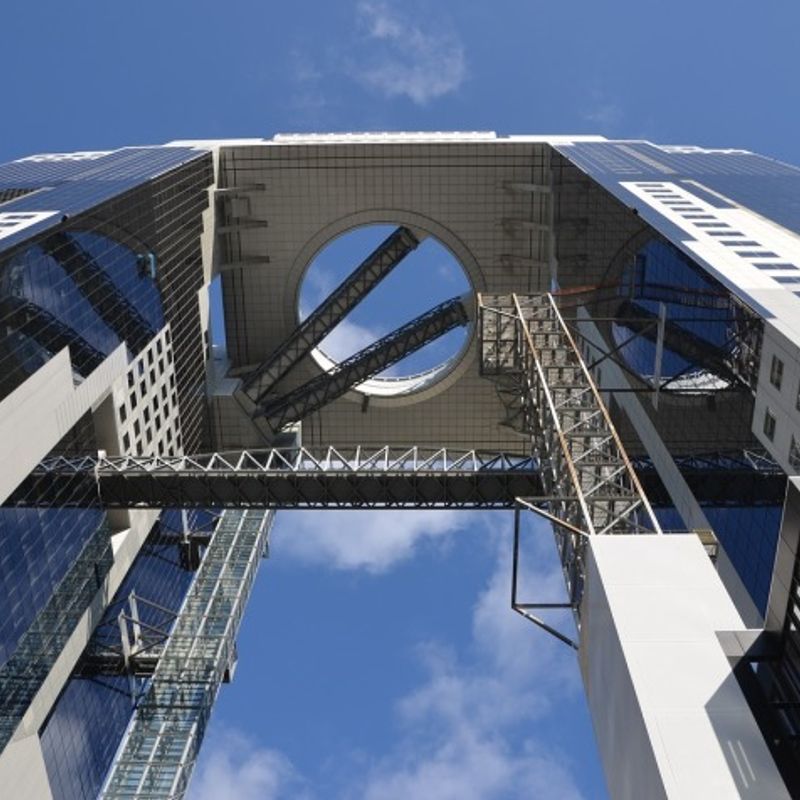 Umeda Sky Building
If the face of an Osaka of yore is probably the castle, then the city's Umeda Sky Building is probably the face of a modern Osaka. For the time being at least, as we await to see what kind of library of images new-kid-skyscraper-on-the-block Abeno Harukas can collate. At 173 m tall Umeda Sky Building is positively squat compared to the latter newish) arrival and one might make the case that its dead-tech, tinted glass appearance is now too 1980s for its own good. Or maybe that's just a personal opinion. Still 173 m is 173 m, high enough in any estimation to attract visitors for a gawp from such a lofty perch. The bridges and elevators that link the tops of Umeda Sky Building's two 40 story towers remain spectacular (as well as a stiff challenge for those who get a bit wobbly at heights). It's up here that visitors can enjoy the Kuchu-Teien (Floating Garden Observatory) with its 360 degree panoramic views as well as the usual collections of places to buy souvenirs and grab a bite to eat.
The basement of Umeda Sky Building is home to a restaurant floor, Takimi-Koji, made up in the image of Showa era (~1920s) Osaka. Between the top and bottom, the building is largely made up of office space.
Umeda Sky Building entrance cost: It's the Kuchu-Teien (Floating Garden Observatory) that commands the free - 1,000 yen
Cost from Shin-Osaka Station: 160 yen to Osaka Station (Umeda Sky Building is a 10 - 15 min walk from here).
Web (Kuchu-Teien - Japanese with machine translation): http://www.kuchu-teien.com/about/index.html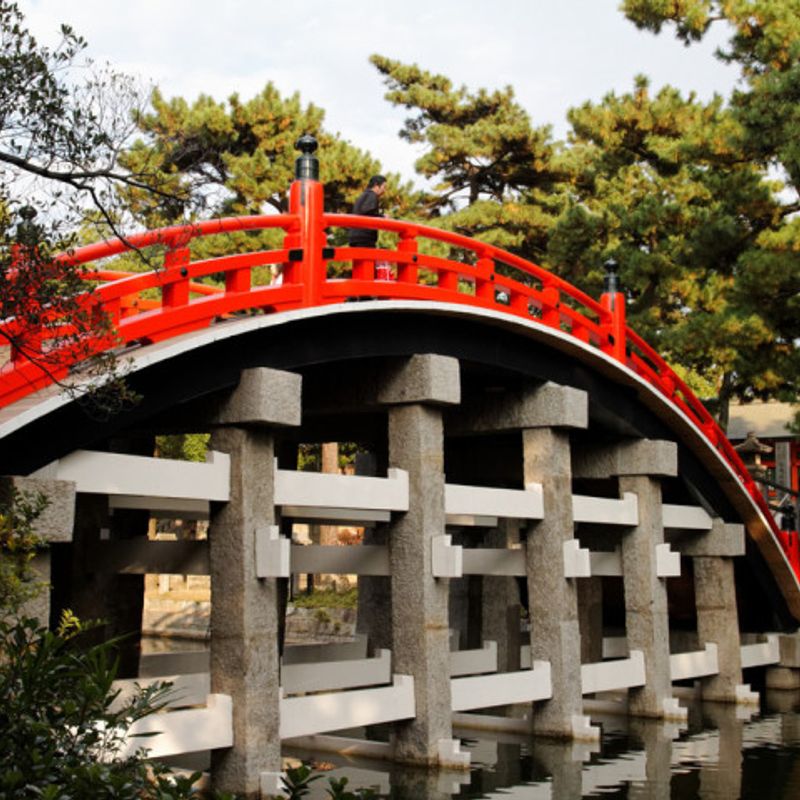 Sumiyoshi Taisha
Sightseers are typically fond of a superlative (as are "best of" lists like this) so it is that one of the oldest shrines in Japan makes it onto our list of the best things to do in Osaka. And Sumiyoshi Taisha is old (for Japan) dating back the the 3rd century, a time when influences from mainland Asia were far from what they would come to be in Japan. As such, the architecture on display at this shrine (Sumiyoshi Grand Shrine) could be said to be truly "Japanese", something belayed by the straight roofs of the four main halls of the shrine complex. Sumiyoshi Taisha's location, not entirely removed from the shores of Osaka Bay, reflects its purpose as that of enshrining gods who protect travellers and seafaring types. These days it's more than just protection seeking travellers that rock up at the shrine and around the New Year period Sumiyoshi Taisha is one of the most popular in Japan (which means it's probably best avoided at this time).
Actually, the grounds of Sumiyoshi Taisha are also home to a flitting entry on some "best of" Osaka lists, the delightfully arched Sorihashi Bridge which takes shrine visitors up and down over a pond.
Sumiyoshi Taisha entrance cost: Free
Cost from Shin-Osaka Station: 490 yen (nearest station, Sumiyoshitaisha (Nankai Main Line) - the shrine is just a few meters from here)
Web (Japanese): http://www.sumiyoshitaisha.net/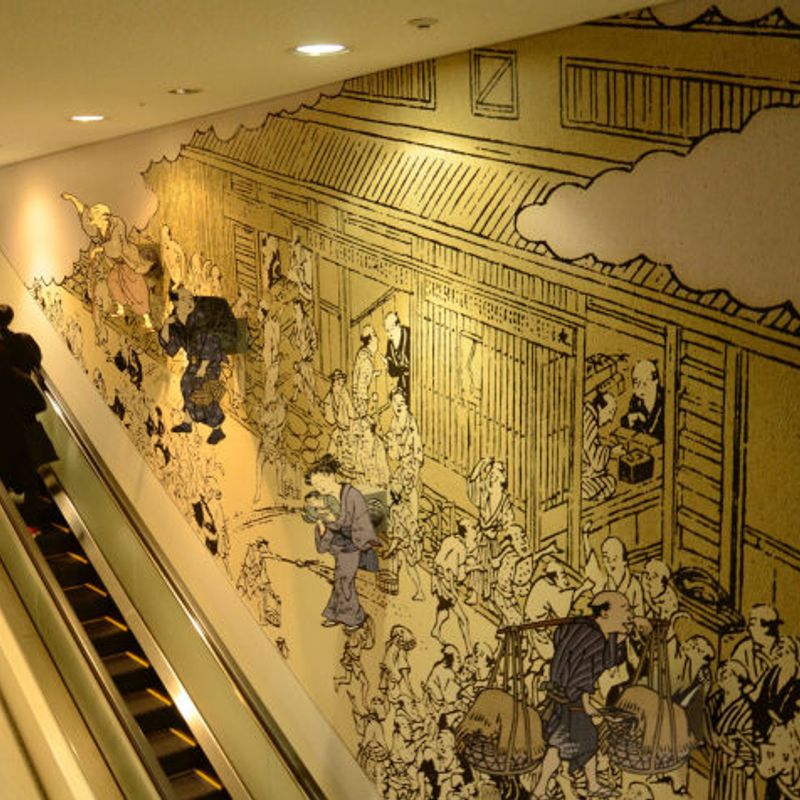 Osaka Museum of Housing and Living
Recounting and recreating a life in Osaka during the days of yore the Osaka Museum of Housing and Living give visitors a sense of life dating back from the Showa Period to the Edo period - over 300 years of history. In fact, the facility actually houses a recreation of late Edo period town (or, at least, a street setting) which can be viewed from above via the museum's 10th floor observatory. In the "town" itself, visitors can get a taste of shops, bath houses and other public facilities. Another highlight for some might be the model depicting Edo-era Osaka (in its entirety).
Other sections of the museum bring Osaka closer the present with studies of the city during the Meiji Period and post-WWII.
Essentially, if you're at all curious to know about Osaka history, this museum is a valuable resource.
Osaka Museum of Housing and Living entrance cost: 600 yen
Cost from Shin-Osaka Station: 230 - 340 yen (nearest station, Tenjimbashisujirokuchome (Subway Tanimachi Line) just a few meters from the facility)
Web (Japanese with poor machine translation): http://konjyakukan.com/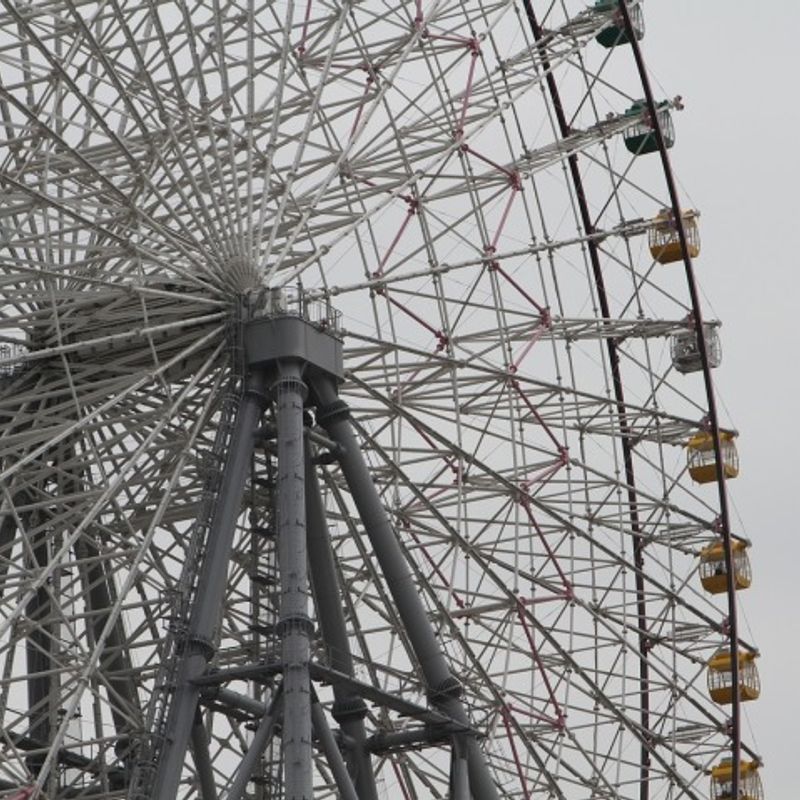 Tempozan Giant Ferris Wheel
The largely man-made Osaka Bay area is home to a number of sightseeing and entertainment options one of which is the earlier-mentioned Osaka Aquarium. We're back bay side again then this time to visit the Tempozan Ferris Wheel. Ferris wheels have become something of a prerequisite for sizeable urban areas around the world to boast about, each one seemly having something about it that is bigger, higher, wider, slower, faster … than the others. Tempozan Ferris Wheel was, at one time, the tallest of its kind in the world but such records never last long in the world of ferris wheels. So it is that that this kanransha (Japanese - ferris wheel) has to settle for just being the tallest in Osaka (not much to brag about). Still, at over 112 m and not much else to block the view, Tempozan Ferris Wheel is a good spot to come and have a gawp at the city … for 17 mins … which is how long it takes to go around.
The way they light up these things means a ferris wheel also carries appeal for those that don't like heights and, apparently, the Tempozan Ferris Wheel illuminations all tell you what the next day's weather will be like. Practical as well!
Tempozan Ferris Wheel entrance cost: 800 yen
Cost from Shin-Osaka Station: 280 yen (nearest station, Osakako (Subway Chuo Line) - a 5-min walk to the wheel)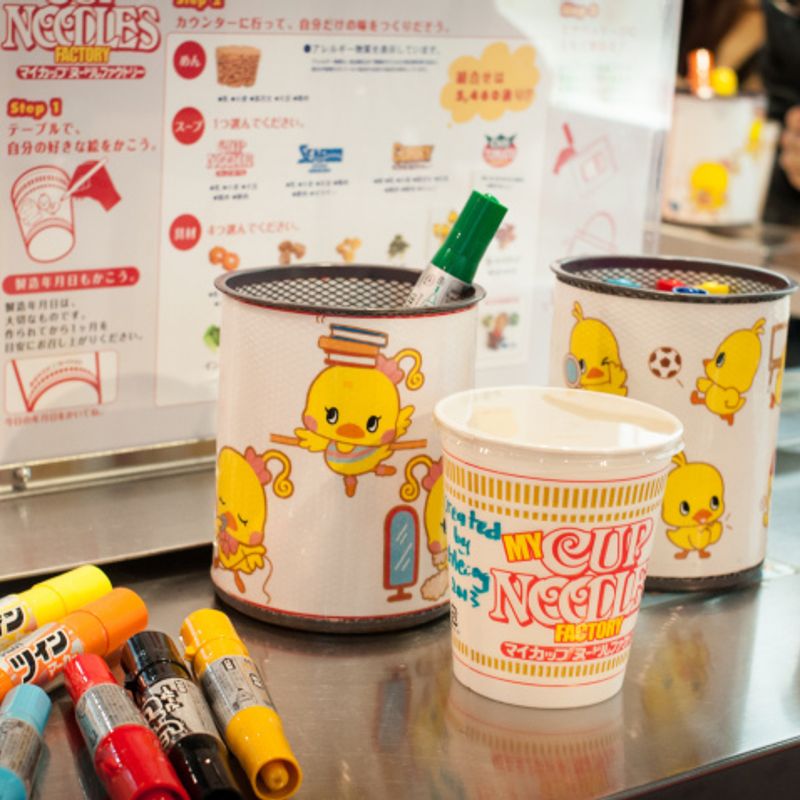 Momofuku Ando Instant Ramen Museum
What it says in the second half of the name really - a museum about instant noodles. Museums like this might be considered the counter-programming of the museum world - where most people are looking for depth and something scholarly from their museum experience a facility about instant noodles is likely to carve out a niche. Not that the Momofuku Ando Instant Ramen Museum starts out being shallow. From the homepage - "... where visitors learn the importance of invention and discovery.", before going onto, "... enjoy learning first-hand about instant noodles." Mmmm, heavy stuff.
Anyway, what's the "Momofuku Ando" bit? Momofuku Ando, in 1958, invented the world's first instant noodles, according to the museum homepage. Not sure about the coupling of "invented" with "world's first" (Doesn't the latter go without saying in such a case?) but language aside, the Momofuku Ando Instant Ramen Museum pops up on many a list of popular, recommended, best attractions in Osaka, with the highlight for many being the ability to create your own original Cup Noodle package (with noodles in it).
Momofuku Ando Instant Ramen Museum entrance cost: The facility itself is free to enter, but certain areas within command a fee …
Chicken Ramen Factory: 300 yen
My CUPNOODLES Factory: 300 yen
Cost from Shin-Osaka Station: 430 - 500 yen (nearest station, Ikeda (Hankyu Takarazuka Line) - the museum is a 5-min walk from here)
Web: http://www.instantramen-museum.jp/en/index.html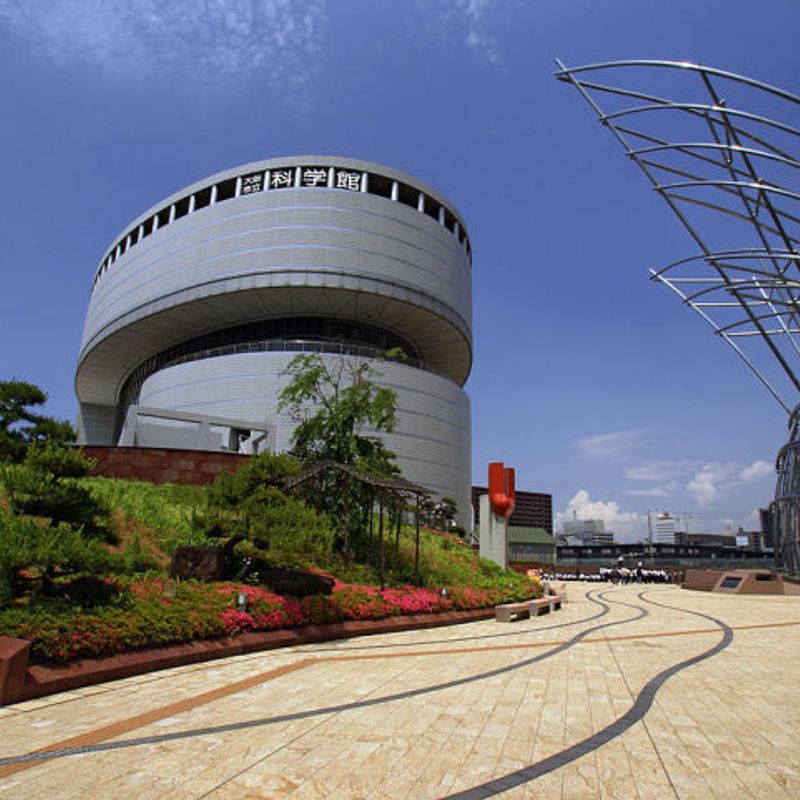 Osaka Science Museum
We found the Osaka Science Museum just scraping on to a number of lists detailing the best things to do in the city. Official literature for the museum tells us that both children and adults can get something out of it. Common opinion online however, suggests that it sways more towards the younger visitor.
The museum (Osaka Shiritsu Kagakukan, in Japanese) covers four floors - The Universe and Discovery / Familiar Chemistry / Enjoy Science / Electricity and Energy. The "Enjoy Science" floor is geared up for children who at of elementary school grade or lower. In addition to these areas the facility also houses a planetarium with a 26.5 m diameter dome screen onto which are projected constellations of stars and "other heavenly bodies". Explanation for the planetarium is in Japanese but popular opinion seems to be that those who can't understand the lingo won't miss out much.
Staff members at the museum also demonstrate / perform scientific experiments.
Osaka Science Museum entrance cost: Exhibits - 400 yen / Planetarium - 600 yen
Cost from Shin-Osaka Station: 340 yen (to Higobashi Station (Subway Yotsubashi Line) - the museum is around 500 m from here)
Web (English PDF): http://www.sci-museum.jp/files/pdf/english.pdf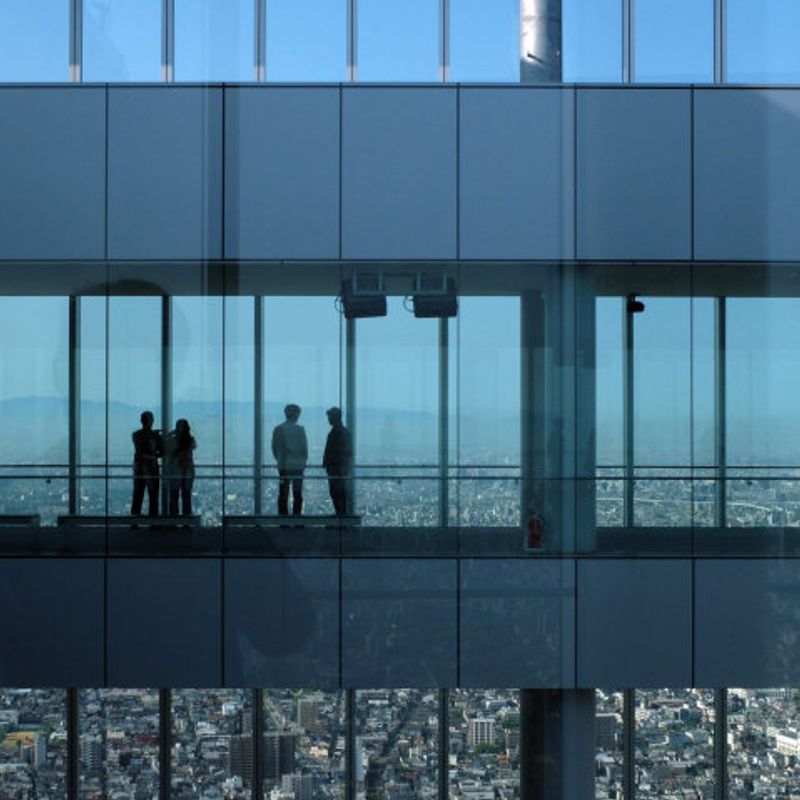 Abeno Harukas
There are two things that put the skyscraper Abeno Harukas on this list - it's the tallest skyscraper in Japan and is home to the largest department store in Japan.
First, the "tallest" bit - Abeno Harukas is 300 m tall and on its 2014 opening it overtook Yokohama's Landmark Tower to become the tallest in Japan. Harukas 300 is the observation deck that covers the structure's uppermost three floors. That would be floors 58 - 60. Coated in floor to ceiling windows the views from up here are as expansive as they are high. The usual cafes and souvenir shops are present.
Now, the largest department store in any economic powerhouse might be heaven to some, hell to others. Either way, in the case of Japan, here it is in the form of Abeno Harukas Kintetsu Department Store. Given Japan's propensity to make a passionate hobby out of shopping getting your depaato named the "largest in the country" would seem to be the best way to success. Abeno Harukas Kintetsu Department Store covers some 16 floors (Yes, 16!) and is home to 44 restaurants (Yes, 44 - although you can bet the locals will be forming long queues for just a handful of them). The department store's English-language page tells us that the most popular store in the facility is drugstore Kokumin Drug. Go figure!
Abeno Harukas entrance cost: Free, of course but the Harukas 300 observation deck is 1,500 yen
Cost from Shin-Osaka Station: 280 yen (to Tennoji Station (Subway Midosuji Line) - Osaka-Abenobashi Station (Kintetsu Line) is actually closer but not really practical when coming from Shin-Osaka)
Web: http://abenoharukas.d-kintetsu.co.jp/special/foreign/index.html
Universal Studios Japan
Would it be fair to say that Universal Studios Japan has, since its 2001 opening, gone on to become an unqualified success of the Japanese theme park scene? Certainly, in terms of visitor numbers and profile, only Disneyland and DisneySea can rival this Osaka-based, film-based fantasy land. No surprise then that USJ should feature on just about every list of the best things to do in Osaka.
As if getting The Wizarding World of Harry Potter built within your park wasn't enough to draw in the crowds, as of 2016 USJ became home to the world's largest Minions area. Back this up with attractions based around family-film classics like Spiderman, Terminator 2 (OK, not so "family") Back to the Future, and Jurassic Park and anything other than booming success would appear to be impossible.
Universal Studios Japan entrance cost: 7,600 yen (1 DAY Studio Pass)
Cost from Shin-Osaka Station: 220 yen (nearest station, Universal City (JR Yumesaki Line)
The best of the rest of Osaka
To be honest, Osaka is a city so full of character and buzz that really the best sightseeing takes on the form of picking an area and pounding the streets. An obvious one is the streets of Dotonbori which are somehow not of this world (especially at night). Amerikamura has plenty of "yoof" vibes, and the booming chaos of the Umeda / Osaka Station areas has plenty of shopping and dining. Head to Den Den Town for your otaku culture served up Osaka style and then there's "beat" Shinsekai an area so old skool it should have a Jam Master Jay soundtrack. The point here is that Osaka can really be "seen" and felt without the need to be splashing money on individual attractions. And then there are all other attraction in the city one could be spending money on …
How much does it cost to visit the best attractions in Osaka?
If we total up the entrance costs for these best 10 things to do in Osaka we come to 16,500 yen, almost half of which is contributed by Universal Studios Japan. Staying at the latter, this is really going to occupy a full day and costs of the visit are going to go well above the price of tickets as themed restaurants, candy, and souvenirs will likely attract money from even the most resistant of wallets.
It hasn't escaped our attention that three of the attractions in this "best 10 Osaka" are really about getting views from up on high. To this end then, the budget traveller could just pick out one of Abeno Harukas, Umeda Sky Building or the Tempozan Ferris Wheel in order to cut down on travel costs.
Totalling up the travel costs as detailed in our list probably doesn't make a great deal of sense … but we'll do it anyway - travel costs start from 2,890 yen. This is just for the one way journeys between Shin-Osaka and each of the locations in our list.
Osaka travel passes


Visitors to Osaka Aquarium might want to take advantage of the Osaka Kaiyu Ticket which includes entrance to the aquarium and unlimited travel on the Osaka Municipal Subway as well as discounts on the entrance to other attractions and things to do in Osaka. Valid for one day. Price - 2,550 yen.
Another special ticket coming out of Osaka Aquarium is the KAIYUKAN + Tempozan Giant Ferris Wheel ticket at 3,000 yen.
Travellers arriving at Kansai International Airport as well as at stations on the Osaka City Subway can purchase the fantastically named Osaka Amazing Pass (1-day = 2,500 yen). This covers travel on the Osaka City Subway, New Tram as well as buses. The pass also offers discounts for some of the attraction in our "best 10" list. A 2-day pass is available at 3,300 yen but doesn't include the discounts on attractions. Anyway, the 1-day pass looks like making good sense for the busy sightseer, but those who prefer to take things at a more leisurely pace might not get the most out of it.
The Kansai Thru Pass at 4,000 yen (2-day pass) and 5,200 yen (3-day pass) looks like making good sense for those who are including Osaka on an itinerary that also includes Kyoto. That said, if possible, you really shouldn't be limiting yourself to such a short time in these two cities.
At 800 yen we like the sound of the one-day Enjoy Eco Card which gives travellers unlimited use of Osaka City Subway and buses. Five or more single journeys and the Osaka traveller will be making their money back with this pass, Available from subway ticket machines and station windows.
Over to you! How would your list of the 10 best things to do in Osaka look? How much would it cost to take them all in? Let us know in the comments.
Further reading ...
How Much Does it Cost to Travel From Tokyo to Osaka?
See us on …
Twitter: @City_Cost_Japan
Facebook: @citycostjapan
Images
Osaka Aquarium Kaiyukan: Christian Kadluba Flickr License
Momofuku Ando Instant Ramen Museum: chee.hong Flickr License
Sumiyoshi Taisha: Kimon Berlin Flickr License
Osaka Museum of Housing and Living: Stephen Kelly Flickr License
Osaka Science Museum: Author: 663highland License

Abeno Harukas: Michelle Lai Lai Flickr License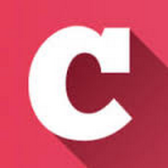 A Q&A and blogging community about life in Japan (plus a load of life-in-Japan stats!). Get your questions answered, share your experience! | Inquiry -> KyodoNewsDigital International Media | Tokyo, Japan | +81 3 6252 6402
---