Jun 8, 2018
Gallery - Sweet toys at the International Tokyo Toy Show 2018
---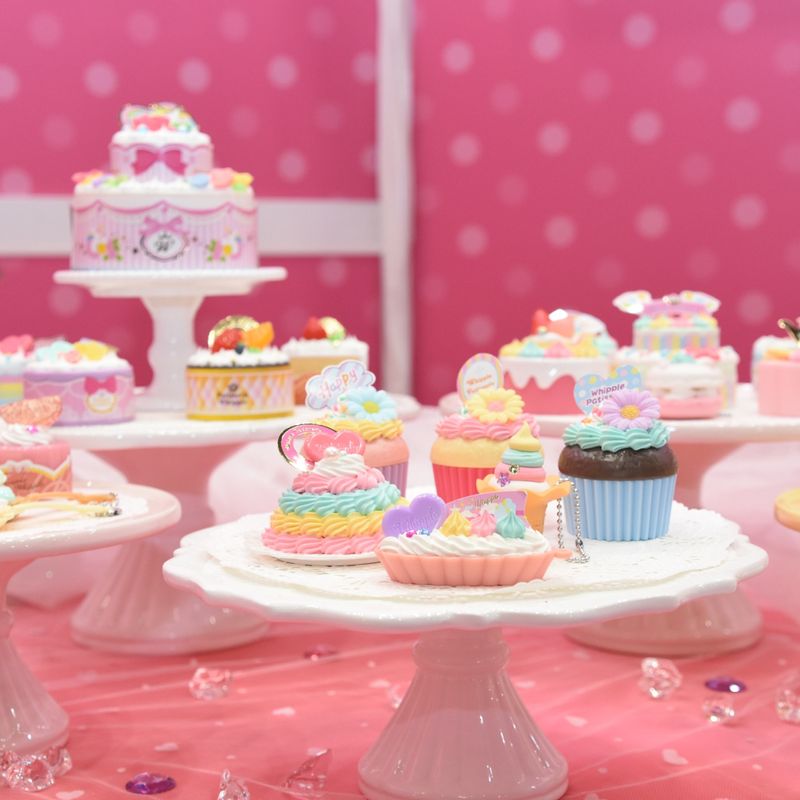 The 57th International Tokyo Toy Show opened its doors to 2018 Thursday, giving the halls of venue Tokyo Big Sight over to buyers and the media before the public days on Saturday and Sunday.
While one of the key themes of the International Tokyo Toy Show 2018 is a focus on those toys that have established a global appeal, together with those that look like they might have the potential to do likewise, taking time to walk around the booths at the show may bring to light those themes that are more personal. Perhaps these are a reflection of the visitor's tastes or circumstances rather than any reaction to organizer rhetoric or the booming persuasion of manufacturer booths.
But before we get into the theme of this particular post and gallery from the show, it's probably worth a quick rundown of where the "Tokyo Toy Show" is pitching itself.
Perhaps it's stating the obvious, but this is a show almost exclusively about toys, as in those tangible objects that, but for a few moving parts, really require that one invest a massive dollop of imagination to bring the things to life. Of course, in the 21st century toys have increasingly sought to employ labor saving functions -- buttons instead of pull-back springs, assisted "engines" on cars et al -- but at it's core, the International Tokyo Toy Show is really a celebration of the humble simplicity of those toys that evoke the Dickensian image of children being happy with a set of wooden blocks appearing of a Christmas morning.
It would also be a little remiss to think of this as a show making appeals to the otaku. Maybe there are a few objects to get all fanatical about but that doesn't appear to be the intention.
But despite the humble imagery of the toy, this is still Japan, and as with many aspects of life in this country, the attention to detail in some of the toys on show is often stunning, if not even bordering on the fanatical.
In particular then, at the International Tokyo Toy Show 2018 those bits of wood, plastic, and whatever else these things are made of masquerading as food really do seem to form a sub-genre all of their own.
Perhaps this is a result of context. Japan appears to have a mild obsession with "cute" sweets -- from the flourished crêpes of Harajuku, through donuts dressed as baby animals, to ice creams that look like the maker was in the throes of an acid flashback at the time of creation -- and rarely does a season go by without manufacturers in this country telling us that their new creation will get us another posse of followers on Instagram.
Visiting the toy show, a kind of "chicken or the egg" question occurs -- Is all this edible cuteness driven by toys, or are these delicious-looking bits of plastic merely here to assuage those kids whose parents are attempting to keep them from obesity?
This visitor isn't sure, but they are sure that these food imitations were a personal show standout.
Setting the standard for fake food at ITTS 2018 is Japan Toy Awards winner Shuwa Bomb Cupcake Basic Set (しゅわボム カップケーキベーシックセット) from Sega Toys which took out top spot in this year's girls category with their DIY bath soap bombs that look like dreamy cupcakes.
Accordingly, the booth at the show was dressed up like a bakery.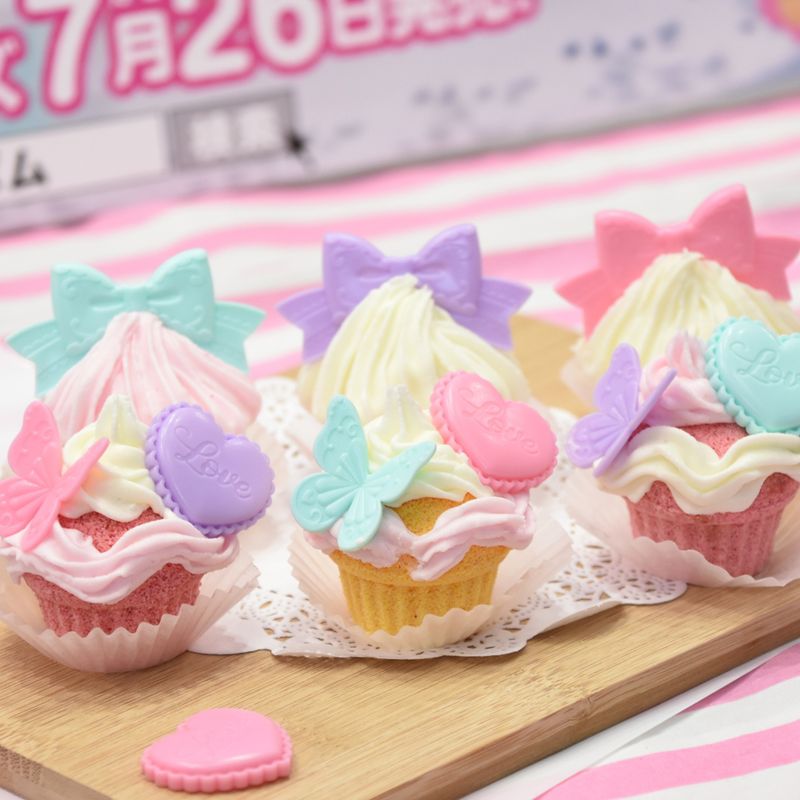 In a similar vein are the "craft creations" of Whipple where clay cream and icing pens can be moulded into extravagant cake form.
Of course, Japan favorite Anpanman has long been leading the charge of plastic-dressed-as-food (in this case bread) and accordingly has a significant presence this year's toy show. While the attention to detail is perhaps a little more … robust, the cute factor is still set at Defcon 1. The bread-headed one also displays some diversity with the "Anpanman Ice Cream" venture.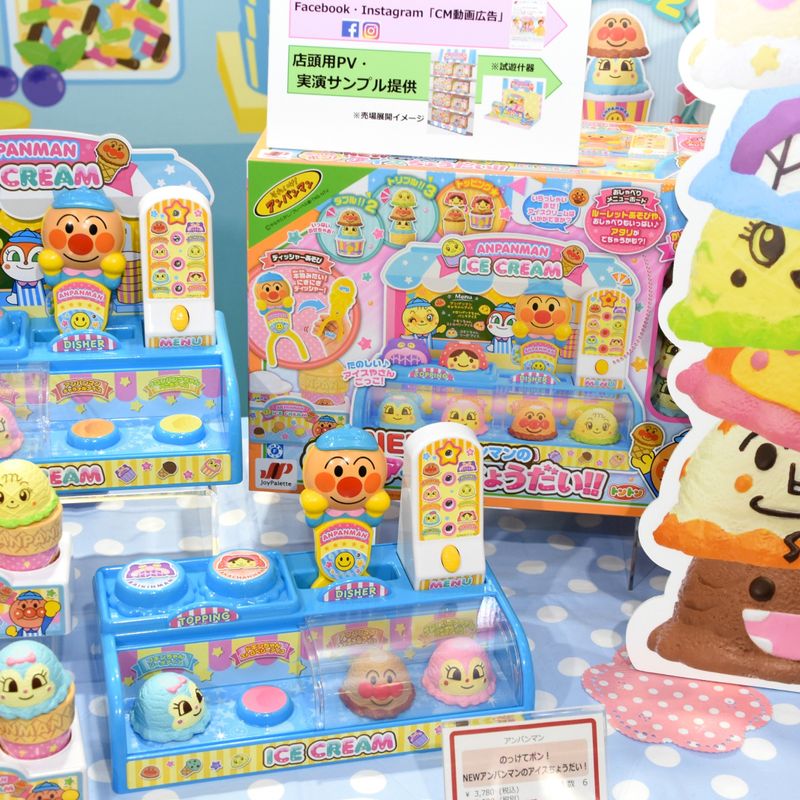 Stablemate Dokinchan appears to be handling the crêpes.
Perhaps the (plastic) personification of cute here in Japan, Hello Kitty and fellow Sanrio squad members also appear to have their fingers in the ice cream game.
It was also nice to see those manufacturers keeping the cuisine closer to these shores with toy interpretations of Japanese snack staples like dango and mochi. In fact, there's a strong case to be made that, from the expat perspective at least, rarely have these items looked so palatable.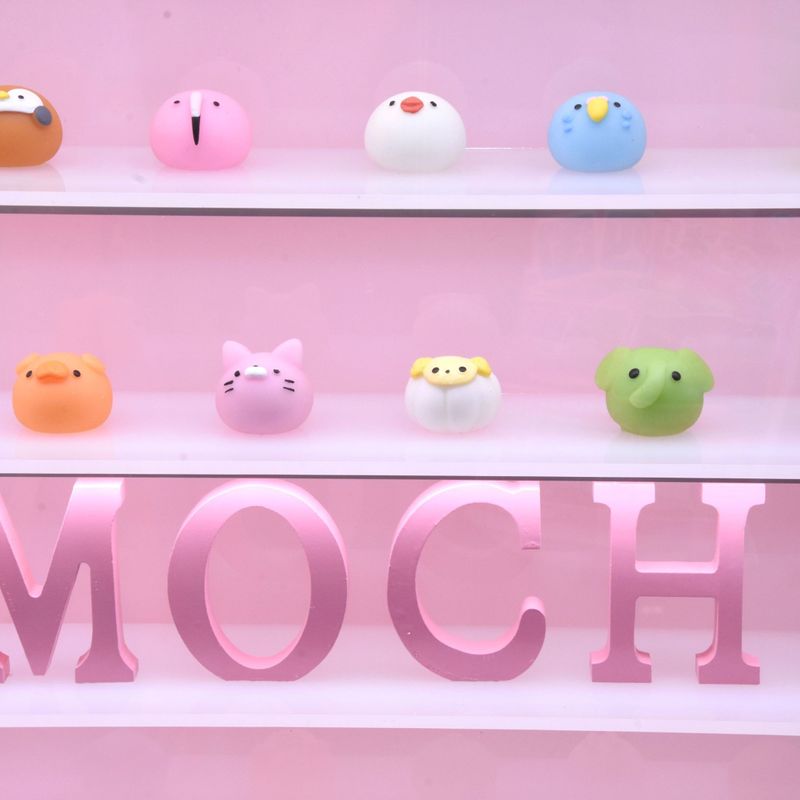 If "cute food" was for this visitor to the toy show a sub-genre of sorts, the reassuring presence of various forms of slime, putty, and goop et al was something of a sideshow heart-warmer. (It's comforting to know that, in the frantic race to make entertainment ever more immersive and distancing from actual life, something so simple as a lump of slimy goop is still able to survive in the market.)
In a glorious coming together, some of said slime, putty, goop was moulded into food form at this year's show, to quite impressive effect.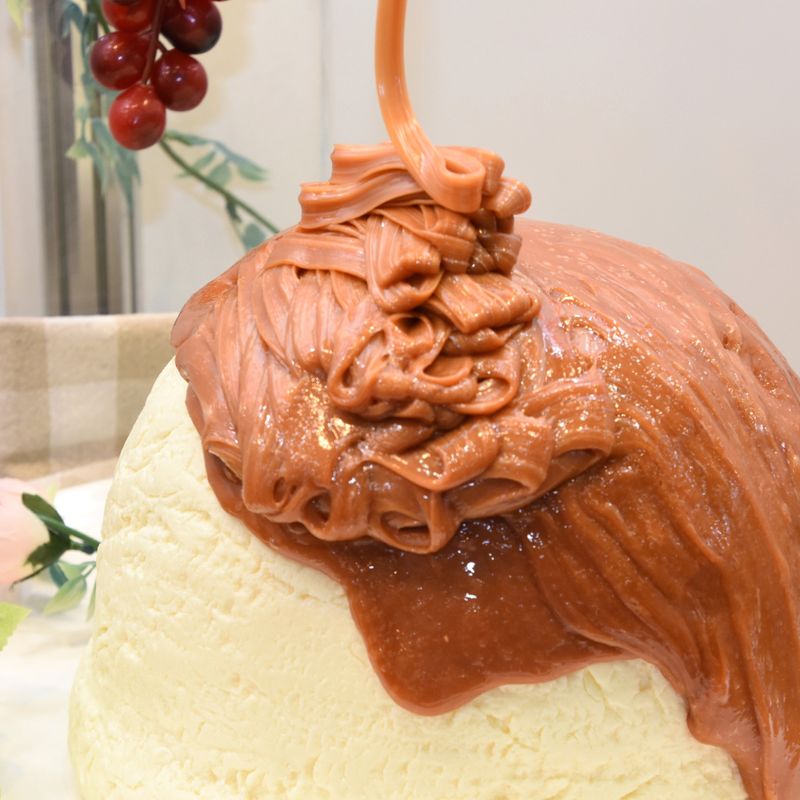 Be it art imitating life or the other way around, or maybe a bit of both, the abundance and, yes, artistry of the cute sweets toys at this year's International Tokyo Toy Show undoubtedly reflect an implicit theme of the event and Japan's explicit sweet tooth.
Expect some of these toys to be made edible in the not-too-distant future, if they aren't on the nation's menus already.

Further reading:
International Tokyo Toy Show 2018: Global hits, domestic nostalgia on display
International Tokyo Toy Show 2018: Market showcase going strong despite population decline
See us on ...
Twitter and Facebook: citycostjapan
Instagram: city_cost_japan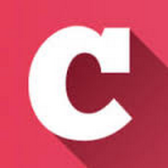 A Q&A and blogging community about life in Japan (plus a load of life-in-Japan stats!). Get your questions answered, share your experience! | Inquiry -> KyodoNewsDigital International Media | Tokyo, Japan | +81 3 6252 6402
---
1 Comment
That bath bomb cupcake set looks awesome...and I'm a grown adult! What a fun exhibition!