USER BLOG
Join the best expat community of Japan. Now!
Share your Japan experience

Create blogs/Join the Q&A

Earn points and get rewards
The Punk/Lolita/VK Shops of Sendai
One of the first weird but cool and so very Japanese things my friends fell in love with in college was Gothic Lolita fashion. This trend/lifestyle choice started a while back and you can learn more about the history here. There's even a wikihow on how to be a lolita here. There are a few variations of the Lolita theme, but the vast majority come with extremely detailed and expensive clothing and accessories. There are plenty of shops, first hand and second, for any style of lolita in Tokyo or Osaka. Sendai is not so big and offers significantly fewer options, but they do still exist here, mostly clustered together on the seventh floor of the Forus building, walking distance from Sendai station. Just walk down the arcade until it dead-ends at Sun Mall Ichibancho and turn right. Forus is on the right before you get to the Disney Store. Take the escalator up and get off when you see "Gothic Lolita * Sports" sign on the seventh floor. As amusing as it sounds, this isn't the floor for displays of Gothic Lolita Sportsmanship (Pretentious petty-coat fluffing? 50 yard Scowl? Delicate field hockey in painful footwear?) but the sign is an accurate description of the floor's contents as a sporting goods shop takes up half of the floor. On the other half you can find Angelic Pretty, Alice and the Pirates, and KERA Style shop in addition to a small Doc Martens store front. There are also wigs and alterations available for the discerning customer. The first thing you see is the media shop, which usually has the most recent copies of the Gothic Lolita Bible, a bi-yearly seasonal style guide for the lolita, complete with sewing patterns for a few select pieces every month. Also, this place sometimes holds in-store events for current Visual Kei artists and other similar genres sold in the store. If you're looking for the lolita outfit of your dreams or just wanting to window shop, this is one of the more peculiar but fun areas of Sendai in which to do it. Serious budget-conscious lolitas in the area also know of several small lolita-specific resale shops, though they still tend to be a bit pricey for some budgets, including my own. The frilly and fun things I find these days are far closer to the station, on the sixth floor of the building once known as Sakurano. The company went under earlier this year and took with it access to one of my very favorite shops in Japan-- Ozzonste. This was the store on the second floor, before Sakurano died. Ozzonste isn't strictly lolita but does work some nice details into some fun and well-made garments, usually with fabric stretchy enough to accommodate a larger American woman like myself. I can't wear everything they make but the stuff I can makes me feel so very cool and frequently can be paired with more plain clothes to make a cool outfit that doesn't scream VK/PUNK/GOTH/WEIRDO (not that there is anything wrong with any of those things-- I love those things, but I don't have the bravery, budget, or wardrobe to wear them every day). So for the more tame among us, this isn't a bad brand. Unfortunately, I haven't been financially capable of shopping at this location in years, though I always found the window shopping to be inspiring. Instead, I go up to the floor dedicated to second hand clothing and hunt. Scouring for badass clothing is actually one of my favorite past-times in Japan. If my daughter is stroller-bound and asleep, I can kill more than an hour looking through all the women's sections for anything with a brand-name I like. On this specific trip, I bought one beautiful Ozzonste top (regular retail: way over $100. BookOff Price: less than 2000 yen) and a really cool h.Naoto shirt for a friend back home...no really. That is way too badass for my housewife-life. There are several brands that specialize in classic Lolita including Angelic Pretty, Baby The Stars Shine Bright, and Alice and the Pirates. I've known some to wear the latter few in combination, but generally all to the full-lolita ensemble. These are not things you can just pair with your jeans, generally. You will find them at the name brand stops, the lolita resale shops, and very rarely at BookOff. My favorite designer, H.Naoto, might use some of the frill and flare from lolita for some of his brands but generally tends more toward the goth-androgenous VK side of things. Hell Cat Punks offers similar clubbing options edging toward the punk side, if you're planning on attending many hardcore live performances. Both of these sometimes find their way into the KERA shop in Forus or BookOff. In the meantime, here is my purchase in action, completing an outfit I didn't know I needed or had. For anyone not believing that little green top can fit anyone above a US size 12, here's proof! So now you've seen that stretchy Ozzonste tops can fit people outside Japan's concept of normal sizes, but you may still be thinking, "Didn't you say something about jeans? Could you really wear that with jeans?" And I would tell you no, that this top really is more of a theatrical piece in my opinion. That said, I do have a few pieces from this brand that can be added together, even with red high-wasted mom-jeans.Still theatrical, still dramatic, but not as much as a full ensemble of similarly designed clothing, which might feel like overkill.How do you adapt interesting Japanese trends to your lifestyle?
JTsuzuki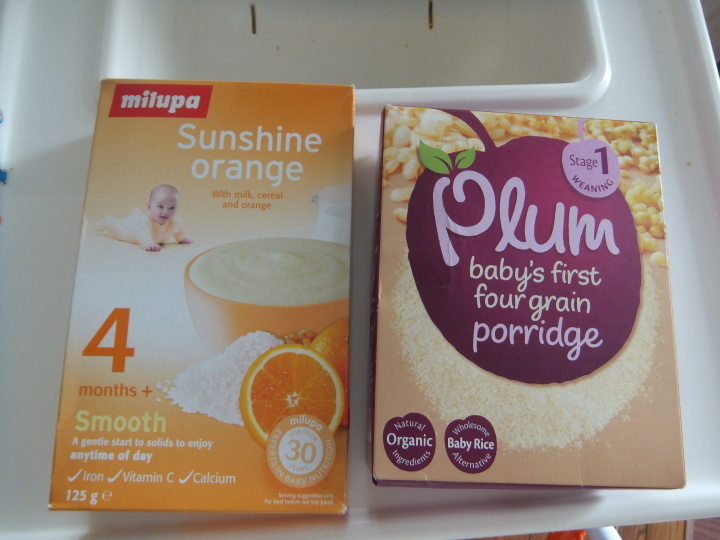 Baby's First Food: Japan Versus the West!
Baby food in Japan is quite different to what I am familiar with in Ireland. I was at home when my eldest (DS) had his first food and for the first few weeks of the spoon. I had just come back from Ireland with supplies to use in Japan for when my 2nd eldest (DD1) started on food. My third and fourth children were the only ones to have Japanese baby food for their first few weeks. I introduced my three daughters to the spoon at 5 and a half months in line with Japanese guidelines to wait until at least 5 months old. DS had the spoon at 17 weeks in line with Irish guidelines to wait until they are at least 4 months old. The World Health Organisation recommends waiting until they are 6 months old. Irish Baby Rice and Baby Food Japanese baby rice At home, baby rice is one of the first foods introduced. Rice is not readily available in Ireland and very few people have rice cookers, so rice for babies is usually bought. In Japan, you can get rice for babies in the store too. Or you can make your own. We tried and tested both. The baby rice you buy here though does not have as much fortification as the baby rice back home. I use Milupa rice cereal when in Europe and it has 33% of the recommended daily allowance (RDA) of Iron, 29% RDA of Calcium and 64% RDA of Vitamin C. It also has Vitamins A, D3, E, K1, B1, B2, B6 and B12, as well as zinc, niacin, folic acid, biotin and pantothenic acid. I use Wakodo baby rice in Japan. It does not provide information on the percentages of RDA present and only lists ingredients rather than nutritional content other than the presence of protein, sodium and vitamin E. Does it just not list the nutritional information or does it just not have any extra nutrition? Your guess is as good as mine, as I cannot find any information online to support either theory! 5 mg sachets of rice and soup like powder sachets What I like about the baby rice in Japan is that it comes in sachets of 5 mg, which is convenient and helps keep the rice fresh. In Ireland the rice comes in a cereal box and aluminium packet of 125 grams and you spoon out the necessary quantity and try to seal the pack after each use to keep it fresh. Convenient pot for making baby rice in the microwave A lot of people in Japan make their own baby rice from regular rice. We did this often. There are various ways you can do it. One of the easiest ways is to stand a bowl of raw rice with the recommended amount of water in the regular rice bowl of the rice cooker. You can also boil cooked rice until it's mushy. Or you can microwave cooked rice, which is what we did. For small babies just starting out the recommendation is to use 200 ml of water to 50 grams of cooked rice and cook it on strong for 4 minutes, then on weak for 12 minutes, then let is stand with the lid still on for a further 5 minutes. We have two handy bowls specifically for microwaving baby rice which we use, pictured above. The first one has the instructions on the front which is useful, but I preferred the smaller bowl as it had the water marker so I could easily add 200 ml of water without having to use a measuring jug. Bowl and bamboo stick masher aka mortar and pestle Other foods introduced in the early weeks seems to vary by country. In Ireland, banana is a popular first food for babies. The one and only baby food book I have in English, Super Baby Food by Ruth Yaron, an American author and nutritionist, recommends avocado. Meanwhile here in Japan carrot is the 2nd most popular first food after rice. In Japan, people also use a lot of soup like powder sachets for extra nutrition (Third picture from the top with coloured sachets). You just add water and stir and you can add to rice for flavour. In Japan, it seems new foods are introduced more quickly than at home. Quite quickly a baby goes from just rice to a variation of fruits and vegetables ground and liquefied to make them easier to digest. I use a mortar and pestle to mash food, pictured above. I think in the initial few weeks of the spoon, the store-bought fortified baby foods at home are a lot more nutritious to here. However, fairly quickly babies in Japan get more variation and nutrition from regular fresh food added to baby rice by about the 4th week of solids. There are lots of foods readily available that can easily be added to baby rice to improve its nutritional content, such as hijiki (please see note below), tofu, sesame seed, dried whitefish or katukuchi anchovy as well as a wide selection of green and coloured vegetables and seasonal fruit. I'd just like to add on a personal note, given the situation of what happened in Fukushima six years ago, we have reduced the amount of Hijiki we use in our diet. Hijiki like all seaweed, but at a greater rate, absorbs not only the nutrition from the seabed, but the toxins as well. This is very well explained on the "World's Healthiest Foods" site; Radiation Protection and Diet. We are also being very careful with all seafood we purchase.
Saitama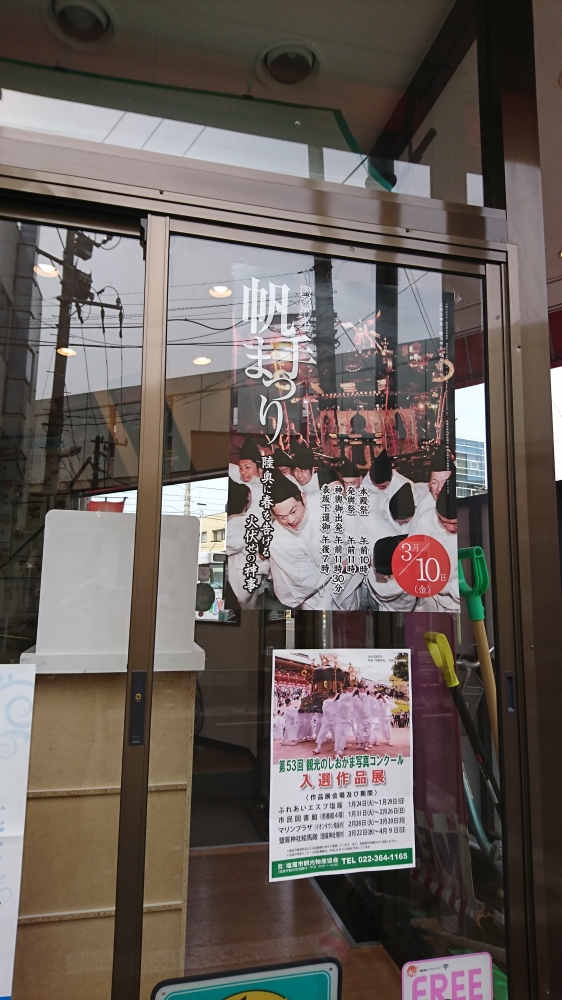 Hote Matsuri in Shiogama This Friday!
Omikoshi, the Japanese portable shrines, are said to be temporary homes of Shinto deities and are featured prominently in festivals throughout Japan. If you've never seen a procession featuring Omikoshi and you happen to be free Friday, March 10th, head out to Shiogama, Miyagi, for your chance to witness Hote Matsuri. The purpose of the festival, which began 300 years ago, was originally centered around fire prevention but eventually took on the further aspects of instilling health and wellness to the people of the town, according to the website for tourism in Miyagi prefecture (halfway down the page, the only listing under March) which can be found here. As the picture on the poster indicates, groups of men in ceremonial garb bear the weight of the 1 ton plus shrine on its journey around the town. This starts with the pretty extraordinary feat of walking down the 202 stone steps of the main entrance of Shiogama Shrine. According to the official website for Shiogama Shrine, which provides a schedule but exclusively in Japanese, the omikoshi will descend the stairs at 11:30AM. The participants will be gathering within an hour and a half before this venture, but once it starts, they'll be marching through the town until 7PM when the portable shrine will ascend that same treacherous stairway. Apologies for the small size of this picture, but here you see a walking map of Shiogama, which you can pick up from the information center in front of Honshiogama Station (Jinja exit). If you're coming from out of town, it would be easiest to stay near Shiogama station (Tohoku Line, 240 yen and 18 minutes from Sendai) at 1PM or be near HonShiogama Station (Senseki Line, 320 yen and 30 minutes from Sendai) at 6PM. Then you can see the whole procession move through that part of town. In previous years, I haven't been out and about in the town enough to see the posters for this event or to remember the dates. I usually don't remember when these things are happening unless I happen to notice the rope lining the main streets at telephone-pole height. This holy rope runs both sides of each main street for the entire path of the omikoshi through the town and is decorated with knotted strips of white paper. There have been years when that alone was my only indicator that the day was somehow special. Other years, I have been unaware of this until I hear the drums from my apartment. It is bad luck to look down on the procession, as I found out from my husband only after observing the festival one afternoon from my balcony and telling my husband about it. Watching from this angle would be literally looking down on a god, so I guess it isn't hard to see how that factors in. The best place to watch the procession is from street level, and being a Friday afternoon, this shouldn't be such a crowded event. It is free to the public, and some places even offer free food to the observers as well as the participants, as I found out 3 years ago when I went to watch it around nightfall, baby strapped to my chest. The little garage across the street had converted itself into a make-shift restaurant of sorts, and they were quite insistent that I join them, even though few words between us were spoken. As is marked in the map above, the procession takes regular breaks at locations indicated on the official Shiogama Shrine website (unfortunately, yes, still all in only Japanese) but the task itself must be grueling. That said. the music that accompanies the procession is almost magical. Watching this festival-procession make its way across town doesn't actually take long if you're only interested in watching it pass by. If you're more interested in watching the portable shrine ascend or descend the 202 steps of the main Shiogama Shrine entrance, it is best to come a little early and get in place for some good photos. Not sure how to get to Shiogama Shrine? See this blog post from last summer explaining just that. In addition to those directions, I would like to advise travelers this round to stop by the tourist information center, which is just outside of the Jinja (Shrine) exit of Honshiogama station. It is easy to get to and open until 4PM. The staff don't seem to be terribly bilingual, but they are very friendly and in my experience willing to work with your language ability, whatever your level. There you can find lots of free information including a walking map of Shiogama, which uses some English and many easily understood icons in addition to Japanese, and postcards from a number of exciting Shiogama related events, including the summer Marine Day celebration (when the shrine-boats go to the sea), Shiogama Shrine's own unique double-blossom sakura (Shiogama-zakura), and even, yes, the Hote Matsuri event.I also bought a Hello Kitty folder because it features the Shrine Boats. I love those boats. The walking map can be quite useful, even if your Japanese isn't so great because it tends to use easily understood icons to indicate businesses, such as a little piece of nigiri to show the various sushi restaurants in the area. One thing I came to know just last year was that Shiogama has more sushi restaurants per capita than any other place in Japan. The best of these occupy a small section just past Honshiogama station. Tripadvisor's #1 and #4 for best sushi restaurants in Shiogama are just down the street from each other on this block. They are a bit pricey, but well worth it. If you do go, definitely try the maguro tuna. The fish is a symbol of the town, as seen on the post-boxes. So if you are up for some free omikoshi processional watching, followed by some great sushi this Friday, look no further than Shiogama's Hote Festival. If this Friday does not work for you, this event falls on the same date every year. March 10th, 2018 will fall on a Saturday, so if you're still in Japan and have the weekend open, this would give you one more authentic Japanese experience.
JTsuzuki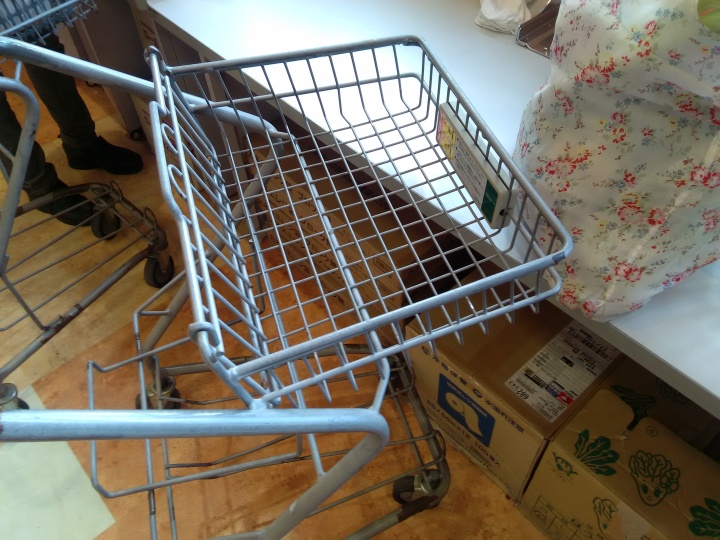 The little secret of supermarket carts
For years in Japan, I never knew this little trick until I saw someone do it...Did you know that the small supermarket shopping carts are designed so that the height can fit right above the table where you pack your groceries?BOOM! Just like that, and the little space-saver cart is now right beside you at the table. You don't need to twist your body around to reach for the pack of pork and the head of lettuce just to twist yourself back again to stuff them into your bag!More importantly, the cart is no longer sitting behind me and tripping everyone who is walking out from the supermarket. It's both space-efficient and good manners. If you didn't know that, give it a try next time!~
Jackson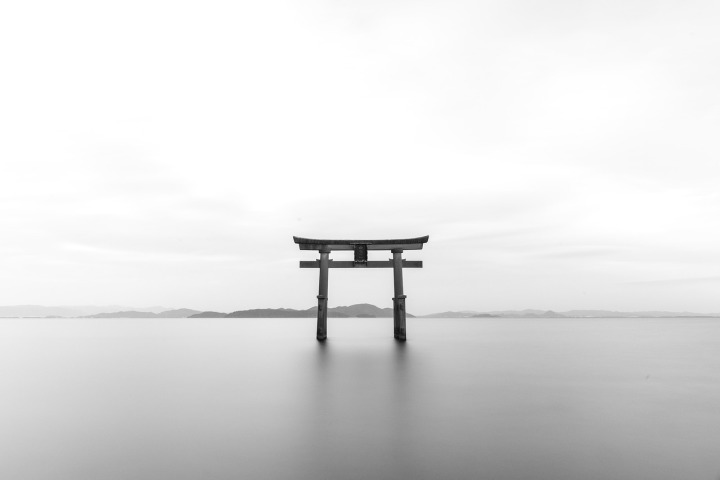 Coping with Less is More
The minimalist movement must have originated in Japan, where the concepts of zen, ma and wabi-sabi are very apparent in most aspects of life here, most notably architecture, interior design, packaging, flower arrangements and cuisine. Famous Japanese minimalists such as Marie Kondo, Tadao Ando, Oki Sato and many more are also recognized for their work and contributions to make this world a more acceptable living space.Whether it is Influenced by Zen Buddhism, tiny homes, a necessity to keep little in case of earthquakes or going against a over indulgent consumerist society, more and more peole are letting go of their materialistic burdens to create an aesthetically cleaner (or empty) living space, to declutter their minds and have a deeper appreciation for things.Being someone with serious OCD, I am all for being minimal. I want to see space in my house, so I feel I can breath. Our move to Japan must have triggered my passion for lesser belongings. When we moved here, we threw and gave away a bulk of our belongings, just so that we can fit into a smaller living space. When we had settled down, I had to again purge more stuff to make our home livable. Gradually, purging and decluttering has become a habit for me. I now find myself going through my belongings on a very regular basis to try and fish out what I haven't used, don't really need or feel nothing for and try to sell, give and throw way. After a purging exercise, I feel great but that euphoria only lasts me a few days, and I feel uneasy again...The problem I am facing is that It is really difficult to let go! Despite my very frequent purging exercise, I spend more time deliberating whether I should ditch something than I actually declutter. While researching, I was super motivated by Marie Kondo's philosophy of "if you don't feel for it, let it go" but quite frankly, it's quite difficult to decide if I really don't feel for something or I do kind of feel a little for it, sometimes. The other question is about wastage. When I purge, a bulk of the things becomes waste. I feel guilt about this waste, number one for the financial aspect of it; next, for the opportunity cost of this waste. Aren't we already running really low on natural resources? By ditching stuff I don't want or need, I must be scoring high on being environmentally unfriendly. If owning less is helping the environment, then how do I explain having to ditch more? It's really a catch 22.So I always wonder how do people cope with decluttering here? Or if they even consider it important? How about those with multiple kids/generations, where do they store all their hand me downs? What happens after Christmas and birthdays? How do they achieve an equilibrium in the amount of things that they own and use? How can you minimalize waste?I also wonder if to achieve a minimalistic lifestyle, it's is just a matter of owning less or is it something deeper? Is it an advanced form of self control that I am so flawed in, which render me unsuccessful no matter how many times I try?Until I figure it out I will have to continue with my mini purges and struggle with the profound questions of whether or how much I feel for things.
mica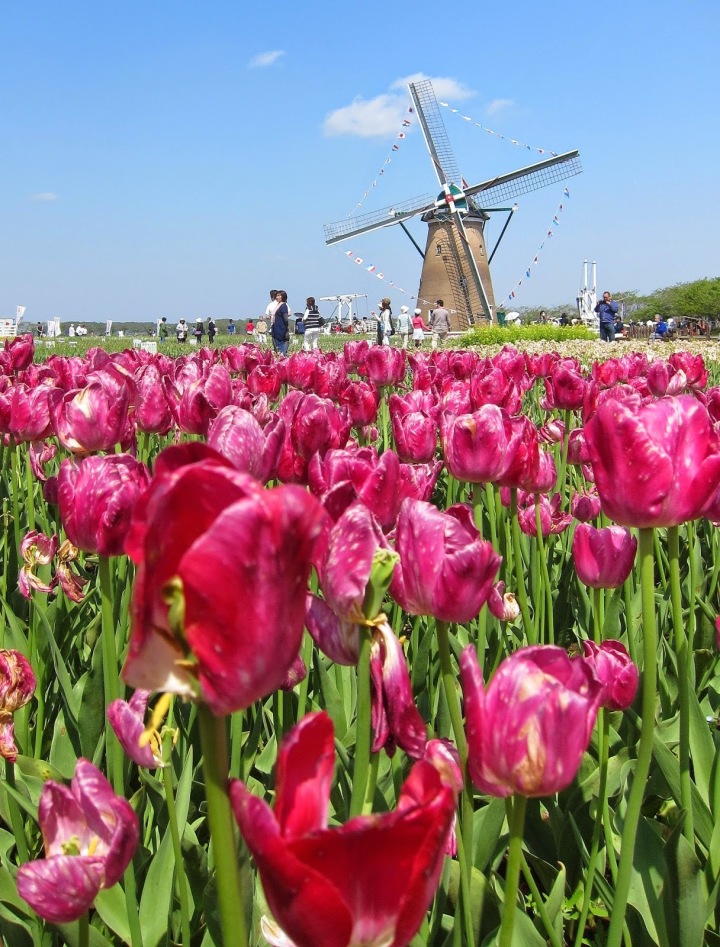 Tulipfields around Sakura City
Every year at the beginning of march the tulip season starts in japan. In Sakura City (Chiba prefecture) you can find a huge field full of different tulips from around the world. In the middle of the field is a beautiful windmill from the Netherlands which has a small museum inside. If you going at the end of march to the fields, you might be lucky to see most of the tulips fully bloomed. But every tulip is different and has different blooming time. I love to walk around the fields and see the big variety of flowers. Also for around 500 Yen you can collect 10 tulips from the fields and bring them back to home. The good thing about tulips is that they come back every year again. For your entertainment you can listen to a school choir or dress up in a typical Netherlands dress with wood shoes. Also you can have lunch at the nearby restaurant and food stands.I visit that place every year because I like the nice atmosphere of the fields in the countryside and it gives me a little feeling of being back to Europe.
Crazydeath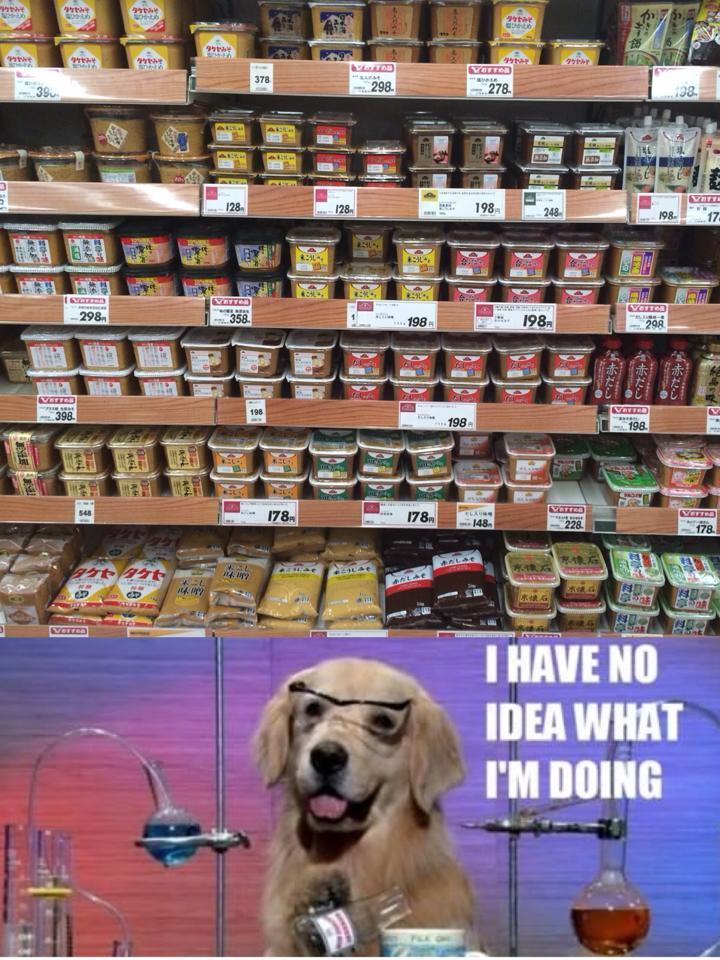 Top 5 healthy, cheap and easy foods and meals for terrible cooks in Japan
If you're a terrible cook like me, you'll know that sinking feeling of walking into a Japanese supermarket and realising you have no idea what anything is, let alone how to fashion it into something edible. You will also realise that most of your tried-and-tested recipes from home either contain things impossible to find in Japan, or require an oven. And who has an oven in Japan?So you think "Okay. I'll try and find Japanese recipes in English..." and they include stuff like "You will need miso"! You will need MISO! Have you seen a miso aisle, recipe writer?! You're gonna have to be a bit more specific than that! Here are the top 5 things you have to look out for in any Japanese supermarket, that may just save you from starving.5) Key ingredient: Mixed vegetable bagsThese things are a lifesaver. Go to the supermarket and buy some, you won't regret it! Cheap (at around 100 yen), healthy, and go with any of the things I am about to show you. More importantly, all the preparation required is 1: open bag 2: put in pan 3: turn on hob 4: wait. (Washing the veg and adding a little bit of oil to the pan also help!)They contain ingredients like carrots, cabbage, Japanese mushrooms and moyashi (bean sprouts), but vary depending on brand and season. I like the brand above as they don't contain many mushrooms, but you can find ones that are mixed more to your taste. If you're really on a budget, you can buy bags of just moyashi, that will set you back about 30 yen. If you're using the veg as a main part of the meal, one bag is enough for two meals.Pair these veg with many types of noodle such as chinese-style (中華) and some pepper to get a vegetarian friendly, super quick meal. Add them to the top of ramen to fill it out a bit. Add mirin, sake and soy sauce when cooking these for a typically Japanese umami flavour. The possibilities are endless!4) Ready made nabe (hot pot)You will see these in the fridge section, in aluminium containers. Buy one and take the ingredients out from their separate packages, put them in the aluminium tin, put the tin on the hob and heat up. You have yourself a meal! No other ingredients required, but you can add extras like the veg in 5) if you wish. Beware! If you have an electric/IH stove, you may not be able to use the original tin, even if the packet says "IH 対応" or "IH compatible". ("IH incompatible" is "IH非対応") In this case just transfer to your own saucepan or frying pan.3) ChamponAnother really easy, healthy meal comes in packages that look like this. Search for ちゃんぽん written on the packet. This is a Nagasaki speciality which in its full-fledged, authentic version contains octopus, prawns, fish paste and all sorts, but works well with just veg too.Grab a bag of vegetables as in 5) and heat in a pan. (If you want to add meat or other ingredients, heat these up too) Add the noodles, broth powder and water, heat up and you're done! Quick and easy meal with the bare minimum of prep and washing up required, what's more to love?!2) Key ingredient: thinly sliced porkThinly sliced pork goes with anything! Chinese food, Japanese food, western food... anything is possible with this stuff. Pair it with the wondrous vegetables in 5) and you have a perfect noodle accompaniment. I guess it works with rice too. It may sound like "thinly sliced pork" is a needlessly long term for bacon, but the Japanese version isn't as salty or flavourful, is thinner, and has more streaky fat- than British bacon, anyway. The more subtle flavour (okay, boring flavour) means it doesn't overpower the rest of the meal (okay, it doesn't really taste of much but gives you a more balanced meal). (I miss decent bacon) (Sigh)1) Sara udonThis is the ultimate in cheap, easy, and healthy meals. The picture above has those magical words 具いり (gu iri), meaning that the packet contains the main toppings. Add the vegetables in 5) and the pork in 2) to make it even better. Even the non-gu iri stuff just needs 5) and 2) to be ready- just add the included sauce, and maybe water if required. The great thing about Sara Udon is that the noodles are ready to eat- just stick them on a plate and bob's your uncle! The noodles are not like usual udon as they are thin, crunchy and almost snack-like, which also means that these things have a shelf life to compete with any emergency biscuits that may be hiding in your cupboard.Stock up on a few of these, and you will never go hungry in Japan!Do you have any super easy, Japan friendly food hints? What do you cook at home in Japan? Leave a comment!
Louiseyd