USER BLOG
Join the best expat community of Japan. Now!
Share your Japan experience

Create blogs/Join the Q&A

Earn points and get rewards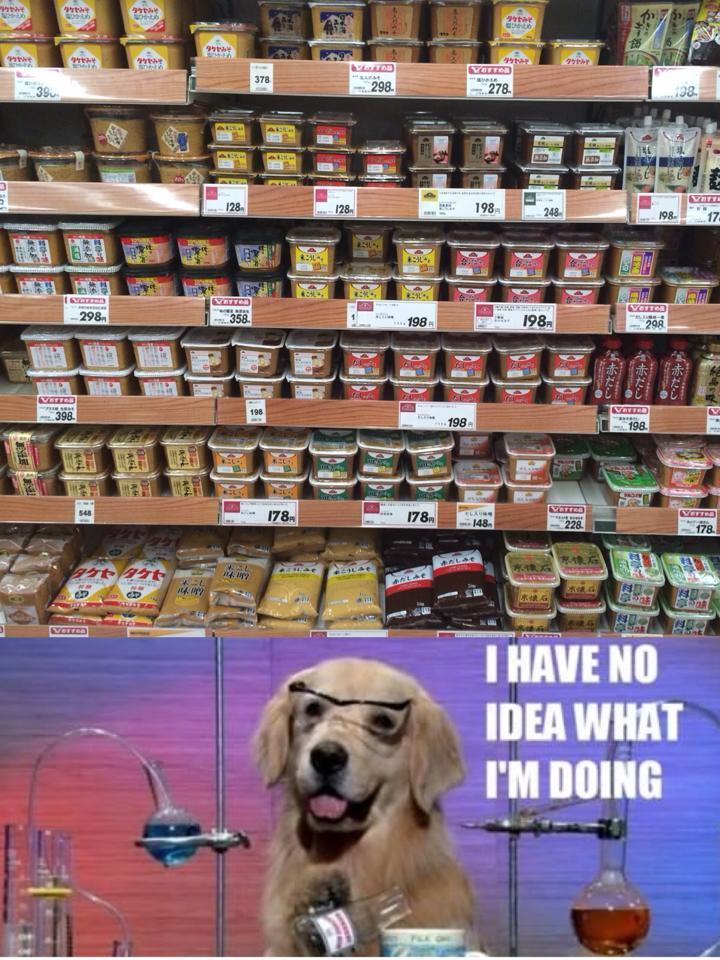 Top 5 healthy, cheap and easy foods and meals for terrible cooks in Japan
If you're a terrible cook like me, you'll know that sinking feeling of walking into a Japanese supermarket and realising you have no idea what anything is, let alone how to fashion it into something edible. You will also realise that most of your tried-and-tested recipes from home either contain things impossible to find in Japan, or require an oven. And who has an oven in Japan?So you think "Okay. I'll try and find Japanese recipes in English..." and they include stuff like "You will need miso"! You will need MISO! Have you seen a miso aisle, recipe writer?! You're gonna have to be a bit more specific than that! Here are the top 5 things you have to look out for in any Japanese supermarket, that may just save you from starving.5) Key ingredient: Mixed vegetable bagsThese things are a lifesaver. Go to the supermarket and buy some, you won't regret it! Cheap (at around 100 yen), healthy, and go with any of the things I am about to show you. More importantly, all the preparation required is 1: open bag 2: put in pan 3: turn on hob 4: wait. (Washing the veg and adding a little bit of oil to the pan also help!)They contain ingredients like carrots, cabbage, Japanese mushrooms and moyashi (bean sprouts), but vary depending on brand and season. I like the brand above as they don't contain many mushrooms, but you can find ones that are mixed more to your taste. If you're really on a budget, you can buy bags of just moyashi, that will set you back about 30 yen. If you're using the veg as a main part of the meal, one bag is enough for two meals.Pair these veg with many types of noodle such as chinese-style (中華) and some pepper to get a vegetarian friendly, super quick meal. Add them to the top of ramen to fill it out a bit. Add mirin, sake and soy sauce when cooking these for a typically Japanese umami flavour. The possibilities are endless!4) Ready made nabe (hot pot)You will see these in the fridge section, in aluminium containers. Buy one and take the ingredients out from their separate packages, put them in the aluminium tin, put the tin on the hob and heat up. You have yourself a meal! No other ingredients required, but you can add extras like the veg in 5) if you wish. Beware! If you have an electric/IH stove, you may not be able to use the original tin, even if the packet says "IH 対応" or "IH compatible". ("IH incompatible" is "IH非対応") In this case just transfer to your own saucepan or frying pan.3) ChamponAnother really easy, healthy meal comes in packages that look like this. Search for ちゃんぽん written on the packet. This is a Nagasaki speciality which in its full-fledged, authentic version contains octopus, prawns, fish paste and all sorts, but works well with just veg too.Grab a bag of vegetables as in 5) and heat in a pan. (If you want to add meat or other ingredients, heat these up too) Add the noodles, broth powder and water, heat up and you're done! Quick and easy meal with the bare minimum of prep and washing up required, what's more to love?!2) Key ingredient: thinly sliced porkThinly sliced pork goes with anything! Chinese food, Japanese food, western food... anything is possible with this stuff. Pair it with the wondrous vegetables in 5) and you have a perfect noodle accompaniment. I guess it works with rice too. It may sound like "thinly sliced pork" is a needlessly long term for bacon, but the Japanese version isn't as salty or flavourful, is thinner, and has more streaky fat- than British bacon, anyway. The more subtle flavour (okay, boring flavour) means it doesn't overpower the rest of the meal (okay, it doesn't really taste of much but gives you a more balanced meal). (I miss decent bacon) (Sigh)1) Sara udonThis is the ultimate in cheap, easy, and healthy meals. The picture above has those magical words 具いり (gu iri), meaning that the packet contains the main toppings. Add the vegetables in 5) and the pork in 2) to make it even better. Even the non-gu iri stuff just needs 5) and 2) to be ready- just add the included sauce, and maybe water if required. The great thing about Sara Udon is that the noodles are ready to eat- just stick them on a plate and bob's your uncle! The noodles are not like usual udon as they are thin, crunchy and almost snack-like, which also means that these things have a shelf life to compete with any emergency biscuits that may be hiding in your cupboard.Stock up on a few of these, and you will never go hungry in Japan!Do you have any super easy, Japan friendly food hints? What do you cook at home in Japan? Leave a comment!
Louiseyd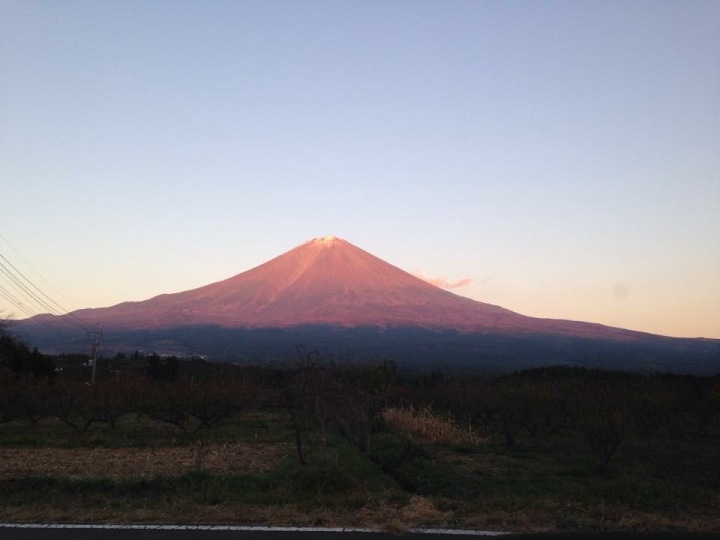 There is much to anticipate while living in Japan
Starting life in a new country is often nerve racking. There is a lot of getting used to; a new environment, new culture, new ways of doing things and of course for Japan, a completely new language. Often, the simplest things you used to do with ease in your home country becomes immensely complicated and difficult here. Couple that with a lack of friends and the responsibility to make sure life goes on normal for the rest of the family, the anxiety can often lead to grief and depression. Yes, starting life in Japan isn't exactly a bed of roses but it is not always gloomy either. For me, my experience in Japan has surprised me, there is actually much to anticipate in every day life here. All these details has kept me going, keeping me sane and happy regardless of everything else foreign that I have to deal with.I personally think the change in seasons is what creates all the anticipation. The change in season brings about a change in temperature, change in way of dressing, change in choice of food, change in scenery, change in daylight, change in activities and much more. Let's start with spring, the best gift from mother nature. Flowers start blooming, leaves start spouting. It is almost like nature congratulating us for surviving the cold winter. Food choices suddenly open up, you get the fresh produce like strawberries, rapeseed, bamboo shoots, tangerines flooding the shelves of supermarkets. Now you can bring the family out to the parks in weekends without the fear of freezing. You also get to shed the thick gloomy clothes and change into something more flowy and colorful. Of course, there is the plum and cherry blossom viewing, street festivals and hanami with friends. All these just brighten up my days, at least until April. Then comes golden week, the time when we go on extended road trips with the entire family, going to remote places, exploring Japan and her beauties, before the weather gets really hot.Summer is brutal here with the heat and the mozzies, but there's lots of fun too. It is during summer when the river parks and splash pools and water parks start their business. During the summer holidays, my kids and I would pack our bentos and head to the park or stream and spend a whole half a day. Them splashing in the water and me sitting on the side soaking my feet and reading my book. It can be very pleasant for everyone. Summer you get amazing food too. Corn from Hokkaido that's sweet like candy, watermelons, pears, peaches, tomatoes and so much more, all waiting to help cool you down.Fall comes as a relief to the unbearable heat. Also, I can finally get the kids off my back and send them off to school and have some time to myself. It is then I love seeing how the ginkgo trees lose their leaves and get pruned to the point of barren. This is also the magical time to go soak in onsens as you admire the red leaves. Hiking becomes more comfortable again. You get to start getting your cold weather fashion ready for the next half a year. A pretty busy time I have to say. My favorite food also come by in the fall; lucious grapes, persimmons, oysters, sword mackerels and so many other harvests, getting the farms empty for winter!Finally we are back to winter, time to go skiing and onset again. Now we get to feast on crabs and fatty fishes loaded up to survive the cold water (sorry fishes). Going to bed in my fluffy comforter will then be my daily goal. Getting ready for Christmas and New Years occupies much of this season. Also, I get a chance to go home!See, there is so much to see, to feel, to touch, to eat throughout the year I often forget about the mundane difficulties. It is almost like being a tourist in your resident country. Not a bad thing at all!
mica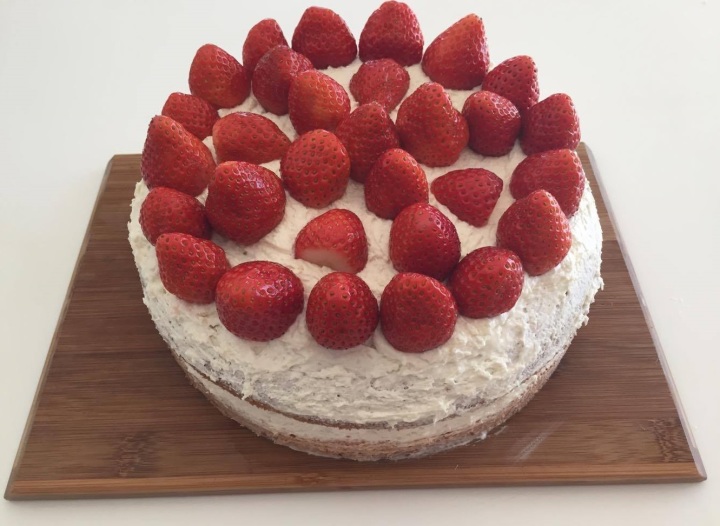 How to make japanese strawberry shortcake
Japanese loves their strawberry shortcake. I guess it is the number one cake ever in Japan. You can buy it really everywhere. Also my husband really loves that cake, so I promised to bake one for his birthday. For everybody who like to try out to bake the most popular cake in Japan, I will teach you how to make it!Ingredient list:- 6 eggs- 250 g flour- 250 g sugar- 15 g backing powder- 10 g vanilla sugar- 1 kg strawberries- 400 ml sweet creamFirst we will start with the biscuit base: Put the eggs, sugar and vanilla sugar in a bowl and stir it very well. After it put the flour and the backing powder and stir it till you have a good dough. Put the dough in a cake tin (26 cm).Put it in a preheated oven (180 °C for 40 minutes). After 40 minutes take it out and let it cool down. During the waiting time you can cut the strawberries and whipped up the sweet cream.After the base cooled down cut it horizontal. Put the top part on the side and put the whipped cream on the other half. Also put all full with half cut strawberries. After that put the top part on it and put whipped cream and strawberries on top. When you finished all, it is better to put the cake a little bit in the fridge before eating it.Please enjoy!
Crazydeath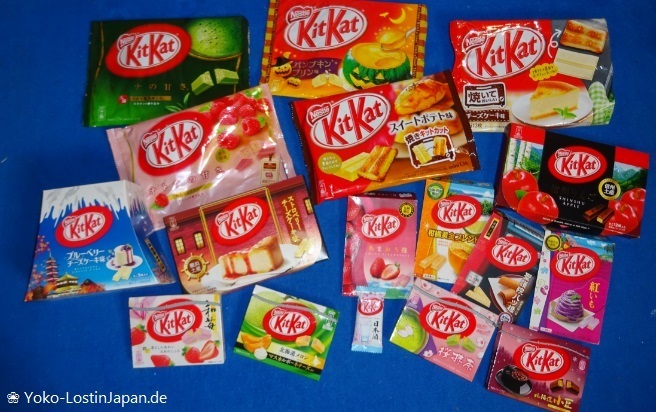 Japanese Food Experience: KIT KAT MANIA
When you are at the supermarket, have you ever noticed there are different sorts of KitKats? Did you even notice they change seasonally? Actually, Japanese people are really crazy for KitKat and there are not only a few different sorts, there are MANY different sorts. Let's take a look at the KIT KAT MANIA. KitKat was introduced to Japan in 1973, but as we know the Japanese people, it didn't stay with a normal milk chocolate taste. Japanese people are creative when it comes to food and sweets and so within the over 40 years of KitKat in Japan more than 300 versions have been released. But how could KitKat become so popular in Japan? At least one reason is its name itself. KitKat is often pronounced as "kitto katto" in Japanese which sounds like "you will surely win" (きっと勝つ kitto katsu). Because of this the chocolate snack is seen as a lucky charm. Many people use it to get cheered up for university entry exams. Even special versions of KitKat are sold for this season of the year when special words are printed on the chocolate. The regular versions of KitKat There are some versions of KitKat you can find all over the year in Japan. These are the regular milk-chocolate KitKat and a bitter chocolate version. For sure, it wouldn't be Japan if there wasn't a Maccha KitKat version which looks pretty good in green and really tastes like green tea. Another version you can often find is strawberry KiKat. The new KitKat Luxury Every Day also seems to stay for a longer time. Mainly these packs with 12 chocolate bars inside are available at supermarkets and drugstores and cost around 200 to 400 Yen. The seasonal versions of KitKat Japan is famous for the time-limited products which are only sold within specific times a year. For sure, this also goes with KitKat. Every year they have new ideas and release new products changing with the seasons. But take care, mainly you can have them only once and soon after the seasonal change they disappear – and won't come back. However, as example for an always-coming-back version you can see Pumpkin KitKat around two months before Halloween. There are some sorts of Yaki-KitKat which you can bake inside the oven, coming up regularly with different tastes. Some seasonal versions are: Rasberry, Vanilla Ice, Sweet Potato, Baked Cheese Cake, Ginger and even more... Fun fact: the Japan Post is releasing a special designed KitKat every year for New Year's greeting. However, it's just a special look for the regular milk chocolate KitKat. The regional versions of KitKat Here you can find another reason why KitKat is so popular in Japan. The tradition of Omiyage lets people buy regional-limited products on their trips – why not to choose a regional KitKat? But don't worry, you don't need to travel everywhere to try the regional versions. Sometimes you also can find them at duty free shops and Don Quijote stores. The regional versions mostly include some special products of the area, just like apples from Shinshu area, Maccha from Uji or Momiji from Hiroshima. Mainly it is a box of 12 KitKat Minis which costs 800 Yen (+ tax). Sometimes smaller packs with five chocolate bars are also available. Here you can see the recent regional versions which you also can find on the Nestle website. But don't worry, there are even more versions. Tokyo – Rum Raisin Yokohama –Strawberry Cheese Cake Shizuoka & Kanto area – Tamauya Honten Wasabi Nagano – Shinshu Apple Tochigi – Tochi-Otome Strawberry Kanto Hokuriku area – Azuki Sandwich Kyoto – Itokyuemon Uji Maccha Kyoto – Itokyuemon Roasted Tea Kobe - Kobe Pudding Hiroshima – Momiji Manju Kyushu – Amaou Strawberry Kyushu & Okinawa – Purple Sweetpotato Kyushu & Okinawa – Green Tea of Kumamoto Also added to the local souvenirs are the Sake flavoured KitKat and Strawberry Cheese Cake KitKat which have a special box design. The last one looks like Japan's famous Mount Fuji. You mainly can find these at the Kanto area. The airport versions of Kitkat Especially for foreign tourists, there are big boxes of KitKat which you only can get at the airport. These include ten smaller boxes each with three KitKats inside. That's why it is perfect to take it home and present them to friends. Sure, sometimes you also can find them at other places. One example, which versions you mainly find at Haneda airport, you can see on the picture below. There they have Japanese Strawberry, Hokkaido Red Bean, Sakura Maccha and Uji Green Tea. Lately, they also added Hokkaido Melon with Mascarpone Cheese which is pretty delicious. So, take your chance to get these boxes at the airport. KitKat Chocolatory From 2014 the KitKat Mania went on with special shops which only sell exclusive KitKat versions. By now there are nine KitKat Chocolatory stores all over Japan, however four of the stores are located in Tokyo. The other you can find in Osaka, Kyoto, Nagoya, Fukuoka and Sapporo. At these stores you can find KitKat Sublime versions, special fruit versions and gift boxes. They even have an online shop. Check out the website here. - - - - - - - - - - - - - - - - - - - - - - - - - - - - How about you – are you going with the KitKat Mania in Japan? Have you tried different KitKat versions? Which do you like best?
YokoLostinJapan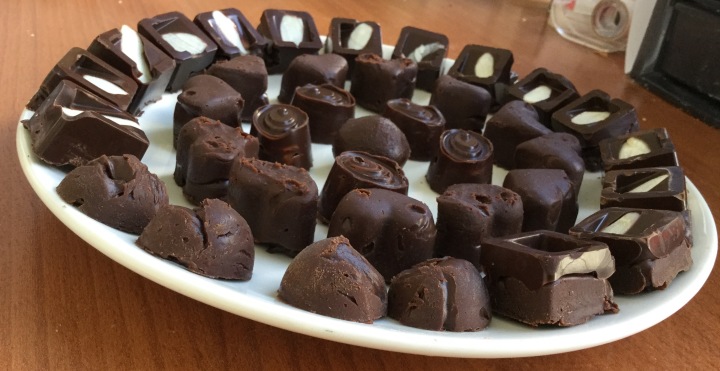 DIY Nama Chocolate, Vegan Nama Chocolate, and Nama Tart
I'm a bit of a 'why buy it, when you can make it' kind of person. It's part of my upbringing, you see. When I was young I always thought everybody made their fancy dress costumes because my mum made costumes for all four of us kids. I was shocked when I found out that it was only my mum that did that. It was the same when I went to university. Everybody was so surprised that I could cook and bake. Mum and Nan taught us cooking and baking, Dad did on a regular basis as well. They always taught me that if you can make it, then you you don't need to buy it. It's cheaper and a safe survival mode. I do that with everything, and living here I have learned it's even more important. With Valentine's Day coming up, I've seen lots of shops saying to buy this chocolate and that chocolate. It's actually quite expensive. I found that it's cheaper to do it yourself. You can buy decent cooking chocolate here, and cream, and if you've already got the chocolate molds or a baking tin, then do you really need to buy it? After all, Nama chocolate is not really all that time consuming for the hustle and bustle of Tokyo. So I've already made my Nama chocolate for this year. It's ready to go into work tomorrow. I thought that I'd share the recipe with you. Oh, and I've thrown in a DIY Nama chocolate tart for dessert as well.Nama Chocolate This recipe takes 30 minutes to prepare and cook. It can make a lot of chocolate. It can be halved. Note that all items must be very dry, or the chocolate will seize. 400g (14oz) dark chocolate at 70% cacao or semi sweet chocolate 200ml heavy cream with 38% fatcocoa powder1) If you don't have a mold, then line a 8"x8" baking tray with baking paper.2) Finely chop chocolate. 3) Put cream into a small sauce pan. Almost bring it to the boil, and remove it from the heat just before. 4) Add the chocolate to the cream and stir until completely combined. Spoon into the chocolate molds, or pour into the baking tray and refrigerate for 4-5 hours, or until your ready to serve.5) Remove the chocolate and take out from the tray. Use a warm knife to cut the chocolate. Clean the knife In between each cut, or the chocolate will break.6) Sprinkle cocoa powder. I for some reason, never do this.You see! Super easy! Although, as you can see, I'm a bit of a show off. Some had almond fillings, some had double layers, some almond toppings, and some had a chocolate shell with Nama filling. I simply melted some chocolate before hand, and made the shells by adding a good dollop in the base of the mold and mixed around the edge with a plastic chopstick and added the crushed almonds and refrigerated it before adding the Nama chocolate. For the almond layered ones, I placed the almond in, added a layer of chocolate in and refrigerated before add the second layer.Now then, if you wanted to be a bit more fancy, then have you considered making Nama chocolate tart? If you have time to make some pastry a little earlier, then it shouldn't be a problem. Sweet PastryAgain, this can be halved. If you want vegan pastry, then most organic shops sell vegan butter.225g / 8oz plain flourpinch of salt100g / 4 oz of butter2 1/2 tablespoons cold water2 tablespoons of sugar1) Mix all the dry ingredients together.2) Add butter and bring it together to make breadcrumbs.3) Add water.4) Bring to dough. 5) Wrap in cling film and refrigerate for 20 minutes.6) Grease a round baking tin. Cut a sheet of baking paper for the bottom and place it inside.7) Remove dough and sprinkle flour on the table and on top of the dough to stop it sticking to the pin. Roll out the dough to the size of your time and place and press it into place. Cut to a little bit bigger than the edge size, because the dough will shrink a little. Prick holes in it with a fork to help baking. You will need to weigh it down with some baking beads. 8) Bake to tart case for 20-25 minutes at 180 degrees. Keep watch on it. You don't want it to burn. Just a light golden brown is good. 9) Remove from oven and allow to cool before adding your Nama chocolate mixture.10) Add the Nama chocolate and decorate. Then refrigerate for 4-5 hours. Now for dairy allergy sufferers like myself, it can be a little tricky to get hold of dairy free cream. So this is the alternative. Vegan Nama Chocolate Again this recipe can be halved. 300g / 10.6oz vegan chocolate 300g / 10.6oz silk tofu2 tablespoons maple syrup Some rice flour1) Drain the water from the tofu. Try to drain as much as you can. Mix until smooth. 2) Chop the chocolate into small pieces. Boil water in a small pan, and place two thirds of the chocolate into a metal bowl (this will help tempering) and melt over the heat. Remove from the heat and add the remaining chocolate. Mix until smooth.3) Mix chocolate, tofu, and maple syrup together. Add rice flour if the mixture is too runny. 4) Line a baking tray with baking paper. Pour the mix into the baking tray. Allow to cool and then refrigerate for an hour.5) Take out and cut into pieces. Keep refrigerated.Note: You may not want to use all the tofu. It will make a slightly firmer fudge that still tastes great!So that's it! Check out the video that I also made for last years Nama Chocolate. And remember....
smallbigjapan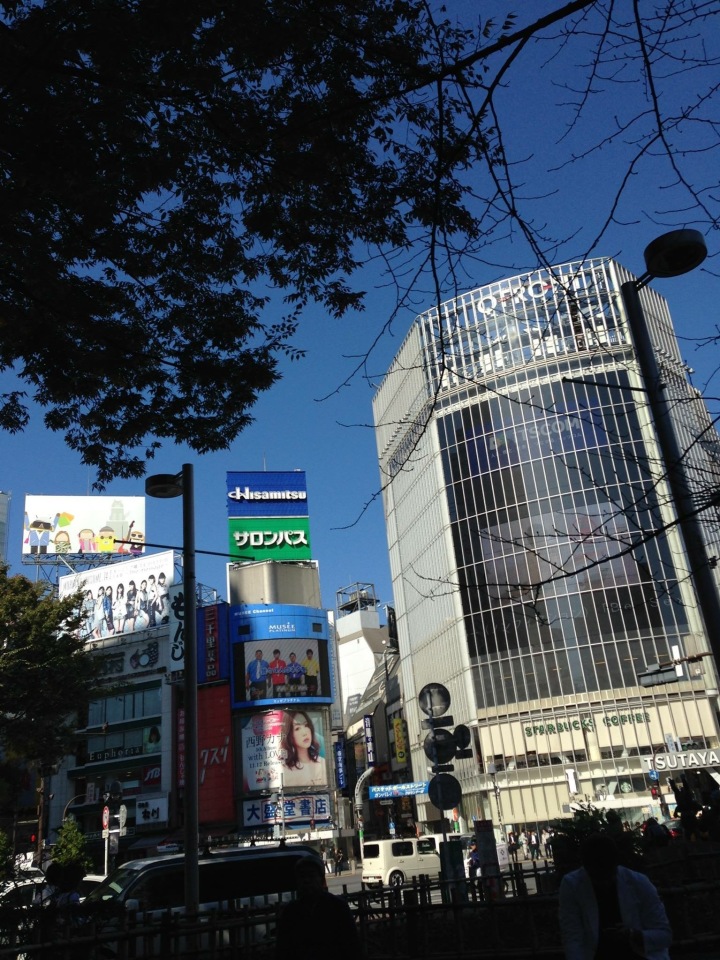 Shibuya's a Place for Small kids? Why not?
My first encounter with bringing a small kid to Shibuya wasn't a fantastic one. It was years ago when I visited with my then baby, as a tourist. Back then, I made the wrong move by choosing Shibuya to try and buy some diapers…. I mean, Shibuya is a big commercial center with lots of shops right? I am sure somewhere in the hundreds of pharmacies and supermarkets I can definitely find diapers right? I had never been that WRONG. Turned out, shopkeepers were staring at us strange, saying something to the point of "there are just no babies in Shibuya." Fast forward a few years. This time, we have actually moved to Tokyo and now I have to live life with another baby, in a location close to Shibuya. There are countless occasions where I have to venture into Shibuya, with baby to run errands and meet people. Then I discovered, actually, there are pockets of heaven for smaller kids and mums here in Shibuya. Here I am going to share with you my findings.Getting thereWith the relocation of the Tokyoko line underground, you get a new station (or part of). That means you also get elevators that comply with the needs of 2020. The JR stations are equipped with elevators, big or small. The Keio lines stop at Mark's City which has pretty efficient elevators too. The Denentoshi and Hanzomon lines exits to a passageway leading to the 109 building, which has an elevator to the ground floor and above. Actually the greater Shibuya station will connect somehow to the Tokyu building, which has multiple elevators for the convenience of shoppers. So go ahead and bring your strollers, you won't have to worry about carrying your stroller colony up and down stairs again.ShoppingUrgently need something for your baby or toddler? There are actually a few good places to find kid supplies.Tokyu Department Store Honten (Near Bunkamura)There is a sizable Children's department on the 5th(?) floor, whether you need clothes, toys, shoes, strollers, accessories, they have a comprehensive selection. MujiTop floor of that big Muji on Koen Dori has a kids department with clothes, shoes, toys and school supplies for smaller kids.Gap/H&MBoth these giants have a kids department in their Shibuya outlets.Eating/ChangingOk, I have lumped eating and changing together because for those of us in the know, these two things go hand in hand for smaller kids.It is actually not difficult at all to find feeding and changing rooms in Shibuya. Here are some really good ones I have used.Chikamichi Lounge This fantastic baby's lounge is found in the underground shopping alley between the Hanzomon/Denentoshi line exit and the 109 building. This relatively new, spacious and comfortable lounge is a piece of paradise for tired mothers who need space to change their babies in piece, to sit down and take a breather or let the baby take a quick but quiet nap!HikarieIn Basement 3 of the Hikarie building, there is a really nice feeding/changing room. Not only is the place clean and spacious, it is also equipped with a microwave, hot water dispenser, baby chairs and nice pipe in music that magically soothes little kids. In the same space, there are also changing tables as well as a secluded feeding room for those who need privacy.Tokyu Department Store HontenOn the same level as the Kids department, there is a pretty comfortable space where you can heat up your kids meals, feed them and also change them. Nothing too fancy but comfortable and welcoming.MujiTogether in the kids department, there is a nice and spacious changing room with sofa seats on the side for feeding toddlers and curtained feeding rooms for babies.PlayingMujiIn the same space as the kids department, they have this awesome wooden playroom with toys that can satisfy the curiosity of kids 5 years old and below. If I am not wrong, they also hold classes that you can sign your kids up for a little bit of learning and fun.Pekids Bouldering Studio Rock climbing labs for kids 3 years old and above on meiji dori towards Jinggu mae is a fantastic place for those kids with so much energy they need to scale walls. There are also certified instructors there to make sure your kids are not endangering themselves.Yoyogi ParkIf you don't mind venturing a little outside the main streets, there is a huge park where your kids can run, play and shout to their hearts content.So my fellow mothers, fear Shibuya not! Go ahead and bring your little kids there, they will enjoy the place as much as you do! Maybe just try to avoid buying diapers, just in case! ><
mica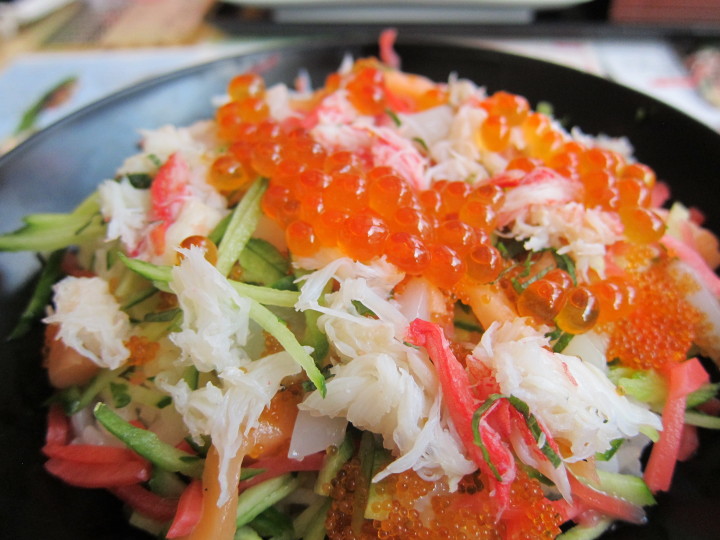 Top 10 Japanese dishes
Before I came to Japan I didn´t care much about food, just filling my stomach every day with some junk food was totally fine. Since I´m living in Japan, I realized how much the people here love their food and how much time they spend talking about food, recipes and which is the best restaurant. Especially on TV you will find millions of shows where people just try food and of course there are also many cooking shows. In my hometown, the food is usually very heavy and greasy, not really healthy. In Japan the food is often very light and healthy (of course there are exceptions). That is one of the reasons why the people here live way longer than in other countries of the world.As a big fish lover, Japan is really a paradise for me. You can get reasonable and good quality fish at every corner in the city. Also meat got very popular especially around the young generation. But let´s have a look at my favorite Japanese dishes:1. Sashimi/Sushi (刺身/寿司)Always when my husband ask me about what I want to eat, my answer is always Sushi or Sashimi. I really love raw fish! Especially I´m a big fan of salmon sushi and all kind of shells. The very good fish quality even if you are going to a cheap chain restaurant is really great. I really like to try new Sushi or Sashimi variation. There are so many different kinds of fish and shells that I guess I will never make it to try all kinds. 2. Tempura (天麩羅)If you don´t like meat or seafood, tempura might be a good alternative for you. Tempura is made from crust of flour and egg fried in oil. You can use all kind of vegetable and of course fish/meat if you like. The typical tempura set at restaurant is a mix of vegetables (mushroom, pumpkin, aubergine…) and fish like shrimps. I like to order the only vegetable tempura set, which comes often with many different kinds of mushrooms. Often restaurants serve tempura together with soba noodles or on top of a big bowl of rice. The typical source for dipping in the tempura is Tensuyu (a mix of rice wine and soy sauce), also comes with ginger and radish. Some places just offer a small plate of salt for dipping. 3. YubaMy favorite Japanese food is yuba. Yuba is made from tofu skin and can be eaten in many different ways, like in a soup, natural way, fried and so on. The texture and tastes is a little bit like fresh mozzarella cheese, but also like cheese the taste depends on the good quality of the yuba. Nikko is well known for their good yuba restaurants, but you can also find it in other areas of Japan. I ate the most creamy and delicious yuba in a small store in Kimitsu (Chiba). So whenever you find a restaurant who offers yuba as a dish, just give it a try!4. Mochi soup/Ozoni (雑煮)Every year on 1 st January Japanese family usually eat osechi and mochi soup for the first breakfast of the year. I´m a big fan of the mocha soup, which comes with a big piece of mochi in a very simple clear broth and some vegetable. But you should watch out to just make small bites. Every year many people die from eating that soup. Especially older people can have problems to chew the very sticky mochi.5. Tonkatsu (豚カツ)Tonkatsu is the typical japanese pork cutlet, which is usually cut in small strips and served with white cabbage. The taste is very similar to "Wiener Schnitzel", but there are also some variations with different kind of meat (like more greasy part, or softer meat).6. Tamagodon (卵丼)Tamagodon is one of my favorite dishes for cooking it at home. It is very easy to make. Just put some slices of pork and onion in a frying pan with a spoon of dashi and fry it a little bit. At the end put some scramble eggs and green onions and mix it with the meat. Served with a big bowl of rice, you will have a big good simple dish for the day.7. Oden (おでん)Oden is a typical dish for the winter season in Japan. Oden is a light soup made from soy sauce/dashi and several ingredients such as boiled eggs, daikon and processed fishcakes. You can buy it at every convenience store or just at the supermarket.8. Chicken Teriyaki (鶏の照り焼き)Chicken Teriyaki usually served on a bowl of rice with small chicken pieces with teriyaki sauce. It is also a typical easy food for cooking it at home. 9. Kakifry (かき揚げ)Every autumn it is oyster season in Japan. You can eat oyster raw, boiled or fried. Kakifry (fried oyster) is very typical oyster dish in Japan. I´m not a big fan of raw oyster, but fried one is very delicious and I can eat mountains of it. 10. Yaki DangoThe end of my list will be a typical dessert. You can find Dangos in many different kinds and tastes (Goma dango, Anko dango, Hanami dango..) . But I prefer the grilled one covered with a syrup made from soy sauce, sugar and starch. The best way of trying out most of the dishes from my list is to eat a Teishoku set at a restaurants. A typical meal set includes rice, miso soup, a main dish, a side dish, and pickled vegetables. They variety depends on the restaurant and price. I like to try many different kinds of food, that´s why I prefer to eat those Teishoku sets. How about you? Do you like Teishoku?
Crazydeath