USER BLOG
Join the best expat community of Japan. Now!
Share your Japan experience

Create blogs/Join the Q&A

Earn points and get rewards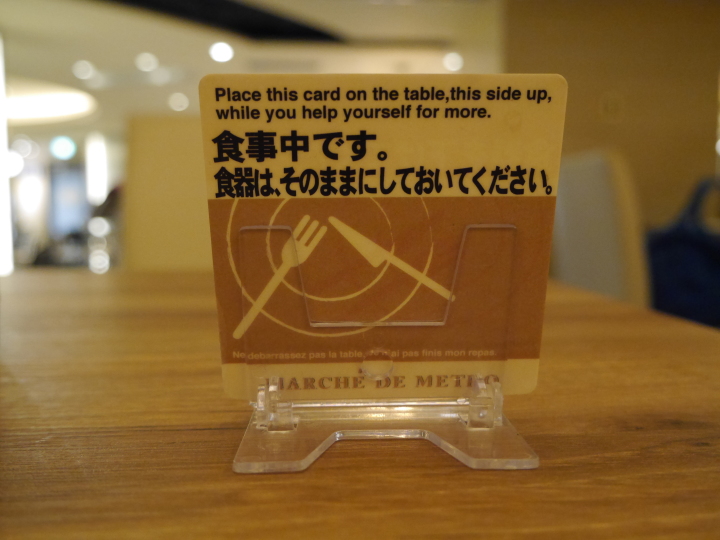 "Don't clean up" card at a food court
I was at the subway station of Omotesando the other day, and they got a little food court. There, I discovered a new system that I've never seen elsewhere in Japan.Since it is a food court, solo-eaters might leave the seat once in a while to get more food/services. To avoid your plates being taken away, you can leave this card on the table facing up.On the other hand, the red side notifies the staff to clear the table for you and that you're done.And this means that at this food court, cleaning after yourself is totally not necessary. I've seen the card system used at all-you-can-eat/drink places, but this is my first time to see it applied to a food court.
Jackson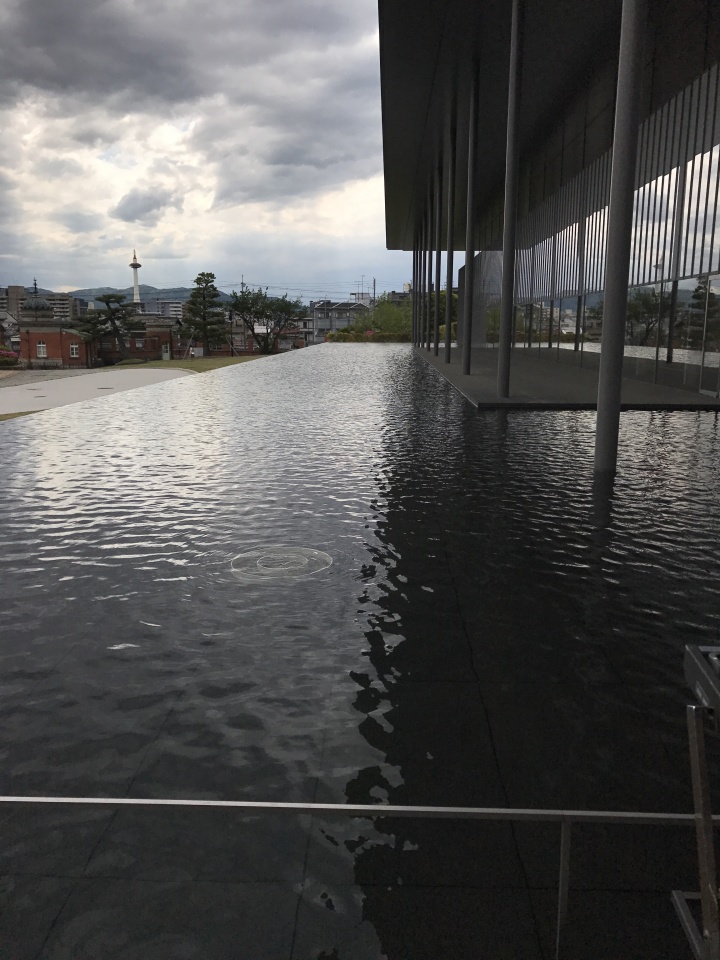 KAIHŌ YŪSHŌ-KYOTO NATIONAL MUSEUM
A week ago I decided to go to see the exhibition of the famous Japanese artist Kaihō Yushō at the Kyoto National Museum. If you're thinking 'Who's this artist...?'Kaihō Yūshō was a Japanese painter of the Azuchi–Momoyama period. He was one of the most famous and important Japanese artists of this period. His Kanō-style screen paintings are notable for their graceful lines and brilliant colour harmonies, qualities that influenced later artists.It was a great surprise! It was the first time for me to see paintings of that period.I paid 1500¥ but they were willingly spent, the museum is very spacious and the paintings were wordenful.The exhibition celebrated the Kyoto National Museum's 120th anniversary with a showcase of 70 of Kaiho's works, including new discoveries, historical documents and a room dedicated to his paintings of dragons. There also was a room dedicated to the visitors and we could paint with traditional brushes and see how difficult it is to draw perfect lines that emanate the right depth and dynamism. It was a beautiful experience and I highly recommend that museum that always offer amazing exhibitions.
Akimi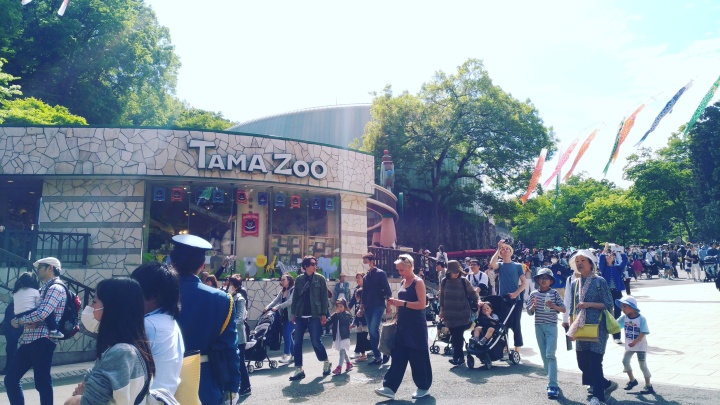 Golden Week: Visit the Zoo for Free!
There are numerous things to do in Japan during Golden week which is both pocket-friendly and enjoyable at the same time. When I say 'pocket-friendly, I mean at a very low cost or even better, absolutely for FREE! That's always a magic word- FREE!!!My last post- Tokyo Rainbow Pride 2017 did save us from paying admission fees and the like but it still cost us something. For one, transportation. And the rest? Well, the place was filled with thrift clothes and booths that sold goods and not to mention, scrumptious FOOD. So we still had a few cash-outs here and there but it wasn't that grand.Going back, this next activity did save us a lot of time and money! I learned that there are specific Zoos in Japan that are Admission-free on specific parts of the year and that included Children's day on Golden week! We wanted to stick on our One Thousand Yen budget so I kept my fingers crossed and hoped that one of these Zoos is just near me and Viola! Hello Tama Zoo!I think it's an hour away from Central Tokyo but for me, it was only a 360 yen ride from my place (one way) You also get to hop on in this cute train with animal decors. It made me feel the 'fieldtrip' vibe right away!It doesn't just stop there, even the interiors were Animal- themed as well!Once you arrive at the TamaDobutsukoen Station, you need to take a few walks before reaching the entrance of the Zoo and this big Elephant will welcome you.We arrived after lunch so the place was filled with people already! The sun was up and it was a bit windy which was just the perfect weather to visit the zoo!Back in the Philippines I've always wanted to see the fluffy, pink and poised flamingos. You can just imagine how excited I was when we saw it in the map! I was screeching like a little kid, jumping up and down. It was definitely on the top of the list! We got our maps and head-off!I was speechless for a while. I actually met them!!! My heart. <3 I took endless of pictures and videos before we finally moved on to the other animals. Till we meet again, lovelies!The Zoo is divided into different parts: Asiatic Garden, African Garden and Australian Garden, and the Insectarium. We weren't able to go to the Insectarium and there were places in the park that were closed due to renovations and such but we still saw a looot of animals. I thought, half day was enough but it wasn't! These are some of what we saw.We did a loooooot of walking but saw a lot of firsts like these kangaroos chillin like a villain.. (if youre lucky, you might catch one or two scratch their tummies in front of you. I swear its soo cute and hilarious!)..and this fluffy, sleepy and kawaii koala.We brought our snacks with us so we didn't spend any during the adventure. But we figured, what better way to end this fieldtrip than with Choco Mint Ice cream! (100 yen) So we spent less than a thousand yen for the day, Hooray! (ofcourse if your coming from Central Tokyo, it would be a different story.) But still, the excitement and curiosity, not to mention the exercise was there.We already expected the place to be full but it really wasn't that bad plus it is Golden Week, and I think it's a great opportunity to immerse yourself to Japan and its people right? The weather was great, the animals didn't look pitiful in their natural habitat-setup and we still had time left to cool down and prepare for work the day after. All in all, it was a great way to end the Golden week!
RedhairedAlice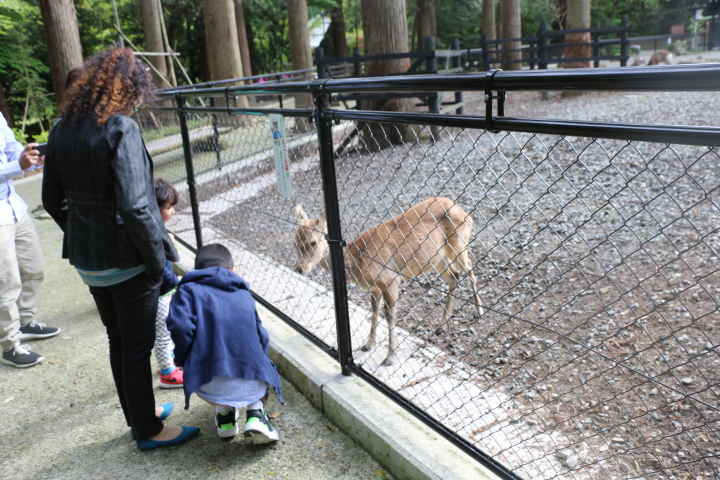 A Day Out to Yahiko Shrine
Golden week was almost over. My husband and I got a call from our old good family friends that they were in Tokyo. They came in to Japan from Australia to show Disneyland to their young kids. We were surprised with the call and insisted that they come visit us in Niigata. They accepted the offer and came to see us. We only had a day to show them around in Niigata so we planned to take them to Yahiko Shrine. There were several reasons for choosing this location. Firstly, the drive to Yahiko is relatively long from our place so that they could enjoy the sight of rural Japan. Second, we could drive along the coast so they could enjoy the waves of the sea and stop over in places to take pictures and third, Yahiko Shrine in itself is very beautifully located amongst the green nature in the foothills of Yahiko Mountain. It is a very serene location and very peaceful that hardly anyone would not fall in love with this place. And after Tokyo they would definitely enjoy a place like Yahiko. After our breakfast we were all set in our car for the drive. The drive was about one and half hours. This drive gave us enough time to catch up with our friend and his family about what was happening in each other's lives and so on. It was a wonderful bonding time with his kids as well. Once we arrived at the shrine we were firstly welcomed by the mini zoo they host. We could enjoy the varieties of bird species mostly from pheasant family. But also there were some gorgeous deer that greeted us well. The kids were very happy to see beautiful animals. On our way to climb the stairs of the shrine we encountered the beautiful pink carpet of Shibazakura flowers. These radiant flowers make the whole path glow pink. We took adorable pictures with these tiny beauties and proceeded towards the temple. On approaching the temple we sanitized our hands with the pure water using the bamboo scoops. Kids from Australia loved this Japanese tradition of washing the hands before visiting temple. Then was the time to see the magnificent Yahiko Shrine with golden plates making the temple look so pure, so holy and so spiritual. We prayed to the creator and experienced the peace of the location. There were many people visiting this special place on that day. After bidding good bye to the shrine, we drive up the Yahiko hill. After about 20 mins of driving we were on the top of the hill from where we could see the picturesque view of Niigata City. We could also see the standing alone Sado Island as the day was very clear and bright. The local restaurant there served good ice cream so we did not miss the chance to taste some. On our way back we drove through Teradomari viewing the wonderful sea and stopping over in places to watch sunset and click pictures. In a day trip, we had a great chance to show our good friends a must see place in Niigata. Our friend and his family were overjoyed for having a chance to visit such a peaceful and fulfilling place in Japan.
Babina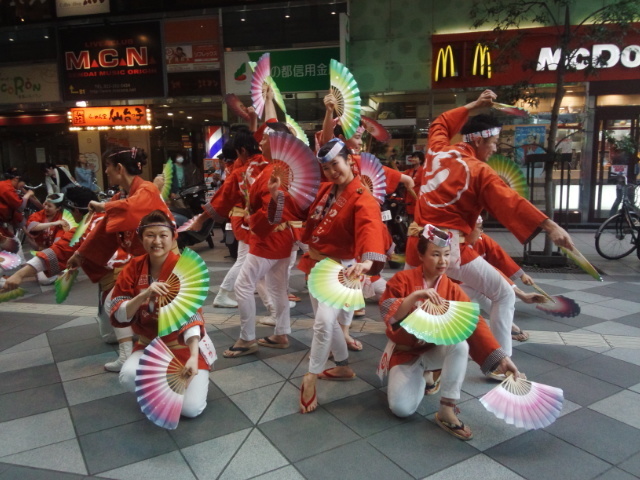 3 Free Summer Festivals in Miyagi
Looking for some free fun this summer in Miyagi? Mark your calendars! Each of these festivals is free to experience!Aoba Matsuri May 20-21, Sendai The weekend of May 20th and 21st of this year is special for the people of Sendai, where the streets will be filled with colorful floats and suzume dance performance groups on Sunday, following group dance contests performed the evening before. Lots of dancing and floats in Sendai can only mean one thing: It's time for the annual Aoba Matsuri. Always held on the third weekend in May, this festival maintains a centuries old tradition celebrating practitioners of Sendai Suzume or the sparrow dance. The dance itself is usually performed in large groups with fans to the tune of a few large drums and occasionally a flute or two. For more information on the general festival activities, there is an English website. For more detailed descriptions, including a route map, please visit the Japanese website.While attendance is free, concessions are available. If you do go out, it is nice to go early and grab a nice seating area close to one of the main streets, which may be packed during the normal parade times. My personal recommendation here is either in the shopping arcade, where the roof blocks the sun, or on Jozenji Douri, where trees provide shade. The festival lasts a good long time, but the best spots to watch from usually don't. By far, my favorite part of this festival is the people. I have usually found the dancers to be excited, happy people, who also usually spoil my daughter with interaction. I don't know if you can say the same about similar festivals in other, larger cities. Shiogama Marine Day July 16-17, Shiogama In Shiogama, the big festival of the year is Marine Day which is celebrated with a number of exciting things, including a parade. The costumed groups from schools in the city as well as civic and hobby groups take to the streets to perform a rendition of a (usually traditional) dance down the entire length of the main street, from the library at Ichibankan to the main entrance to Shiogama Shrine. Being from Texas myself, I saw this group last year and knew I needed a picture. Proof that *some* of the dances are less traditional to the region... If you do come for this one, keep an eye out for the Shiogama International Friendship Organization and you might see me as well as my tiny adorable daughter. If you have time on the national holiday, come out and see us. Hopefully this year my kid won't be asleep on me the whole way. Again, attendance is free and concessions are available. There are actually a slew of events to consider, including fireworks. For more information (in English even!) check out the website. Sendai Tanabata FestivalAugust 6-8, Sendai This one is the least time consuming of the festivals on this list as the decorations are set up for viewing at your own speed. The decorations themselves are massive creations, usually of tissue or origami paper and glue, occasionally utilizing paint, plastics, or string. Viewing is free though many of the shops on the arcade offer concessions from midday through evening. The best day to go is the first day, before troves of visitors to Sendai's most popular festival have damaged the decorations. You can also ready my take on last year's decorations here or read about this year's upcoming festivities here. If you're in the Tohoku region and looking for some free fun during the summer, come to a festival or three!
JTsuzuki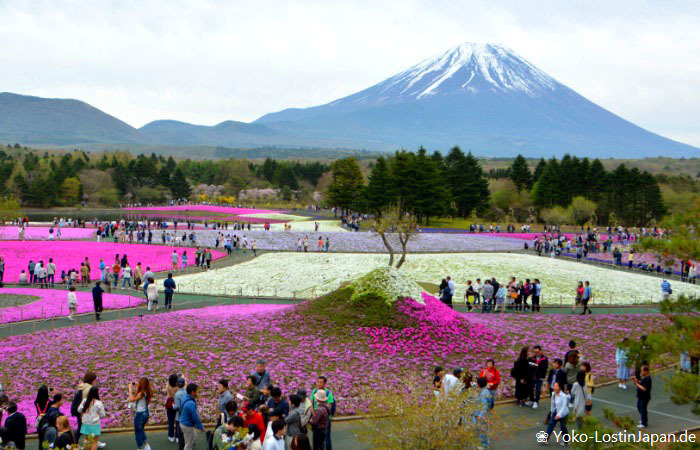 Golden Week: Three flower fields in bloom
Japan's Golden Week is celebrated every year from the end of April to the beginning of May. A lot of people have days off and so many places are super crowded. However, this season is also a good time to see a lot of different flowers which are blooming right now. I visited some of these this year. No. 1 – SHIBAZAKURA Shibazakura (芝桜) is a small flower growing on the ground mostly in a lawn covering a big area. The English name is moss phlox, however the Japanese name including sakura comes from the shape of the flower petals which look like cherry blossoms. The colors differ but mainly are pink, violet and white. Blooming time is from mid April to late May. Around Tokyo you can find two big Shibazakura Festivals. The better known one is the Fuji Shibazakura Festival (富士芝桜まつり) which is held close to Japan's famous mountain. Here you have the chance not only to see the colorful ocean build out of over 800,000 flowers, but also Mount Fuji in the background. They even built a small mountain out of flowers and you can enjoy the view from a panorama bridge. The festival is located around 3 km away from Lake Motosuko (本栖湖), one of the Five Fuji Lakes, and might be best reached by bus. A shuttle bus is available while the festival time from Kawaguchiko station. The second festival Shibazakura-No-Oka (芝桜の丘) is celebrated at Hitsujiyama Park in Chichibu (Saitama prefecture). On an area of around 1.8 hectars you can find an even huger variety of this cute flower. The train ride from Tokyo takes you around 80 minutes. No. 2 – NEMOPHILA Changing to blue, we go on with a flower called Nemophila (ネモフィラ), also known as Baby Blue Eyes. At Hitachi Seaside Park a whole hill is filled with these light blue flowers. Around 4.5 millions are blooming from the end of April to mid May, but according to the season you can find a lot of other flowers, too. Hitachi Seaside Park is located at Ibaraki prefecture and can be reached from Tokyo in around 90 minutes by train and bus. No. 3 – WISTERIA There are actually many places in Japan where you can find Wisteria, called Fuji (藤) in Japanese. The flowers with its long strings are blooming from mid April to mid May in different colors. One of the most famous places to see Wisteria is the Ashikaga Flower Park (あしかがフラワーパーク) in Tochigi. There you can find an over 150 years old wisteria tree and an 80 meter long white wisteria tunnel. But also many more wisteria trees and around 5,000 azalea bushes are planted inside the park. While the full bloom period the wisteria are even lighted up at the evening. You can reach it within 90 minutes by car from Tokyo, the train ride takes a bit longer. You also can find Wisteria at various shrines and temples around Japan. Especially the Kameido-tenjin Shrine (亀戸天神社) in Tokyo and the Mandara-ji (曼陀羅寺) in Aichi prefecture are well known for it. If you come up being around Kyushu while blooming time, visit the Kawachi Fujien (河内藤園) in Fukuoka which is a private garden exclusive for wisteria which only opens while this period. There is a lot to see while Golden Week, but notice you often need to share these places with many people. Try to enjoy it anyway ♥
YokoLostinJapan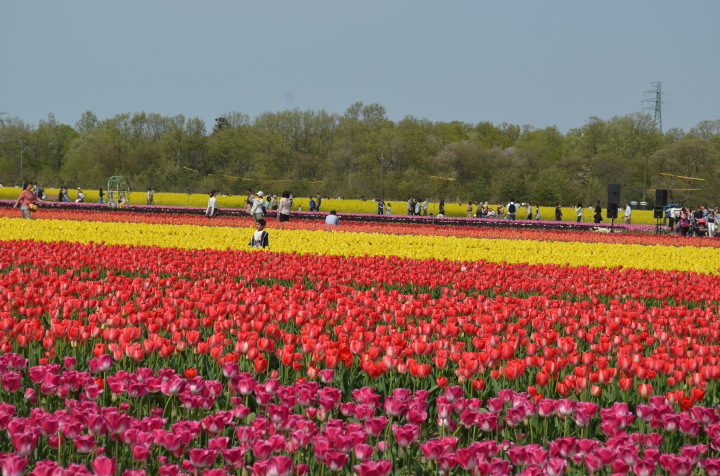 Glimpse of Golden Week
Nothing like a long trip but I had day trips almost everyday during the Golden Week holiday period. Golden week in Niigata is the time for rice planting as well so I spent one of my mornings watching the skilled farmers run their planting machine in the well soaked rice field. I appreciated their hard work in producing food for all of us. There are so many reasons to be thankful in this life!! Let me list out what else did I this golden week that made my week memorable. 1.Visit to Tulip Farm- Weather was good during the Golden Week so I had a chance to visit the beautiful Tulip Field in Nakajo. I was impressed by the varieties and colors of tulips. It was a kind of festival with food being sold in booths. I also had a chance to witness the tulip wedding photo shoot of a newly wed couple. Truly, taking pictures with your beloved ones in a tulip garden is a very romantic experience. My husband and I also took plenty of pictures and were able to capture of colors of the tulips and the colors of our love in those snaps. At the other end of the tulip garden was the mustard field. Walking through the mustard field was a great experience. The aroma of those fresh yellow flowers was mesmerizing. 2.Visit to Cave D'Occi- My husband and I also went for a drive to Cave D'Occi to visit the winery. It is an amazing place; very beautifully designed to accommodate a winery and a spa. Inside the winery there are local restaurants serving great food and ice cream. I tried the tiramisu flavored ice cream which is my all time favorite. We also brought back home with us some freshly baked bread for breakfast next morning. Since my husband and I are both are non alcoholic, we did not buy any wine but we still did not miss the opportunity of strolling inside the wine shop where wonderful collections were on display. The outdoor space is planted with varieties of rose but unfortunately they weren't blooming yet. I wish to go back to this place again in about a month when the roses will be in full bloom. Since we had plans for the evenings we could not enjoy the spa but it looked so irresistible from outside that I wish to enjoy the service next time I visit the place. 3. BBQ picnic at Nigorikawa- Another interesting thing I was part of during the Golden Week was attending the BBQ picnic organized by some friends. Nigorikawa Park is a wonderful location in Niigata for a BBQ. It has enough space so that even on a busy weekend we could find a spot. There is a very green walking trail in the park so that you can enjoy a good fresh walk. It is an exciting place for children because you can meet the lovely fish in the pond, feed them and enjoy your kids being super happy. Another advantage of this park is that there are cooking facilities. You can take your cooking heater and in the areas designed to cook you can start making your fresh meal. Plus, there are also a good facilitues for cooking with fire so you could make a fire and start making your fire-cooked pizza. Well, our plan for that day was BBQ and lunch which we enjoyed just the same.
Babina