USER BLOG
Join the best expat community of Japan. Now!
Share your Japan experience

Create blogs/Join the Q&A

Earn points and get rewards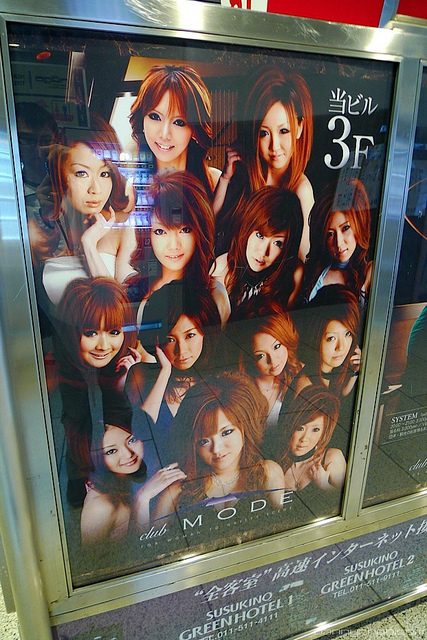 The Art of Settai in Japan Part II
This is a follow-up on my post about the Art of Settai in Japan.We enter now in the second part of this post and we will see what happens (or not) in the second place.As Settai is also a kind of Nomikai (more about The Art of Nomikai in Japan), you can expect a 二次会 (nijikai or second party, see more about this). After finishing your dinner, you will most probably move to another place.Three choices:Your host will catch a cab in the streetThe place where you had dinner will call a taxi and the car will be waiting for you outside of the restaurant.If your host is a real VIP, he might have his driver waiting for you with his Lexus or another brand of car waiting for you. So now, the second place:I have to tell the truth.There might not be any second place.You might just finish your settai in the first place. Having dinner, then bye-bye.In some cases your host will handle you a taxi ticket (you just give the ticket to the driver, the invoice will be sent to the host's company).But then, if you really go to a second place, it might involve presence of ladies. You have a myriad of choices in Japan.It can be sophisticated hostess clubs in Ginza.It can be small snacks (you have the owner, generally an older lady and with some younger girls, sometimes you have a karaoke too)It can be キャバクラ (read Kyabakura which is a contraction of Cabaret and Club) which is a wilder version of hostess clubs.It can be Girls bar (which is a cheaper version of Kyabakura, where the main difference is that ladies do not seat next to you but sit behind the bar counter - due to a different license for the shop) In any case, the typical pattern will be the same.You will have some ladies close to you, facilitating the conversation with you host, talking to you too and pour you drinks. (sometimes will drink together with you, their drinks are not free of course)In some cases your host will have what they call a bottle-keep, which is a bottle bought from the shop and kept so they can drink whenever they want. Often Whisky or shochu.If on company expense, on the bottle you will have the name of the company. (so nothing to be ashamed of) In the second place, you can expect to spend from 1 hour to several hours (last time I was invited we stayed 4 hours...)Talks will be less about business (because also of the presence of ladies) but more relax type, talk about family, society matters and so on... The purpose is: To get familiar with each other, to get close and to develop a relationship that will facilitate the business when you are back in business mode. We enjoyed together, so we should help each other. This is not conflict of interest. It is more about trying to have smooth business relationships and avoiding conflicts. Well, if some peoples are interested I can write more about "clubs in ladies in Japan" or "how to impress you boss with a nice settai", let me know.Meanwhile you can follow all posts on directionjapan.com or on Twitter @GaishikeimanJP
DirectionJapan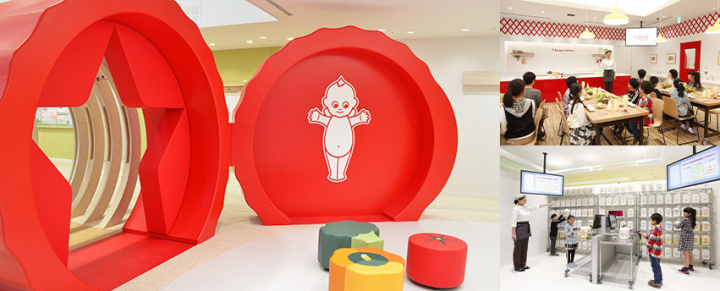 10 FREE and Quirky Museums | Tokyo
It's coming up to spring break in Japan and I have been researching museums to bring my four kids to. There is such a huge selection, that I decided to concentrate on unusual ones that are free. That list is still pretty big, but here are ten of the more unique museums that you can visit for free in Tokyo. (What is Gas?) GAS SCIENCE MUSEUM Highly acclaimed as being a museum worth visiting, the gas science museum is suitable for all ages. They have 7 zones with lots of interactive exhibits for young children, combining education with physical activity. You would easily spend a whole morning there. There is a baby room on the 1st floor, changing area and kid friendly toilets. Where: Toyosu, Koto Ward Hours: 9.30am to 5pm, last entry 4.30pm Closed: Mondays Access: 6 minute walk from Toyosu stations on the Metro Yurakucho (exit 7) and Yurikamome (North exit) lines. URL: http://www.tokyo-gas.co.jp/index.html SUGINAMI ANIMATION MUSEUM They have educational exhibits explaining the history of animation in an easy to understand format. They also have interactive displays. Best suited to pre-schooler and over, but they do have a nursing and diaper changing area. Where: Kamiogi, Suginami Ward Hours: 10am to 6pm, last entry 5.30pm Closed: Generally Monday Access: 5 minute bus ride from north exit of Ogikubo Station. 7 minute bus ride or 16 minute walk from the North exit of Nishiogikubo Station. URL: http://sam.or.jp/english_home WORLD BAGS MUSEUM A small museum run by the world's first producer of nylon bags. It is most suited to adults and older children. There are no facilities for young children on the premises. Where: Komagata, Taito Ward Hours: 10am to 4.30pm Closed: Sundays and holidays Access: Close to the A1 exit of Asakusa Station on the Toei Asakusa Line URL: https://www.ace.jp/ MAYO TERRACE (Main photo – photo taken from the official website.) Museum meets factory tour and a whole lot more. You would need a full day for this truly unique and educational learning experience. However, currently they stipulate that children have to be over 6 to participate. Younger siblings are welcome to come along for the ride. YOU NEED TO BOOK IN ADVANCE. Where: Chofu City Hours: Four tour times: 10am, 11.50am, 1.40pm and 3.30pm Closed: Weekends and holidays Access: 7 minute walk from Keio Sengawa Station URL: http://www.kewpie.co.jp/mayoterrace/ POLAR SCIENCE MUSEUM This museum is run by the National Institute of Polar Research and provides information on research conducted in the Antarctic and Artic regions. There is an aurora theatre that simulates that rare phenomenon, ice from an actual iceberg, kids can climb aboard a snow vehicle, a live feed from the Antarctic as well as many educational video exhibits. Where: Tachikawa City Hours: 10am to 5pm, last entry 4.30pm Closed: Sundays, Mondays and National Holidays Access: 10 minute walk from the Takamatsu station on Tama Monorail URL: http://www.nipr.ac.jp/english/outline/sciencemuseum.html MEGURO PARASITOLOGICAL MUSEUM Maybe not an ideal place for kids, but for those that have been they rate it quite high, despite being small and, in my book, kind of creepy. Mainly I included this, because it is the only museum in the world dedicated to parasites. Where: Shimomeguro, Meguro Hours: 10am to 5pm Closed: Mondays (and Tuesdays from April 2016) URL: http://www.kiseichu.org/Pages/einfo.aspx *Officially free, but the museum is at risk of closing due to lack of funds, so they welcome contributions. TOKYO ORIGAMI MUSEUM This fun and colourful museum is a good spot for a quick visit. They get children of all ages, but they don't have any facilities for nursing or changing diapers. If you have more time to spend, you can book an origami lesson in advance. Where: Honjo, Sumida Ward Hours: 9.30am to 5.30pm Closed: Weekends and holidays Access: 8 minute walk from Toei Oedo Line's Kuramae Station URL: http://www.origami-noa.jp/ JRA RACING MUSEUM Apart from being able to learn about horses, you can also enjoy some simulated practical experiences too. Not ideal for small babies, but they do have nappy changing and nursing facilities. Where: Fuchu City Hours: On race days and Racing off-course betting days: 10:00 am to 5:00 pm On other days: 10:00 am to 4:00 pm Closed: Mondays and Tuesdays generally, plus Fridays in winter. Access: 7 minute walk from Keio Line Fuchu Keiba Seimon Mae station, 10 minute walk from Higashi-fuchu Station. , URL: http://www.bajibunka.jrao.ne.jp/en/jraracingmuseum.html KAMPO MUSEUM Run by Nihondo, this world first and exclusive museum is dedicated to "Kampo", the Japanese adaption of Chinese medicine. The facility offers a lot more than the kampo displayed for free viewing and you can enjoy many unique experiences for a small fee. Most suited to teenagers and adults. Where: Kitashinagawa, Shinagawa Ward Hours: 11am to 8pm Open all year round Hours: 11am to 8pm TOKYO LOTTERY MUSEUM I am including this for its randomness and for anyone looking to fill 30 minutes in Kyobashi. Where: Kyobashi, Chuo Ward Hours: Generally 10am to 7.30pm Closed: Sundays and holidays Access: 3 minute walk from Tokyo Metro Ginza Line Kyobashi Station #4 or #6 Exit. 3 minute walk from Toei Subway Asakusa Line Takaracho Station A5 or A6 Exit URL: http://jla-takarakuji.or.jp/dream/ The hours and holidays are guidelines. Please do check the official websites before planning a visit to any of the museums to make sure that they are open the day you want to visit. Have you been to any of these museums? What did you think of them? Have you any free and unusual museums in Tokyo that you would like to recommend? Thank you.
Saitama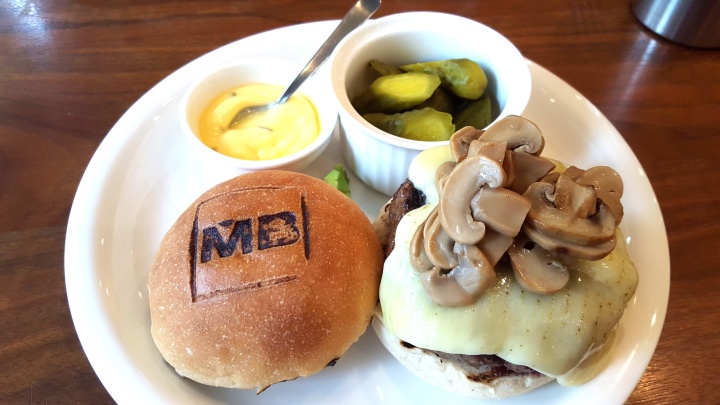 Found the Tastiest Hamburger in Tokyo
This week I went to try a hamburger highly recommended by a friend.The name of the restaurant in Martini Burger (マティーニバーガー). You can find it in Shinjuku, about a 10-minute walk from Kagurazaka Station.Web: http://martini-burger.com/en/Made with 100% beef, these burgers are as juicy as they come and super delicious!I ordered a burger topped with mushrooms, gouda cheese, and béarnaise sauce (the Brooklyn). My friend … I can't remember. Anyway, they said it was great.You've got to pay for this kind of quality though. The burgers here are around triple the price of a McDonald's. My order: burger ~ 1,600 yen + drink ~ 400 yen. 2,000 yen for one!That said, I don't hear of many great burger restaurants in Tokyo, and if you were to head here for lunch you might be able to get a cheaper deal on certain orders.The restaurant atmosphere is good (definitely a step of from the fast food burger places). At these kind of prices this is not a place I (personally) can go regularly, but maybe once a month, or something like that. Just as a little treat!Anyway, for now, with spring coming soon, I'm looking forward to a cherry blosson party. Maybe this place does burgers to take out!
junko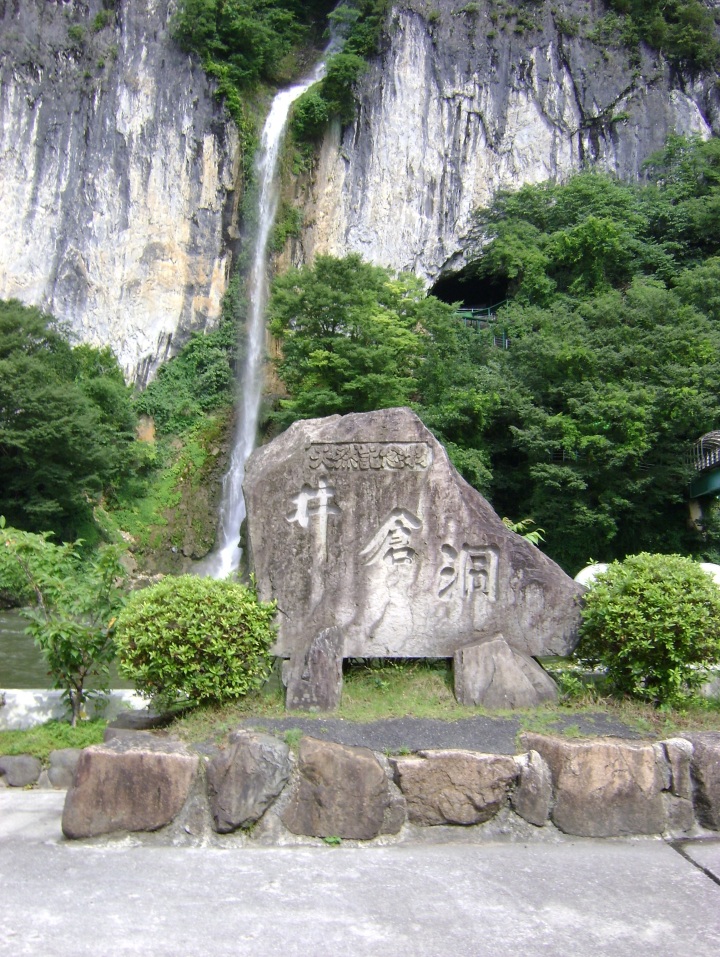 A Cave Trek in Japan
With about a month left before I vacate my apartment and 2 days later, leave Japan, all the unique experiences are coming back to me, hence the little burst of posts lately.Today, for some reason, my cave trek came to mind. In Niimi, which is a small city in Okayama-ken, there is a massive cave called Ikura Do - 井倉洞 . It's the first time I've ever been inside a cave, and it was absolutely mind-blowing!It's 1,200m long and 240m high, and it was created from limestone erosion. Inside, the temperature is 15°C, so it's a great way to cool off in summer. I completely forgot about the expensive ¥1,000 admission during my first few steps.The cave is a short walk from Ikura Station; just follow the signs. :DFor photos and more details, check out the post I wrote a while back about it for my blog's Photo Friday - http://www.trekkingwithbecky.com/my-first-cave-trek/Find me on social media, and don't be shy to give me a shout anytime! :DFacebook - www.facebook.com/trekkingwithbeckyTwitter - www.twitter.com/trekkingbeckyInstagram - www.instagram.com/trekkingwithbecky
trekkingbecky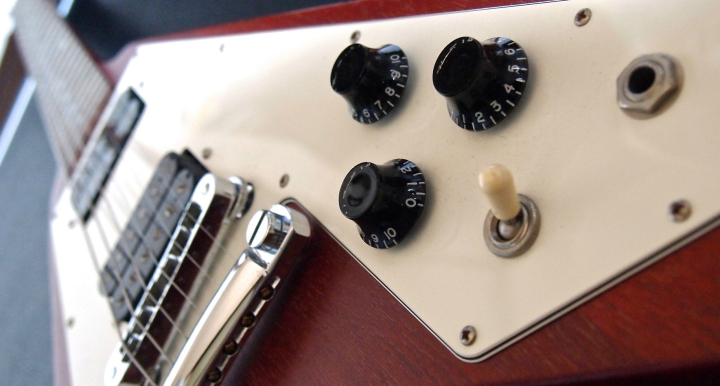 Rock Star
I don't know why this is coming back to me now...I used to be an ALT in a small junior high school (around 300 students) out in the sticks. One of the highlights of the year for the students was the farewell bash put on for 3rd graders before they graduated. I can't think of a succinct name for it in English but in the school corridors it was known as the 三年生を送る会 / san nensei wo okurukai, or something like that.1st graders, 2nd graders, and teachers, are all roped into putting on a show in the frigid gym whilst graduating 3rd graders bask in the warm glow that emanated from the prospect of time off school for the first time since they started kindergarten over 10 years ago.Needless to say, there is a lot of singing at these things (as there is in all school gatherings in Japan).Prior to this particular occasion, my role in this show had been limited to 5 mins at the back of the stage, singing some insipid Japanese soft pop classic with the other teachers. This time, about 6 months prior, I unwittingly began to plant the seeds of my own humiliation. Loitering in the corridors as I did, a group of 2nd grade lads one day came up to me and asked me if I knew Jimi Hendrix …Well, not personally, but, yea.I then launched into my best rendition of All Along The Watchtower (Dylan, I know, but I was doing it as Hendrix). This being Japan, I was lauded with praise for my ability to sing.These encounters continued a pace as the lads did their best to exploit my repertoire; Guns n Roses, Sabbath, Led Zeppelin … even hitting the harder stuff like Pantera and Slayer.I was more than happy. I'd grown tired of having to pretend that I liked the all-singing, all-dancing nonsense churned out by Japan's dirty old corporate tossers. On a quick aside, I remember the time some of the students asked me if I liked Sexy Zone. Now, as a full grown adult, being asked for the first time by a group of 13-year-old girls if I knew of Sexy Zone, brought me out in cold sweat. I almost crapped myself, and envisioned being on some sort of government database for the rest of my life. I was relieved to learn that they were talking about a boy band, but equally as annoyed at the short-sighted dunces who came up with the name.One day, aforementioned lads told me that they'd formed a band. Great!!They don't have a singer. Less great!They want to perform at the farewell show. I don't like where this is going!Would I sing with them at the show? Errm, I'm not so keen.We want to perform Sweet Child O' Mine (Guns n Roses). Emphatically no!They were persistent, I give them that. But I matched them all they way. So then they set their homeroom teacher on me. She cornered me in the staffroom kitchen. I knew what was coming. And it came; passive aggressive pleas decorated with annoying flourishes of laughter to disguise any tension. I cracked. Of course I did. What the hell else was I going to do? Get the dispatch company involved? That lot were about as much use as the Pope's balls. I stewed over things for a few days, and sunk into that dark place as a teacher in Japan, where you get bogged down in thinking that all these people want is for you to be a performing seal. Sweet Child O' Mine was out of the question though (there's no way my dulcet tones could handle Axl Rose). I told the lads to come back with something else. And they did. Any guesses?Doctor Doctor by UFO?!!!! Link to live performance in the 1970's here.What followed in the next 2-3 weeks still causes me to wince; rehearsals in front of a select group of teachers, mates back home wetting themselves on Facebook, … sleepless nights, a dark spiral of hate.On the day, I just had to think, Screw it! Give it some welly rather than reveal your embarrassment. So, dressed in a school tracksuit borrowed from the tallest kid in school (with his teacher's permission, I hasten to add), that's what I did. In the gym, a braying crowd of 400 plus … "Doctor, doctor pleeeease!!"I try to tell myself that I've gone down in school legend. It doesn't help to heal the scars though.There's a DVD of the atrocity somewhere. I'll try my best not to find it! Picture (trimmed)Flickr Shunichi kouroki
Tomuu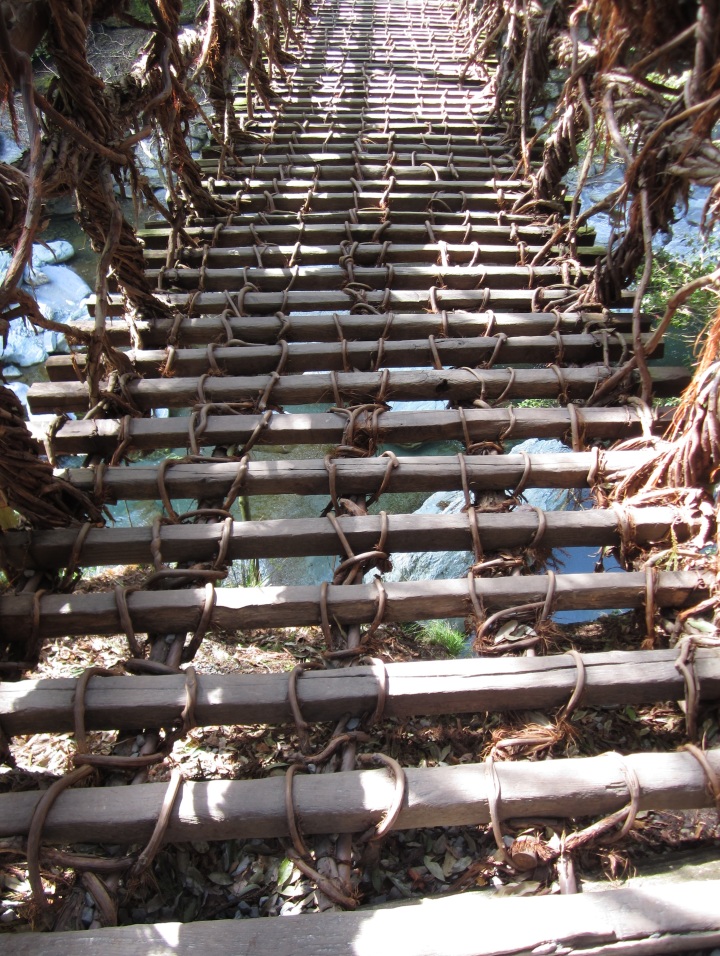 Japan's Scariest Bridge
This is not something you normally see in Japan, nor is it something that comes to mind when you think of Japan.Tokushima is GREAT! I absolutely LOVE Tokushima. I highly recommend sightseeing throughout Tokushima and on your way to Tokushima (city) and Naruto, you need to stop in tiny Miyoshi so you can cross Japan's scariest bridge!The bridge is called Kazura Bashi. It's a real vine bridge, and if you're afraid of heights, this will be the perfect opportunity to face/conquer that fear. Crossing this bridge is an AMAZING experience. I kept reminding myself that thousands must have crossed this bridge over the years, and it's still there.However, this is NOT for children.I did a Photo Friday post about this bridge, and it has more details for you. Check it out here - http://www.trekkingwithbecky.com/japans-scariest-and-most-thrilling-bridge/ - and don't miss it when you're in Tokushima! :D It's worth paying the ¥550 just to cross it!Find me on social media, and don't be shy to give me a shout anytime! :DFacebook - www.facebook.com/trekkingwithbeckyTwitter - www.twitter.com/trekkingbeckyInstagram - www.instagram.com/trekkingwithbecky
trekkingbecky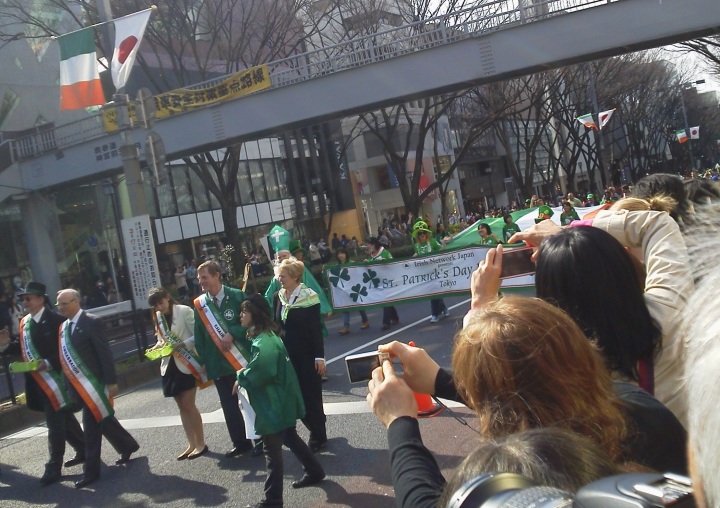 Do they celebrate St Patrick's Day in Japan? Where?
Yes, the good news is they do! There are 10 parades planned for this year, 2016. Among them the Tokyo parade, the largest in Japan, that runs up and down the Omote Sando – Harajuku thoroughfare. The Tokyo parade has been running annually since 1992, with the exception of March 2011 after the Higashi Nihon (West Japan) earthquake, tsunami and nuclear power plant disaster. Apart from the parades, there are three festivals, a number of music events and some parties in various locations throughout Japan. A lot of the Irish bars offer green beer and organise events during March. This year Daiso, the 100 yen store giant, have got in on the action and a select number of stores are selling Irish goods such as shamrocks, leprechaun hats and green hair accessories. Run-down of the parades SATURDAY MARCH 12TH YOKOHAMA Parade Where: Motomachi Time: 12.45~ URL: http://inj-yokohama.com/ KUMAMOTO Parade Where: Near Kumamoto Station Time: 14.30~ URL: http://www.kumamoto-ireland.org/?page_id=2 SUNDAY MARCH 13th CHIBA ParadeWhere: Makuhari Prefectural Park Time: 14.00~URL: http://chiba.inj.or.jp/ MATSUE Parade (Shimane prefecture) Where: Near Matsue's city office Time: 11.00~URL: http://sanin-japan-ireland.org/ FUKUOKA Parade Where: Sun Dome Time: 14.00~URL: http://www.celtic.or.jp/schedule/schedele_flame.html SATURDAY MARCH 19TH NAGOYA St Patrick's Day Parade Where: Osu Shopping District Time: 12.00~ URL: http://www.inj.or.jp/en/group/inj-nagoya OKINAWA ParadeWhere: Chuo Park Avenue Time: 15.00~ URL: https://m.facebook.com/kanaderupark/posts/1071939399539691 SUNDAY MARCH 20TH The 24th TOKYO St Patrick's Day Parade & Festival Where: Omote-sando / Harajuku Thoroughfare Time: 13.00 – 15.00 URL: http://www.inj.or.jp/en/event/24th-tokyo-st-patricks-day-parade OSAKA Parade & FestivalWhere: Tonbori Riverwalk Time: 14.00~ URL: http://irishnjosaka.web.fc2.com/event2.html TAKAMATSU Parade (Shikoku)Where: Marugamemachi Dome and Shopping area Time: 13.00~ URL: http://www.inj.or.jp/en/group-post/2016-takamatsu-ireland-festival%E3%80%80info This is just information on the parades in Japan. More information will be shared on the web about other events, a lot of that information will be available on the official Irish Network Japan website at: http://www.inj.or.jp/en Wherever you end up, make sure you're in your finest greens!! Happy St Patrick's or as we say in Ireland "Beannachtaí na Féile Pádraig oraibh!"
Saitama