USER BLOG
Join the best expat community of Japan. Now!
Share your Japan experience

Create blogs/Join the Q&A

Earn points and get rewards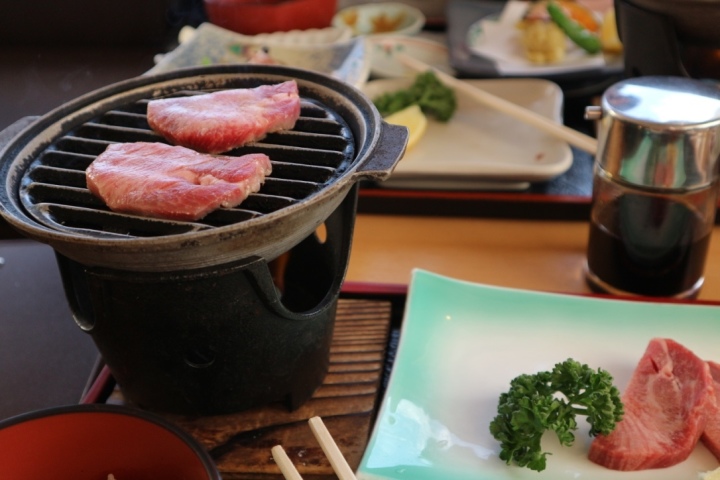 Gyūtan lunch set from a place where they really know their gyūtan
Tell a local in Japan that you're going somewhere for a trip and there's the best chance that the first thing they'll say is you must try the insert regional food here. They really know the geography of their food. A part of this is probably because it's rammed down their throats by every prefecture, city, and hamlet across the country, desperate to establish an identity, either through food or some kind of anime style character. So it is that when I went to Sendai recently, had I not tried a serving of gyūtan, I might well have hurt someone's feelings. Gyūtan; lit. beef tongue, the idea for the grilling and eating of which, is apparently claimed by Sendai, at least as far as Japan is concerned. Our gyūtan was the focus of a lunch set for around 1,600 yen. The name of the restaurant I can't recall. A shame really, as this was a fine lunch set; simple, tasty, and well balanced. In traditional 'Sendai style', four cuts of gyūtan are served with rice, soup, and a pretty substantial amount of pickles (as far as servings of pickles usually go). The tongue itself is served with a slice of lemon and a sprig of parsley. You grill it at the table yourself. Four cuts might sound a poor return for 1,600 yen. I've no idea. To date, this was my first and last gyūtan lunch set in Sendai. As I said though, it was really good. High quality grilled beef in Japan is usually half grease (like Kobe beef), and leaves me largely disappointed (and slight sickly). This being tongue though, we can expect things to be more lean. If you're after a fancy bit of beef, this is a solid way to go.
Tomuu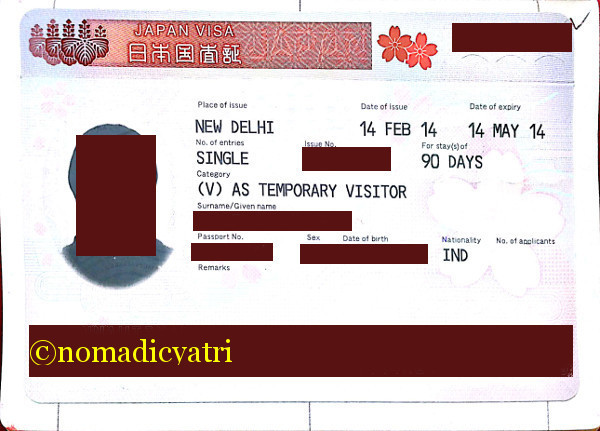 Visa For Land Of The Rising Sun #nomadicyatri
Land of rising sun is always dream destination for most of the travellers. If you are thinking to visit Japan, then here I am giving you a complete information about visa before you are check-in into gateway of Japan.Many countries have visa weaver in Japan and you can check the list of countries here visa exempt list.You require following documents before moving to embassy or to authorize travel agent.Declaimer : Every countries have different rules regarding visa to third country, but this post might help you to start process or just awareness while thinking to visit Japan :)Coming as independent (Self arranged)1- Copy of passport with first and last page having bio data.2- A completely filled visa application form.3- Covering letter which will explain your purpose to visit as well as itinerary.4- Photograph (2x2 inch but confirm with embassy)5- Travel booking(arranged tour if there), Hotel and air ticket with itinerary.6- Latest income tax return or Bank statement for 6 months (original one with passbook)Coming through guarantor (Visiting friends or family)Documents from applicant-Documents from applicants are same as I have explained above. You just need to cross verify with documents checklist in embassy homepage before submitting form.Documents from guarantor-1- Invitation letter original.2- List of visa applicants.3- Letter of guarantee if inviter is paying your expense.4- Copy of tax return/ certificate of deposit balance/certificate of income.5- Copy of passport first and last page.6- Residence card stating you visa type and expiry date.Special Note : Japanese embassy in Delhi is no more accepting direct application, you have to submit visa application through travel agents while Chennai , Mumbai, Bangalore and other parts of India you can submit visa application directly to consultant as earlier.Authorize travel agent: Currently in India there are only two travel agents.1- Cox & Kings Global Services2- VFS GlobalEmbassy URL (India) - Japan EmbassyVisa Fee - 440 INR charged by embassy and service charge from travel agent is 600~650 INR.Note: All the description presented here are based on Indian passport holder who visited Japan for 3 months. Visa rule changes time to time so keep looking on above websites for update.All the documents you can download from embassy website to avoid mismatch in format.
Cookievagabond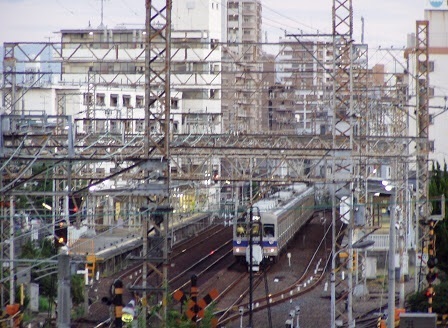 Saturday From an Osakan Train.
It's 2:07 pm and I'm boarding an inner city bound Nankai Line train having just enjoyed a buffet lunch in Rinku Town. In stark contrast to the busy, usually jam-packed trains I take during the week, this train is only half fall. The other passengers seem to be mainly just-landed travellers en route from Kansai airport, and satisfied shoppers heading elsewhere after spending the morning making the most of the famous Saturday morning sales at the nearby Mitsui Outlet. The atmosphere is relaxed and un-rushed; It's Saturday, and it feels like it. Once on board, I choose a forward facing seat by the window. I switch on some music, glance out the window, and look forward to a relaxed, sun-kissed journey back into the city.In true Osakan train fashion, the train glides promptly through a combination of built up urban areas, random small rice-paddies, traditional Japanese streets and various riverside paths and small parks. The Nankai Airport Line's intimate positioning to these areas ensures me an inspiring view of the numerous episodes of weekend life being played out on the streets below. I'm a big believer that a city's true beauty is radiated not through its physical structures, but through its charm and character; something which can only really be created by its inhabitants, by its people. When noticed, it can make simple train journeys like this unexpectedly memorable.My almost forty minute ride into Namba rewards me with big glimpses of Osaka's character in motion. I observe people of all ages engaging in various sporting passions: soccer, tennis, baseball and Futsal. An Oji San tending to his crops on one of those random patches of farmland just outside Izumisano. A lone orange vendor waiting for custom at an industrial area a little further up the line. I observe joggers making the most of the early afternoon sun along a canel near Ishizugawa; families doing the same by the water fountain feature in front of the big Aeon shopping mall in Shichido. I also notice various relaxed Saturday gatherings of people outside community centers, and in parks as well as open, but quiet artsy coffees shops that I'd never noticed before in the streets surrounding Sakai station; then a little further on from Sakai I observe a small, but lively market occupying a tiny fraction of Suminoe Koen. The things I'm observing are not particularly newsworthy, nor are they particularly unique, in fact most of the things I'm seeing probably happen every week (and not just in Osaka), but seeing these things in motion from a speeding train in quick succession of each other somehow makes me appreciate them more.I feel like a I'm being treated to an inside glimpse of Osaka's heart; a front row glimpse into the simple things that make the city and that Saturday feeling so special. They are the very small, uncelebrated things that make living in, and traveling through this city so beautiful and inspiring.
AngelicaSutton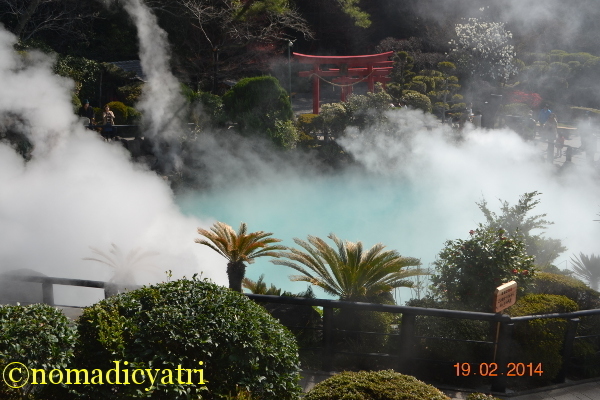 Enter the hell , feel like heaven #nomadicyatri
Jigoku Meguri (Roughly called hells of Beppu) of beppu are center attraction point in Oita and attracts domestic as well as international visitors, all year around. These are basically hot-springs for viewing rather than bathing in it. You can find many natural hot spring(Onsen) in the city.Basically 6 hells are located in the same place known as Kannawa district and remaining 2 are in Shibaseki district which are 20 minutes away(2 Miles in distance) from each other.I have been there from Matsuyama and entered in the city through ferry on Oita port. As compared to Matsuyama or Tokyo city is not having enough local train network to move around city, so we preferred to take rental car and did one trip around the city.Transport Note: Local train network is not strong but public buses are quite good and frequent. If you do not have driving license then do not hesitate to go ahead with public transport. You can book tour too via tourist information centre at Beppu station.Types of hell1-Sea Hell (海地獄 ⇔ Umi Jigoku): This one is my favourite and is completely blue like ocean which make its name sea hell. This is my personal recommendation, you must visit this among all hells. There is a big pond near by entrance and have many lotuses with are of specific type namely Victoria. Victoria leaves are big enough to hold weight of small kid(You can see picture board with kids sitting on leaf). Do not forget to have look around greenhouse which has multiple variety of lotuses and orchids.2-Shaven Head Hell (鬼石坊主地獄 ⇔ Oniishibozu Jigoku): This name originated from the grey mud bubbles in pond which looks like head of a monk. If you are tired and want to give an extra time to this hell you can sit around the place and enjoy footbath next to it.3-Cooking Pot Hell (かまど地獄 ⇔ Kamado Jigoku): This hell is easy to identify with red color demon mascot on top. There are several smaller boiling ponds scattered here and there and again if you have time then enjoy footbath with eating onsen tamago(boiled egg direct from onsen water).4- Demon Mountain Hell(鬼山地獄 ⇔ Oniyama Jigoku: Place is well known as crocodile hell.It is home of many crocodiles and alligators.What I heard from the instructor is that temperature of this hell (Normal hot water) is perfect for their breeding conditions.This hell is bit scary due to giant crocodiles.5- Mountain Hell (山地獄 ⇔ Yama Jigoku): This is situated in hill and you may pass this hell as I personally feel it is less attractive than others, but if you love animals this is the place for you to enjoy small Zoo next to hell.6- White Pond Hell (白池地獄 ⇔ Shirake Jigoku): Its names symbolizes white but it's a kind of pale blue(or somewhere milky too) water pond with rocks in the middle of it. You can enjoy a little garden which is along the hell pond.7-Blood Pond Hell (血の池地獄 ⇔ Chinoike Jigoku": This hell is located 2 miles away from above hells. Its name resemble the color of water and its complete dark red. The way I recommended you "Sea hell", I will recommend this one too and it's worth to take bus ride or do self driving(15 minutes). At the exist of hell there is one souvenir shop where you can enjoy shopping for your beloved ones and buy something to make remember this place.8-. Waterspout Hell (龍巻地獄 ⇔ Tatsumaki Jigoku): The last hell of your visit and it's next to "Blood pond" hell. This hell has a geyser which erupts in every 30 minutes to the height around 50 meters.There is a place where you can sit with other people and wait for it show in every 30 minutes, so mind timing to visit this hell(Show and wait timings are written at the entrance).Transport from Tokyo: You can use LCC Jet Star to Oita airport or you can use shinkansen upto hakata followed by local train to JR Beppu.Official website: For more detail information you can visit official website of Jigoku MeguriFee and business hours: Each hell you can enjoy with the amount of 400¥ and if you are willing to visit all the hells then you can buy full package around 2000¥. All the hells are operating throughout the week from 08:00 to 17:00.I had wonderful time in Oita and hope others will have same experience too, city is very beautiful and surrounded by multiple attraction around the city.Do not forget to visit me at @nomadicyatriSpecial Note: Do not forget to visit Beppu beach sand bath, Lake shidaka ko and Beppu ropeway to surumi mountain to have panoramic view of the city.
Cookievagabond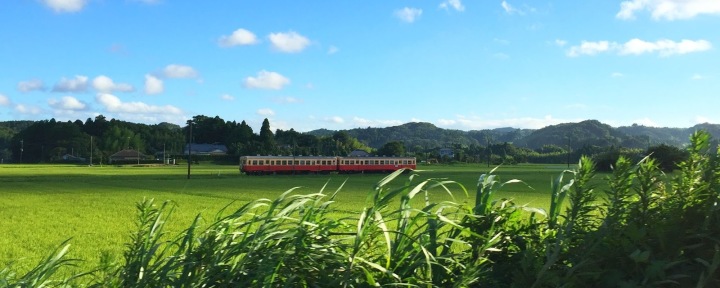 10 things to know about living in Japan
I´ve been living in japan for a few years and there are still many new things which I learn and experience every day. Living in a different culture often means many differences to your own country but also many new experiences. 1. RulesFirst off it is very recommended to follow the rules in Japan. Walking on the correct side of the escalator, standing in the line of subway or just about the right greetings with co-workers. Especially in big cities where many people are living together it is important to follow the rules, otherwise everything will end in a big mess. If you don´t know what is right, just check what the others are doing and do the same.2. ConnectionsWhen you are just arriving in Japan and you don´t know anybody it is very important to meet new people and make connections at your workplace and also for your private life. Especially in Japan, good connections can open you many doors. Also it is very important for the mental health, otherwise you will have depression very soon. 3. Be always kindBe always kind to the people around you. Don´t show that you are in a bad mood or have an other opinion. In Japan it is very rude to show very direct your opinion. Try to show always your positive side and don´t be negative. The people around you will appreciate that.4. TravelingTo travel around Japan is very easy and safe. I used to travel often alone around the country and never felt unsafe. Especially people in the countryside are very kind and helpful and the very good transportation system ((by Bus, Car, Train, Airplane, Ferry)) makes it very easy to travel around. Even if you can not understand Japanese you will always find somebody who can help you and sometimes they even guide you to your destination.5. You will always be the foreignerEven living a long time in Japan, people will always see you as a foreigner. It happens very often, that people talk to you in English even when you speak Japanese to them. This can be very frustrating but never give up! Also in the countryside it is rare to see foreigners, that´s why people are very curious and stare at you or will ask you many questions. 6. Public holidaysJapan has many amazing holidays and festivals. I really love those days. There is really a day for everything! Like the day of sport or the day of mountain. But usually nobody celebrates these days, moreover people rest at home or enjoy a day off. The opposite are festivals, for example tanabata (star festival) or hinamatsuri (girls/dolls festival), which are big events with many traditions. Try out as many events as you can, it is a lot of fun!7. Zentral heating & Air ConditionerThere is no central heating in Japan except in the northern parts. So, please take care to always stay warm with many clothes, blankets and other heating supplies like heating carpet, kotatsu (table over an electric heater) or heattech clothes. Japan can be very cold in winter and the air is very dry. On the other side in summer it is very hot but all buildings and transportation have air conditioner but they are often too cold, so it is better to always carry a sweater with you. 8. ChildraisingThe first time I came to Japan, I was very confused to see little kids staying up late outside and it seems to be so normal. Especially kids who already attend school have to study a lot in Japan and often go to afterschools or cram schools which will end sometimes very late in the evening. Usually school and work starts late (around 9 h) in Japan, comparing to my country, that means that everything also ends late. 9. Amazing Delivery ServiceSince living in Japan I really love the post service here. You will always get your packages on time. They even come late in the evening, if you ask them. It is very great that you can let packages deliver for a specific time without paying an extra fee. Even if you need to send something inside Japan, they will come to your house and pick up the package without any extra cost. For sending overseas you can use one of the 24 h post offices which you can find in many areas.10. LanguageNumber ten should be also number one. The most important thing is to learn the language. It is very hard to live in another country without speaking the language. Without Japanese it is very difficult to find a good job, rent an apartment or just open a bank account. You will need Japanese all the time in your daily life. English is not that popular and most of the people cannot understand or speak it.
Crazydeath
snow falls in november
According to japanese reporter its been 54 years since it falls in november . So its my first time to experience snowing in november. It always falls during the end of December or February. Yes its cold in here in Japan some don't like it but for me its better than summer here.
Babei1096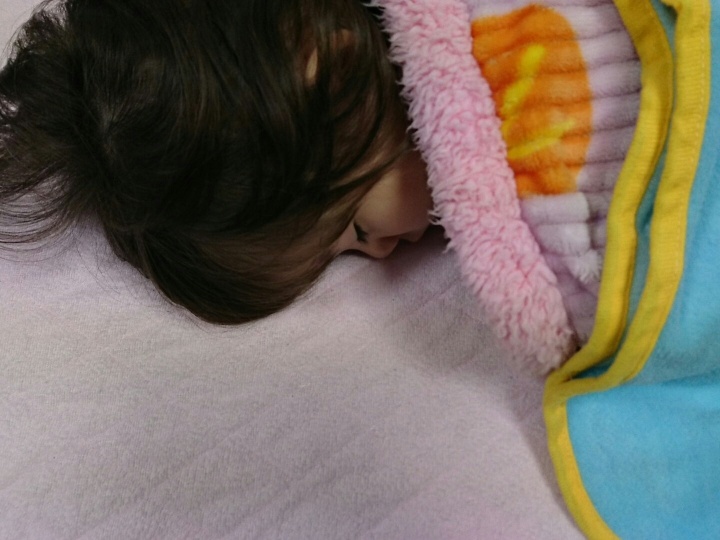 10 Ways to Prepare for Japanese Quakes and Tsunamis
At 6AM this morning a Magnitude 7.4 earthquake struck outside of Fukushima prefecture. It was slightly less intense in Miyagi, where it still caused alarms and woke us up. Soon the tsunami sirens were going off and we were headed uphill and inland to my in-laws place to wait out the morning tsunami warning. Unless you're from a quake-prone area, the threat of these common Japanese disasters can be really scary for the potential future Japanese resident. Here is a list of things to do to help you prepare for the unlikely scenario of a major quake and/or tsunami in Japan. What happens when there's a quake: First, if it's a major quake, your Japanese cell phone will make all sorts of ungodly noise, with a max-volume alarm going off no matter what mode the phone is in. This is to save your life, but the alarm will only sound a few seconds before the shaking starts. Then there's shaking. Usually it'll end after a few seconds and your apartment will be almost exactly as it was before. If it lasts much longer, you can hide under a table or desk until it stops. If it's a big one, you'll likely want to leave the building and head to a more secure location at that time. After the shaking stops, if you're in an area close to the ocean, listen for more alarms and prepare to move to higher ground. Tsunamis can happen without an earthquake trigger, but any quake above a magnitude 7 is likely to cause some tsunami action. What do you do? 1) Stay Calm Okay, maybe not that calm. This was my daughter this morning. Freaking out over whatever is happening helps no one. I don't know about you, but the more elevated my adrenaline, the less I can speak or understand Japanese. The less friendly or respectful I am to others. The less I can do to help myself or anyone else. The first thing you have to do is breathe. Then, if you've prepared properly, you should already know what to do next. 2) Have a Go Bag Most long term residents do. A backpack or other bag, filled with a few liters of water, canned food, candles or glow sticks or other portable light source, batteries, and anything else you can imagine needing when you're without running water, access to food, or electricity. Also include any vital documents like your passport and bank books. Keep it close to the front door, but out of the way, so you're not always tripping over it but at the same time it's ready to go and easy to grab. This is one of ours, from our hall closet. 3) Know Some Kanji It is good to be familiar with the words themselves, like 津波 tsunami, 地震 jishin (earthquake), and 台風 taihu(typhoon). It is also beneficial to know the kanii for whatever town you are living in and as many of the surrounding areas as you can. This way, you'll be able to interpret the information in more difficult situations, even without a translation app. 4) Know Your Town See that red dangly bit? That's Matsushima. We're just south of there, also in the red. Being able to pinpoint your town on a map of Japan can come in handy. It is very useful to know more about your town than just the kanji and pronunciation. You should, shortly upon arrival, figure out if you're close to the ocean or rivers and on low ground. Also, find out what parts of town have higher elevations than where you are and how to get there quickly on foot or by bike. Knowing you're a few train stops away from safety isn't always as useful as the trains won't usually be running after a quake like that. They might be back up within a few hours, but in extreme cases, it might take a week or longer. 5) Have a Plan After you know where the tsunami evacuation areas are, and where you can or should go, make out the plan in your mind. Walk the path a couple of times when you're not running for your life so you know how to get where you need to get. Think about what you'll need for at least a few days after a major catastrophic event and get that stuff in the go bag. Keep an eye on the expiration dates when you check the bag once a year or so. 6) Make Good Connections Having friends in a other parts of Japan can make all the difference when things go south. My little adopted family survived partially by the grace of a few packages from friends in my former Japanese home, who were otherwise unaffected by the quake. At the same time, packages sent from abroad were being turned away, the postal services unsure of whether or not they could deliver to the tsunami affected areas. Also, it's good to have friends in town who you can rely on in times of crisis, personal or otherwise. 7) Check In If you're in a town that gets hit with a major quake or tsunami, you can do the math to figure out when your friends and family back home will be awake to see the news, but the general rule of thumb I follow now (after the mag 9 knocked out power and cell phone towers, leaving my mom without word from me after the Mag 9, ruining her birthday among other things) is as soon as something happens and I know I'm okay, I try to get word out on Facebook or Twitter to let people know I'm safe. 8) Stay Safe If you're in a tsunami prone area, stay out for a good long while. Since the 2011 tsunami, the authorities have been more restrictive in when they tell people to head back to the affected areas. This is because a lot of people went home after the March 11 quake, expecting a small to normal sized tsunami, and never came back. So if you're in a situation where you can run by your house, grab a few possessions and head to high ground, do it, and stay at that higher ground for a few hours. They'll tell you when it's safe to return. 9) Know When to Turn it Off Already in your safe spot with your go bag? Ongoing coverage making your anxiety explode? Turn it off for a bit. Just like with any other major news event of the last 20 years, you're going to see the same footage over and over on TV. When you're convinced that you've got as much information as you can use and continuing to watch for more is exhausting you, don't feel bad about turning it off for a bit and watching something you want or doing some other things around the house or wherever you're holed up. Staying hyper-vigilant and freaked out for too long is a drain on anyone. If you are in a safe, private place where it is possible, take a nap if you feel like it. Your phone will go off or the tsunami sirens (which sound a lot like tornado sirens) will go off if danger strikes. You'll hear about it and are unlikely to sleep through it. When today's tsunami warning was lifted, our phones were sent an emergency message from the city, letting us know it was safe to go home. 10) Some Things Will Return to Normal; Some Things Won't Trains and other basic amenities generally come back fairly quickly, provided nothing has been wiped out or needed to be moved inland for tsunamis. The infrastructure here is great and it is tested for these things fairly regularly. Although life in general may appear much as it was just before the incident, some things will be different. Especially after a major event that causes such a huge death toll, communities will change. There will be turn over as some people will move away and others take their places. Things will change, but most shops will reopen and life will be very similar to before, even after a catastrophic occurrence like the magnitude 9. Don't discount what happens inside of you as well. Your mental health is important, and events like this can change how you feel. For about a year after the 2011 disasters, I couldn't leave a cup or mug or dish anywhere but in a sink or in a closed cabinet for fear that they would fly off and break. I worked on getting over that and other post-quake mental issues by slowly acclimating to my new normal and forcing myself to hang pictures in frames on the wall, even though part of me just knew they would all fall. Some of them have. Most have stayed in place and helped me remember that not every day is quake day. Living in Japan may mean dealing with the occasional quake. Most are so small you can't feel them, but after you go through something like the magnitude 9, you can never fully ignore them again. You will wait for the shaking to stop to make sure it is a small one before moving on. Most of the time, you'll only need to stand still for a second or two and it will be over, even in a fairly tall building. Other times, if you've prepared yourself, you'll already know what to do.
JTsuzuki