Jan 28, 2018
Akita/Niigata in March
I´m planing to visit the Akita and Niigata prefecture at the end of March. What about the weather during that season? Is it still snowing? If yes how about the train situation? I guess because those prefectures are used to snow there will be no problem... Some experience of people living in these areas will be helpful!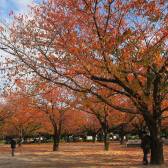 I´m a german girl living in the center of Tokyo, but my true love belongs to the countryside of Japan (especially Chiba and Hokkaido). I love traveling in Japan and explore hidden areas.
I want to help people with my articles to get in touch with the Japanese culture and all the beautiful places you can explore.

Besides traveling around, I love trains, handcraft and my little rabbits.
6 Answers
---
---
Hi there! I live in Niigata right now, but this is my first year here. I live in the heart of snow country and I've been told that the snow can sometimes stick around until April, but it should be fairly intermittent if any by then. The heaviest snow is January/February here so you'll escape the worst of it, and I don't think you'll have any trouble with the trains, especially the shinkansen if you are coming up from Tokyo. I have heard in other parts of Niigata that some local lines had delays this year when the snow was really bad, but since most of the shinkansen here is through tunnels the weather doesn't impact it. Are you planning on going anywhere specific here? Let me know if you need any other info and I'll do my best to help!

@crazydeath the shrine in Yahiko is beautiful! Right by there is Tsubame Sanjo and there are a lot of handicraft places there (http://www.tsjiba.or.jp/en/tourismcat/tsubame/ and http://www.tsjiba.or.jp/en/tourismcat/sanjo/). As for Niigata City I've mainly been there for shopping, since my town in Niigata is small and doesn't have much in the way of stores. At Niigata Station though they have this cool place called the Ponshukan that has a whole bunch of sake you can sample if you enjoy it. There's one at Echigo Yuzawa Station too :)

BlueButterfly - how was the weather last year when you went? We are considering a trip this year to Urasa in mid-March. This year's snowfall has seemed to be much less than last year, and one of our goals in going would be the opportunity for the little to play in the snow. Wondering if there will be much left at that time. @genkidesuka, isn't Urasa your hometown? Would you know?