Jul 4, 2017
US paypal and starbucks coffee
What I'm wanting to do is purchase starbucks here in Japan with my paypal in the states. I have money in my paypal account, but Ive only ever used it for ebay purchases. I was thinking maybe being able to buy a giftcard online, but I don't know where to look to be able to have the giftcard work in Japan. U.S. giftcards don't work here right? Any suggestions?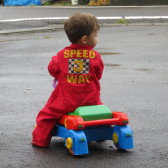 American step mom with beautiful Brazilian babies. Raising them in Japan. I'm a crafter too
3 Answers
---
---
Best Answer
I live on a US military base right now - moving soon though - and a lot of my friends have had trouble with this very thing...their relatives send them US Starbucks gift cards and they don't work at all in Japanese Starbucks locations. I know this wasn't much help in answering your original question about using your US PayPal account to pay for Starbucks here...the only way I could think of it being feasible would be to have a debit card issued on your US PayPal account and get a friend or family member to send you that card, so that it draws from your US PayPal balance.