USER BLOG
Join the best expat community of Japan. Now!
Share your Japan experience

Create blogs/Join the Q&A

Earn points and get rewards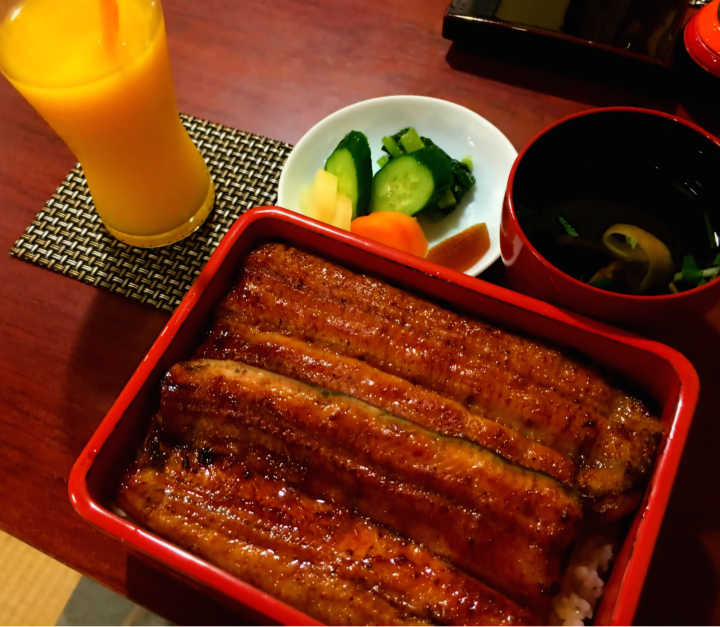 UNAGI Challenge: Affordable vs. Expensive! Which Do You Prefer?
Hot, sweaty, and dehydrating─── the negative side of summer that makes us crave for siesta. Lacking stamina in a beautiful, sunny day is such a waste, so why not eat UNAGI? UnajuFreshwater eel (or unagi) is a popular summer food in Japan, which is said to boost vitality. It is a perfect meal to have after a tiring day, but it can cost quite a bit. Cheaper unagi in supermarkets and budget restos are also available, so no need to worry about putting a hole in your pocket. However, will it be as satisfying as the expensive ones? The only way to find out is to have a TASTE TEST! I tried out this popular summer food from the supermarket, Tsukiya, and in a traditional Japanese restaurant. *** Supermarket This is the most affordable among the 3. Costing about 399 yen, you get a grilled unagi covered with sweet sauce and packed with some seasoning and soy sauce. I bought this at SeiyuDespite being cheap, it was tasty. After a few bites, you could feel the fish meat slowly softens in your tongue, making you relish each mouthful. I do need to point out that you could feel few tiny fish bones that bothered me a little. It also has a hint of charcoal taste, which can be a turn-off for people who don't like their food bitter. Tsukiya I'm not a usual patron of Tsukiya, however, I do know that they are selling Unagi for only a limited time. The most budget-friendly is about 780 yen, but not including any side dishes. Eel and beefThe one I ordered was Unagi-Gyu. For 880 yen, you get rice, eel, and beef. The unagi tasted good, but I just felt it's lacking something. I actually prefer the sauce of the first one more. Despite of that, I must say that it wasn't boney at all. Ogakiku (大川菊) Ogakiku is a well know traditional Japanese restaurant in Koedo, Kawagoe. They have been serving freshwater eels for generations, so you already know you are getting a LEGIT Unagi meal. Shirayaki is an unglazed style eel, while the Unaju has a sweet sauce. The total of this teishoku is about 7,600 yen. It was indeed expensive, and yet it wasn't even the whole bill. See my full review for this restaurant on this link.Shirayaki (on top) and Unaju (bottom)The Unaju in Ogakiku is my favorite among all of the unagis I mentioned in this article. It just captured what my palette was yearning for, a dish with a distinct and rich flavor. The sweet sauce was not overpowering. I didn't feel any bones, which was a BIG plus! And this one just QUICKLY melted in my mouth, like a high-end butter. It was simply cooked to perfection. Shirayaki was also delicious, but I just prefer a tender and juicy texture. *** For people who just want to have a quick bite, grabbing an unagi at the grocery store or in Tsukiya is not a bad idea. On the other hand, if you are willing to splurge from time to time to taste this delicacy, I highly suggest eating in a traditional Japanese restaurant. It can be costly, but you know your taste buds will be in cloud nine. How about you? Which do you prefer?
Bella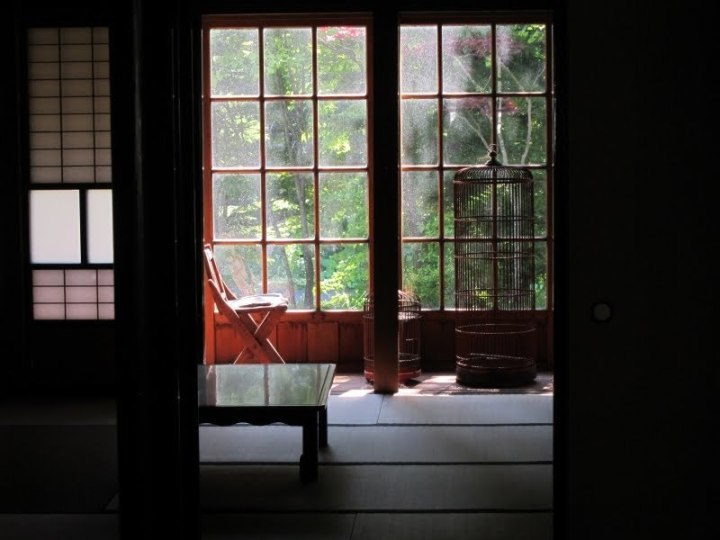 Fun in the Sun - Explore the old historic villages of Hokkaido
The best season to visit Hokkaido is in summer from July to September. Usually it is very nice weather with temperatures around 20 – 28 degrees. Compared to the rest of Japan, Hokkaido is very cool in summer making it a perfect place to go if you are searching for a break from the city.There are many things to see in Hokkaido. One of my favorite places is the Historic Village of Hokkaido in Sapporo. The village is an open air museum a little bit outside if the center of Sapporo. It belongs to the Nopporo Forrest Park. You can go to the village by train from Sapporo Station with the JR Hakodate to Shinrinkoen (around 13 minutes) and then take the bus directly to the Historic Village (around 5 minutes). Alternatively you can also walk from the station in 20 minutes. The entrance fee costs 830 yen or 1200 yen if you buy a combination ticket that also includes the historic museum.The Historic Village has around 60 typical old Japanese houses mostly from the Meiji and Taisho period. There are different sections like the farm village, fishing village and a small town. If you walk around you can easily see the differences between the sections very well. It is really a great experience to explore all the different houses. Most of them also have their old interior and you are allowed to enter all areas of the houses. Sometimes there are also some volunteers who will tell you the story of the house or they will invite you do to some handcrafts. Don´t be surprised by the dolls that really look like real people. They show how the life was in those old houses. I've visited the village in August and it was amazingly empty. The area is quite big and most of the time I was the only customer there. That was perfect for me to take many photos.One of my favorite buildings is the old school, which is now a small museum. You will find many old school books, school clothes and the old interior from old times. There were even some old books for teaching English to the students. Also, you should not miss to make a stop at the doctor and dentist. Their houses are full with all old doctor/dentist supplies. Watch out! It can be very scary, especially the glasses filled with organs.There is also an old tram from the Meiji period. You can go inside and check it out. A perfect chance for train lovers who want to see an old tram. You can even find some western style buildings from the Second World War period, which are a great contrast to all the old traditional Japanese style buildings. Just 10 minutes away from the village is the Historical Museum of Hokkaido, which has many documents about the history and the development of Hokkaido. The museum covers chronologically the history of the prefecture from 20,000 years ago and into the future. The Historical Museum of Hokkaido is the perfect addition to the Open Air Museum. I really enjoyed visiting the Historic Village. It took me around 2 hours to check out all the houses, because the area is really amazingly big.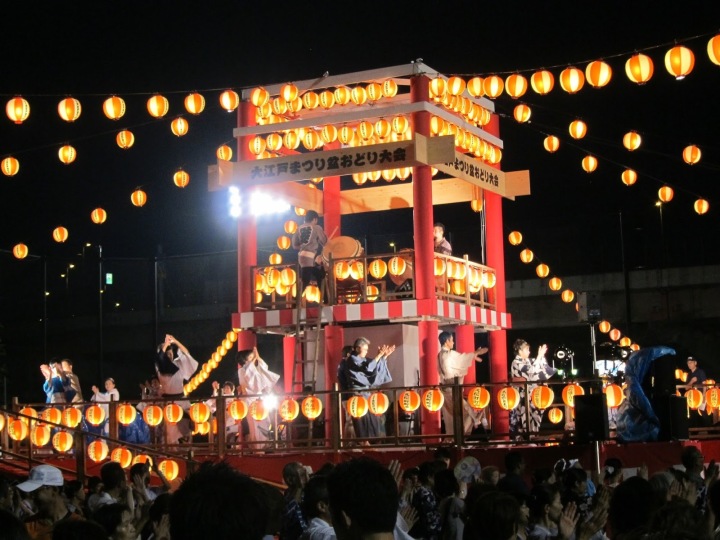 Fun in the Sun - Japanese Summer festivals
Summer is the hottest and sunniest season in Japan. It is also the season of many nice festivals around the whole country. Summer festivals are always a lot of fun, especially if you are wearing a yukata. Here are some of my summer festival recommendations, which you shouldn't miss:• Bon OdoriObon is a Japanese Buddhist custom to honor the ancestors. Depending on the area Obon is celebrated in the middle of July or August. The Kanto region (Tokyo, Kanagawa..) is celebrating Obon around the 15 th August. There are many traditions for that day. One is to put a small fire in front of the house entrance to show the ancestors the way. However, the most popular tradition is the Bon Odori Dance. There are big Bon Odori festivals like the Hibiya festival in Tokyo but also many small ones in every neighborhood. Each region has its own dance style and different music. At a typical Bon Odori people are lining up in a circle around a high wooden scaffold. Musicians and singers are performing on that scaffold. When the music starts people will dance around the scaffold. Many people are wearing yukata, which gives that event a great traditional feeling. Even if you don´t know the dances you are always welcome to join and do what the others do.• Lantern festivalThe lantern festival is a very romantic, small event celebrated at the end of July or in August. A famous one is held in the Chiyoda ward in Tokyo close to the Imperial Palace. For that event it is possible to rent a small rowboat at the nearby boathouse. Unfortunately this is very popular and only a few boats are allowed on the canal, that's why you have to make a reservation very early. If you have the chance to get a boat, you will also get a floating lantern, where you can write a wish on it. When the event starts everybody will put the small lantern on the water. It is a very beautiful scene to see so many floating lanterns on the canal. Also there is often some live music in the background. If you want to go on a romantic date, this event is the perfect chance. • TanabataTanabata is celebrated on the 7th of July or 7th of August depending on the region. Tanabata is the beautiful story of the two stars Wega and Altair which are meeting in the sky. According to a Chinese tradition these stars represent a pair of lovers, separated all year round by the Milky Way. Only on Tanabata are they able to meet each other.On the evening before the 7th of July/August, bamboo trees are put up, on which notes are hung with desires in the hope that these will be fulfilled. One of the biggest Tanabata festivals is celebrated in Hiratsuka south of Kanagawa.•The three great Shinto festivals of TokyoThe Sanno, Kanda and Fukagawa festivals are the three biggest festivals in Tokyo. The festival season starts with the Kanda festival which is the weekend close to the 15th of May. But watch out! It is held only on odd numbered years. The festival takes places around the Kanda Shrine and the main attraction is the parade with 200 mikoshi incl. musicians and dancers.The Sanno Festival is held in June in every even numbered year only. The festival is held for one week in the Chiyoda area with many activities and also a parade.The Fukagawa Festival is held every three years in mid August at the Tomioka Hachiman Shrine around Monzen Nakacho Station. The festival has a great parade on the Sunday where many mikoshi will be carried around. The parade is very popular for the spattering with water on the mikoshi.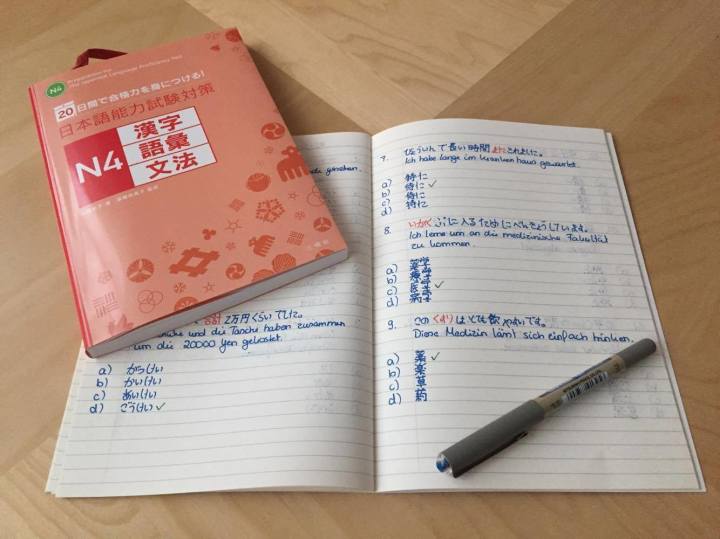 5 ways to study Japanese
Studing a language is a big challenge for everyone, especially if you are not a language genius it can be very tough. Also Japanese is a totally different language comparing to western languages like English, German or Spanish. If you can speak Chinese it might not be so difficult, because Japanese and Chinese has many things in common like the writing system. I already tried out many ways to study Japanese. Here is my list of 5 ways to study a language and also my experience:• Language schoolLanguages schools offer different classes to study Japanese. In my home country those classes were hold mostly 1-2 times a week in small groups. It takes very long time to get a good knowledge of the language. Language schools in Japan are a little bit different. Often you can choose between different kind of courses. For example the 1-2 years intensive course where you really study every day very intensive Japanese (listing, writing, speaking). It is very similar to a normal school. The chance that you are fluent in Japanese after that time is very high, but all depends on your effort.If you can speak already Japanese you can also join a university preparation class or a JLPT preparation class.If you want to focus more on your conversations skills, you can visit a conversation class. Usually those classes are for a few hours every afternoon and really focus only on speaking.I joined a normal Japanese course in my home country and a conversation course in Japan for a half year. For me a language course at a school was very good for learning the basics of the language especially for the right pronunciation.• Language exchangeA language exchange is a good opportunity to work on your language skills. Usually you will meet with a person who want to learn your language at a café or park. Each of you have the chance to learn from each other then. A popular website to find a language exchange partner is hellosensei.com.That style is recommended if you can already speak a little bit the language otherwise it might be very difficult to communicate.• Private teacherA private language teacher is very good if you can´t study well in a class or at home. Many language schools offer private lessons but you can also find teacher at the internet. Studing with a private teacher is very intensive and a very fast way to learn the language. The bad side is that they are often very expensive, that´s why I would recommend a teacher only if you already have a good basic level of Japanese. I used a private teacher mostly to work on my conversations skills, to sound more natural.• Self studingIf you don´t have much time and don´t want to spend so much money on language schools it is a good way to study at home. There are many good language books like:- Basic Kanji Book (Bonjinsha Co. LTD)- Genki- Nihongo challenge- Unicom 日本語能力試験対策- 日本語能力試験対策- にほんご90日Also I would recommend to watch many Japanese dramas, Anime or TV shows to work on your listing skills.For reading practice you can start with kid books (only Hiragana) or special story books like Japanese grated readers.• Daily lifeThe best way to work on your language skills will be in your daily life. Try it out have some small talk at the supermarket, post office or in a park. No worries nobody expect that you are fluent. Just give it a try!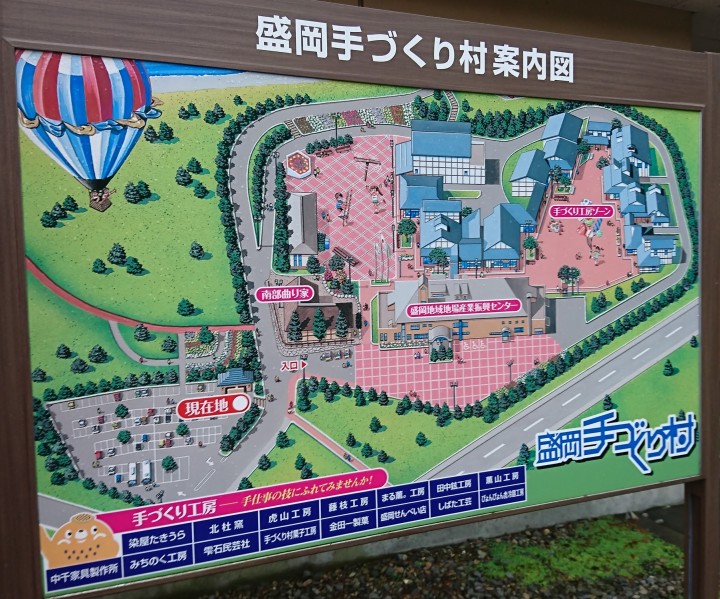 Morioka Handi-work Square -- Free Fun in Iwate
If you've got a car and love local handicrafts, this is the place for you. Admission to the square is free for all ages, and for that price you can tour a historical home from the Edo era, even walking through the home from the dirt floor garage area to the wooden and tatami floored inner rooms. Shoes off the wood and tatami, of course. The rest of the square is made up of a series of classrooms and shops. From the massive windows outside the classrooms, any visitor can watch experts conduct 30 to 60 minute classes on the making of one specialized handicraft or another. If you have the money to spend, you can also participate in the classes that include pottery making, pottery painting, weaving bamboo baskets, dyeing handkerchiefs, making floral wreaths, baking sembei, making reimen, woodworking, and a few others. On our trip, we unfortunately arrived a bit late. Classes run for 30 to 60 minutes depending on the task at hand and skill of the novice. With the park closing at 5PM, the cut off time for classes is 4PM to ensure everyone has a chance to finish. As we arrived at 3:30PM, I felt it imperative that we choose quickly and finish the creation portion of our adventure before seeing the rest of the park. If you have time and money, it is probably better to look around at all the craft options available before making your decision. That said, we immensely enjoyed our project. You might be wondering how something like creating and firing a piece of pottery or weaving an entire basket could only take 60 minutes. My own elementary school recollections of clay-based learning indicate days or at least a solid afternoon. It turns out that this handicraft square simplifies things so that the patrons can explore and enjoy the fun parts of the craft quickly without worrying about the more boring and time consuming portions of the creation process. When checking out and paying for the item and class, the customer also pays for shipping to their address and fills in a shipping label. In our experience, the crafts can take a month for delivery. We painted a rice bowl, choosing it from the selection of objects on a picture-sheet. There were a few levels, the first being a cup, plate, or ash tray for 1400 yen. The second level consisted of a mug (with handle), a rice bowl, or a flat bowl for 1600. In each case, the fee covers the cost of a ready-to-paint ceramic item and paint. In the work space, the experts, in this case a kind older woman, give basic explanation, though unfortunately usually only in Japanese. Our expert took the time to explain the basics of paint usage-- clean the brush between colors, dab it dry in a cloth provided before dipping it in the paint-- in a way that was obvious but not insulting. We developed a quick pattern and got to work drawing it on the bowl and letting my daughter fill in the design. What makes this a more rewarding experience than painting kokeshi dolls is the number of colors and brushes. My kokeshi painting experience only goes as far as 3 colors and 1 brush provided per color. The pottery provisions here gave at least one additional detailing brush option and 5 colors of paint to choose from. This allowed me to indicate the petals of our flowers over my daughter's slashes of color before she anointed the project in green. There are 15 workshops in the square, 7 of which offer classes. Many of the workshops are also connected to proper shops where visitors can buy professionally made handi-crafts, such as pottery, wooden toys, woven baskets, a large selection of sembei, and a selection of fairly expensive dyed clothing, among others. That basket on the table is cloth scraps of various material, shade, and price. I spent 500 yen on a few pieces to make into bows for my daughter to avoid spending 2000 yen on the finished product. There is also a catch-all souvenir shop with a massive selection of goods from the area, including wooden toys, clothing, cards, jellies, beer, wine, ironwork, and more! So if you're looking to check out a little historical home and watch some free handicraft production (or make some yourself, for a price), come on out to Morioka for some fun! You can find more information at this useful website from the prefecture, though the prices are a bit out of date.
JTsuzuki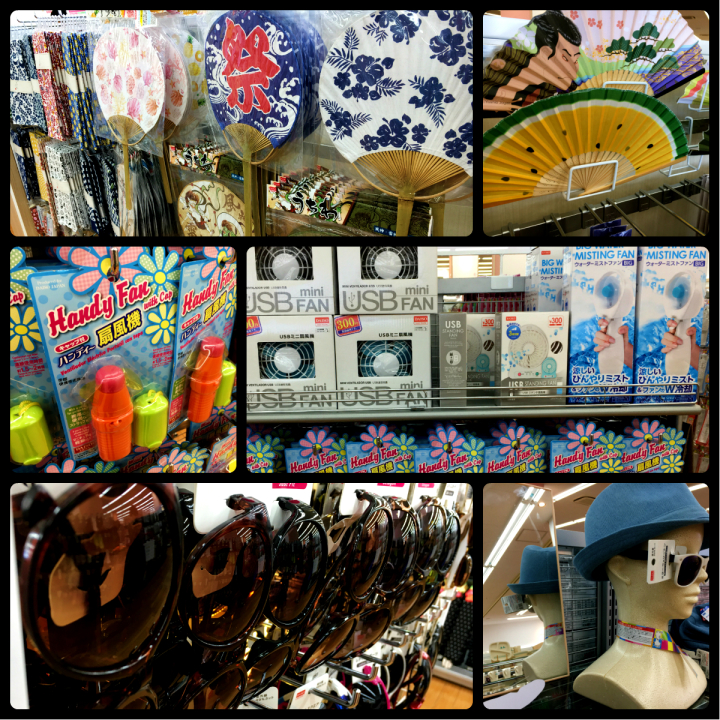 10 Summer Survival Items in Daiso
The wonders of 100 yen in DAISO── Snacks, kitchen utensils, gardening tools, stationeries, and "stuff" that you need to endure summer time in Japan are all (probably) in this shop! If you have no clue what they are, here is the list of the items in Daiso that could help you withstand this season. 1. FANS From paper fans to battery powered ones, pick one that suits your mood. There's even a USB mini fan and a BIG WATER MISTING fan! However, they cost about 250-300 yen though, but if you don't mind spending more bucks, get one! The paper fans are actually good omiyage/ souvenirs because of its very Japanese designs. Hence, if you are on a budget and going back to your country, it's a nice gift for your love ones. 2. HATS and SHADES Not minding fashion or well-known brands, just avoiding the blinding sunlight from your eyes is what you care about; Daiso's hats and shades are then perfect for you. 3. UMBRELLAS and RAINCOATS Instead of using hats, I use my umbrella for shade. However, the scorching sun is not your only enemy in this season── RAIN, especially the sudden one. Most of the time I have a folding umbrella in my bag, but if you think carrying it isn't a necessity, be prepared to get drenched or pray that there is a nearby "Hyaku-yen" shop to spare you from spending more than a hundred. Folding umbrellas are now available in Daiso which cost about 200 yen. 4. PERSPIRATION ABSORBING PADS Sweat is one of the major downsides of summer. It is a bit embarrassing when it finally shows on your clothes, particularly in the underarm area. But no worries, stick these absorbing pads on and you won't get shy raising your arm. 5. REFRESHING SHEETS Feeling sticky and smelly because of sweat? Wipe it away with these sheets that will make you feel refreshed and fragrant. 6. OIL BLOTTING PAPER Having an oily face is already a pain, even more during the summer. It is extra shiny, making you feel that you can fry an egg on your face! Use a blotting paper to keep your pretty faces less oily. 7. THERMOMETER You might not need it, but knowing if it's just too hot isn't that bad right? 8. ICE-POP MAKER/ ICE CUBE MAKER Homemade popsicles and beverages, using your own recipes or ones you want to copy from various cooking websites, is a fun way to get creative with summer refreshments! 9. ICE PACKS It is very useful for keeping food cold when going camping or just heading to the beach. OR, if you just want to feel something icy to cool you down. 10. WATER BOTTLES/ BAGS Keeping it simple by being hydrated. As easy as that ladies and gentlemen, just drink lots of water to replenish all the liquids you've been losing from this hot weather. A lot of people do experience HEAT STROKE, so make sure to take that 8 glasses of water! Get a water bottle or bag with you so you don't need to buy a bottle of water in the combini every single day. So how about you guys? Have you tried out some of these things on this list? Or do you have any additional items you want to add? Feel free to comment!
Bella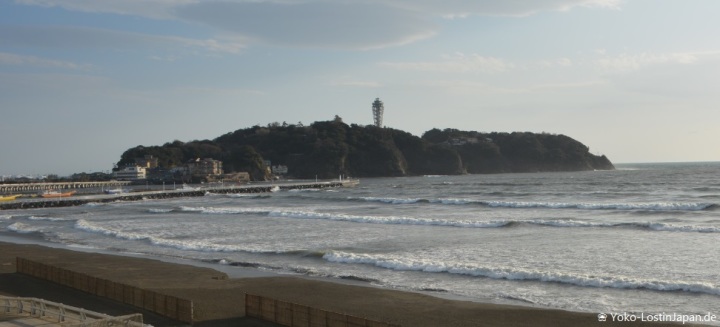 Japan by the Water: A trip to Enoshima
There are many places you can visit as a one day trip from Tokyo. One of the best, at least in my opinion, is the small island of Enoshima, located in Kanagawa prefecture. You can reach it easily within around 90 minutes from Shinjuku station and spend a wonderful day there. Let's take a closer look at the island and the area around! Sightseeing Spots on Enoshima Island Enoshima island has many spots to explore. Mainly, this island is home of the Enoshima shrine which is separated into three smaller shrines. All these shrines are dedicated to the goddess Benzaiten, which is officially known as the goddess of "everything that flows", meaning words, eloquence and music. However, the more popular image of her is the goddess of love. This is one reason why this shrine is especially well visited by couples. The Samuel Cocking Garden is a small botanical garden built on the former residence of the British trader Samuel Cocking. In the late 19th century, he purchased a big part of the island. To the garden belongs the Sea Candle, a phone tower constructed like a lighthouse and including an observatory. If you want to relax for a while, you can spend some time at the Enoshima Island Spa, an onsen resort with indoor and outdoor pools. Next to the all naked gender-separated bathing, they also offer a mixed area which requires bathing suits. Last but not least, there are the Iwaya Caves. These are famous for the myth existing about it. The goddess Benzaiten should have created Enoshima to imprison a sea dragon, which you can find inside the caves. On a clear day, you even can see Mount Fuji from Enoshima. But for this you really need luck. What to do around Enoshima Enoshima is not only the island itself, also the small city on the mainland belongs to it. There you can find the Enoshima Aquarium, which is a large and modern aquarium right along the beach. A little bit expensive, but especially the jelly fish area is worth a visit. The coastal area around Enoshima and Kamakura is famous for their beaches. The sandy beaches in front of Enoshima are very popular and often crowded in summer. Restaurants are lining up and you can even rent deck chairs and parasols if you want to spend some time there. You should also take a walk inside the small city. On the shopping streets some stores are lining up, you can get souvenirs and even find some nice restaurants. Want to save money? If you want to save a few yen on your travels, the train companies offer different passes for the Enoshima area. The best might be the Enoshima One Day Pass from Odakyu. This pass includes the round trip from Shinjuku, Shinyurigaoka or Machida to Enoshima on the Odakyu line, and you can use some facilities for free, too, including the escalator, the light house, the Samuel Cocking Garden and the cave. The price ranges from 1550 to 1970 yen, depending on your departure station → Website. Another opportunity from Odakyu is the Enoshima Kamakura Free Pass. This one includes only the train fees, meaning the round trip from Shinjuku, Machida or Fujisawa to Enoshima and unlimited rides on the Enoden Line. Here the prices are between 610 and 1470 yen. With the pass you can get discount at some facilities → Website. JR is offering the Kamakura Enoshima Pass. This one gives you unlimited train rides on the JR lines in the Kamakura/Enoshima area, starting from Ofuna or Fujisawa, and also includes the Enoden line and the Shonan Monorail. The price here is 700 yen → Website. Have you ever been to Enoshima? What did you like best?
YokoLostinJapan