USER BLOG
Join the best expat community of Japan. Now!
Share your Japan experience

Create blogs/Join the Q&A

Earn points and get rewards
Get Set for a Successful Home Search
Before You Get StartedBefore you even get started, it's important to do a few things to make sure your home search will be as smooth and stress-free as possible. Here's a few things to do before you go out to see your first potential new home:Register at your local government office, even if it is a very temporary address. You need to do this within 14 days of arriving in Japan for a stay of 3 months or more. If you are registering now, get a copy of your residence certificate (jyuminhyo) at the same time in case it's needed for your application. Once registered, your address will be recorded on the back of your residence (zairyu) card. Open up a bank account in Japan if you haven't already, and ensure you have enough funds in Japan, or the ability to have them transferred to Japan. In order to transfer money from abroad to a Japanese bank account, it is now necessary to register your My Number (also known as Individual Number) with your bank first.Research to get a feel for price vs size vs location vs building age vs distance from the closest station and so on.Consider the main places you will commute to regularly (work, school, meeting places for social events) and the maximum commute time you wish to travel for your most regular destination, and if you will accept the need to transfer one or two times for example, or if you will only consider properties on a direct line.Determine if you will have a personal or private lease as this will have an impact on properties available for your consideration and costs involved.Put together a list of your home search parameters that you will provide to your selected real estate agent. Be as specific and detailed as possible to help find the best property for you quicker. Include as much as you can, such as: personal or corporate lease; budget; size (in square meters or number and type of rooms); location(s) you will most frequently travel to and commuting parameters (travel time, direct line or transfers ok); specific areas of interest or a description of the type of area you are looking for (quiet family friendly neighborhood / lively area with easy access to cafes/ close to park etc); other important considerations to you - this might include the age of the building, amount of light / direction the property faces, if you prefer to live on a lower floor or higher floor, views, amount of storage space, if you have large furniture that needs to fit (e.g. double and larger beds will not always fit in bedrooms). Also specify on your list if you can speak Japanese and if you have lived in Japan before as many landlords are reluctant to rent to people who don't speak Japanese. Other considerations that should be listed include if you need car or bicycle parking space, if you will have a pet and if an instrument will be played at home.Getting StartedAfter following the steps above, you should now be ready to commence your home search in earnest. You can usually expect to be able to move in around 3 - 4 weeks from this point if you can find your preferred property within the first 1 - 2 weeks. I recommend contacting a reputable real estate agent experienced in dealing with foreigners and working exclusively with that agent as much as possible as they will be far more likely to go the extra mile for you if they know you're not shopping around. Most properties on the market are accessible by any agent, with the exception of some properties that are only available through an exclusive arrangement. These agents will also usually help you to set up utilities and give you other valuable information and advice. Request the agent to send you some floor plans for your consideration and let them know when you wish to start visiting properties of interest.With your list of search requirements in hand, the agent will look for properties that meet as many of your criteria as possible AND they should also screen the properties to make sure the owner will likely accept your application. Without this important step, you will unfortunately find many owners will reject your application on the sole basis of you being non-Japanese. Do NOT rely on online listings as many of these will be out of date and used to lure you to contact the agent.After reviewing the floor plans, let your pagent know which properties are of interest and which are not, and describe why as much as possible.As you visit the potential properties, continue to give as much feedback to your agent as you can to help them narrow their future search if you don't see anything you like. Take photos and make notes on the floor plan as the details will quickly get jumbled in your mind otherwise.If you have narrowed it down to a shortlist, ask the agent to revisit those properties and ask any extra questions to help make your final decision.Making an ApplicationCongratulations- you've found a property you like. The fist step is to ask your agent to put in an application. Don't waste time at this point as the market moves quickly and you want to make sure yours is the first application. It's important to include at this stage any special requests or items you wish to negotiate, but be sure to be reasonable. Depending on the price range you are looking at, you might be able to request a lower rent or reduced key money, or you might be able to negotiate to have something included such as light fittings or air conditioning. Your agent should be able to help direct you to what requests are reasonable, but note that each owner is different. Some will not budge, yet others can be quite accommodating to requests and negotiations.In other posts I will look at the lease process, costs involved and getting set up in your new home.
JapanExpert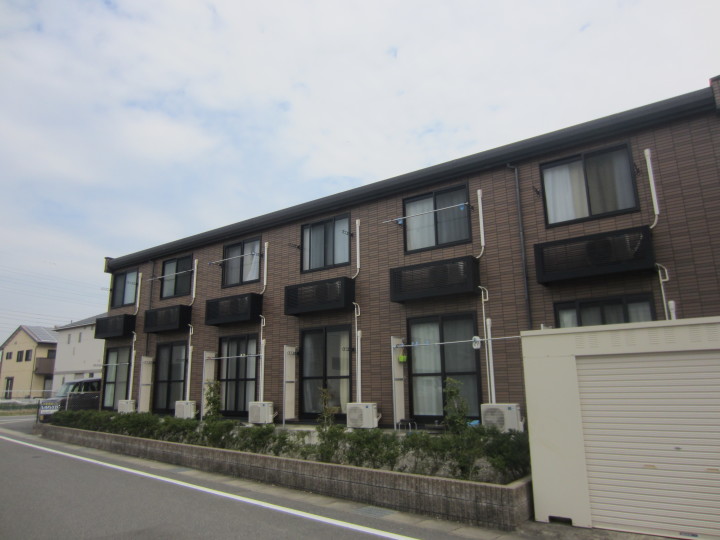 Leopalace 21: Worth the extra rent?
Upon moving into the country of Japan, one of the biggest concerns on any newcomer's mind is of course, housing. Where will you live, how much is the rent here, and even if you can live by yourself or not are still questions easily resolvable, as compared to the bigger question: HOW can you get a place. If you come into Japan as an English teacher, especially as an ALT with a company (aka not the JET program), chances are that the companies will have all the things settled for you by providing you a little apartment called Leopalace.I've lived in a couple Leopalaces as well as a couple more places that aren't, so today, let's talk about the pros and cons. The biggest advantage and the biggest reason why ALT companies look for Leopalace for the employees is the ease to moving in. Leopalaces are designed to be easy to move into. The whole guaranteer thing is a non-worry (especially with your company backing you up), for starters. You also don't need to run around looking for cheap furniture, because these apartments come furnished: microwave, fridge, washing machine, stove, a bed frame of sorts, and even a TV! Granted, these appliances aren't the top of the line or even new. The TV is the smallest I've ever used (so I bought my own), the table is attached to the wall, and the chairs have absolutely no back support (so again, I bought my own), but it does come with the comfort that you can move in and start living pretty much immediately.With the furnished apartment also comes another perk that many people don't think about: the ease of moving out. In the case of your work contract ending and you are moving to a different location, you are responsible for moving or getting rid of your appliances like fridges and bed frames, and when you're in Japan, that isn't free. You have to purchase some "big garbage tickets" and call to arrange a date for you to put these huge trash out to be picked up, and it is a hassle! At a Leopalace, you can just leave them be and walk out like a champ as you move out. Internet is also in place and ready to go within a couple of days upon moving in, so you don't have to go through the entire process (which is also in Japanese) of setting up your own internet, which in Japan, will sometimes take you up to a month. Believe me, I've done that twice and it was a pain in the attic. The space of a Leopalace isn't too tiny either, compared to some other options out there. You got a washroom, a kitchen, and a living/bedroom, so if you're coming into the country for a year or two and you live by yourself, a Leopalace is a feasible option. The cons, are there too, of course. The biggest complaint that I always hear about from my friends (and myself included) is the rent. To subsidize for the utility, renting a Leopalace will cost you likely an extra 20% or so. For example, the Leopalace in the Saitama area that I was in when I first came to Japan cost around 55,000 yen per month, and the tiny non-furnished place that the company found for me upon my request was only 32,000. Sure, it was smaller, but that was quite a difference in price, and I spent probably 50,000 to 60,000 yen to furnish my place up, so by the 4th month, I was saving about 20,000 a month. In Gifu now, the Leopalace I rented was about 50,000 per month, and since I moved out to look for a different place, I was able to rent a much nicer place for about the same price, but a much bigger kitchen, an actual living room and an actual bedroom with several closets. As my time in Japan continued, my living standard increased (while my income too, only slightly), so I was looking for a better, bigger, nicer place to live in, because a Leopalace just couldn't satisfy anymore.So, is a Leopalace worth the price? Well it all depends on your plans. If you're staying here for just a year or two and you don't want to deal with the whole hassle, a Leopalace will handle most of the trouble for you, if you are living alone. If you plan to set foot into the country and grow your roots here, then maybe the extra cost can be put into better use to look for either a cheaper or a nicer place to live in. I didn't regret my time in a Leopalace because it was what I needed at my stage back then, so now, I've moved on. Hope this helps!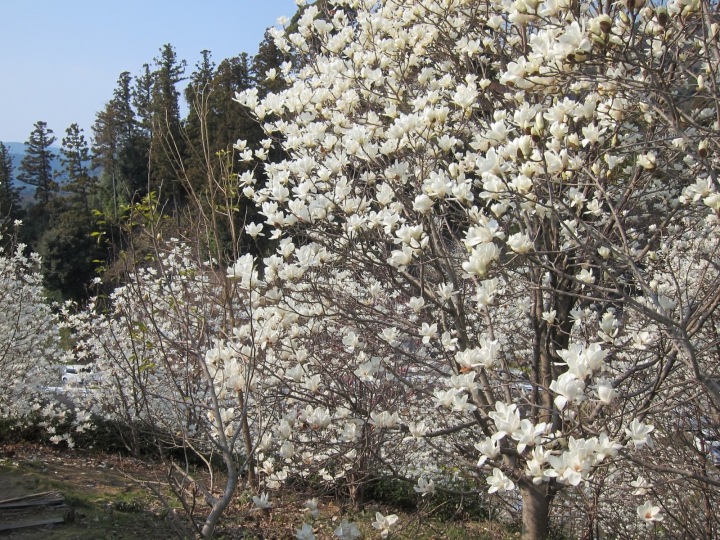 Magnolia festival in Fujieda (Shizuoka)
It is the beginning of spring and you can find everywhere plum blossom and cherry blossom. But there is another very beautiful flower you can find around whole Japan. The very beautiful magnolia in white or pink. During my trip to Shizuoka I used the good weather to visit a magnolia festival. Southwest of Fujieda (Shizuoka) you can find the Jurinji shrine, which is a very small cute shrine. But the main attraction is the small hill next to the shrine. You can find many beautiful magnolia in white in pink there. It is like an ocean of white flowers. I´ve never seen so many white magnolia before. So I was very happy and enjoyed it very much.There is a small way around the hill where you can enjoy the flowers and also you will have a beautiful view over the city. If you are close to Shizuoka, I recommend to take a small stop there!
Crazydeath
The Punk/Lolita/VK Shops of Sendai
One of the first weird but cool and so very Japanese things my friends fell in love with in college was Gothic Lolita fashion. This trend/lifestyle choice started a while back and you can learn more about the history here. There's even a wikihow on how to be a lolita here. There are a few variations of the Lolita theme, but the vast majority come with extremely detailed and expensive clothing and accessories. There are plenty of shops, first hand and second, for any style of lolita in Tokyo or Osaka. Sendai is not so big and offers significantly fewer options, but they do still exist here, mostly clustered together on the seventh floor of the Forus building, walking distance from Sendai station. Just walk down the arcade until it dead-ends at Sun Mall Ichibancho and turn right. Forus is on the right before you get to the Disney Store. Take the escalator up and get off when you see "Gothic Lolita * Sports" sign on the seventh floor. As amusing as it sounds, this isn't the floor for displays of Gothic Lolita Sportsmanship (Pretentious petty-coat fluffing? 50 yard Scowl? Delicate field hockey in painful footwear?) but the sign is an accurate description of the floor's contents as a sporting goods shop takes up half of the floor. On the other half you can find Angelic Pretty, Alice and the Pirates, and KERA Style shop in addition to a small Doc Martens store front. There are also wigs and alterations available for the discerning customer. The first thing you see is the media shop, which usually has the most recent copies of the Gothic Lolita Bible, a bi-yearly seasonal style guide for the lolita, complete with sewing patterns for a few select pieces every month. Also, this place sometimes holds in-store events for current Visual Kei artists and other similar genres sold in the store. If you're looking for the lolita outfit of your dreams or just wanting to window shop, this is one of the more peculiar but fun areas of Sendai in which to do it. Serious budget-conscious lolitas in the area also know of several small lolita-specific resale shops, though they still tend to be a bit pricey for some budgets, including my own. The frilly and fun things I find these days are far closer to the station, on the sixth floor of the building once known as Sakurano. The company went under earlier this year and took with it access to one of my very favorite shops in Japan-- Ozzonste. This was the store on the second floor, before Sakurano died. Ozzonste isn't strictly lolita but does work some nice details into some fun and well-made garments, usually with fabric stretchy enough to accommodate a larger American woman like myself. I can't wear everything they make but the stuff I can makes me feel so very cool and frequently can be paired with more plain clothes to make a cool outfit that doesn't scream VK/PUNK/GOTH/WEIRDO (not that there is anything wrong with any of those things-- I love those things, but I don't have the bravery, budget, or wardrobe to wear them every day). So for the more tame among us, this isn't a bad brand. Unfortunately, I haven't been financially capable of shopping at this location in years, though I always found the window shopping to be inspiring. Instead, I go up to the floor dedicated to second hand clothing and hunt. Scouring for badass clothing is actually one of my favorite past-times in Japan. If my daughter is stroller-bound and asleep, I can kill more than an hour looking through all the women's sections for anything with a brand-name I like. On this specific trip, I bought one beautiful Ozzonste top (regular retail: way over $100. BookOff Price: less than 2000 yen) and a really cool h.Naoto shirt for a friend back home...no really. That is way too badass for my housewife-life. There are several brands that specialize in classic Lolita including Angelic Pretty, Baby The Stars Shine Bright, and Alice and the Pirates. I've known some to wear the latter few in combination, but generally all to the full-lolita ensemble. These are not things you can just pair with your jeans, generally. You will find them at the name brand stops, the lolita resale shops, and very rarely at BookOff. My favorite designer, H.Naoto, might use some of the frill and flare from lolita for some of his brands but generally tends more toward the goth-androgenous VK side of things. Hell Cat Punks offers similar clubbing options edging toward the punk side, if you're planning on attending many hardcore live performances. Both of these sometimes find their way into the KERA shop in Forus or BookOff. In the meantime, here is my purchase in action, completing an outfit I didn't know I needed or had. For anyone not believing that little green top can fit anyone above a US size 12, here's proof! So now you've seen that stretchy Ozzonste tops can fit people outside Japan's concept of normal sizes, but you may still be thinking, "Didn't you say something about jeans? Could you really wear that with jeans?" And I would tell you no, that this top really is more of a theatrical piece in my opinion. That said, I do have a few pieces from this brand that can be added together, even with red high-wasted mom-jeans.Still theatrical, still dramatic, but not as much as a full ensemble of similarly designed clothing, which might feel like overkill.How do you adapt interesting Japanese trends to your lifestyle?
JTsuzuki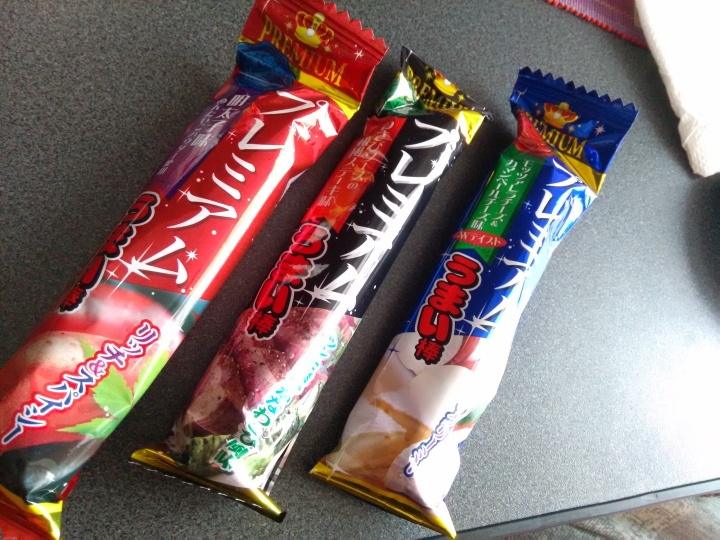 PREMIUM Umaibo
Umaibo is the super popular kids corn puff snack that offers 15 different flavours excluding seasonal/local special ones. Sometime last year, they came out with a new line of Premium Umaibo. With three flavours, these premium sticks of snacks cost double the price of a standard umaibo: from 10 yen to a WHOOPING 20 YEN!The three flavours are: spicy mentaiko, wasabi-steak, and rich cheese. I tried them all, and while the texture doesn't different enough to note on, they were in fact very tasty. Each flavour, while artificial, was quite delicious and I would definitely choose them over the standard ones.With the price being doubled, though, kids who can afford them must be high-rollers, or love them enough to give up 2 umaibo for 1 premium snack.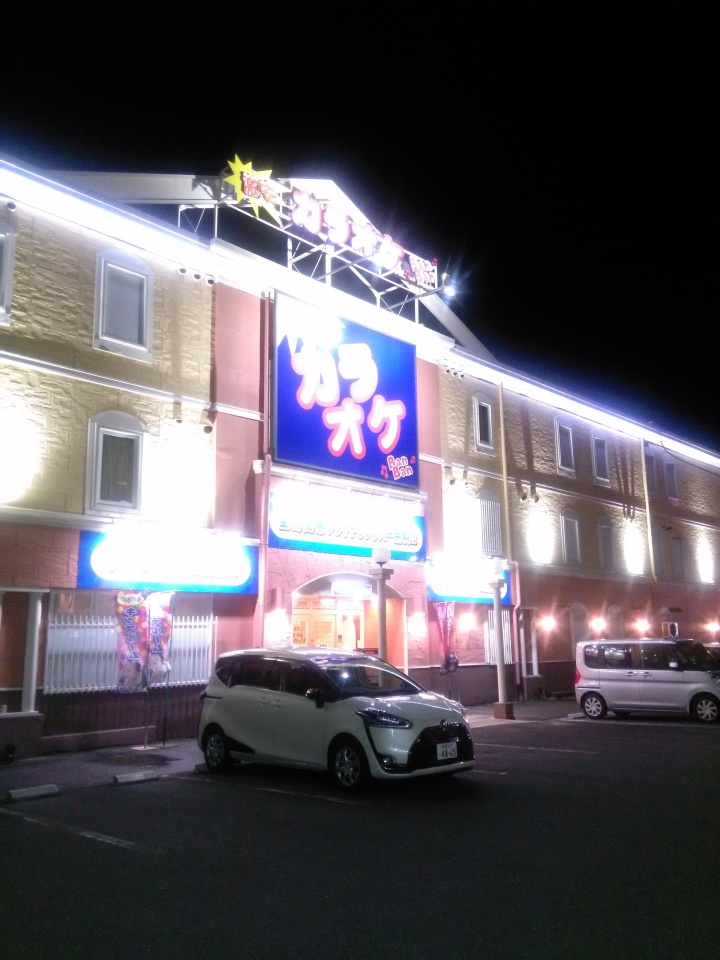 My Favourite Karaoke Chain
I'm a karaoke addict. I used to go there every weekend by myself or with friends, and each session, solo or group, would often range between 6 hours to 10 hours at a time. My longest record of solo-karaoke is 9 hours, from the moment the shop opened to it closing. Having been to most of the karaoke chains in the country, there's one that I always go back to.Ban Ban karaoke tops of my chart of karaoke chains. Its extremely reasonable price is unbeatable. I went there with friends recently, and on a weekday, free time (we sang from 11am to 8pm) and drink bar included, we paid about 500yen per person with the help of the 20% coupon that's often in the local coupon magazines. The drink bar in also included, so there's no one-drink requirement BS.Granted, the ones I go to are in the suburbans. It would cost more if you're in the city, and Ban Ban is rarely in the center of the city. But Ban Ban is indeed nation-wide, and their machines are very updated too. If I have access to a Ban Ban, I rarely visit others. Look up if you have a Ban Ban near you!How often do you go to karaoke, and do you have a favourite chain?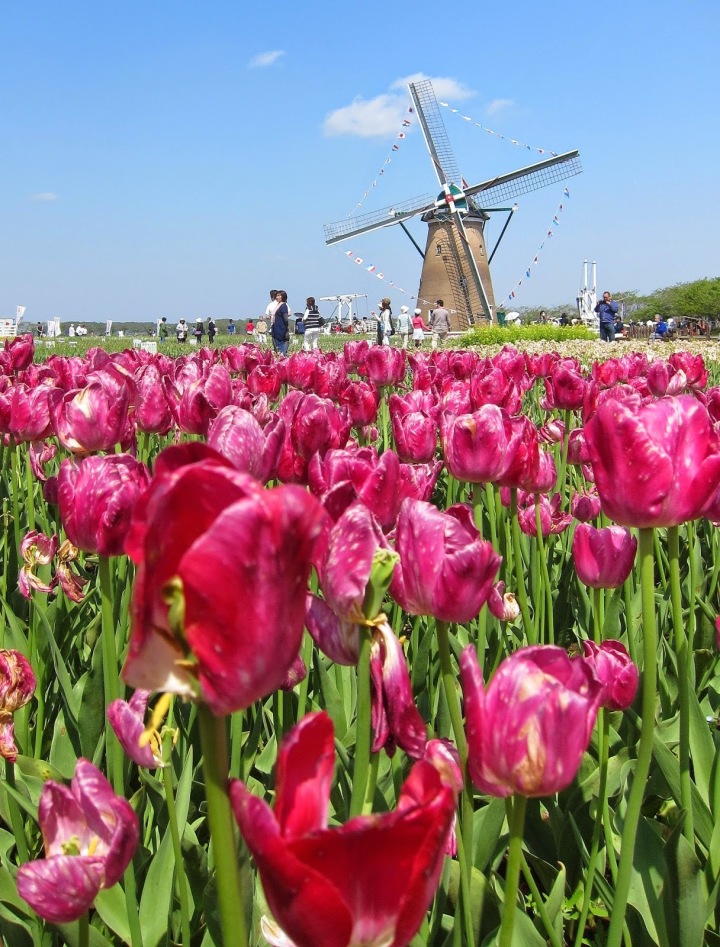 Tulipfields around Sakura City
Every year at the beginning of march the tulip season starts in japan. In Sakura City (Chiba prefecture) you can find a huge field full of different tulips from around the world. In the middle of the field is a beautiful windmill from the Netherlands which has a small museum inside. If you going at the end of march to the fields, you might be lucky to see most of the tulips fully bloomed. But every tulip is different and has different blooming time. I love to walk around the fields and see the big variety of flowers. Also for around 500 Yen you can collect 10 tulips from the fields and bring them back to home. The good thing about tulips is that they come back every year again. For your entertainment you can listen to a school choir or dress up in a typical Netherlands dress with wood shoes. Also you can have lunch at the nearby restaurant and food stands.I visit that place every year because I like the nice atmosphere of the fields in the countryside and it gives me a little feeling of being back to Europe.
Crazydeath