Jul 4, 2018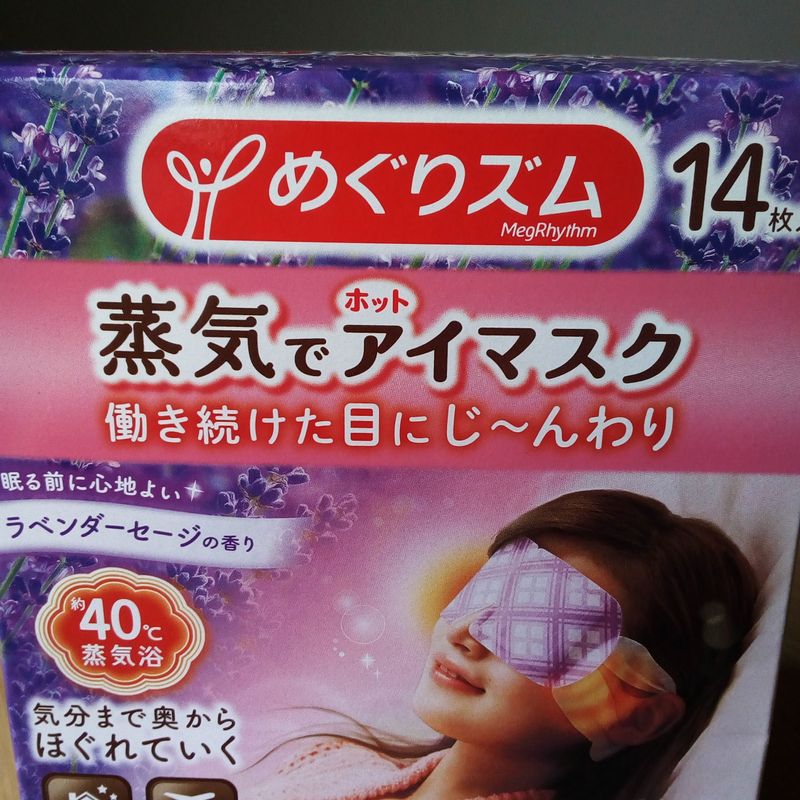 I heard about these steam eye masks on some vlog and was curious. I've actually never seen them in the drugstore nearby and never seen anyone buying them, but the vlog assured viewers that they're the most popular 'beauty / health' item and they're wonderful after working at a computer for too long.
Do you know about these? Are they really that great?
On a trip to the local Don Quijote, I saw some and reluctantly paid around 1000 yen for a pack of 14 lavender scented eye masks. I thought they might be useful for those nights when I can't fall asleep because there's too much on my mind or when I have a migraine. I'm not planning on a long flight soon, but it sounds like they might help for sleeping on an airplane too.
The photos make the people look so blissed out to be using the eye masks. Packaging says they get up to 40 degrees Celsius and give you about 10 minutes of heat. I thought it sort of sounds like a hokairo but with an herbal scent and in an eye mask shape.
The idea is to imitate a hot moist towel, which is supposed to be used to relieve tired eyes. The masks are individually packaged inside the box and are super thin, so you could easily put one in your pocket or bag for a flight or long train trip.
Because I thought they'd help with falling asleep, I decided my husband and I would try them out at bedtime. I had a migraine and couldn't even settle down for a nap and he had a lot going on with an upcoming business trip, so it was good timing. Maybe. It's July, so that 40 degrees doesn't actually sound that great. They might be better during winter.
Anyway, the results... I wonder if I'll become a believer and bring them as gifts to friends back home.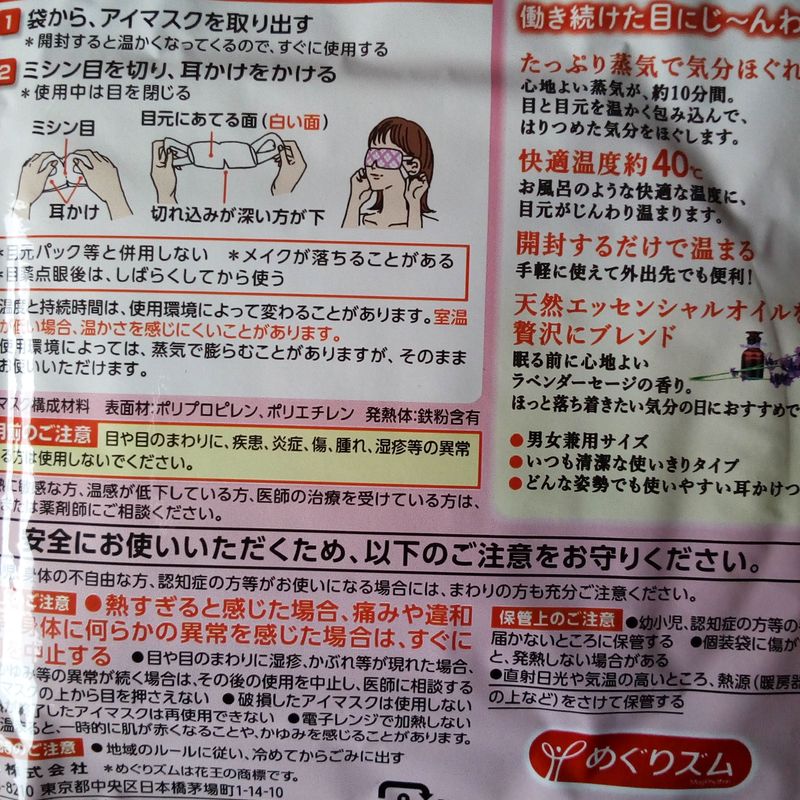 The verdict: meh.
For that price I won't be buying them again, but I will say, we both fell asleep quickly (maybe from exhaustion?) and slept soundly, with the cooled masks cast off in our sleep. We both felt like they were awkward to put on without being able to see.
The scent was really strong and also seemed to have a lemon smell in addition to lavender. They heat up immediately after opening the packs, and the ten minutes went so fast. I kind of wish they worked for a few hours.
I think lavender aromatherapy oil might be just as effective at a fraction of the cost, but there is also actually heating a towel if we really need the 'hot moist towel' method. I guess if you didn't want to or couldn't mess with a hot towel while away from home, these could be convenient.
Maybe the next time we try the masks will be when we want to sleep on a flight.
Did I make you curious to try these out?
---