Nov 4, 2018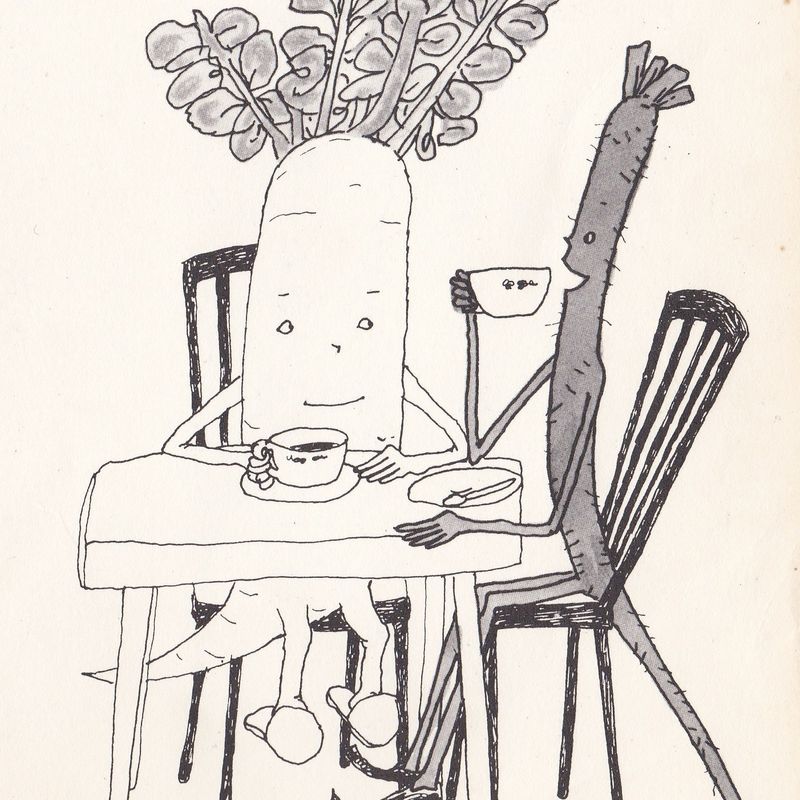 Illustration by Kaoru from an old book with a story about room mates, Mr. Daikon & Mr. Gobou
Time to sit and enjoy my coffee without feeling rushed is so valuable.
As a freelancer, I love the flexibility of working only when I'm actually working rather than being in a school wasting time without any lessons. Of course there are pros and cons about full time vs. freelance. The financial situation is both better and worse at the same time.
For example, I don't have a monthly salary or schedule. When I work it out to hourly pay (or per 45 – 50 minute lesson), freelance pay is close to twice as much as full time. Instead of 40 hours a week at a school (as an ALT) with a monthly salary, if I teach 20 lessons a week, it's around the same income. Full time ALTs will often teach more than 20 lessons a week.
The thing is, freelancers who teach 20+ lessons a week are rare. It can involve working in multiple places each day and a schedule from early morning to late night including weekends. (Not for me - I'm a part time freelancer with about 25 hours of available time for lessons, including travel, on weekdays.) By working freelance, I'm giving up a fairly consistent salary for freedom.
Today I realized that my part time ALT job is usually consistent but almost like being on call. I sometimes get messages in the morning informing me that the lessons that day have been canceled. This is typical of working full time as an ALT too – schedules change. But as a full time ALT, when classes are canceled, you still get paid for sitting around.
Recently my 'consistent' schedule was changed around because of student teacher visits and sports day practice. This week I found out students will go on a field trip when I was previously told I'd have lessons. The catch is, if it rains, students will postpone the field trip and I'll work. This is why I feel like I'm on call.
A lot of people think the on call system is unfair. If you don't have to work, you don't get paid, but had to be available to find out. I can't plan something because I think I'm working, but then last minute I get a day (or morning) off. For this reason, I started to make a list of outings I wanted to go on when I get last minute days off. Sometimes it's a welcome day off, but for most people, jobs like that would cause financial worry. On call or substitute work is not a dependable job you can pay the bills on.
I can't complain much. I'm just a part time assistant teacher. Plus, I don't get classes canceled that often. My other part time job and my freelance lessons are rarely canceled, if ever.
Have you experienced something like on call work in Japan?
---