Feb 19, 2018
I had some frequent flyer miles with United Airlines, not a ton, but some that were going to expire with no activity soon. I researched a bit about where we could go from Japan, thinking about escaping to somewhere warm during the winter months. Traveling within Japan, especially the Kyushu region, is a priority for me while living here. Within Japan is quite low when redeeming mileage rewards. We had talked about getting to Okinawa some day, but I realized using mileage to get there was a great opportunity.
While it's in the same region, getting to Okinawa from Fukuoka isn't a long flight, but paying cash for the flight is at least 30,000 yen per round trip. I found that using the United miles was just 5,000 miles one way per person. (Using American Airlines miles for partner JAL's flights are also a good deal at 7,500 miles each way.)
As someone who used to nerd out on frequent flyer miles (getting several 'free' flights between the US and Asia) this is a great deal. It's well worth it to pay around 10,000 yen round trip to go to Tokyo for example, and use frequent flyer miles for getting to Okinawa instead, as the cash value is so much better for the same number of miles.
The great thing is that the mileage rewards are the same for a flight to Naha as for a flight to Ishigaki (Panuishima Airport).
We used United's partner ANA Wings to get from Fukuoka to Okinawa Hontou, then connected to Ishigaki Island. This winter is so cold, so I was looking forward to going somewhere much warmer during winter. It's one of those things I always think about doing when it's too late to get any cheap flights in the direction of warmth. It was a lot warmer than at home where it was snowing, but still colder than usual for this time of year. Unfortunately we were in town entirely during a gloomy and rainy spell so we didn't do any swimming.
Even so, we really enjoyed Ishigaki Island. Almost immediately my husband started talking about living there after retiring, only half joking. It felt deserted and empty for a resort island, most of the locals were over 60, and the mostly single story buildings looked beaten down from harsh weather. We got around by bus and there were definitely Chinese speaking tourists in addition to Japanese and English speaking tourists visiting even during this winter season. The Yaeyama Islands' close proximity to Taiwan makes it perfect for international travel from there without going too far.
Because January and February travel to Ishigaki Island is taking a chance, I knew we could get warm and sunny weather or gloomy and rainy weather. The locals wore down coats and commented that it was especially cold (between 10-15 degrees Celsius), but it was still a good 10 degrees warmer than Fukuoka. The wind was especially strong and cold, but the rain was mostly light and off and on. This just made us want to go back in a nicer season. October-May is the best time to go I hear, avoiding the rainy season, very hot and humid summers, and typhoon season with the chance of cancelled flights and ferries.
We were there in early February, but it looked so green and lush, similar to November in Fukuoka prefecture. Tropical fruit trees and sugar cane looked like they were growing wild. We saw banana, papaya, and guava trees, although they weren't ripe yet.
Ishigaki Island has tons of "shisa" decorating gates and rooftops and there is a feeling of Japanese but also a very different island culture. Similar to Hawaii or other island areas, it's a lot more relaxed than Tokyo and you might experience a late bus on occasion.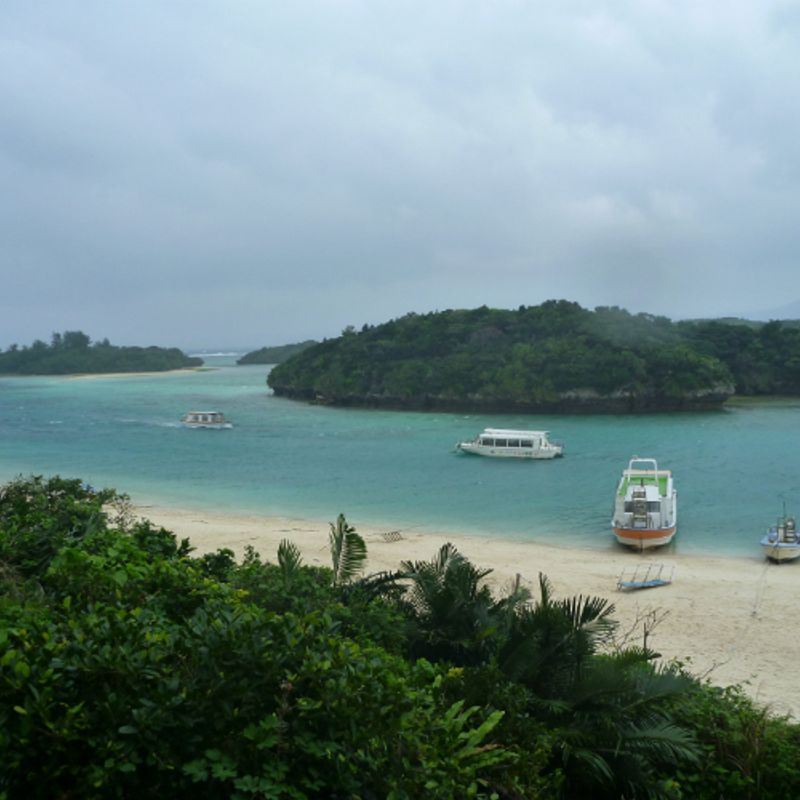 The gloomy weather didn't stop us from taking a bus to Kabira bay where we saw amazing clear blue-green water and strange tiny islands the size of houses. We walked on the empty beach for as long as we could in the cold wind and light rain. Boat tours for around 1,000 yen per person shuttled tourists around the tiny islands to better views of a secret beach and probably coral and fish. In a warmer season, there would have been lots of swimmers and snorkelers, I'm guessing. Then we took a loop bus around the rest of the island to enjoy the view from inside the warm bus and even caught a quick nap.
On another day, we planned to take a rare bus up to Akaiishi on the northeast peninsula to eat at Akaiishi Shokudo. When we arrived the shokudo was unexpectedly closed for the next two weeks and we were stuck waiting in the middle of nowhere in the rain for over an hour until the bus came back around. No taxis were in sight. We had planned to walk almost two hours to another area for the view after eating, so we headed in that direction, enjoying brief glimpses of the ocean along the way. By the time we made it to the next bus stop an hour later, we were wet and ready to call it a day; fortunately the bus arrived ten minutes later. It was a disappointing day, but still an interesting adventure.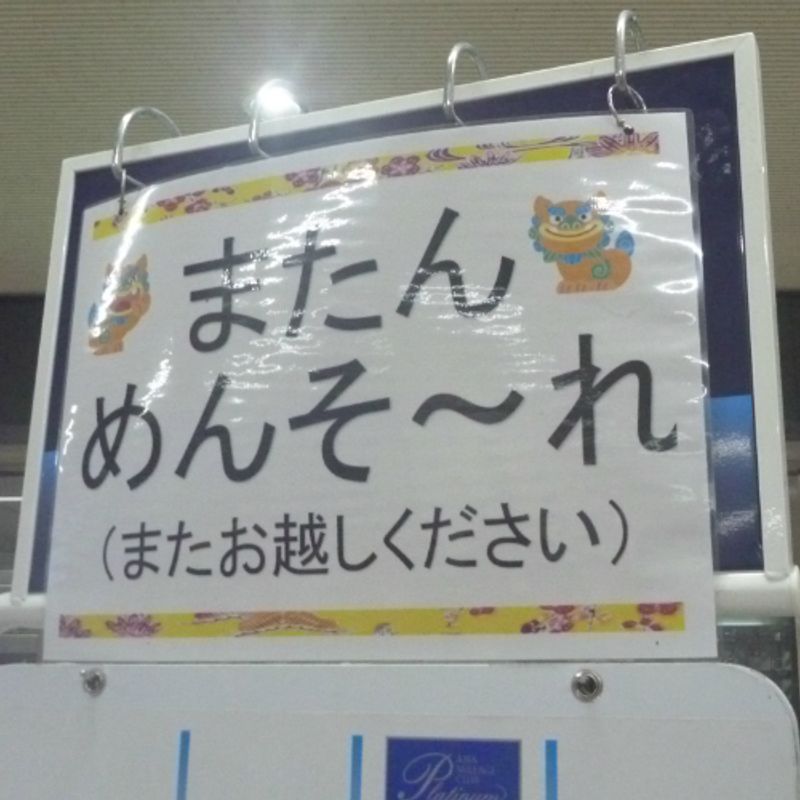 Ultimately we found the beach was beautiful and always nearby and the local areas were better than the touristy downtown. We enjoyed the trip in spite of the weather. I'd say it was a success because we didn't get sick during travel in the midst of a flu epidemic in Fukuoka. (Thank you masks.)
---